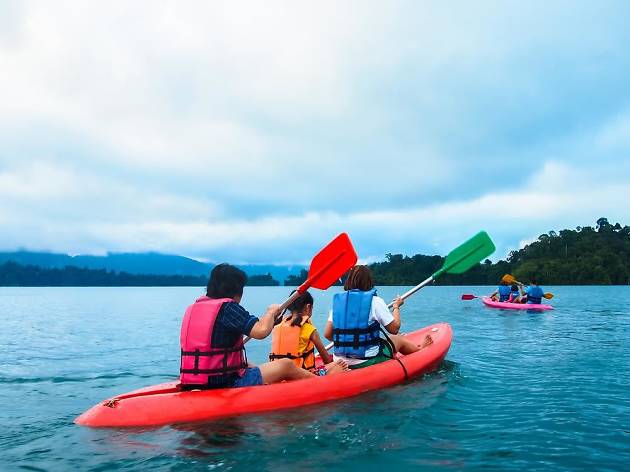 The best family resorts NY residents must visit this summer
We round up family resorts near NYC that will make any summer getaway unforgettable. Check out our favorites!
Summer's calling and so are these great family resorts near NYC! We sense a few weekend getaways in your future, so start packing!
While you're out of town, sit lakeside, ride gnarly water park attractions and enjoy time soaking up the great outdoors at our favorite spots in the tristate area, like Rocking Horse Ranch and Woodloch Pines. These are the family resorts NY residents can resist, and with such great amenities, it's no surprise.
RECOMMENDED: Full guide to the best family vacations
Ready your vocal chords for those car sing alongs and spruce up on our tips for how to travel with kids in tow—even when it seems impossible. Who can say no to a quick NYC escape this July and August? Happy travels!
Family resorts NY residents must visit
Travel time: 2 hours by car
If you and your crew love spending time at awesome indoor water parks, you'll be pleased to know that Kartrite is New York state's largest. Once at the recently-opened attraction, kids will gravitate toward the Jiggerty-Jaggerty, a 42-foot-long slide, fun puddle ducks, the lazy river and so much more. Families will love the fun happenings taking place at the resort (Bingo for kids, crafts, holiday events). Moms and dads who need a quick breather will be pleased to know an onsite spa offers facials, massages and even beauty treatments for kids!
Rates from $179/night, thekartrite.com.
Travel time: 2.5 hours by car
The Country Place Resort, home of Zoom Flume Water Park, is just a few hours north of NYC and features spectacular offerings for families! All vacation packages include home-cooked meals, water park access and tons of fun. You'll have a hard time pulling adventurous kiddos away from the Typhoon Twister, Thrill Hill and other family-friendly water attractions.
Rates from $99, thecountryplace.com.
3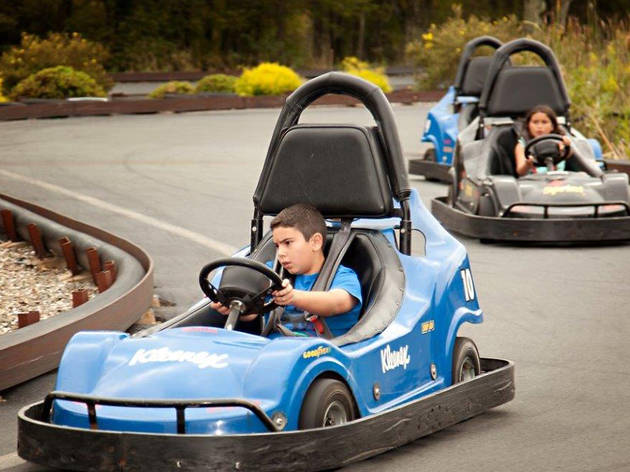 Photograph: Courtesy Villa Roma
Villa Roma Resort: Callicoon, NY
Travel time: 2.5 hours by car
This Catskills getaway is under three hours from the city and offers plenty of amenities to keep the little ones on their toes. In warm weather, families might show off their golf skills, go fishing, zip around on some go karts or bumper boats or take a dunk in one of two heated outdoor pools. Little ones will especially dig the dump bucket, waterslide, jungle gym and waterspouts, and toddlers will love the splash pad. In wintertime, Villa Roma's main appeal is its ski area, complete with two slopes, a tube run and a ski school for all ages. Skis, snowboards and boots are all available for rental. Warm up inside with a game in the resort's eight-lane bowling alley or by duking it out in the Wii room.
Various prices, villaroma.com.
4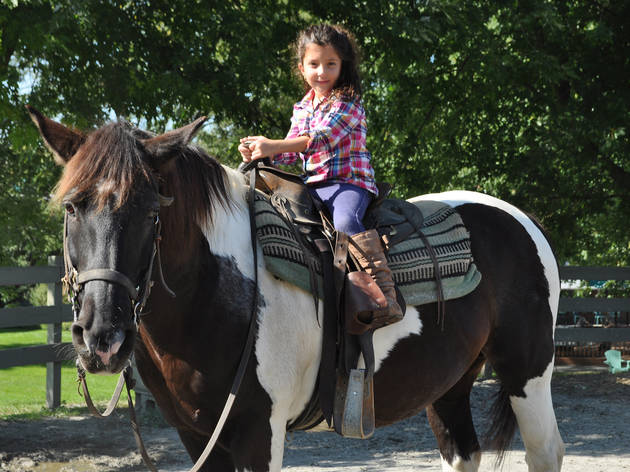 Photograph: Courtesy Rocking Horse Ranch
Rocking Horse Ranch: Highland, NY
Travel time: 2 hours by car
Giddy up! Adventure awaits at Rocking Horse Ranch, no matter the season. The all-inclusive family resort is home to a wide range of activities: kayaking and water slides during the dog days of summer, skiing and horse-drawn sleigh rides when the cold weather hits and year-round fun at the 85-degree indoor water park. Events add an extra layer of adventure, and families are able to enjoy performances, holiday activities and so much more. When you and your crew need to refuel, Culinary Institute of America alumni are ready to prepare a savory meal in the Longhorn Dining Room (plus kiddies will get a kick out of the character lunches). Depending on accommodations and the number of travelers, rooms can vary in price, but make sure to explore the ranch's exclusive deals before booking—you just might score an even sweeter price than you had anticipated.
Various prices according to lodge selection, rockinghorseranch.com.
5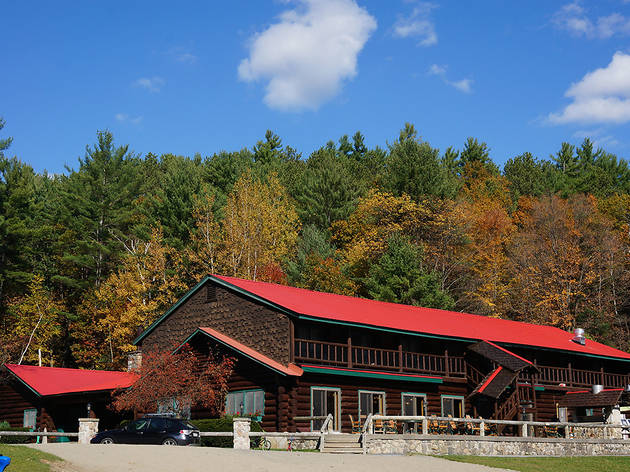 Photograph: Courtesy Creative Commons/Flickr/grenade
Ridin-Hy Ranch: Warrensburg, NY
Travel time: 4 hours by car
This Dude Ranch will give your gang a much-needed dose of fresh air thanks to the Adirondack Mountains surrounding the serene grounds at one of the best family resorts in New York. You can post up in the main lodge or choose from a variety of rustic log cabins or lake houses on the premises—perfect for small families or larger groups. Either way, you'll be within walking distance of the beach, indoor heated pool and horses. Those interested in bonding with the gentle steeds can sign up for riding lessons and guided trail rides—even youngsters can have a go on the smaller ponies. Other in-nature ventures include boating, waterskiing and fishing on Sherman Lake, hayrides, campfires, outdoor movie nights and a full roster of sports including archery, tennis and kickball.
Rates per person vary each season according to cabin, ridinhy.com.
6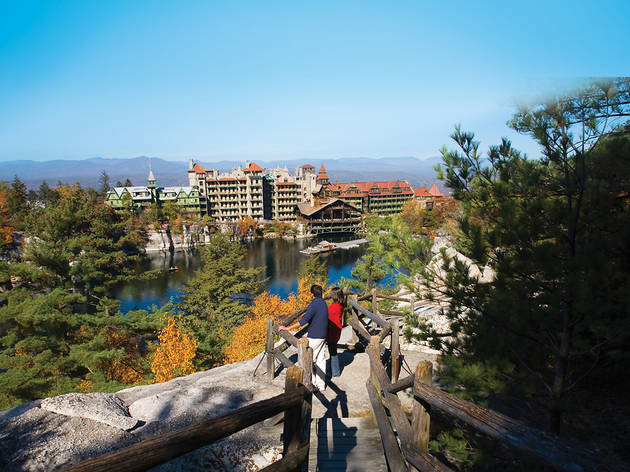 Photograph: Courtesy Jim Smith Photography
Mohonk Mountain House: New Paltz, NY
Travel time: 2.5 hours by car
You will find the luxurious mountain getaway that they've always dreamt of at one of the most idyllic family resorts available. This old hotel boasts incredible history—since it opened as a 10-room inn back in 1869 and five U.S. presidents have stayed here—and kids will love the fact that it resembles a castle. The resort's renowned kids' club keeps young nature lovers busy identifying animal tracks, birds and trees while you relax at the spa. In the fall, enjoy tennis and mountain biking through the nearby Shawangunk Mountain Range by day and, for an additional fee, a horse-drawn carriage ride by night. In the winter, play broomball on the resort's ice-skating rink, or take in views of the Catskills via cross-country ski trails.
Standard nighly rate starts at roughly $500, mohonk.com.
7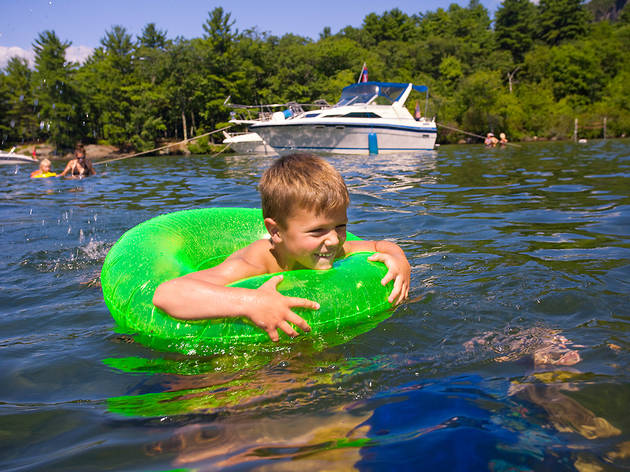 Photograph Courtesy of Visitlakegeorge.com
Canoe Island Lodge: Diamond Point, NY
Travel time: 4 hours by car
This lakeside retreat is open for business from June through mid-September, giving your family the perfect opportunity to make the most of summer vacation without a skyscraper in sight. Homey lodging options like chalets, log cabins and cottages line the pristine Lake George waterfront, making it one of the best family resorts for those looking to get in tune with nature. The lake is the centerpiece of it all, beckoning you and the kids to spend your days swimming, competing in mini sailboat races, waterskiing, wakeboarding, fishing or paddling around in rowboats and canoes. Combined with a schedule of other fun activities like sand castle contests, scavenger hunts, capture the flag and crafts, the tots have zero excuse for boredom.
Rooms with various accommodations starting at $153 per night, children 6mos–12 years, $28–$77 per night, canoeislandlodge.com).
8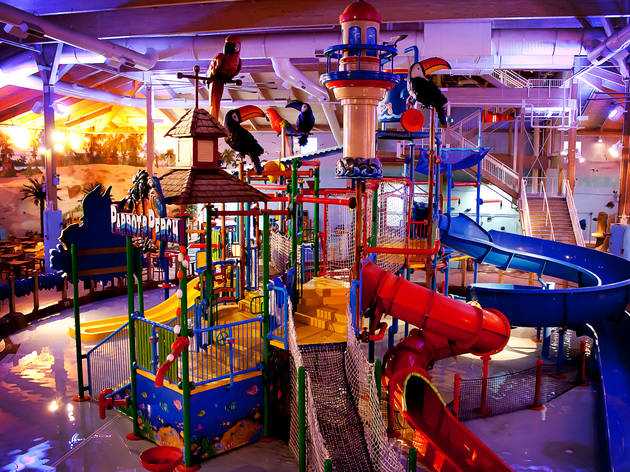 Photograph: courtesy CoCo Key Water Resort
CoCo Key Water Resort: Mount Laurel, NJ
Travel time: 1 hour and 45 mins by car
A short drive to New Jersey will transport you to a family getaway so memorable, you're sure to return. The thrills are plentiful in this water resort: Take a peek at Parrot's Perch, featuring an interactive aquatic jungle gym, countless water cannons and a 300-gallon dumping bucket for loads of drenching wet fun. If you're feeling brave, you can barrel your way through the enclosed winding darkness of Barracuda Blast, or venture to the chill inducing Shark Slam, a 4-story-high slide that will whip you through 300 feet of wet n' wild fun. For a little friendly competition, try the Lily Pad Adventure, a challenging activity pool for kids and adults alike. And for the wee bunch, the Dip-In offers entertainment of miniature proportions: hours of fun for the tiniest guests, with a foot deep wading pool overlooking the park, complete with baby slides and even a little bungee!
Various prices per room, mtlaurelcocokey.com.
9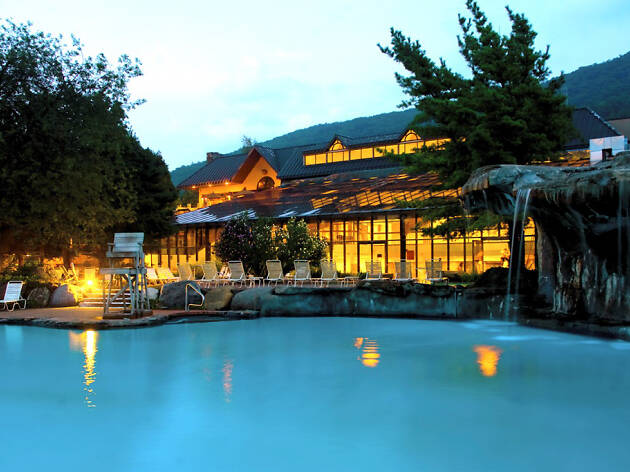 Photograph: Courtesy Crystal Springs & Mountain Creek Resorts
Crystal Springs Resort: Vernon, NJ
Travel time: 1 hr 30 min by car
Sure, you want the kids to have fun on vacation...but getting a little adult r&rwould be pretty sweet, too. For a getaway that will sate the offspring yet also allow you a little self-indulgence, Crystal Springs Resort should do the trick. The very kid-friendly place is 90 minutes from New York, so you'll be pulling up to the sprawling grounds in no time. Seven indoor and outdoor pools allow for splash time no matter the weather. You, meanwhile, can kick back on a lounge chair with a cocktail from the poolside bar, or take turns watching the kids while one of you sneaks away for a massage in the on-site spa or a round of golf on the adjacent course. In the evening, head to Smokey's Tavernfor burgers, wraps or pizza, then hit the Warwick Drive-Infor a first-run double feature. After breakfast the next morning at Kites, the resort's restaurant, kids will no doubt want more pool time. That will leave them refreshed for a hike along the Canal Road section of the Appalachian Trail before you head back to the city.
10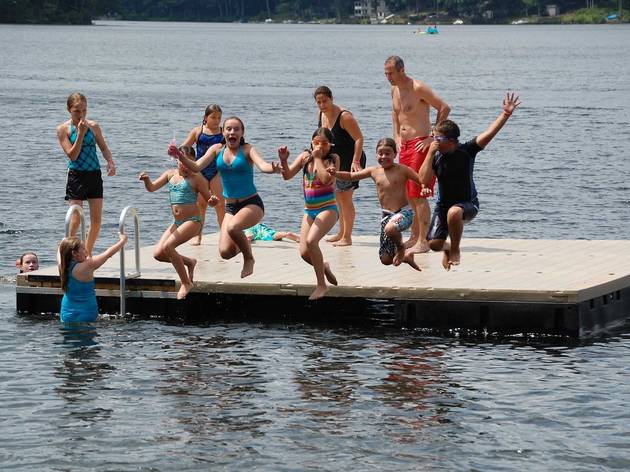 Photograph: Courtesy Woodloch Resort
Woodloch Pines Resort: Hawley, PA
Travel time: 2 hours and 15 mins by car
Family vacations are synonomous with Woodloch Pines for those who live in the Northeast. Is there a July and August that goes by when moms and dads don't vie for a coveted spot along the lake? When bumper boats and water skiing is on the table, who could possibly say no? Don't be fooled by the summer charm, though. The all-inclusive family resort makes the perfect winter weekend getaway (it is in the Poconos, after all). With snow tubing, ice skating and indoor water parks on the menu, you won't mind a cold-weather vacation even slightly. Plus, the venue hosts seasonal events that make your stay all the more exciting. (You know you want in on the winter Olympics.) There's a la carte dining, catering and small bites that are suitable for any occasion, and chances are picky eaters will find something they'll love. Prices vary, depending on party sizes and the time of year, but there is certainly something that will work well for you and your family.
Various prices, woodloch.com.
11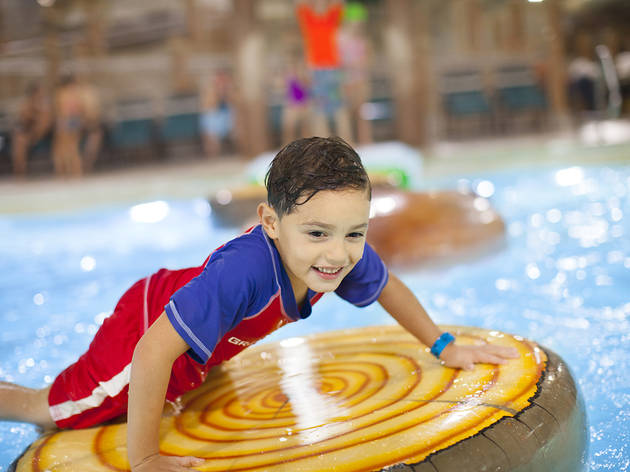 Photograph: Courtesy
Great Wolf Lodge: Scotrun, PA
Travel time: 2 hours by car
Carved bear sculptures and faux raw-wood siding lend a rustic, log-cabin feel to this lodge. But don't get too cozy: The state-of-the-art water park and recreation areas make this spot anything but a sleepy retreat. Little ones will delight in splashing around in the warm pools—especially in the wintertime when there's snow falling right outside. In the water park, kids will see a 1,000-gallon tipping bucket, a roller-coaster water-slide hybrid and activity pools for smaller ones. Once they've dried off, try mini golf ($7 per person) or catch a flick at Howly Wood XD Theater ($7 per movie) while mom and dads can opt for a little r&r at the Elements Spa Salon. The kids will feel like they're on an outdoor adventure as they watch a Forest Friends sing-a-long show, go on a Wolf Walk through the Grand Lobby and meet the Great Wolf Kids characters. To round out the nature-themed experience at one of the best family resorts around, opt for the woodsy Wolf Den Suite (per night from $170), where you can relax while the cubs curl up in a man-made in-room cave area, complete with bunk beds and a TV.
Various prices, greatwolf.com.
Travel time: 3 hours by car
Perched on top of 5,500 acres of unspoiled forest, this Colonial Dutch–style resort offers options for relaxation and boisterous family fun. Older kids (ages 10 and up) can tackle the Tree Top Adventure Course ($30–$60), which features several different zip-lines through the forest, and younger kiddos can ride one of the last remaining toboggan runs in the region. Family-friendly entertainment changes with the seasons, which includes activities such as ice skating, skiing and snowshoeing in winter; fishing and archery tag (a dodgeball-like game with safe, non-pointed bows and arrows) in the spring and fall, plus scavenger hunts, lawn games, crafts and campfires in the summer. Water babies can splash around in the indoor and outdoor pools or hit the beach at the resort's swimming lake for an outdoorsy dip. You'll want to dress up for a fancy dinner in the Windsor Dining Room and channel royalty during daily High Tea.
Prices vary according to the lodge, cottage and inn, skytop.com.