Heads up! We're working hard to be accurate – but these are unusual times, so please always check before heading out.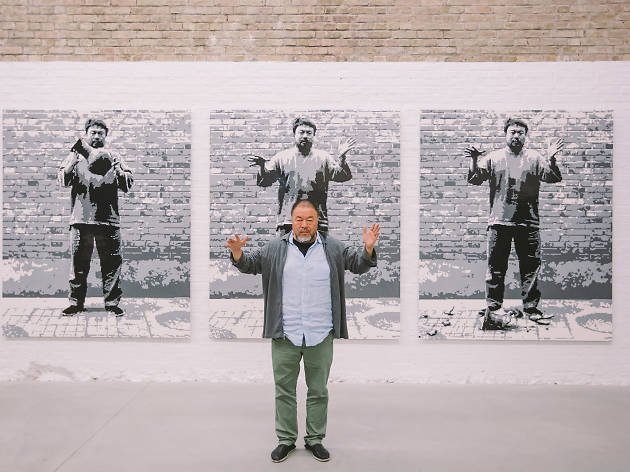 Ai Weiwei on his blockbuster public art project
"Good Fences Make Good Neighbors" by Ai Weiwei boasts 300 works of large—and controversial—art across the city
"I settled on this symbolic notion of the fence," explains Ai Weiwei, "which has become the flash point for rising nationalism and the debate over borders." The world-renowned Chinese artist and dissident sounds worked up as he talks about his ambitious outdoor extravaganza that's about to hit New York. Sponsored by Public Art Fund, the crowdfunded "Good Fences Make Good Neighbors" is a doozy. It covers all five boroughs, with more than 300 pieces—set up between, say, the tops of downtown buildings or in iconic green spaces like Flushing Meadows–Corona Park—that range from posters and photographs to large-scale metal cages. It's huge thematically too, a citywide statement on the national boundaries that are being increasingly reinforced to stem the flow of refugees into the West.
Beyond politics, "Good Fences" is also a reflection of the artist's personal relationship with this city, where he lived from 1983 to 1993. (The 60-year-old currently calls Berlin home.) "[New York] was the place I was thinking of spending my life," he says, recalling his time as a young artist here as being "full of imagination and energy." He chose to live in the East Village (specifically East Seventh Street and Second Avenue) because he wanted to live on "a real hard-core New York street."
But Ai's memories of New York are also fraught with his own admitted failure here. "I realized I could never achieve anything. They say if you can make it in New York, you can make it anywhere. But I never made it." Yet he did in China, where he found acclaim—so much so that the government invited him to codesign the main stadium for the 2008 Beijing Olympics. Even by then, however, Ai was clashing with the authorities, criticizing their policies and rampant corruption. They put up with it for a while before Ai found the straw that broke the camel's back: Later the same year, he organized a "citizen's investigation" into the aftermath of an 8.0 magnitude earthquake in Sichuan Province. He uncovered the fact that much of the damage was due to substandard construction and that the government had deliberately undercounted the number of casualties, particularly among children.
The government responded by placing Ai under house arrest before imprisoning him in 2011 for trumped-up charges of tax evasion. "I was sent to jail and beaten. They threatened not only me but my colleagues and my family." After years of international pressure, Ai was permitted to leave China in 2015.

Photograph: Julie Nimke
Controversy has followed Ai to the Land of the Free. The centerpiece of "Good Fences" is a cage that fills the arch in Washington Square Park. The Washington Square Association objected, demanding that Public Art Fund pull the project by claiming that the piece politicizes a New York attraction. Ai, though, will not be deterred. "[Removing it] would only make our argument more valid," he says, "because that's exactly what our project is about: Who controls borders."
Nowadays, Ai is known as much for championing human rights as he is for making art; he's also made a documentary on the worldwide refugee crises, inspired by personally witnessing a boatload of escapees from Syria come ashore on a Greek beach. "Treasuring human dignity and seeing humanity as one always takes a fight," he says, "and it's a fight I'm ready to make."
"Good Fences Make Good Neighbors" is on view Thu 12–Feb 11 (publicartfund.org).
Want to see more art in NYC?
From the Five Boroughs to the Finger Lakes, we ranked the top sculpture gardens for outdoor art and exhibitions