The top sculpture gardens in New York
From the Five Boroughs to the Finger Lakes, we ranked the top sculpture gardens for outdoor art and exhibitions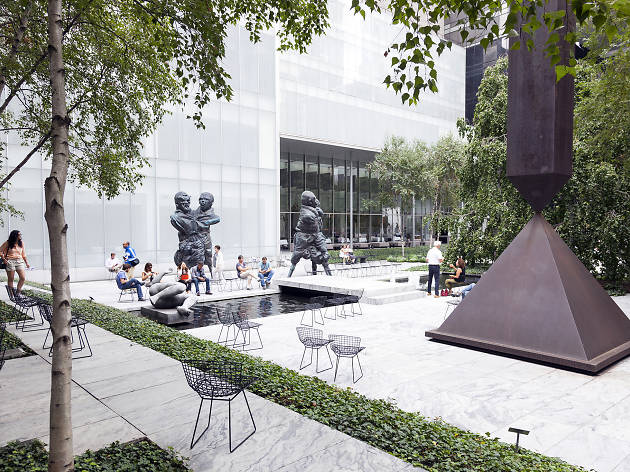 For art lovers of every stripe, the many outdoor sculpture gardens in New York City and beyond are a must see. Sure, New York City's best museums (MoMA, The Metropolitan Museum of Art, the Whitney, etc.) host the top art shows every week. The same goes for Chelsea galleries. But sometimes, you just want to head outside for your art fix. The myriad examples of outdoor art around the Five Boroughs are a good start, but they're usually installed individually. If you want a museum-like synergy en plein air, outdoor sculpture gardens are the only way to go. You can find them set among rolling landscapes or even against New York's skyline. Whether you're planning to go by subway or car, here are the ten best outdoor sculpture gardens in New York, both inside and outside the city.
Top outdoor sculpture gardens
1
Opened in 1953, MoMA's outdoor courtyard is a classic of midcentury modern design, the brainchild of Philip Johnson working in tandem with landscape architect James Fanning. A soothing oasis amid the bustle of midtown, the space is used for temporary sculpture exhibitions, and features a central pool traversed by a minimalist slab serving as a footbridge. 11 W 53rd St, New York, NY
2
The largest outdoor space in New York City dedicated to exhibiting sculpture, Socrates Sculpture Park in Long Island City was created 30 years ago by sculptor Mark di Suvero, whose studio was nearby. The four-acre site was built on a abandoned landfill with sweeping views of Midtown Manhattan. Its program offers regularly rotating exhibitions of works by contemporary artists as well as outdoor performances and film screenings. 32-01 Vernon Boulevard in Long Island City, Queens
3
As the name implies, this institution is dedicated to the work of Japanese-American artist Isamu Noguchi (1904–1988). Opened in 1985 within a converted warehouse, the museum was designed by the artist himself as a showcase for his object. He also created its most notable feature: A garden connected to the main building. In fact, Noguchi conceived of the project as an outdoor sculpture garden that incorporated interior gallery spaces rather than the other way around. 9-01 33rd Road at Vernon Boulevard, Long Island City, NY
Photograph: Courtesy CC/Flickr/Alexander Cheek
4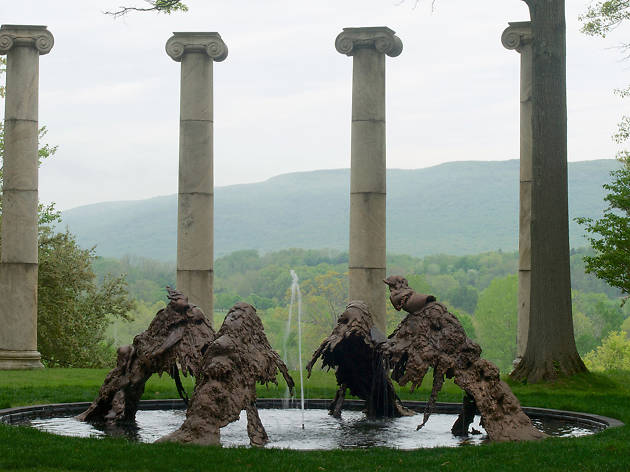 Storm King Art Center
Opened in 1960, this sprawling 500-acre open-air museum near Storm King Mountain in upstate New York is the largest of its type in the country, with a collection of postwar and contemporary sculptures by the most renowned names in the medium. Storm King's dramatic terrain of rolling lawns dotted with trees is carefully landscaped to provide an optimal vista for the work on view. 1 Museum Rd, New Windsor, NY
5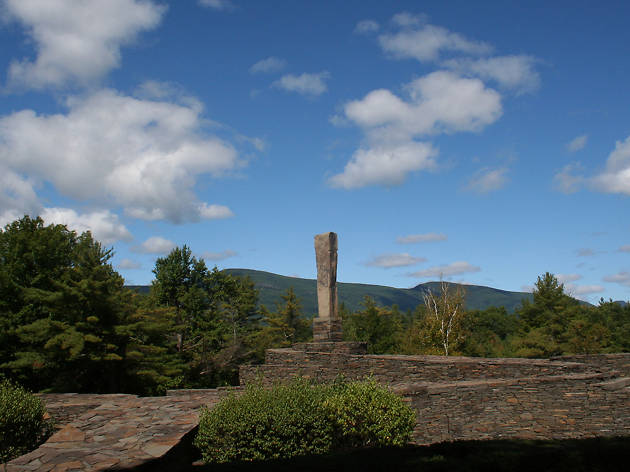 Opus 40 Sculpture Park and Museum
This upstate outdoor sculpture park is actually a single sculpture: A six-and-a-half acre environmental installation called Opus 40, which was built over a 37-year period by the artist Harvey Fite. In 1938, Fite purchased an abandoned quarry where he set to work creating Opus 40 out of millions of pieces bluestone dug from the site. The piece is conceived as a labyrinth assembled out of slabs and blocks fitted together according to a technique used by the Mayans. It takes serpentine form as series of pathways curling around pools, trees and fountains. The piece dips 16 feet underground in some places, before finally culminating as a monolith rising three stories high. 50 Fite Road, Saugerties NY
6
Is the High Line really a sculpture park? Well, it is outdoors and it is lined with commissioned artworks that are largely sculptural, so yeah. The High Line mounts a changing schedule of projects performances and video screenings year-round. Tenth Avenue between Gansevoort Street and West 30th Street
7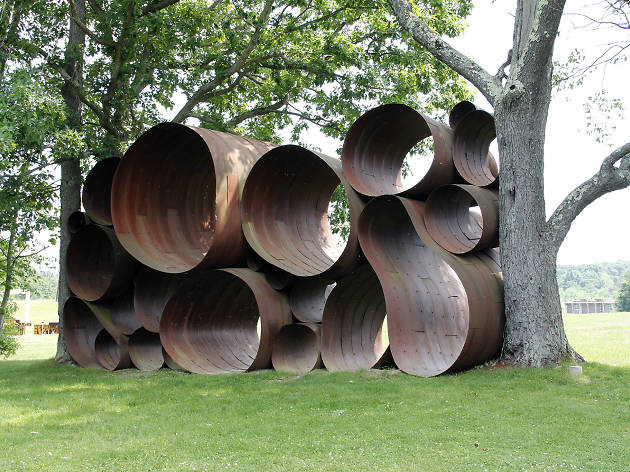 The Fields Sculpture Park
Part of the Omi International Arts Center in Columbia County, New York, The Fields Sculpture Park occupies 150 acres of Omi's 500-acre spread and mounts a year-round program of 50 to 100 permanent and temporary installations by contemporary artists taking full advantage of the surrounding Catskills landscape. 1405 County Route 22, Ghent, NY
8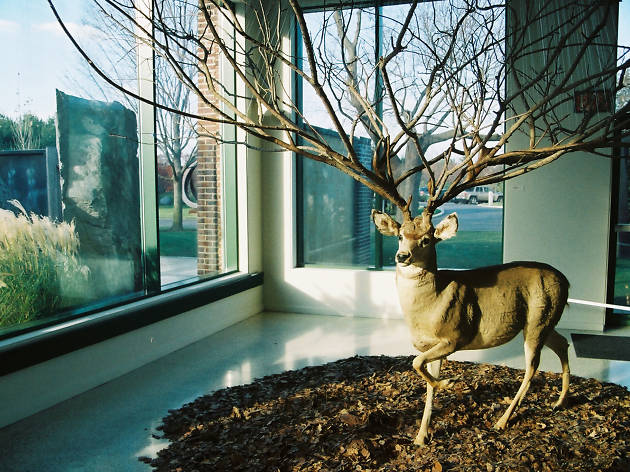 Grounds For Sculpture
A 42-acre site in Hamilton Township, New Jersey, Grounds For Sculpture was conceived by its founder—artist and Johnson & Johnson heir, John Seward Johnson II—as showcase for his own sculptures as well as for works by other contemporary artists. The grounds feature a generous selection of his hyper-realistic, painted bronze figures (of ordinary people, but also figures derived from famous photos and paintings) along with temporary exhibitions of established and emerging sculptors. 80 Sculptors Way, Hamilton Township, NJ
Photograph: Courtesy CC/Flickr/Takes Long Walks
9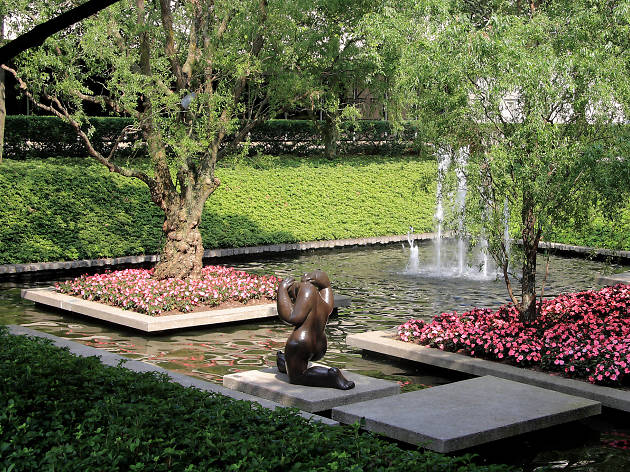 Donald M. Kendall Sculpture Gardens
This collection of 45 outdoor sculpture by important 19th- and 20th-century figures such as Auguste Rodin, Henry Moore, Alexander Calder and Alberto Giacometti, as well as works by major postwar artists such as Arnaldo Pomodoro, Claes Oldenburg and George Segal, is located on the grounds of PepsiCo world headquarters in Purchase, NY. Founded by former PepsiCo chairman, Donald M. Kendall, the garden spreads across 168 acres of landscaped terrain. 700 Anderson Hill Rd, Purchase, NY
Photograph: Courtesy CC/Flickr/John Menard
10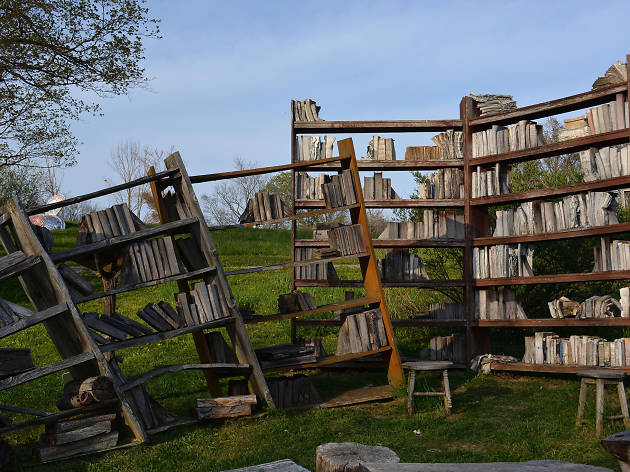 Stone Quarry Hill Art Park
Nestled on 104 acres near the Finger Lakes region in Western New York, Stone Quarry Hill Art Park features outdoor installations and sculptures by contemporary artists as well as four miles of hiking trails. The park offers a program of other art-related event and supports a residency program for artists from around the world. 3883 Stone Quarry Rd, Cazenovia, NY
Photograph: Courtesy CC/Flickr/Glenda Popielarksi
Curious about well known sculptures?
From pre-history and the Renaissance to 20th-century Modernism and the present, we rank the top sculptures of all time