The best architects of all time, ranked
The following famous architects changed the way we think about buildings, from Frank Lloyd Wright to Frank Gehry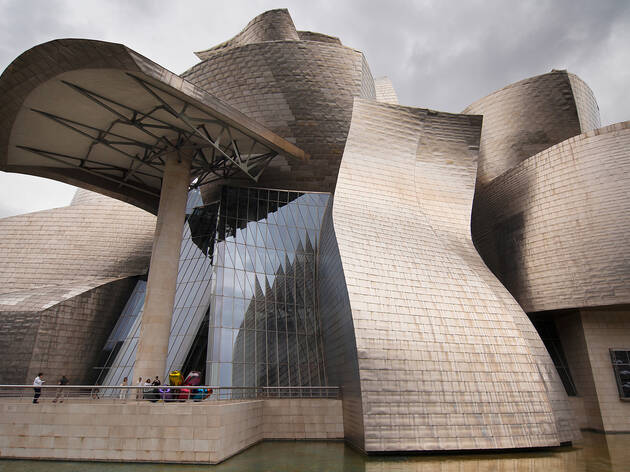 "We shape our buildings; thereafter they shape us," Winston Churchill (former British Prime Minister and sometime painter) once said, and nowhere is that more evident than in New York City, where an ever-evolving skyline boasts some of the world's most beautiful structures. As a consequence, New Yorkers don't have to go very far to experience architectural grandeur: Many of the greatest architects to rock the drafting table have left their mark on the Big Apple. Yet as much as we denizens of Gotham might hate to admit it, our fair city isn't alone in that respect. Indeed, the entire globe serves as the canvas for this creative elite, as you'll see in our selection of some of the greatest architects of all time.
Best architects of all time, ranked
1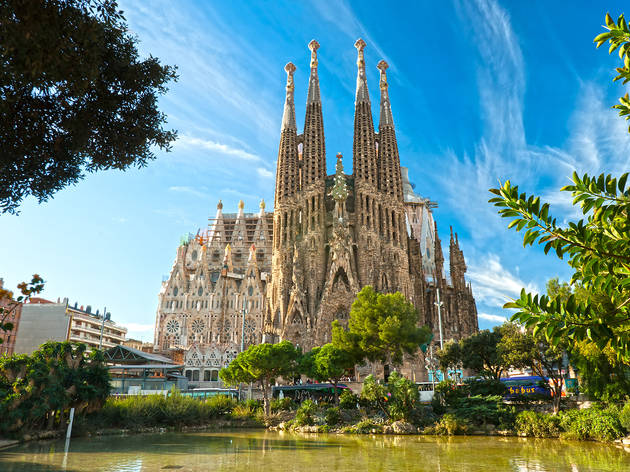 Gaudí spent his entire career in Barcelona, where he built all of his projects, the most famous of which is the 1883 cathedral known as La Sagrada Familia, still under construction today. His style was an ornate mix of Baroque, Gothic, Moorish and Victorian elements that often featured ornamental tile-work, and drew upon forms found in nature—an influence that can he seen in the tree-like columns holding up the vast interior of his church, as well as the undulating facade of another of his famous creations, the apartment block known as the Casa Milla (inspired by the multi-peaked mountain just outside of Barcelona called Montserrat). Gaudí's work would go on to have a tremendous impact on subsequent generations of modernists.

Antoni Gaudí, La Sagrada Familia, 1883
2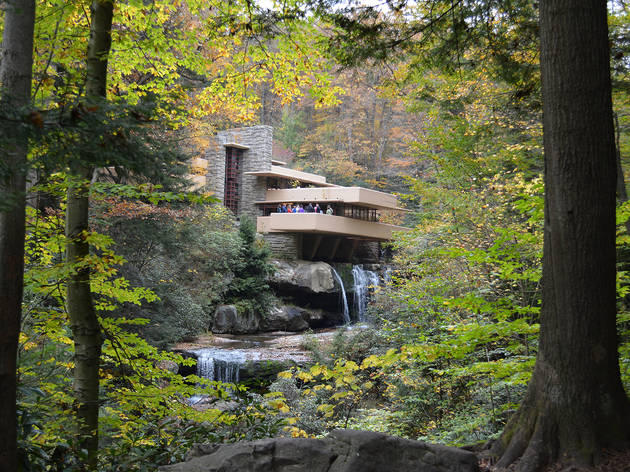 Photograph: Courtesy CC/Flickr/
A Wisconsin native, Wright revolutionize 20th-century architect, and his midwestern upbringing played a crucial role in shaping his sensibility. Inspired by the low-lying building that dotted the American plains, Wright created the Prairie House style as a reaction the prevailing Victorian aesthetic, which emphasized dark decor, and busy embellishments both inside and out. In its stead, Wright employed clean geometries with an emphasis on horizontal planes. His most famous building, Falling Water (a residence in Bear Run, PA, designed for Pittsburg department store magnate, Edgar Kaufmann in 1935) features stacked rectangular balconies that seem to float over the natural waterfall incorporated into the house. Later in his career, Wright would embrace curvilinear elements, a shift that found its most celebrated expression in the Solomon R. Guggenheim Museum.
3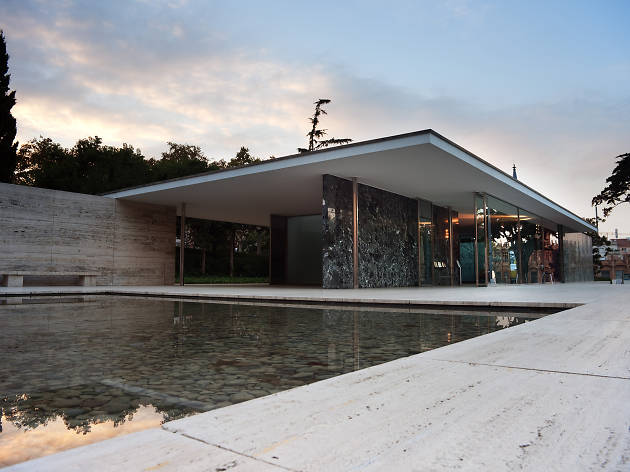 Photograph: Courtesy Creative Commons/Flickr/Scott Robinson
Famously holding to the proposition that "less is more," German architect Mies Van der Rohe stripped architecture to elemental geometric forms, pointing the way to Minimalism. He banished all traces of ornamentation, using the innate qualities of materials such as steel and plate glass to define the look of his buildings. This approach came out of another credo—form equals function—espoused at the Dessau Bauhaus, for which he served as the last director before the Nazis closed it down. His designs emphasized rationalism and efficiency as the route to beauty, an approached exemplified by The Barcelona Pavilion, built to house Germany's exhibit for the 1929 International Exposition in Barcelona. In it, you can see that while Mies (the name by which he's best known) abjured decorative details, he wasn't adverse opulence, as the liberal use of marble, red onyx and travertine in the structure attests. The resulting masterpiece is only matched, perhaps, by Mies's Seagram's tower in New York.

The Barcelona Pavilion, 1929
Photograph: Courtesy CC/Flickr/Scott Robinson
4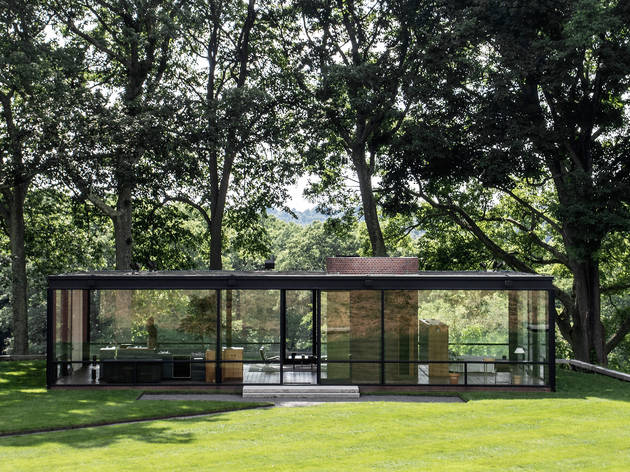 Photograph: Courtesy CC/Flickr/Thomas Nemeskeri
Johnson' role as the founding director of MoMA's Department of Architect had an enormous impact on the field, making him a gatekeeper who helped to shape architectural trends from 1935 onward. His was also a designer in his own right, though it's fair to say that he was more of a refiner of other people's ideas than he was an innovator. Nonetheless, his work achieved iconic status in a number of cases, most notably in the residence he built for himself in 1949. The house is a distillation of Mies Van der Rohe's approach, and in fact, Johnson himself noted that it was "more Mies than Mies." A transparent box set among exquisitely landscaped grounds, The Glass House dissolves the boundaries between inside and out, public and private. It's expansive use of plate glass undoubtedly inspired much of the architect for today's high-rise luxury developments. Johnson similarly rode the postmodern wave with his "Chippendale" building for AT&T (now privately owned), so called for its broken-pediment crown resembling the top of a classic 18th-century high-boy.

Philip Johnson, The Glass House, 1949
Photograph: Courtesy CC/Flickr/Thomas Nemeskeri
5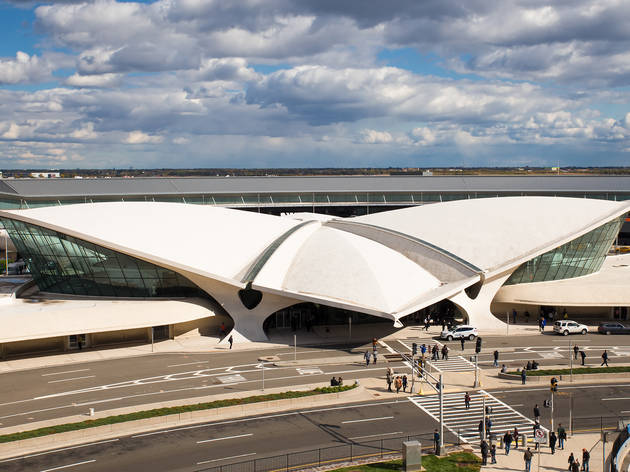 During the postwar era, the Bauhaus's straight-line philosophy evolved into the International Style, the go-to aesthetic for new business headquarters and government office buildings around the world. In essence, the modernist ideal of simplicity became a form of corporate conformity, and it is against this backdrop that Eero Saarinen's mid-century designs served as a welcome corrective. In contrast to the standardized box adopted by the International Style, Saarinen employed swooping curves that gave his architecture a sense of soaring transcendence—most especially in his 1962 JFK terminal for the now-defunct TWA airlines. It's gull-wing roof and ecstatic interior are still thrilling, but it's sense of architecture taking flight is a Saarinen trademark, evident in other projects such as his 1947 design for St. Louis's magisterial Gateway Arch.

Eero Saarinen, The TWA terminal, 1962
6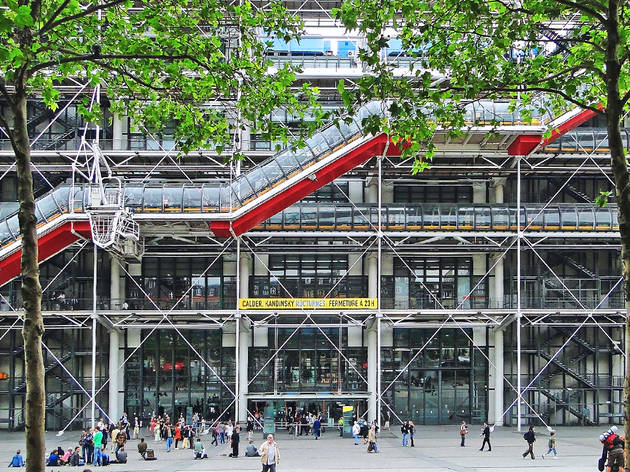 Photograph: Courtesy CC/Flickr/Fmpgoh
When the Pompidou Center first opened in 1977, it was consider the epitome of a trend at the time known variously as High Tech and Structural Expressionism. British architect Richard Rogers was a leading proponent of the style. This building, designed as Paris's central institution for Modern and contemporary art, suggests a structure turning inside out, with its heating and plumbing systems worn as the facade—which also features a glass-enclosed outdoor escalator climbing the height of the building. Rogers took a similar approach for another of his iconic buildings, the headquarters for Lloyd's of London.

Richard Rogers, Centre Georges Pompidou, 1977
Photograph: Courtesy CC/Flickr/Fmpgoh
7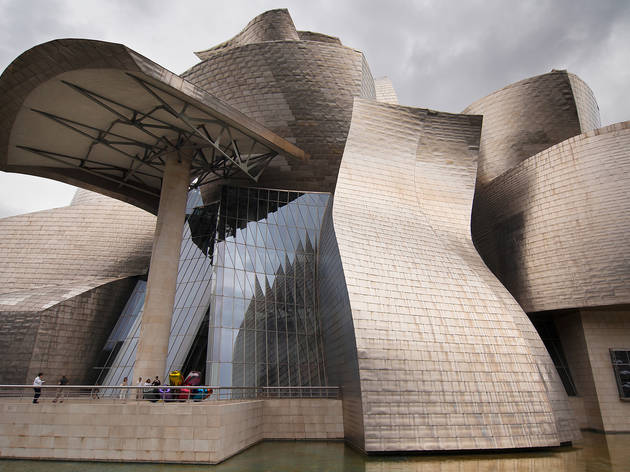 Photograph: Courtesy CC/Flickr/Fmpgoh
This West Coast architect is undoubtedly the most famous in the world right now, thanks to his 1997 design for the Guggenheim Museum branch in Bilbao, Spain. Though Gehry was already well-established in his field as the auteur billowing forms that seem to defy gravity and the logic of conventional construction methods, The Guggenheim Bilbao remains the finest example of a style he's applied to innumerable commissions, like Disney Hall in Los Angeles and MIT's Stata Center in Cambridge MA. Clad in titanium, The Guggenheim Bilbao suggests a large ship tied up along the Nervión River. The building is also credited with reviving the fortunes of its host city, the largest in the Basque Country.

The Guggenheim Bilbao, 1997
Photograph: Courtesy CC/Flickr/Fmpgoh
8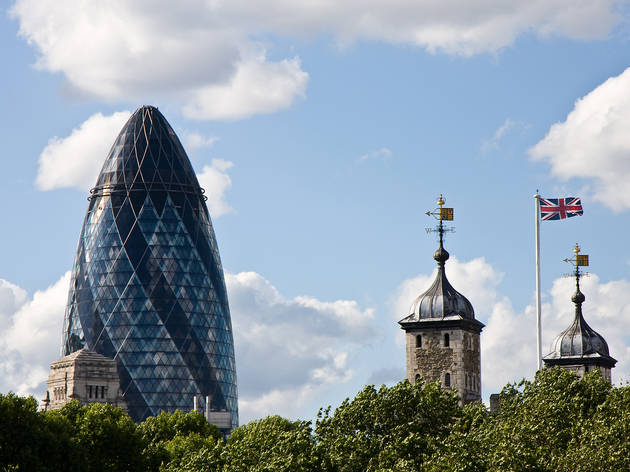 A fan of Frank Lloyd Wright, Ludwig Mies van der Rohe, and Le Corbusier, British architect Norman Foster worked early in career as an associate of Buckminster Fuller, the noted visionary and inventor of the geodesic dome. The latter's tessellated pattern of triangular forms must have made an impression on the young Foster since his most famous buildings feature similar surface treatments for their facades. Exhibit A: 30 St Mary Axe in London, aka The Gerkin, a commercial skyscraper in London's financial district that opened in 2004. Its pickle-like form tapering to a point has become an international icon, as synonymous with London as the Eiffel tower is with Paris.

Norman Foster, The Gerkin, 2004
9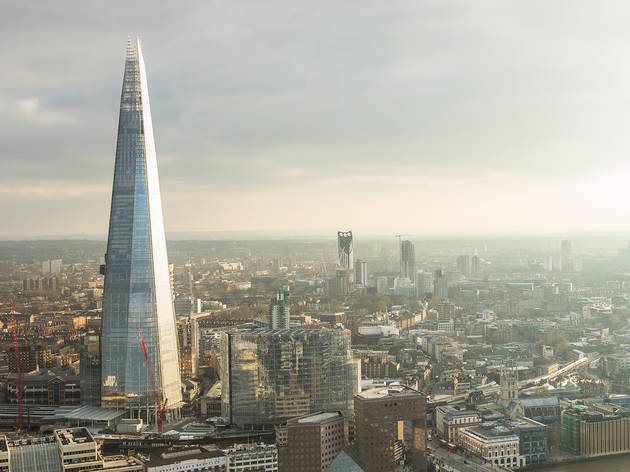 Unlike other architects on this list, Italian architect Renzo Piano isn't recognized for having a singular style. Instead, his building have been eclectic, ranging from the Neo-Brutalism of his design for the Whitney Museum's home in the Meatpacking District, to the elegant, light-filled Menil Collection in Houston Texas, which resembles an overgrown version of a mid-century house by West Coast modernist, Richard Neutra. However, his projects often share a certain industrial or technological look (he cut his teeth, assisting Richard Rogers in the design of the Pompidou Center). The Shard in London is his largest building to date, a sharply tapering 95-storey skyscraper made of glass and steel that has become his most recognized creation.

Renzo Piano, The Shard, 2013
10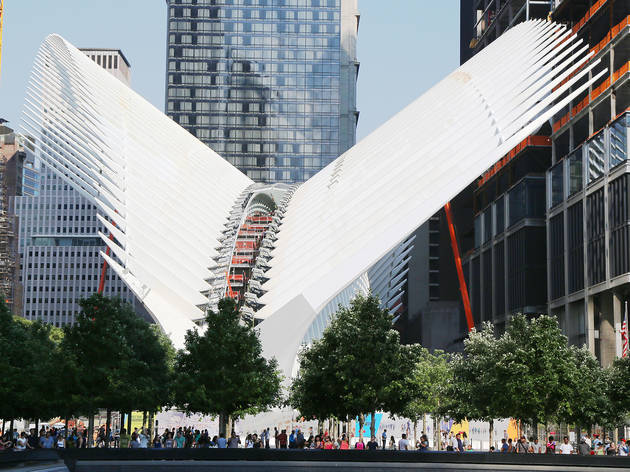 The work of this Spanish architect has been described as Neofuturist, although sci-fi baroque might be closer to describing it. His buildings often resemble the ribcages of extinct robotic dinosaurs, if such things existed. His projects definitely attracted worldwide attention—and garnered a reputation for massive cost overruns. Nonetheless there's no denying that Calatrava is one of the most distinctive architects working today, as his best known creation—the Transit Hub for the World Trade Center—attests. Finally open after years of delays and exploding expenditures, the Transit Hub is a vision in white, its interior dominated by a glass occulus allowing daylight to filter into its main hall. As it happens, Calatrava has another building on the WTC, a Greek Orthodox chapel that replaces one destroyed during the 9-11 attacks. It, too, is clad in white while its form is based on famed Hagia Sofia in Istanbul.

Santiago Calatrava, The WTC Transit Hub, 2016
11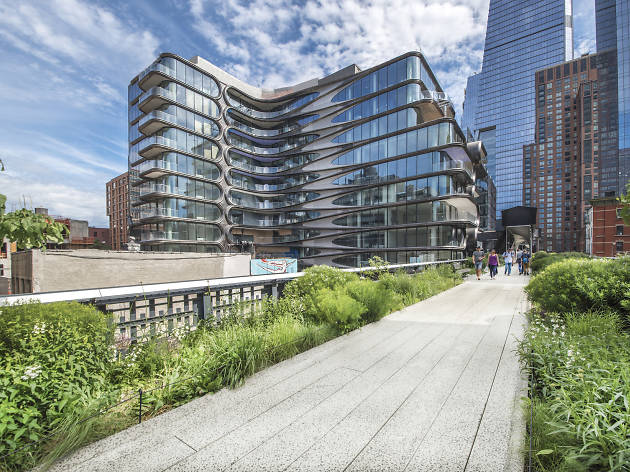 Photograph: Tim Fisher Photography
One of the few women to have risen to the level of starchitect—and the first ever to win architecture's version of the Oscar, the Pritzker Prize—Zaha Hadid (1950–2016) was known for futuristic designs that employed curving, swooping lines more suitable for UFOs than buildings. Born into a wealthy Iraqi family in Bagdad and educated in the U.K. (where the Queen would later make her a Dame, the feminine form of address for knighthood) Hadid threw out the rule-book, eschewing the linear geometry usually employed by architects for an Expressionistic style that often appeared to allude to the female form—though not intentionally, according the Hadid herself: When her design for a stadium in Qatar was compared to a vagina, she dismissed the comment as "embarrassing" and "ridiculous." Though she built extensively around the world, she has only on completed project—a luxury condo in Chelsea—in New York City.
12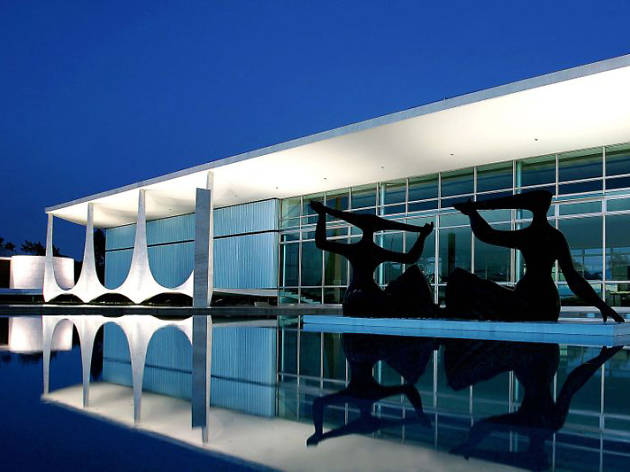 Photograph: Courtesy Wikipedia Creative Commons
The Brazilian architect Oscar Niemeyer (1907–2012) was one of the key figures in the development of midcentury modernist design. Anticipating the work of Frank Gehry and Zaha Hadid, Niemeyer employed bold curvilinear forms at a time when the boxy International Style reigned and Mies Van der Rohe's proposition that "less is more" was the mantra of the architectural field. Niemeyer was part of the design team behind the U.N. Building in New York City, but his most famous and ambitious project was undoubtedly the civic buildings for Brasília, the planned city that has served as Brazil's capital since 1960.
13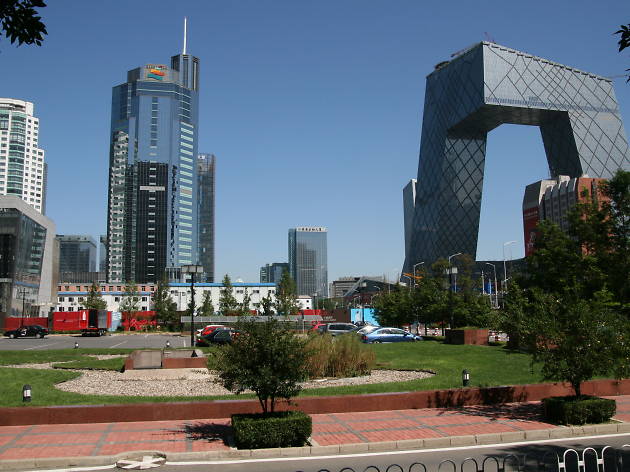 Photograph: Courtesy Wikipedia Creative Commons
Born in Rotterdam in 1945, Rem Koolhas is one of the most influential architects of his generation, not only as a building designer but also as an architectural theorist. He first came to prominence with the publication in 1978 of his book Delirious New York, an encomium to the city and it's central role in shaping the 20th-century, both economically and culturally. As for buildings, he is best known for the massive Central China Television Headquarters in Beijing, China, a 44-story möbius-strip of a structure that appears to loop in on itself (the locals refer to it as "big boxer shorts").
Looking for more top artists?
Check our list of up-and-coming contemporary artists doing everything from painting to video and guerrilla curating