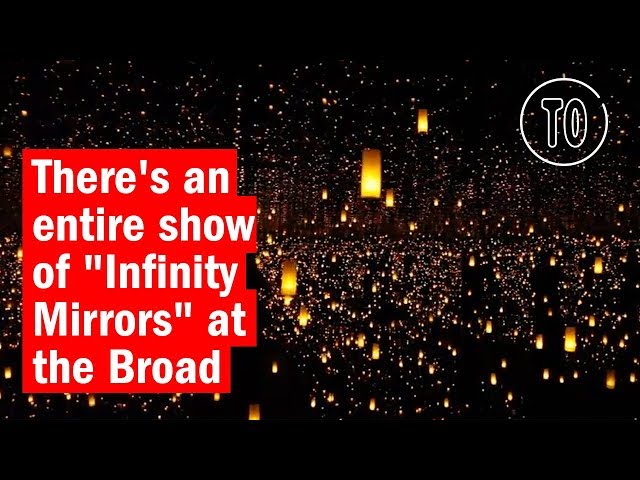 The "Infinity Mirror Rooms" installation immediately became an Instagram sensation when the Broad museum in Downtown Los Angeles opened in 2015. Last week, on October 21, the much-awaited "Yayoi Kusama: Infinity Mirrors" exhibit arrived in L.A., and our colleagues there won't stop talking about it. The exhibition, which includes six different immersive rooms and more than 60 paintings, sculptures and works on paper from the 87-year-old artist, is one of the hottest tickets in L.A. this fall.
This Thursday, New York is getting a fresh installation from Kusama, which will include two new rooms and a collection of paintings, sculptures and other works from the artist spread across three different art galleries. Kusama's works will be displayed in two concurrent exhibitions at David Zwirner's trio of gallery spaces across town (two in Chelsea at 525 and 533 West 19th Street, and one on the Upper East Side at 34 East 69th Street). The two new rooms are a part of the "Festival of Life" exhibit, and will be accessible via the 525 West 19th Street entrance. One will only be viewable through a pair of peepholes and will feature miniature, color-changing lightbulbs arranged in a "hexagonal pattern that is mirrored endlessly." Visitors can walk inside the other room, which will contain stainless steel balls suspended from the ceiling surrounded by mirrors, and another enclosed column containing another mirror-ridden environment viewable through a peephole.
The Uptown gallery will house the "Infinity Nets" series, which features elaborately painted nets displayed across monochrome backgrounds. Dozens of other paintings, sculptures and "environments" will also be on view across the three spaces.
In 2013, David Zwirner hosted another exhibit from Kusama dubbed "Infinity Mirrored Room—The Souls of Millions of Light Years Away," but this year's run comes with a bit more hype.
Kusama has been captivating audiences with her Infinity Mirrors since the 1960s, but the works have garnered widespread attention in recent years mostly due to their popularity on social media. They've become such a sensation in L.A. that the Broad has instituted a 30-second time limit for viewing each chamber. David Zwirner will also have a time limit, the exact length of which is still being determined.
The exhibition opens on Thursday, November 2, and runs through Saturday, December 16. Admission is free, but those who are looking to check out the works should be ready to wait in line, a gallery representative said.
Sign up to receive great Time Out deals in your inbox each day.