Your guide to Columbus Day in NYC
Here's everything you need to know about Indigenous Peoples Day (Columbus Day) in NYC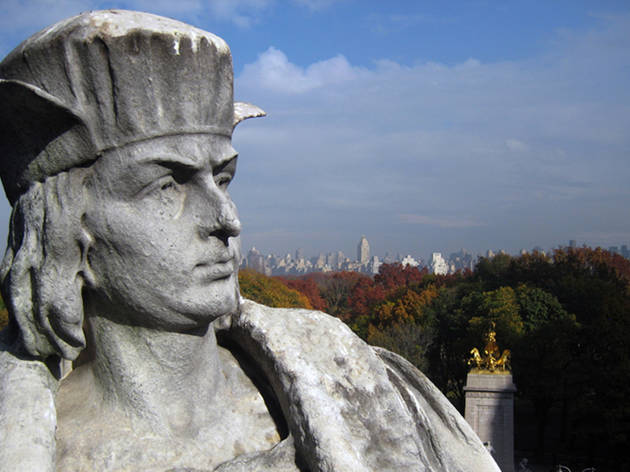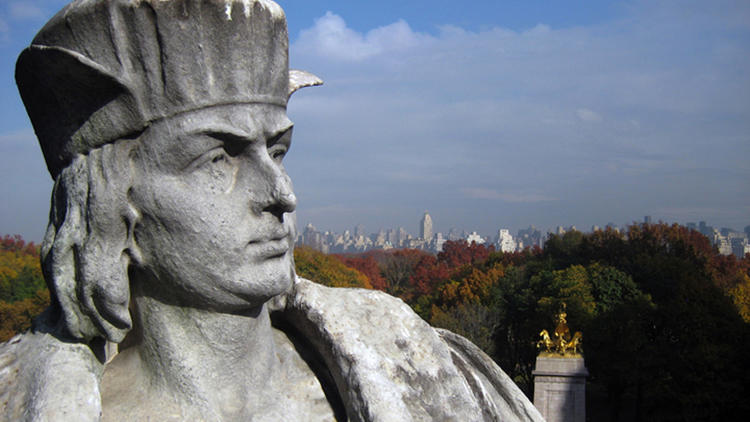 Celebrating Columbus Day 2020 doesn't have to be about the first European who discovered America (more or less), in fact, more and more people are marking Indigenous Peoples Day instead.
The Columbus Day Parade has received backlash over the years as it is historically proven that the man of the hour led the oppression and genocide of indigenous people. If you want to know where you can go to learn more about Native American art and culture, then read on. Or maybe you just want to spend the day eating Italian food? Live your life!
RECOMMENDED: Best things to do in fall in New York
When is Columbus Day?
This year, Indigenous Peoples Day (Columbus Day) falls on Monday, October 12, 2020.
What is Columbus Day?
Columbus Day refers to when Christopher Columbus landed in America. Technically, he arrived on October 12, 1492, but since 1970, the United States has observed the occasion on the second Monday of every October. In New York, the holiday is dedicated to celebrating Italian-American heritage. In other states, Christopher Columbus is not celebrated at all. Instead, it's reimagined as Indigenous Peoples' Day drawing attention to the historical truths relating to the genocide and oppression of indigenous people. There are several exhibitions highlighting Native American artwork that would be good to visit during this day in NYC. Read more about them here.
When is the Columbus Day Parade in NYC?
There is no Columbus Day Parade this year.
Archive Columbus Day content
Fall getaways near NYC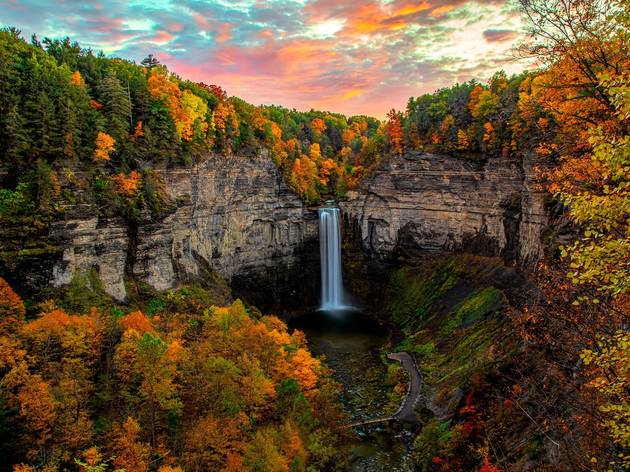 Ithaca, NY
Ithaca, on the southern tip of Cayuga Lake, is a college town through and through, but it's also got that rustic, upstate vibe and gorgeous fall foliage you're looking for with quaint Victorian homes to gaze at. It's a great getaway for those who want to go leaf-peeping and pumpkin picking but also want to check out the local town nightlife and its plethora of restaurants. The best part? It's near to some of New York's most incredible gorges and waterfalls. They don't say "Ithaca is gorges" for nothin'!What to do: Grab breakfast at any one of its popular joints, from Ithaca Bakery to DeWitt Cafe, and head out for a day in the leaves at Robert S. Treman State Park nearby, which is home to Lucifer Falls and a Lord of the Rings-eque gorge you can hike into. And don't skip Taughannock Falls, which is 215 feet tall, and empties into its own gorge. When you're done communing with nature, make sure to go antique hunting at Found In Ithaca and Mimi's Attic, and hit up the Ithaca Farmers Market for homemade pies and apple cider doughnuts, hard cider from local cideries, fresh flowers and much more. And definitely have dinner at Mercato.Where to stay: The William Henry Miller Inn is located right in the heart of downtown Ithaca and within walking distance of as many as 50 restaurants. It's also an incredibly beautiful, historic building from 1878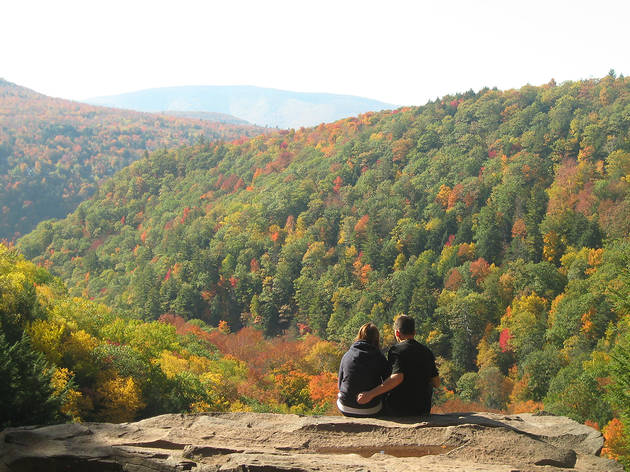 Catskills, NY
Forever cemented in pop-culture as the site of Woodstock (and the backdrop of Dirty Dancing) the Catskills boasts some of New York's most charming small towns, many of which are just two-and-a-half hours outside of the city.What to do: A hiking trail on Overlook Mountain leads to the Instagram-worthy remnants of an unfinished luxury hotel and views of Echo Lake. The General Store of Catskill (356 Main St, Catskill; 518-653-9188, thegeneralstoreofcatskill.com) is another draw, located on the town's historic Main Street and offering an array of locally-made bath, body and wellness products.Where to stay: It'll be hard to return to your NYC apartment after a few nights at Table on Ten (52030 NY-10, Bloomville; 607-643-6509, tableonten.com). The three-room inn is also a restaurant, serving wood-fired pizzas Friday and Saturday nights.
book now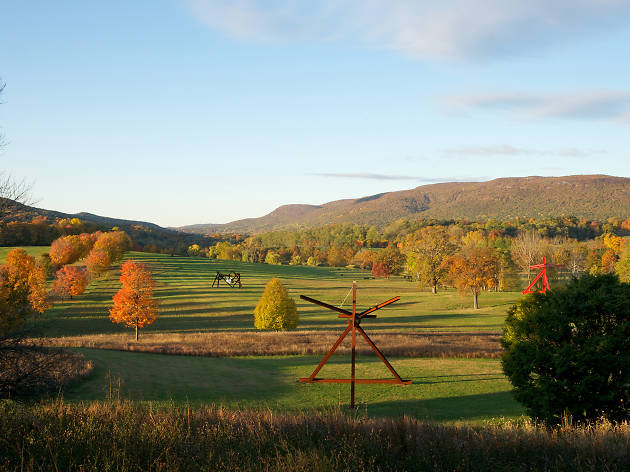 Hudson Valley, NY
Something tells us glampers dig the Instagram. Maybe it's the constant postings. Whatever the reason, more than enough 'Gram gold can be found in Hudson Valley—a glamper's paradise. What to do: Head to Storm King Art Center (1 Museum Rd, New Windsor, NY; 845-534-3115, stormking.org), a bucket-list site that has striking contemporary sculptures amid 500 acres of resplendent green, yellow and brown foliage. Afterward, move between art and antiques on Warren Street in Hudson, where NYC expats helm stylish galleries and boutiques. Then brunch at the oh-so-pretty Rivertown Lodge (731 Warren St, Hudson; 518-512-0954, rivertownlodge.com), a hip hotel for design lovers, which recently opened a new tavern that serves Dutch baby pancakes. Where to stay: Book a tent at the just-opened Collective Hudson Valley (129 Ostrander Rd, Hudson; 970-445-2033, collectiveretreats.com; $500–$700/night) on an organic farm. Its luxe, low-pitched tents require no setup and are stocked with rustic furnishings and a generous dollop of ritz—like electricity, private bathrooms and 1,500-thread-count sheets on which to count sheep.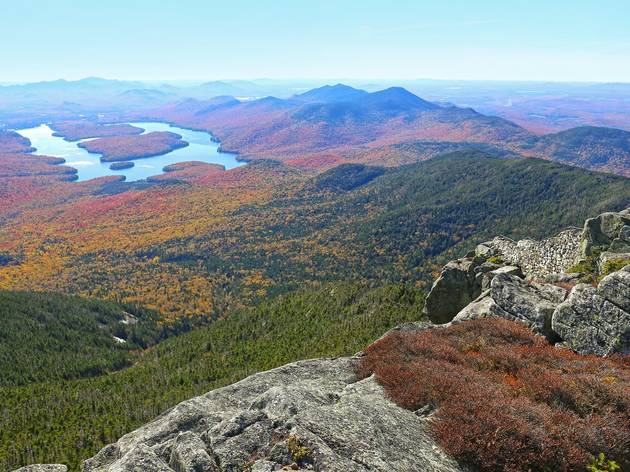 Lake Placid, NY
The beloved lake is just the beginning: This prime Adirondacks spot features shopping, hiking, swimming and one killer mountain. What to do: Beyond mountain biking and hiking, you can head to the lake for a vast array of watersports. The town of Lake Placid has a rich collection of art and shopping. Where to stay: The seven-acre, 131-unit Mirror Lake Inn (mirrorlakeinn.com) can't be beat. Every room looks over the lake, and the the cozy fireside accomodations (along with two restaurants and a spa) will keep you in your robe late into the day.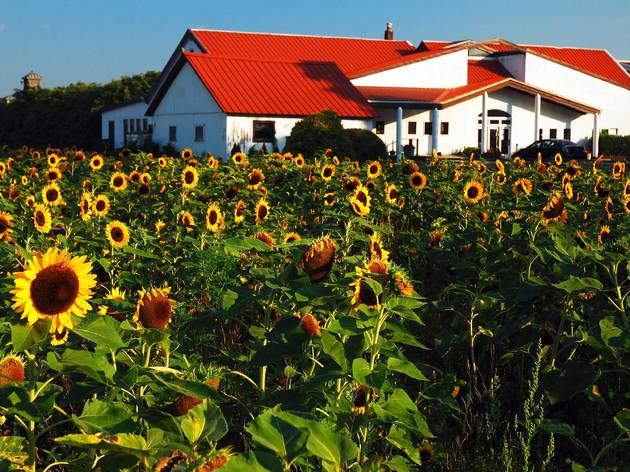 North Fork, LI
South Fork is so last season. Instead, skip it for Long Island's North Fork this fall, where the bucolic coast is just warming up. Without traffic you can make it to this venerable stretch of farms and vineyards in a hour and a half. Bring your taste for Chardonnay and Pinot Grigio.What to do: Winery tour options abound here, so take your pick! Sample Merlot at One Woman Wines and Vineyards (5195 Old North Rd, Southold; 631-765-1200, onewomanwines.com), try Coffee Pot Cellars' sauvignon blanc (31855 Main Rd, Cutchogue; 631-765-8929, coffeepotcellars.com), or sip on something bubbly at Sparkling Pointe (39750 Middle Rd, Southold; 631-765-0200, sparklingpointe.com). No judgment if you decide to hit up all three.Where to stay: North Fork is perfect for a day trip, but if you want to extend your stay, tap Arbor View House B&B (8900 Main Rd, East Marion; 631-477-8440, arborviewhouse.com), known for it's plush garden and gourmet breakfast, as your relaxing home away from home. Book Now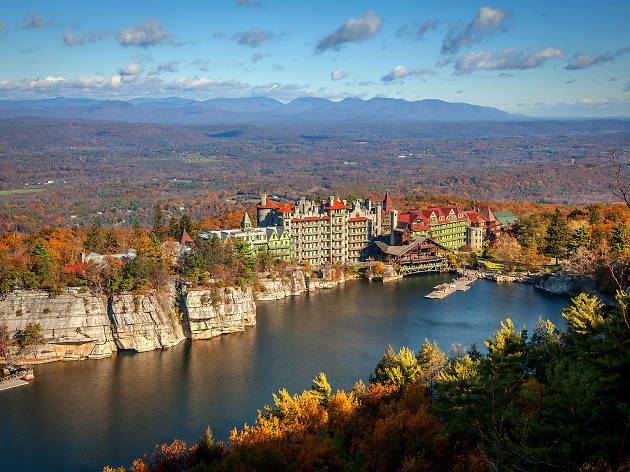 New Paltz, NY
If you've ever walked the six-mile perimeter of Central Park and felt wistful leaving the North Woods—which were designed to resemble a forest in the Adirondacks—then it might be worth heading to New Paltz, NY to tackle some serious hiking. A nature-filled weekend starts by booking a roundtrip ticket to Mohonk Mountain House via the Catskill Carriage, which is redefining the charter bus experience. During your trip, you are provided with every amenity you could possibly need. Wifi, outlets, snacks, candy and even homemade cookies? MTA, take notes. What to do: The best reason by far to visit Mohonk is to get outside and explore its extensive hiking trails, which are set in 2,200 acres of forests. One of the most popular hikes is a relatively easy trek up to Sky Top Tower, a stone structure that was built about 85 years ago in honor of one of the resort's founders, and which offers fantastic views of the surrounding area. All of the hiking trails are well marked and maps are provided, offering hikers everything from a beginner path to some serious rock scrambles located along a network of paths situated on lakeside cliffs. Where to stay: Situated at the top of the Shawangunk Ridge, Mohonk Mountain House (1000 Mountain Rest Rd; 845-765-3286, mohonk.com) overlooks the half-mile-long Lake Mohonk and is a National Historic Landmark that has been owned by the same family for almost 140 years. While staying at this 265-room Victorian castle with a full-service spa isn't exactly roughing it, photos of long-gone relatives, fireplaces and the lack of TVs in each room add some rustic charm.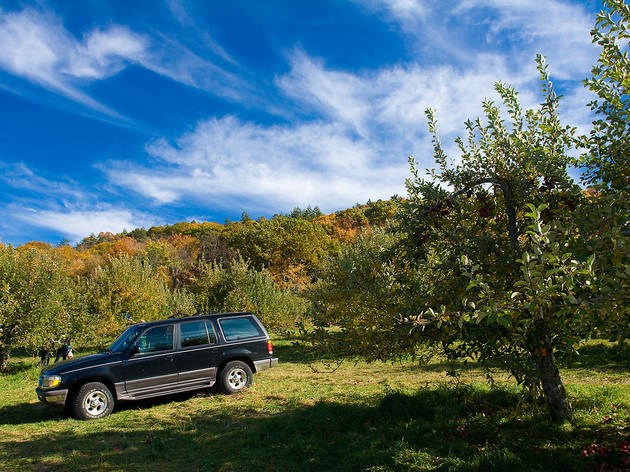 Warwick, NY
A day at the orchard sounds nice, right? And just an hour and a half away from NYC? Even better.What to do: Warwick's main attraction is Masker Fruit Farms (45 Ball Rd; 845-986-1058, maskers.com)—a 200-acre orchard open for apple picking seven days a week. Admission is free and and apples are $28.95 per half bushel (about 20). Swing by the country store on your way out to pick up apple butter and a jug of cider.Where to stay: Warwick Valley Bed & Breakfast (24 Maple Ave; 845-987-7255, wvbedandbreakfast.com) kicks casually accommodations up a notch with on-call massage therapists and a vegetarian or vegan breakfast made at your request.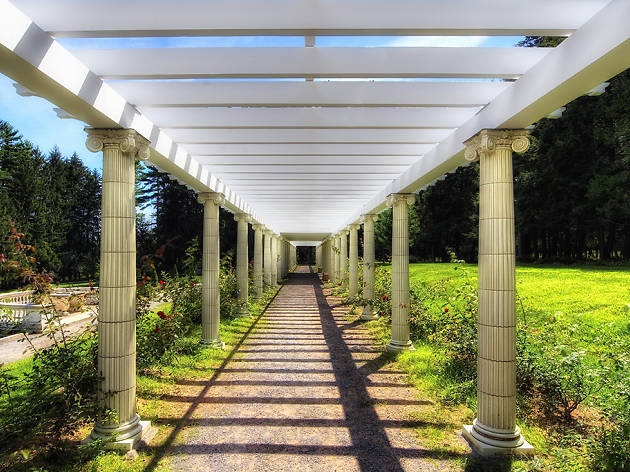 Saratoga Springs, NY
Saratoga Springs has been a posh retreat from the big city for more than 200 years due to its natural mineral springs that spawned its name. The naturally carbonated wonders are some of the only ones in the country and attract throngs for their healing benefits, namely antacid properties to help upset stomachs and heartburn. But there's plenty else to see and do in this upstate New York retreat in the fall, from apple picking and corn mazes to foliage hikes and autumnal farmers' markets. What to do: Zen out at Yaddo (312 Union Ave; 518-584-0746, yaddo.org, $10), an artists' hub that opened in 1900 and sits on a bucolic 400-acre estate. Its mission is to give artists the space to work without interruption. Today it's a center for choreography, film, literature, music, painting, performance art, photography, sculpture and video installments, and aside from all the arty happenings, it's worth a visit just for the pleasant walk around the gardens. You can experience more culture at The National Museum of Dance (99 S Broadway, Saratoga Springs, NY; 518-584-2225, dancemuseum.org), at which you can view an ever-growing collection of photographs, videos, costumes, biographies and more artifacts that pay homage to the art of dance, of course. Where to stay: Right on bustling Broadway, Saratoga Arms (497 Broadway; 518-584-1775, saratogaarms.com, $289/night) is a stone's throw from boutique shops and restaurants. Breakfast is included daily at this country-style inn, where you can find wraparound porches, fireplaces and balconies. Book Now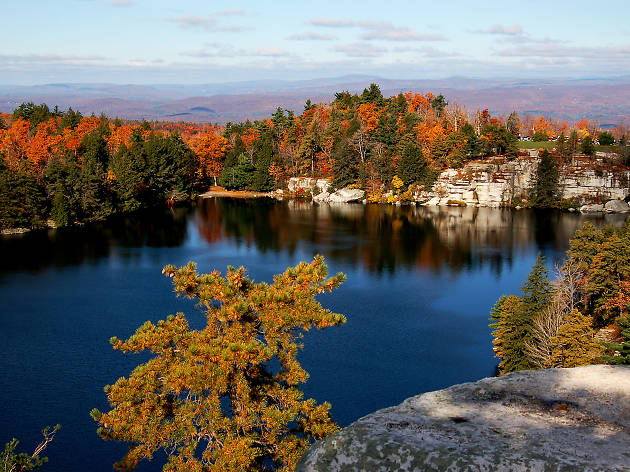 Stone Ridge, NY
This centrally located, historic upstate New York town is the jumping off point for the rest of the Catskills—a great home base for exploring Phoenicia, Kingston or Rosendale. What to do: Build up a sweat at Minnewaska State Park (5281 Rte 44-55; 845-255-0752, parks.ny.gov), a nearly 23,000-acre nature preserve. The Millbrook Mountain trail is a five-plus–mile loop within the park that climbs the mountain along the cliffs of Shawangunk Conglomerate. The steep path gives way to several gaps in the trees, where rocky bluffs overlook hundreds of miles of untouched park, which will undoubtedly painted in glorious colors. (In other words: be prepared, Instagrammers.) Where to stay: The recently reopened Hasbrouck House (3805 Rte 209; 845-687-0736, hasbrouckhouseny.com, $275/night) is in an 18th-century Dutch Colonial mansion, with 17 rooms and nearby carriage and stable houses. Spread across three separate stone buildings, each with a collection of both vintage and modern pieces, the property is surrounded by country gardens and pays homage to the locally sourced food and drink of the Catskills. The restaurant Butterfield takes on a country-tavern vibe but with elevated cuisine like its Three Little Pigs Sandwich with smoked paprika, pulled pork, house-cured ham and slaw on a potato bun. Book Now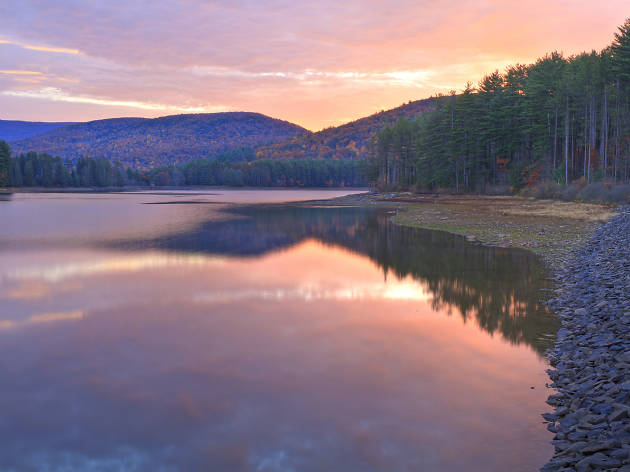 Woodstock, NY
Though the name conjures a crowd splashed in tie-dye and the faint scent of marijuana, Woodstock isn't actually where the 1969 festival was held. (That was in Bethel, about two hours away.) Even so, the town is a mix of retired hippies—a street there is named after the late great Band member Levon Helm—artists and city dwellers who feel the need to flee the metropolis on weekends. What to do: Besides all the camping? If you've grown tired of that smoky campfire smell and yearn for a real table and chairs, pop into Oriole 9 (17 Tinker St; 845-OR9-5763, oriole9.com) in town. This local favorite is a café-cum-art-gallery that serves fantastic all-day breakfast and lunch. (Go for the curried coconut tofu hash.) Where to stay: Trade in four walls and a ceiling for something a little more portable. Tentrr (tentrr.com, $120/night) is a campsite service available in Woodstock and elsewhere upstate. The idea is simple: Book a tent and arrive to a set-up campsite stocked with food and drink. It's basically Airbnb for campers, touting fully-equipped campsites on private properties all across the Catskills. And don't worry: Tentrr provides queen-size cots, because you're too pretty to actually sleep on the ground.
Show more