Comedy
New York City's best guide to comedy clubs, stand-up comedy, comedy venues and comedy events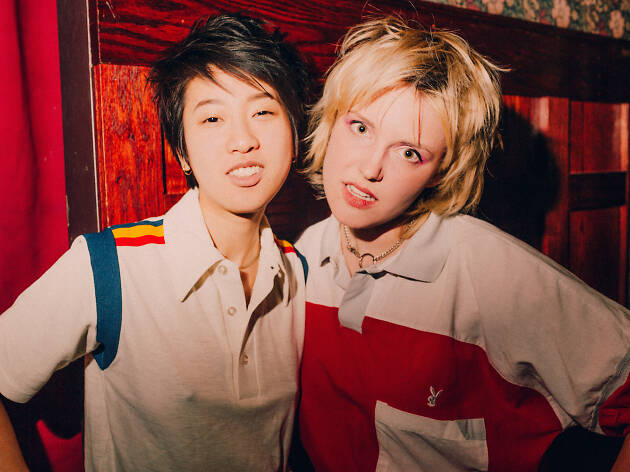 The best comedy shows in NYC this week
Want to be in the cult of comedy? These get-downs at comedy clubs in NYC feature some of the city's best and most diverse comedians taking the stage and doing what they do best. So whether you're into regular open-mic nights or insane sketch comedy, we've got you covered. Some of the best NYC comedy podcast stars are known to make surprise appearances at these shows, so keep your eyes open…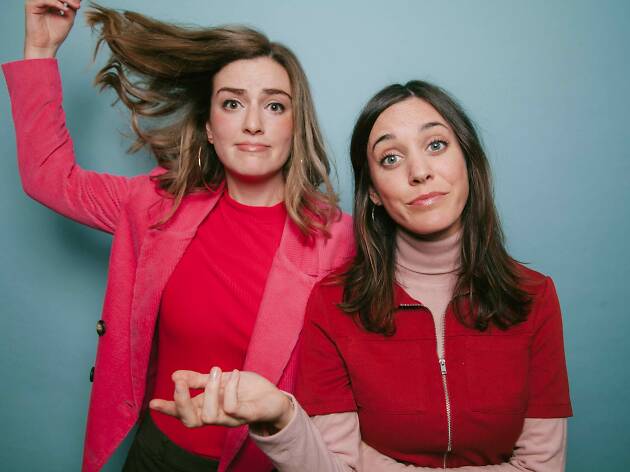 The best comedy shows in NYC this month
Sure, you could stay home and watch the best stand-up comedians' specials, or you could head out to the best comedy clubs in NYC and see some world-class performances in person. Below you'll find our picks of the absolute best shows happening this month, from improv to open mic nights and everything in-between.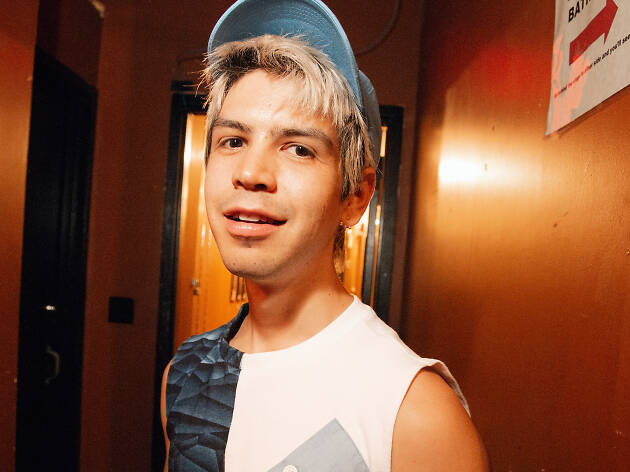 The best spring comedy in NYC
After a rough winter, we're guessing you could use a laugh this spring. Fortunately, some of the best comedians are hitting NYC comedy clubs for insane stand-up, sketch and improv sets, and we've got the rundown. Check out new material from some of our favorite NYC comedy podcast hosts and big names at these NYC comedy shows. RECOMMENDED: Full guide to things to do in spring in NYC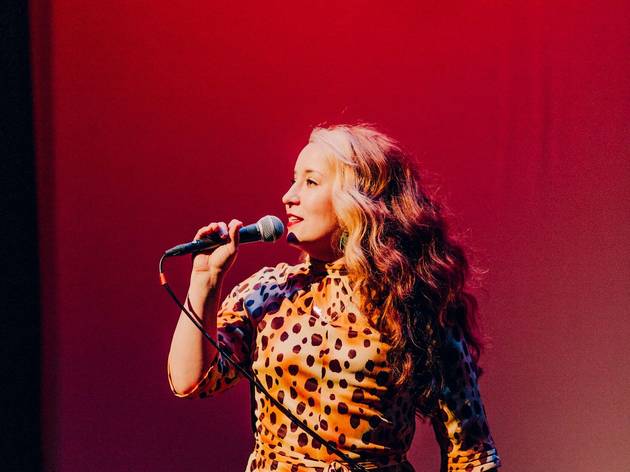 Amanda Duarte isn't here to make your feminism easy
A new age of government gaslighting, corporate feminism and manic male terrorism calls for a new language—and a writer with guts. Enter Amanda Duarte, the #pussygrabsback founder and downtown luminary here to make sense of the bullshit, at great personal risk. With her new Joe's Pub show Staying Alive, she calls on the music of the Bee Gees (from a truly bizarre Saturday Night Fever sequel) to reconcile with her divorce and the aftermath of #metoo. We spoke with Duarte about the creation of her harrowing, heartbreaking and hilarious new show.  What is your connection to the movie Staying Alive? When my whole life fell apart—when my husband and I separated, my dog died and I was in the darkest of darkness, I just wanted to check out and watch the worst movies that I possibly could, because you're really not capable of doing anything else. I was looking around on HBO on demand and I saw Staying Alive. I love a good '80s New York City movie, but I really love a bad one. So I watched it when I was in this horrible darkness, and it is a terrible movie, and what really struck me was: I'm looking at 1983 New York City, and everything about New York City has visually changed, all the businesses have changed, the streets have changed so much. But this horrible misogynist story at the heart of this movie is still happening to me and everyone I know. So how is it that there's been so much change in this city and this country since then, and yet the garbage that men do to women is still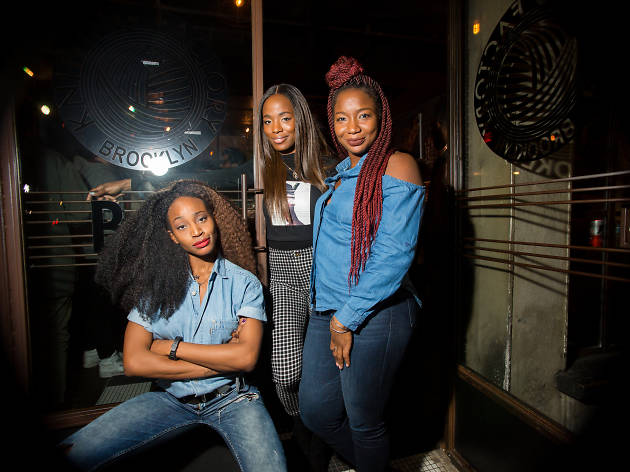 The best comedy shows by women in NYC
The days of schlubby male stand-ups in sweatpants complaining about their girlfriends are (hopefully) over, at least in NYC. Women-identifying, trans and nonbinary performers have taken over NYC's best comedy clubs, and we couldn't be happier. Here's our handy guide for shows going down in Brooklyn, Queens and Manhattan.
Upcoming NYC comedy events
Best comedy events in NYC: Critics' picks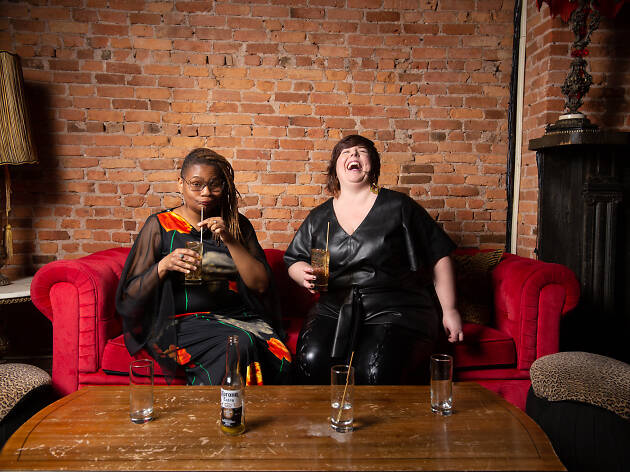 Laying It Down with Carolyn and Shalewa
Undeniable queens Carolyn Castiglia and Shalewa Sharpe don't have time for your musty comedy basement, so they're setting up shop at the fabulously sexy Madame X. Join the two in the crushed velvet lounge for stand-up, tarot readings, burlesque and beyond. The April edition boasts Ayanna Dookie, Calise Hawkins, Rebecca V. O'Neal, Casey James Salengo and Yedoye Travis.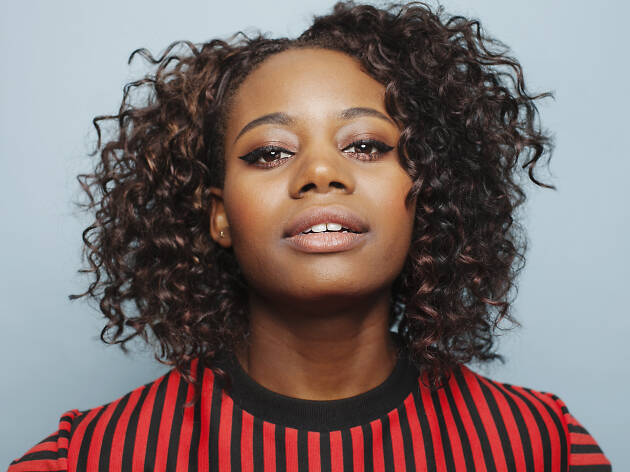 Eudora Peterson: Freak at the Opera
Count on a dazzling array of characters—and an even more fabulous wardrobe—at this showcase of alt-comedy's greatest secret weapon. After serving her signature purr as Aunt Betsy DeVos in Handmaid's Tale: The Musical, the stand-up sphinx is on a roll. Better pledge your fealty now.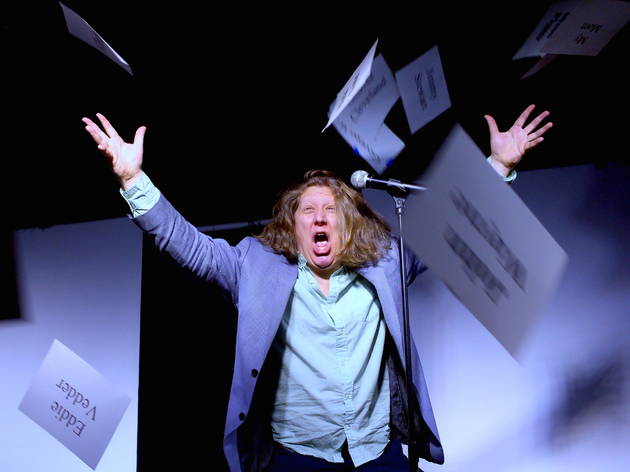 200 Impressions in 60 Minutes
At this masterful showcase, Trump Lear actor David Carl takes his impression of the president to disturbing, mesmerizing new levels. At this epic gambit, he unleashes an armada of deranged characters, from Miss Piggy to Nick Nolte. Don't miss the daring mix of character sketches, games, challenges and beyond from the singular performer. 
Wack or Woke? Andrea Coleman Judges the Law
Real-life lawyer Andrea Coleman cleans up the messes of the supreme court at this hilarious show. Along with comedians Carly Ann Filbin, Wanjiko Eke and Kenice Mobley, she'll parse through some of the nation's most outrageous laws, tear into the white dudes on the bench and give you a real legal education.