Heads up! We're working hard to be accurate – but these are unusual times, so please always check before heading out.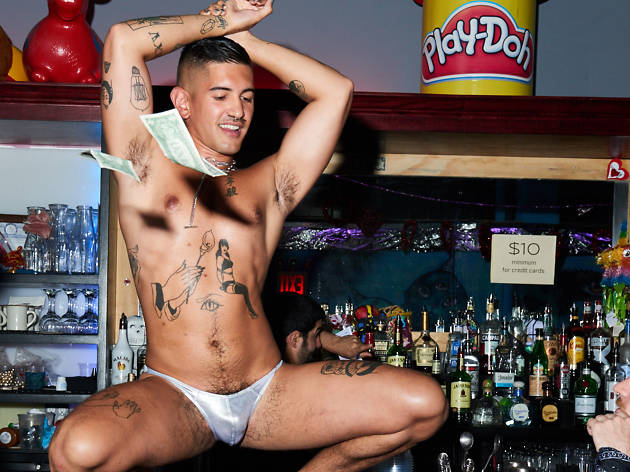 What it's like to be a late-night dancer in NYC
Burn the midnight oil with four of the hardest-working (and twerking) after-hours dancers in New York
When the sun goes down, these four talented performers turn it up. At everything from East Village bars to monthly gay parties, it takes more work than you might think to be the life of the party. But don't take our word for it. Hear it from these hot night owls who may just inspire you to get up on a bar or burlesque stage.
What it's like to be a late-night dancer in NYC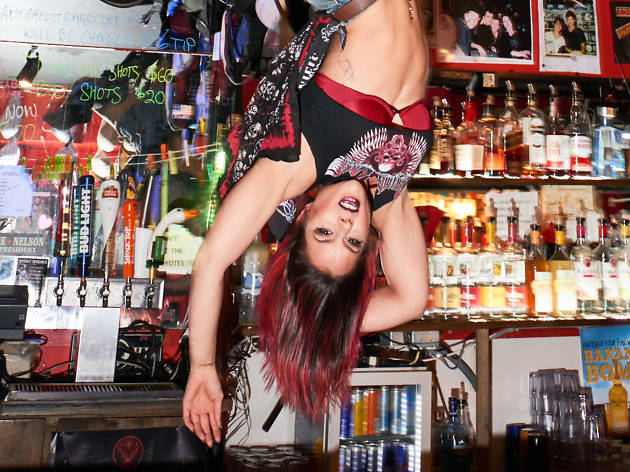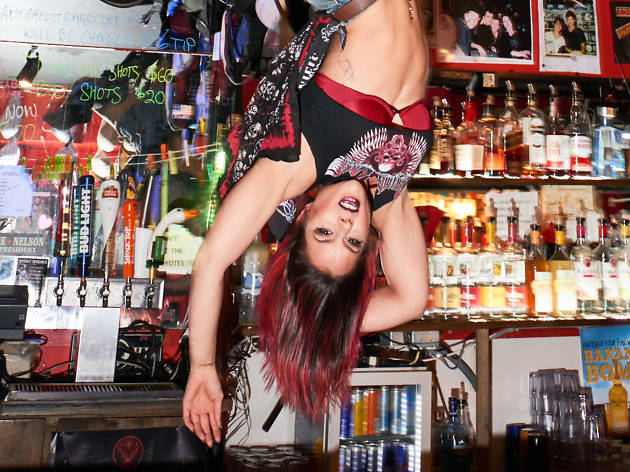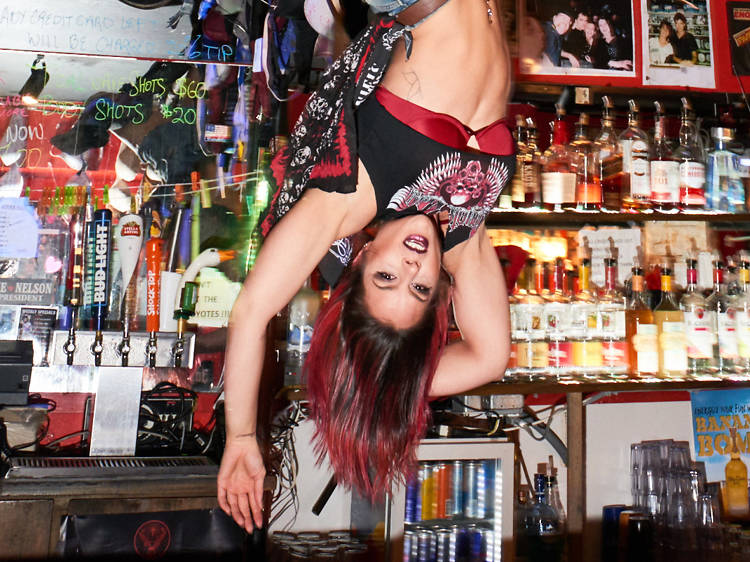 Photograph: Kyle Dorosz
Personal trainer at TMPL Gym by day, Coyote Ugly dancer by night
Dawn, 29, The Bronx
Do people still ask you about the movie?
All the time! If you're an American girl between the ages of 26 and 36, you'll have seen it once, twice or 200 times. The movie was made about the bar, and it doesn't matter how long ago it was—it's still really cool to be part of it.
What can someone do to piss you off?
Treat me like a stripper. I'm not. I am a Coyote. We don't just bartend. We don't just dance. We are the life of the party—the girl you want or want to be. And Lord help you if you treat me or another lady (female patrons are also allowed to dance on the bar) like a stripper. If you do, you are buying her, me, my other bartenders and every woman there a shot.
See her: Thu and Sat at Coyote Ugly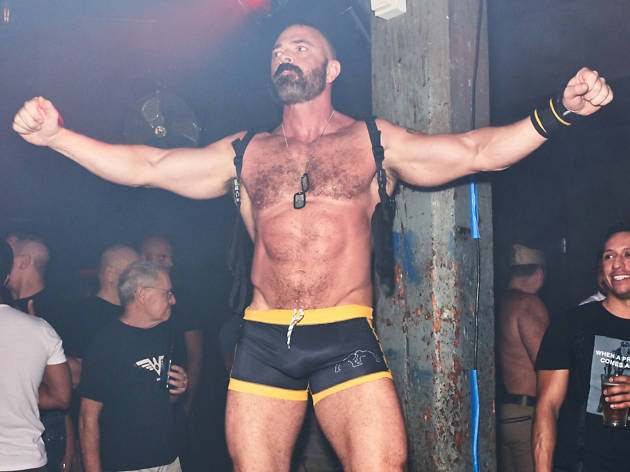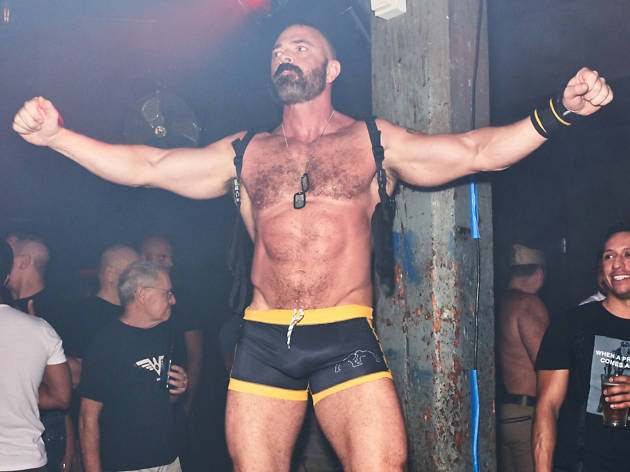 Masseuse by day, go-go dancer by night
Uncle Mike, 40, Murray Hill
You've been a go-go dancer since the '90s. What do you miss about it back then?
It was really underground then, and the music was amazing. Not like it is now, with the same five songs you hear over and over. I'd dance at Sound Factory, get there at 4am and go until 2 the next afternoon. Madonna used to hang out there. We'd say hello and I'd hug her. That was around '92, '93—when she'd wear a hoodie and go out with her friends.
What do you do if someone gets a little too close while you're dancing?
I have this look that says, "Don't fuck with me." Sometimes people want to give you a dollar and then they think that you're their new boyfriend; that they can touch you and kiss you and pull your nipples. I listen to a lot of heavy metal, so I've perfected the I'll-kill-you-if-you-keep-this-up look. So I don't tend to have a lot of issues with [those situations].
See him: Wed, Thu at the Eagle, Ram Party at Rebar (pictured above) as well as at monthly Brüt and Furball parties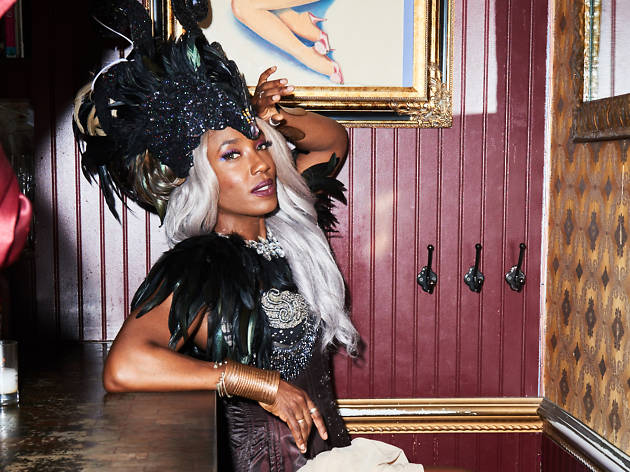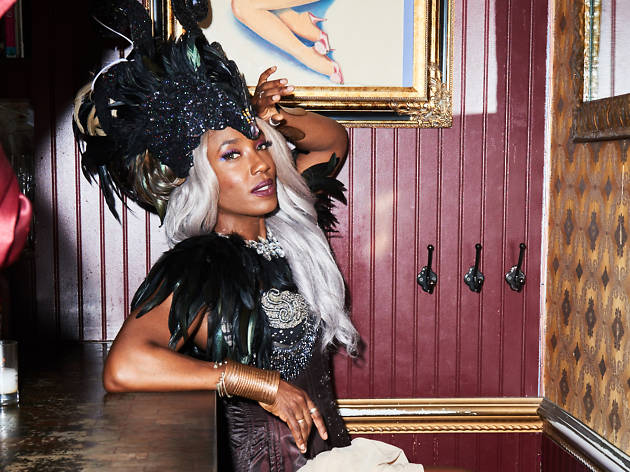 Photograph: Kyle Dorosz
Developmental-genetics technician by day, burlesque dancer by night
Voodoo Onyx, 34, Crown Heights
How do you deal with preshow nerves?
I sip on a vodka soda, squat a little to loosen up the knees and hips, don't talk to anybody, and then, I execute. I'm always worried about if I'm ready. Do I have enough glitter? Are my lashes on completely? The silliest things go through your mind. And then five minutes later, it's all over. I love that moment right before going on.
What's the best tip you have for anyone wanting to try it?
At the end of the day, it's about confidence. In life and in dance. It's about walking into a room and saying, "This room is mine, and no one is going to take this shine." It's about owning your craft and being able to connect with your audience. Shoulders back, chest up.
See her: Various locations and dates on the Lower East Side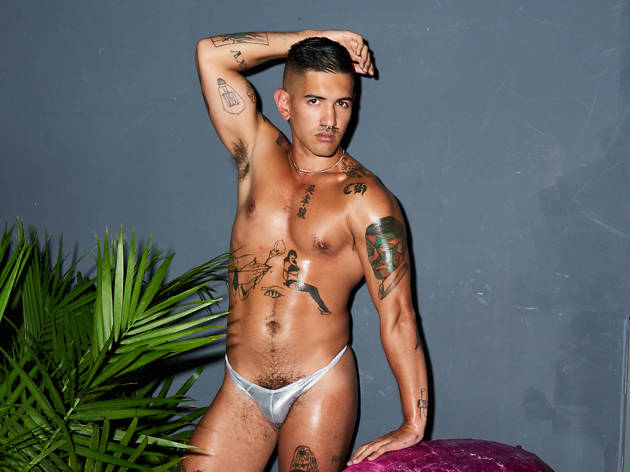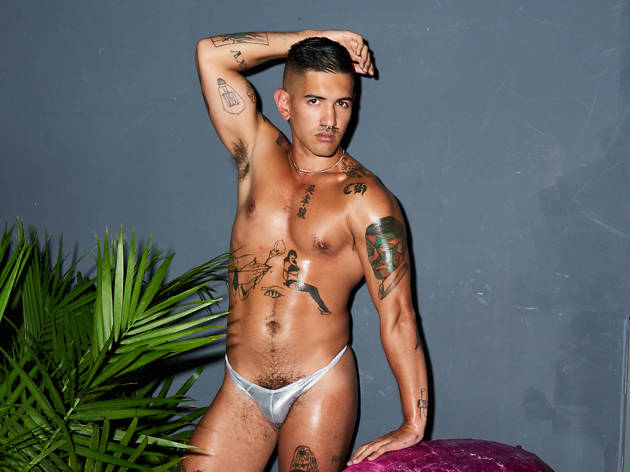 Concert-hall manager by day, go-go dancer by night
Forrest Wu, 27, Bushwick
What do you get from dancing that you don't get from your other jobs?
I like getting a bird's-eye view on nightlife, and I mean that literally. We're raised up over people when we're dancing. It's interesting to see how people interact from that standpoint. I like to see people having fun, and more than anything, our job is to create an atmosphere where everyone feels more free and can be themselves.
How do you feel about people taking pictures or video of you and putting them on social media?
The etiquette of nightlife is evolving really quickly, thanks to technology, and we have a lot of new things to deal with. There are some people who Snapchat you immediately and won't think to tip. If you use someone's likeness, you should be prepared to compensate them. We're here to help you have a good time, but our likeness is not free.
I also like it when people tag me in photos. When I was dancing at the David Zwirner gallery for a Félix González-Torres exhibition, Rihanna's stylist came in and, unbeknownst to me, took a thumbs-up pic right by my butt. I follow him on Instagram, but it would have been cool if he had tagged me! It's generally not that hard to find out who we are.
See him: Thu at Frankie Sharp's party at Public Hotel, at Ladyfag's monthly Holy Mountain parties and at High+Tight events around the city
Looking to work on your own moves?
Looking for the best dance classes? NYC has the perfect one for every style of dance from ballet to Bollywood.