Harlem, New York neighborhood guide
Harlem, New York has a rich history filled with longstanding soul food joints and lively jazz clubs from the 1920's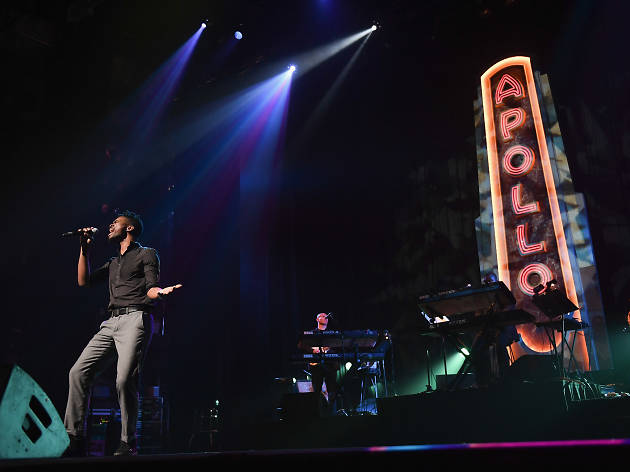 Harlem is known for its soul food and New York attractions such as the Apollo Theater and its history. Noteworthy Harlem Renaissance leaders include Duke Ellington, Louis Armstrong, Zora Neale Hurston, Cab Calloway and more. Amid beloved landmarks, spend a day indulging in some of the nabe's prize jewels: a bakery that serves cookies the size of your fist, a finger-lickin'-good eatery with ribs and the best BBQ that melts in your mouth and a no-frills music venue showcasing some of the best jazz musicians in the city.
RECOMMENDED: Full guide of Manhattan, NY
How do I get to Harlem, New York?
You can get to Harlem, New York by taking the the D, 2, 3, A or C train uptown. Get off at 125 St.
How to have the perfect day in Harlem, New York
Start here: Levain Bakery
If Father Time is on your side, you may stumble into this pastry haven just as its perfectly plump chocolate-chip cookies exit the oven. Needless to say, these sweets—displayed among other delectable creations such as Bomboloncini (jam-filled doughnuts, dusted with powdered sugar and ready to be popped into your mouth)—are just as satisfying at room temperature.
Eat here: Sylvia's
Harlem natives head to this soul-food favorite for mom-approved chicken and waffles, hearty meat loaf and gooey mac and cheese that warms the heart as much as it does the stomach. Homestyle cooking comes with kindred hospitality: The restaurant has a cozy vibe with photographs of famous customers that line the walls.
Drink here: 67 Orange Street
This two-story vintage-style lounge is a hot spot for after-work drinks. Join the crowd and sip your way through $14 cocktails such as the Color Purple (gin, lavender bitters, blackberries, crème de violette, St-Germain, lemon and simple syrup).
Do this: Bill's Place
Jazz up your life at this modest BYOB speakeasy that lacks pizzazz, but certainly makes up for its humble interior with a beguiling lineup of talent. Make a reservation (a requirement) to literally rub elbows with other bebop-loving revelers while jiving musicians, including sax man and bar owner Bill Saxton, stun you with their skills. Even Billie Holiday graced the stage here during her teenage crooning days.
Time Out tip for Harlem, New York
Walk off your meal by sauntering up to Marcus Garvey Park, and head to the upper level, where you'll find a great view of the surrounding environs. Take a seat at the recently revamped Richard Rodgers Amphitheater, which plays host to SummerStage shows. — Andrew Frisicano
Things to do in Harlem, New York