Heads up! We're working hard to be accurate – but these are unusual times, so please always check before heading out.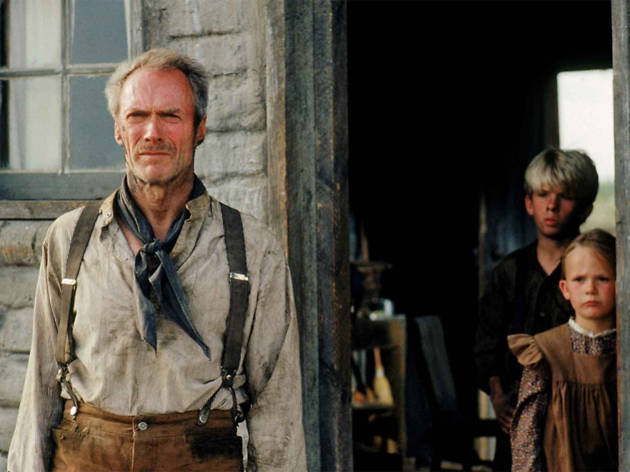 What's new to Netflix in September
A new month means a new lineup on Netflix. Find the titles that you should be adding to your queue ASAP.
Enough already—we're okay with summer being over, thanks. Bring on the crisp fall weather and jackets, so we can feel cozy when we're inside, couch-surfing. As if anticipating our needs, Netflix is happy to oblige with some chilly September fare: Among other titles, they've got the brooding 2015 horror sensation The Witch, the February-frosty (but warm-hearted) Groundhog Day and Clint Eastwood's Western masterpiece Unforgiven. And if you're still wishing that Marvel movies season wouldn't end, Netflix has Black Panther too. Thumb on over and get started. Here's our complete list of movies and TV shows arriving on Netflix in September.
RECOMMENDED: See the 51 best movies on Netflix right now
Available September 1
Another Cinderella Story
The Ant Bully
Assassins
August Rush
The Breakfast Club
Bruce Almighty
The Cider House Rules
Delirium
Fair Game
Groundhog Day
The Hitchhiker's Guide to the Galaxy
The Keeping Hours
King Kong
La Catedral del Mar—NETFLIX ORIGINAL
Martian Child
Monkey Twins—NETFLIX ORIGINAL
Mr. Sunshine—NETFLIX ORIGINAL
Nacho Libre
Pearl Harbor
The River Wild
Scarface
Sisters—NETFLIX ORIGINAL
Spider-Man 3
Stephanie
Summer Catch
Sydney White
10,000 B.C.
The Texas Chainsaw Massacre: The Beginning
Two Weeks Notice
Unforgiven
Available September 2
The Emperor's New Groove
Lilo & Stitch
Maynard
Quantico: Season 3
Available September 3
A Taiwanese Tale of Two Cities—NETFLIX ORIGINAL
Available September 4
Black Panther
Available September 5
Van Helsing: Season 2
Wentworth: Season 6
Available September 6
Once Upon a Time: Season 7
Available September 7
Atypical: Season 2—NETFLIX ORIGINAL
Cable Girls: Season 3—NETFLIX ORIGINAL
City of Joy—NETFLIX ORIGINAL
Click
First and Last—NETFLIX ORIGINAL
Marvel's Iron Fist: Season 2—NETFLIX ORIGINAL
The Most Assassinated Woman in the World—NETFLIX FILM
Next Gen—NETFLIX FILM
Sierra Burgess Is A Loser—NETFLIX FILM
Stretch Armstrong & the Flex Fighters: Season 2—NETFLIX ORIGINAL
Available September 10
Call the Midwife: Series 7
Available September 11
Daniel Sloss: Live Shows—NETFLIX ORIGINAL
The Resistance Banker—NETFLIX FILM
Available September 12
Blacklist: Season 5
Life—NETFLIX ORIGINAL
On My Skin—NETFLIX FILM
Available September 14
American Vandal: Season 2—NETFLIX ORIGINAL
The Angel—NETFLIX FILM
Bleach—NETFLIX FILM
Boca Juniors Confidential—NETFLIX ORIGINAL
BoJack Horseman: Season 5—NETFLIX ORIGINAL
Car Masters: Rust to Riches—NETFLIX ORIGINAL
The Dragon Prince—NETFLIX ORIGINAL
Ingobernable: Season 2—NETFLIX ORIGINAL
The Land of Steady Habits—NETFLIX FILM
Last Hope—NETFLIX ORIGINAL
Norm Macdonald Has a Show—NETFLIX ORIGINAL
Super Monsters Monster Party: Songs—NETFLIX ORIGINAL
The World's Most Extraordinary Homes: Season 2 Part A—NETFLIX ORIGINAL
Available September 15
Inside the Freemasons: Season 1
Available September 16
Role Models
Scott Pilgrim vs. the World
Available September 17
The Witch
Available September 18
American Horror Story: Cult
D.L. Hughley: Contrarian—NETFLIX ORIGINAL
Available September 21
Battlefish—NETFLIX ORIGINAL
DRAGON PILOT: Hisone & Masotan—NETFLIX ORIGINAL
The Good Cop—NETFLIX ORIGINAL
Hilda—NETFLIX ORIGINAL
Maniac: Limited Series—NETFLIX ORIGINAL
Nappily Ever After—NETFLIX FILM
Quincy—NETFLIX ORIGINAL
Available September 23
The Walking Dead: Season 8
Available September 25
Pirates of the Caribbean: The Curse of the Black Pearl
A Wrinkle in Time
Available September 26
The Hurricane Heist
Norsemen: Season 2—NETFLIX ORIGINAL
Available September 28
Chef's Table: Volume 5—NETFLIX ORIGINAL
El Marginal: Season 2—NETFLIX ORIGINAL
Forest of Piano—NETFLIX ORIGINAL
Hold the Dark—NETFLIX FILM
Jack Whitehall: Travels with My Father: Season 2—NETFLIX ORIGINAL
Lessons From A School Shooting: Notes from Dunblane—NETFLIX ORIGINAL
Lost Song—NETFLIX ORIGINAL
Made in Mexico—NETFLIX ORIGINAL
Reboot: The Guardian Code: Season 2—NETFLIX ORIGINAL
Skylanders Academy: Season 3—NETFLIX ORIGINAL
The 3rd Eye—NETFLIX FILM
Two Catalonias—NETFLIX FILM
Available September 30
Big Miracle