Making friends as an adult is hard enough, but add the fast pace and anonymity found in New York City and it's a near-impossible task.
But at Time Out New York, we are experts in things to do, including making friends. We even have a list of 20 ways to meet new people in NYC that includes certain meet-ups like volunteering and walking groups for women.
But we also know that New Yorkers are finding life-long friends elsewhere, so we polled our readers on social media to see where they've had luck.
Below are 13 places New Yorkers make friends in NYC:
1. Washington Square Park
This park is always busy, no matter the time, and acts as a public square in a sense with the number of buskers, protesters and gatherings that take place here. We've personally been a part of late-night, breakout dances around the fountain. It's where New Yorkers go to be and that means ample opportunity for friendship.
2.

Sobremesa
Sometimes a fun environment over good food is all you need to start up conversation with the people around you. Sobremesa is that kind of place, according to readers, who said it's where they've made friends. It specializes in contemporary Mexican cooking and has a great patio to hang out on with drink in hand.
3. Electric Room
NYC has quite a few great pubs, but there's not the pub culture you find in the U.K., where hanging out at the same pub after work with buddies is just standard and you do all manner of things there. Sure, in some spots you can find a flavor of it, like at The Electric Room. It's pretty far off from your typical pub because it's inside Dream Downtown, but it has a fun, upscale Britannia feel.
4. Sav and Sal Show
When you're already laughing, it's so much easier to talk to other jovial New Yorkers. The traveling Sav and Sal Show has that twofold because it's a comedy show and a party! The show aims to be an inclusive space in the community "where no joke is off the table, but all persons are welcomed." Then, after the show, there's an after-party where you can make new friends with fellow audience members and the comedians.
5. Versa
When the sun is out, there's often nothing better than drinking on a rooftop. The vibes are immaculate so the chances of making a friend are high. Versa is just one of these hot spots where buddies can be found. It's billed as a gastronomic celebration of the "melting pot of New York City" with a large menu, views of the city and TVs for those who bond over sports games.
6. The Rockaway Hotel
There's a lot going on at The Rockaway Hotel. Yeah, it's far out there for many of us, but once there, it can entertain for an entire weekend. Not only is it a one-minute walk to the ocean, but the hotel also has a sprawling dining area on its pool deck, live music regularly and even some programmatic pop-ups including a roller skating rink making it easy to bump into someone new.
7. Central Park
The city's most famous park attracts dog walkers, joggers, skaters, nature lovers, hikers, picnickers and more. In fact, 42 million people visit it each year, so of course, it's ripe for meetings. Not only that, but the park regularly holds outings, which you can find right here.
8. Theaters
While you may not chat during a show, there's plenty to unpack once the curtain goes down. Readers say they've made life-long friends with people in their row and section. We can hardly contain our excitement when the lights turn back on!
9. The Eagle
Feeling comfortable in your own skin makes for an easy environment to be in. That's why The Eagle, a fetish bar with an array of beer blasts, foot-worship fêtes, leather soirees, and a lovely roof deck is a great spot to make connections.
10. Dog parks
Our dogs make it easy to talk to new folks because they're just so darn cute! Whether they mosey on up to a stranger or attract their attention, a furry friend is an easy topic to start small talk about. Dog parks are full of dog-loving New Yorkers and there's a lot to share and discuss!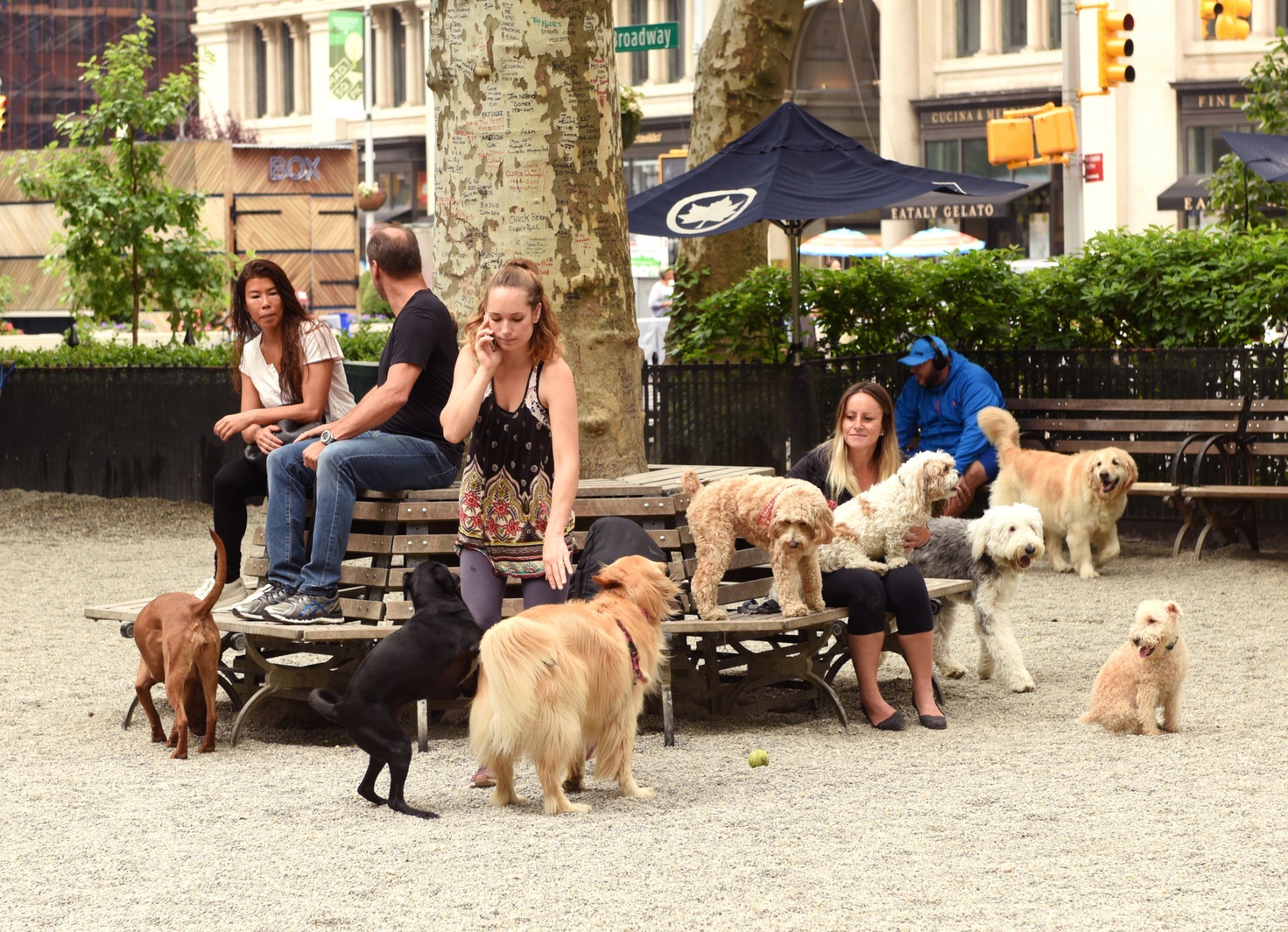 11. Our Wicked Lady
East Williamsburg is a good bet on which neighborhood to hang out in if you want to make friends, but head to Our Wicked Lady, a transformed warehouse that's now a rooftop bar and live music venue to meet someone. Not only is it home to live concerts but it has movie nights and art shows that bring together like-minded people.
12. Running clubs and

other fitness classes
When you sweat together, you bond—no matter how you look at it. Running clubs and workout classes are just classic places to make a friend. You're going through the same rigorous task and can support each other easily with knowing glances, handing them water or being their spotter—even without knowing their name at first. The kindness goes a long way.