Now that spring has sprung, it's officially the season of beautiful blooms. NYC doesn't disappoint when it comes to flowery festivities, from intricately designed indoor displays to spectacular shows in the great outdoors.
Here are all the fabulous flower shows to check out right now with tips on how to make the most of each experience.
RECOMMENDED: NYC events in April 2023
Every spring, sweet-smelling foliage suddenly appears at one of the city's best department stores: Macy's Herald Square.
New Yorkers and out-of-towners alike flock to this floral-filled exhibition, where jaw-dropping arrangements decorated to fit a specific theme are on display for two weeks. This year's installment at the megachain's Herald Square location will feature a "dreamscape of fluffy clouds and whimsical floral landscapes" in partnership with Dior.
You can walk through on your own or get a guided tour. Tours step off inside the store near the West 35th Street and Broadway entrance every 20 minutes from store opening until the last tour at 1pm. The tours are first-come, first served and reservations are not required. Tour guides will explain the history of the Flower Show at Macy's, how the show's created each year and the inspiration for this spring's event. They'll also share intel on the plants featured in the show.
The Flower Show is now open through Monday, April 10, and it's free to attend.
Time Out tip: Don't miss the street-level windows and the display of floral fragrances.
Back in the fall, the garden team at Madison Square Park planted 10,000 bulbs in preparation for spring, and they're expected to bloom in mid-April. This year, the park conservancy worked with mathematicians to create a special display called Geometry of Flowers. The exhibit features tulips, hyacinths, daffodils and anemones arranged in geometric patterns based on Fibonacci sequences. Geometry of Flowers is free to visit and on view through May 9.
Time Out tip: While you're in Madison Square Park, check out the sculpture called "Witness" by artist Shahzia Sikander. This monumental female figure measuring 18 feet tall and wears a hoop skirt inspired by the nearby courthouse's stained-glass ceiling dome. The figure's twisted arms and legs suggest tree roots, referencing what the artist has described as the "self-rootedness of the female form; it can carry its roots wherever it goes." You can even use your smartphone to bring the figure to life through AR technology.
Magenta orchids cascade from tall rocks, water gently glides along a waterfall, a fresh botanical aroma wafts in and gravel paths beckon visitors to explore. That's the scene at this year's highly anticipated Orchid Show at New York Botanical Garden in the Bronx.
The annual orchid show runs through Sunday, April 23, offering a lush tropical escape without leaving the five boroughs. Regular admission tickets ($35 for adults) are available here.
Landscape artist Lily Kwong designed this year's iteration, called "Natural Heritage," drawing inspiration from classic paintings of Chinese mountainscapes passed down through her family from Shanghai, plus her own heritage, medicinal traditions and her artistic interpretation of nature as a healing force. She also incorporated concepts from Chinese garden design.
Time Out tip: The show dazzles anytime you visit, but we highly recommend visiting for Orchid Nights on select Fridays and Saturdays where you can enjoy the display under twinkling lights with a cocktail in hand. Tickets for Orchid Nights cost $39 and can be purchased here.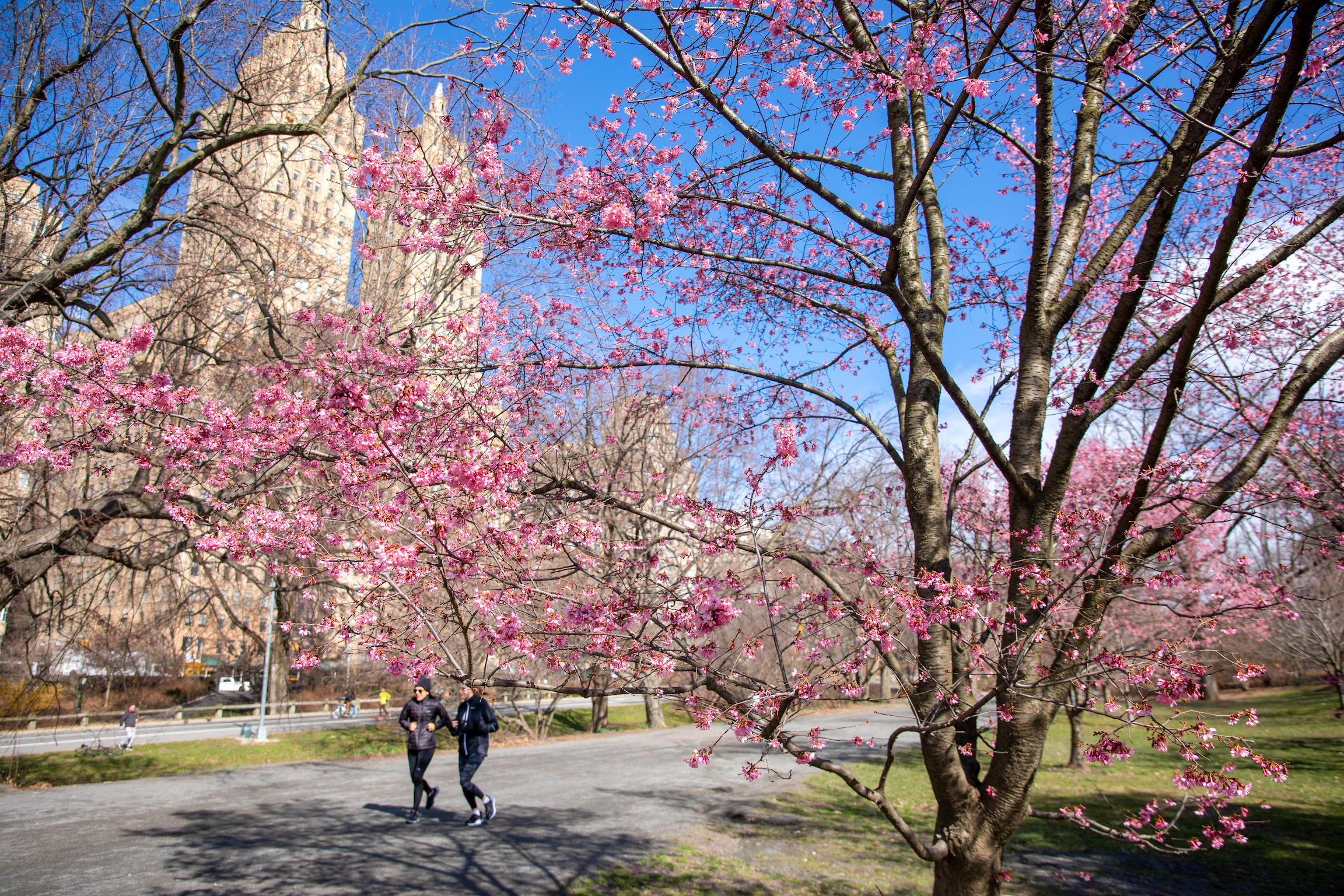 Cherry blossoms in NYC offer New Yorkers a brief but gorgeous pop of beauty, which is why we flock in droves to see them when they bloom each spring. From the Brooklyn Botanical Garden to Central Park and even some hidden spots around town, we've rounded up the best places where you can gaze at the delicate pink flowers and snap tons of photos.
The flowers are already starting to open up, so head out to enjoy these pink blooms while they last.
Time Out tip: The Central Park Conservancy launched a cherry blossom map and Brooklyn Botanic Garden maintains a CherryWatch map so you can track the buds before you head out for a walk. Be sure to treat the trees kindly and don't disturb nature when you're going in for a close-up photo.