The Macy's Flower Show in NYC guide
Time to take a moment to smell the roses at the annual Macy's Flower Show—NYC's gorgeous floral festival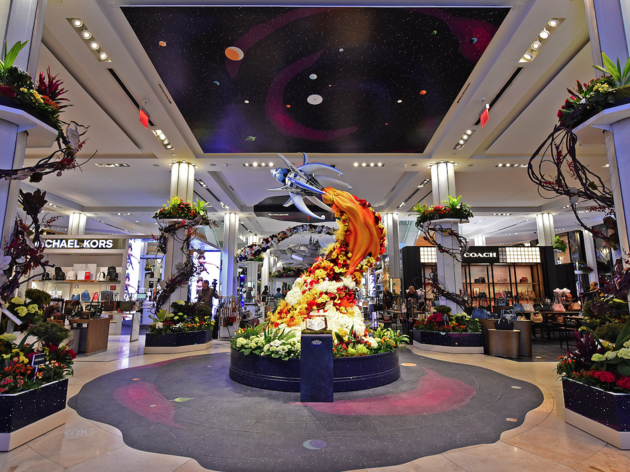 It's not quite the time to head to rooftop bars or the best NYC parks, but you can still revel in forthcoming warm weather at the annual Macy's Flower Show 2020. NYC will be budding with blooms all over, but nothing beats roaming the sweet-smelling foliage that suddenly appears at one of the city's best department stores: Macy's Herald Square. Before you know it, New York will be gearing up for all the spring festivals, and tank top weather will be in full swing—really!
RECOMMENDED: Full guide to the best things to do in spring in NYC
What is the theme for the Macy's Flower Show?
New Yorkers and out-of-towners alike flock to this floral-filled exhibition, where jaw-dropping arrangements decorated to fit a specific theme are on display for two weeks. The subject for 2020's installment at the megachain's Herald Square location is Voyage to Oceanum. Translation? It's a under-the-ocean odyssey, offering revelers to embark on a quest to discover long-lost treasures, and breathtaking aquatic beauty.
When is the Macy's Flower Show?
The Flower Show dates are Sunday, March 22 through Sunday, April 5, 2020.
Where is the Macy's Flower Show?
The Flower Show is at Macy's Herald Square at 151 W 34st Street, between Sixth and Seventh Avenues.
How much is the Macy's Flower Show?
The Flower Show is free! You may admire the blooms while you shop during normal Macy's businsess hours. For more information, visit macys.com/flowershow.
Archive Flower Show content