The best things to do on Governors Island
Pack a picnic, wear sunblock and catch the ferry to enjoy all the things to do on Governors Island this summer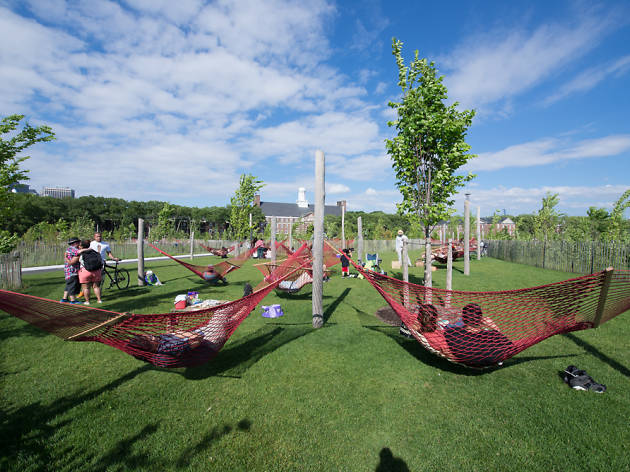 During the warmer months, there are plenty of things to do on Governor's Island. New York's car-free oasis in Upper New York Bay is the perfect place to spend a day in the sun, and we're about to share an incredible list of reasons why it's considered one of the best NYC parks for things to do outside. After launching The Hills—a 10-acre park equipped with slides for adults and hill-y landscapes offering unreal 360-degree views of New York Harbor—last summer, the island continues to grow and expand it's programming by offering new attractions like a beer garden, ziplining and rock climbing as well as host exciting events like the Holi Hai Festival of Color. If you're searching for NYC events in May through October 1, Governors Island is a good place to start.
RECOMMENDED: Full guide to Governors Island
Best things to do on Governors Island
1
Slap on your spats and practice the Charleston because the Jazz Age Lawn party is returning to Governor's Island. Sip on Prohibition-era cocktails like a classic St-Germain with mineral water and a twist or a glass of bubbly and none of the back-alley hooch of the day. Food vendors will be on hand to keep your Lindy Hop hoppin'.
Read more
2
From noon to 9pm each day, 12,000 revelers—dressed in nothing but pink and white, duh—will descend onto Governor's Island for this rosé-themed fest. Settle onto rosé-hued designer blankets for stemless glasses of still, sparkling and champagne rosé selections. The afternoons will be soundtracked with live DJ sets and more performances.
Book now
Read more
3
For the first time ever, Governors Island will host the Holi Hai Festival of Color during its opening weekend. If you're not familiar, Holi Hai is a party celebrating the coming of spring through live music and dancing, while guests throw rainbow-hued powders all over each other. That's right: Everyone gets tye-dyed!
Read more
4
Arts group Figment takes over Governors Island with its usual hodgepodge of mind-bending, genre-crossing projects. For its opening weekend, wander through more than 300 projects, which include live performances. Two installations will be up all summer long: a minigolf course and a Pavilion titled "Cast and Place."
Read more
5
Anyone who's spent time in landlocked parts of the country will tell you that a city without water is like, er, a city without water. The Metropolitan Waterfront Alliance celebrates NYC's best accessory at Governors Island (and other locations, too!), offering activities that remind us just how good we have it. Get gratis access to a plethora of water-going vessels, including canoes, kayaks and rowboats; or fish, bike or kick back with food and music on dry land. Locations vary; visit cityofwaterday.org for details.
Read more
6
For the last seven years, a number of the city's poetry-reading series and their affiliated collectives have taken over Governors Island for a day, creating a stage for the many voices of NYC, both celebrated and underground. This year, the crew of the Poetry Society of New York does it again, presenting readings from more than 200 poets and 50 organizations.
Read more
7
Governors Island is getting its very own version of the French-inspired and super-exclusive outdoor dinning event Dîner en Blanc! The gimmick is similar in that guests must don all-white attire, bring their own lavish table decorations as well as food and drink. Tickets ($40)—yes, you still have to pay even though it's BYO everything—benefit The Friends of Governors Island.
Read more
8
Ziplining and rock climbing
The island already has an impressive playground (including slides for adults), but the landmark is creating a new attraction, Adventures at Governors Island, comprising a climbing wall, maze and a ziplining adventure within the Island's Western Development Zone near Liggett Terrace. Just imagine that killer view of the Statue of Liberty while soaring through the island breeze! Opens Memorial Day Weekend.
9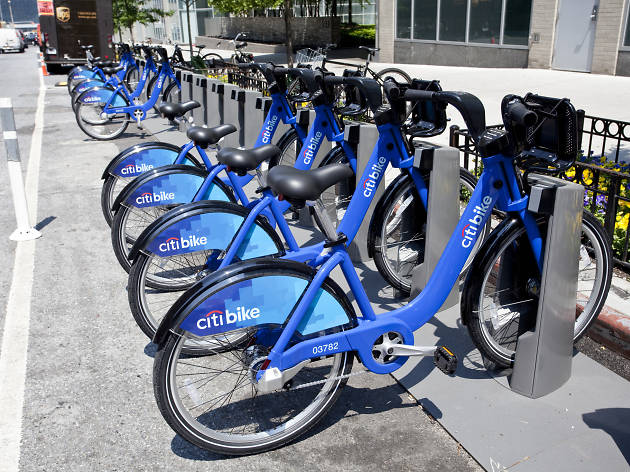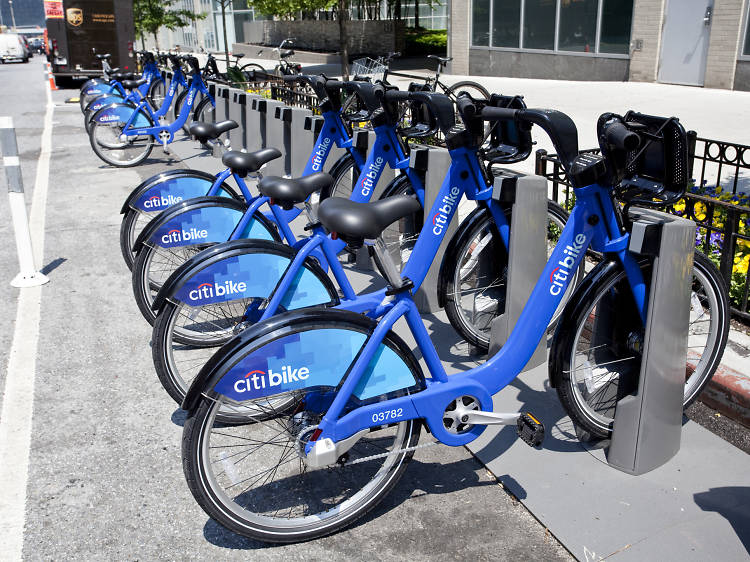 Free Bike Mornings
Two-wheeling fiends already know that Governors Island offers amazing bike paths, and visitors are welcome to BYOB (bring your own bike), rent or hit up the Citi Bike kiosks. However, you can also borrow a bike for free for an hour between 10am and noon every weekday. Ride like a baller without the cost? Sign us up!
10
Eating and drinking opportunities
There are at least two dozen food vendors serving delicious fare on the island—think El Carrito Rojo, Blue Marble Ice Cream, The Pocketful and more. Boozehounds can also appreciate the island's two beer gardens (Little Eva as well as a watering hole by veterans Alphabet City Beer and Co. and Edi and the Wolf). But guess what? Governors Island is gaining a third! Opening early this summer, Island Oyster—a pop-up oyster bar and beer garden from the folks behind Grand Banks—will serve amazing seafood and offer fabulous cocktails. The bar will also remain open past the park's regular hours, which means you can take in those amazing sunset views with a drink in-hand.
Planning a picnic?
Pack blankets and fill your picnic basket with nearby bites for an alfresco feast at the best picnic spots in NYC
Read more