The best bubble tea spots in NYC
Bubble tea, a tasty import from Taiwan, is being stirred up all over NYC. Chew on this list of places to find boba.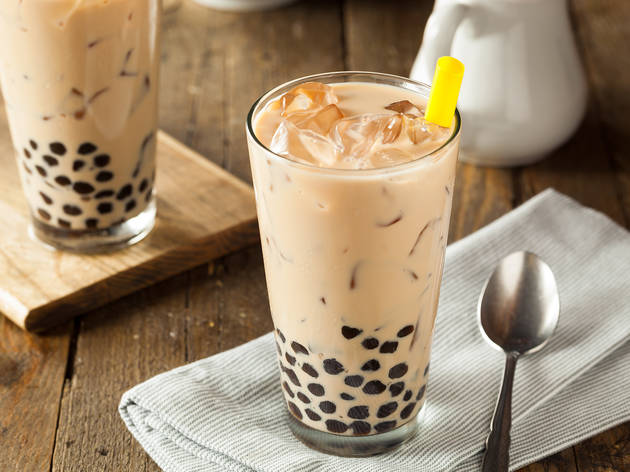 Bubble tea can provide a sweet, refreshing relief after a hectic work or on a weekend outing. Whether at an established chain or locally owned shop, this tea type can be custom made to suit your liking and lifestyle (plus no mysterious add- ins or super saccharine taste). The Chinatown staple is quickly becoming one of our favorite cheap eats in the city, so go ahead and get a bubble tea from these places throughout NYC. And if you're still hungry, just pair your bubble tea with some tasty grub at a standout Chinese restaurant.
RECOMMENDED: Full guide to the best restaurants in NYC
Best bubble tea in NYC
1
Co-founders Andrew Chau and Bin Chen's bonding over boba milk tea led them to start up this San Franciscan company that has gone cross-country with stores on the Lower East Side, Greenwich Village and Canal Street Market. Pushing aside powders, their drinks go all natural with tea leaves, organic milk (from New York's Battenkill Valley Creamery) and house-made syrups. Menu lists range from classic milk tea and Jasmine milk tea to their Dirty Horchata, topped with a double shot of Parlor Coffee Espresso, and the Strawberry Matcha Latte with real fruit. As for boba, their tapioca balls are touted as a "Grade A" choice, but consider getting jelly with almond or grass-made toppings.
Read more
2
Tea and Milk
It's a tasty story: A special afternoon treat savored by three childhood friends became a business in their adulthood. Co-owned by Mathew Wong, Wilson Ng and Kendy Ng, this cozy Astoria storefront also skips artificial ingredients and instead uses teas from all over the world, along with spices and fruits. Their Signature Taro Root Milk Tea mingles pureed taro with black tea nicely, while their Roasted Oolong Tea with Signature Cream unleashes creamy goodness upon a good shaking. Seasonal and monthly specials could involve a blackstrap molasses black milk tea or a pumpkin spice latte and a maple black milk tea—all best served with boba. 32-02 34th Ave, Queens (347-921-2056, teaandmilk.com)
3
The Teapsy New York
Given kudos for its friendly staff, this Astoria café prepares made-to-order teas with an emphasis on customization: iced or hot, sweetened or not, dairy or non- dairy (almond, soy and coconut milk can be opted for). Another bonus: a card rewards program with a buy-10-get-one-free deal that apparently is quite reachable; completed cards are posted on the wall. Other perks include unique options like their cocktail-inspired layer teas (Mojito, anyone?) or usage of tres leches (three milks mixed together). Start off with the Earl Grey milk tea or perk up over the Hong Kong–style coffee milk tea with a shot of java. Or chill out with their Calamansi Iced Tea, a special Filipino lime with oolong green tea. 33-17 30th Ave, Queens (929-328-0090)


4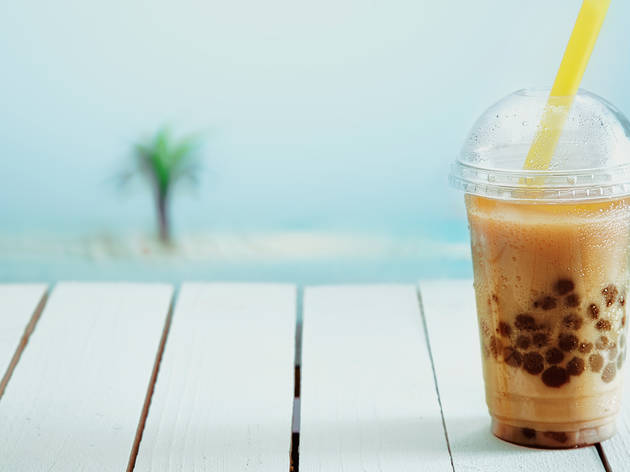 Vivi Bubble Tea
With a ton of stores throughout Manhattan plus some in Brooklyn and Queens, the U.S. portion of this franchise gets high-quality ingredients imported directly from Taiwan to authentically produce a flavorful and freshly made tea. Choices are plentiful too: Tea types extend to fruity picks like passion fruit, honeydew, mango, lychee and kumquat to milky tastes such as 3Q, chocolate, coconut, taro and green tea. Then there are some jelly versions, fruit slushes and yakult drinks too. 205 Allen St (646-651-7779, vivibubbletea.com)
5
Having opened its first store in NYC over three decades ago, this tea fixture has blossomed over time with locations in Queens, Manhattan and Brooklyn, but more so with a bubble tea shop along Mott Street. At this bustling, bright-green location, browse the wall menus for choices of flavor blends and fruity slushes and milk teas. Maybe go for milk tea choices ranging from a jade and Thai, and then contemplate not just your sweetness level but also how much ice you'll want. Note: It's cash-only here.
Read more
6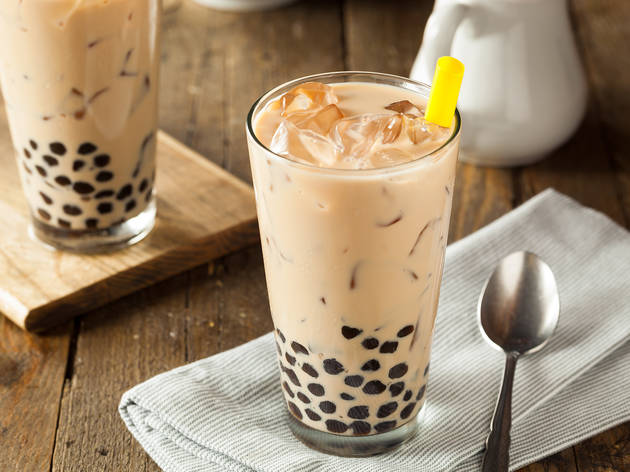 TK Kitchen
This St. Marks Place tea spot offers not only an extensive list of various flavors of bubble teas but also Taiwanese street eats to pair with them. The recipe for the original milk tea incorporates Assam black tea and light cream for a taste that's silky but not overpowering. Popular tea choices also include the black sugar milk tea, taro milk tea, passion fruit black tea and pineapple oolong tea. As for the food selection, there's the famous stinky tofu, beef noodle soup, bento box and popcorn chicken. 26 St Marks Pl (212-982-9782)
7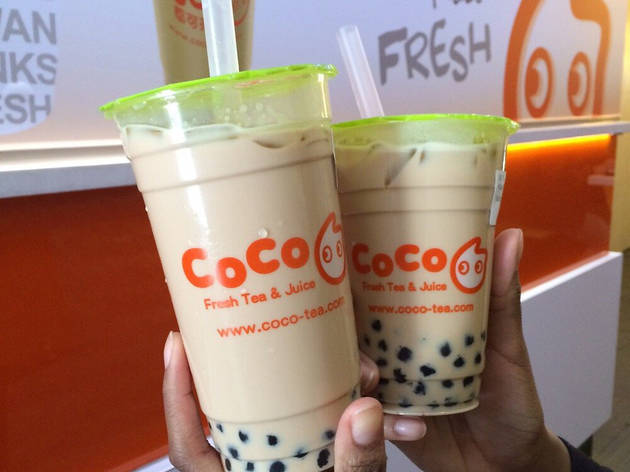 Coco Fresh Tea & Juice
With 22 stores throughout NYC, this global brand from Taiwan switches up the teas stateside by introducing drinks that suit American palettes. As for customers on this side of the globe, they apparently savor their nutty taro milk tea and floral Jasmine milk tea. Or be fruitful and grab a green tea with mango or passion fruit, or go for the cream black tea with a hand-whipped topping and a hint of Himalayan rose salt. And tapioca bubbles are kept within their optimal taste period to make certain they're nice and chewy. Various locations (646-490-4596, cocobubbletea.com).
8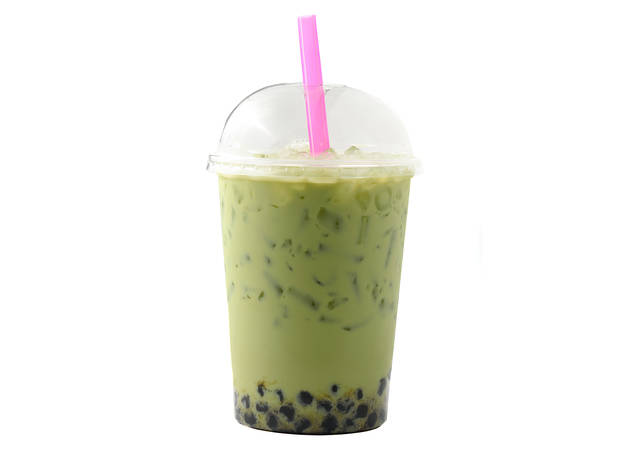 Teado Tea Shop
It's easy to pass by this simple and small tea post, but the glass-front shop delivers big on consistent quality. It's contentious too, so go ahead and ask the counter person for input on sweetness levels or guidance on flavor decisions (just don't expect to leave in a hurry). After trying the true teas and Lactaid whole milk plus carefully calculating sugar amounts, customers have given high ratings for the Earl Grey black milk tea, rose Jasmine green tea and grapefruit green tea. And grab a small side snack to go while taking in the fun-looking store fixtures. 145D Hester St (212-226-7687)
9
Gong Cha
With six locations throughout Manhattan, one in Brooklyn, one in Long Island, and four in Queens (plus one expected to open in SkyView Center in fall 2017), this Taiwan-based chain has a steady footing in the city. Their house brand specialty is what's called a "milk foam," described as a "slightly salted cream that sits on top of freshly brewed tea." As for the Taiwan-sourced teas, popular flavors are the Pearl Milk Tea (their version of black milk tea), Milk Foam Green Tea, Taro Milk Tea and Lychee Oolong. Various locations are small in size, but there's a slew of add-in topping options to make up for it. Various locations (212-398-2716, gongchausa.com).
Show more
Find the best dim sum in NYC
Gather a crew to feast on a midday Chinese meal. Here are the best spots for dim sum that NYC has to offer.
Read more
Sponsored listing
Suede Restaurant
Venue says: "Join us for Brunch on Saturdays! $19.95 Prefix menu + 2 Mimosas = YUM!"