The best bubble tea spots in NYC
Sip a bubble tea at these shops in NYC, and you'll be hooked on the sweet Taiwanese treat in no time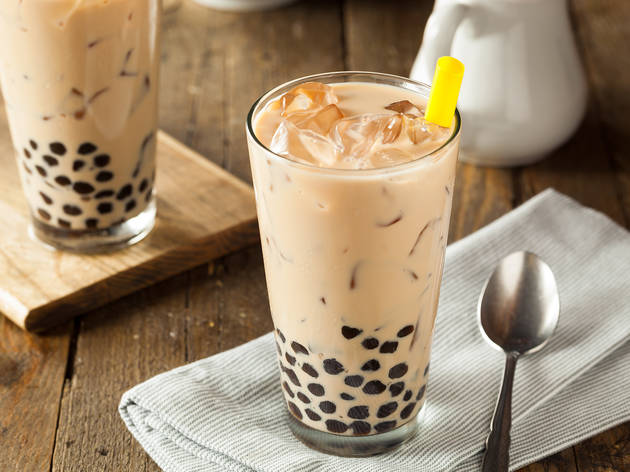 Bubble tea shops in the city are aplenty, but finding a good one is a whole other story. The Chinatown staple—and one of the few cheap eats you can get for $1 in NYC—is a tea-and-fruit mix with chewy pearls of tapioca added. It's more than a little bit healthier than those crazy Black Tap milkshakes, so we've assembled the best NYC joints for boba. Hungry for an actual meal? Pair your bubble tea with some tasty grub at a top-rated Chinese restaurant—we promise you won't be disappointed.
Best bubble tea in NYC
1
Founders Andrew Chau and Bin Chin give the beloved plastic-cup beverage the all-natural treatment at this San Francisco transplant. Swapping powder for loose-leaf teas, homemade syrups and local Battenkill Valley milk, this 14-seater slings a long list of boba varieties, including the classic black-milk tea and lychee green tea, plus bites like Four & Twenty Blackbirds pies and Balthazar pastries. And while the homemade almond and grass jellies make for solid additions, the tapioca balls are the tops.
Read more
2
Tea and Milk
Just when you thought bubble tea couldn't get better, Matthew Wong, Wilson Ng, and Kendy Ng are here to prove you wrong. The three childhood friends, who grew up drinking the sweet stuff as a special afternoon treat from their parents, set up shop in 2013. Brewed-to-order on the spot, each cup is brimming with fresh ingredients (no powders here) and served in a 10-seat storefront in Astoria. You can't go wrong with the signature taro milk tea, blended with black tea and real taro-root puree. 32-02 34th Ave, Queens (347-921-2056, teaandmilk.com)
3
You can't turn a corner in Flushing without coming face-to-face with a bubble-tea joint. But stumbling upon a place you run home to tell your friends about isn't always the case—unless it's Ten Ren. Founded in Taiwan in 1953, customers can expect the real deal here. The subtly sweet teas (green, jasmine, oolong), dotted with chewy tapioca, are worth the trek to the faraway 'hood, but that doesn't mean Queens gets to have all the fun—the chain also has outposts in Brooklyn and Manhattan's Chinatown, too.
Read more
4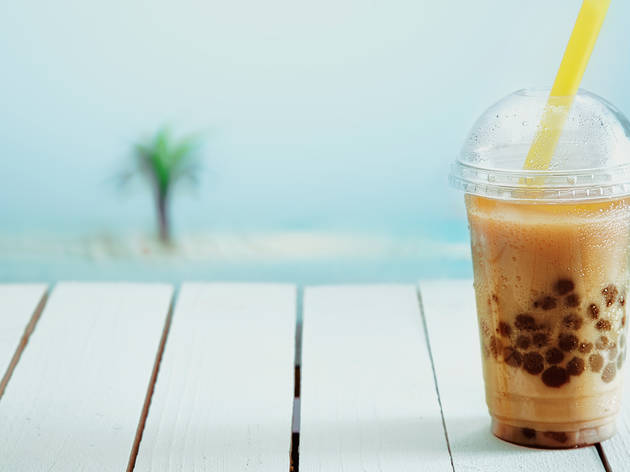 Vivi Bubble Tea
This cross-borough chain, which spans Manhattan, Queens, and Brooklyn, has quite a bit going for it. It ships its ingredients directly from Taiwan; it feature exotic flavors (honeydew, peach pulp), served hot or cold; and it offers seriously tasty snacks like Asian-inspired popcorn chicken to go along with your bubble tea. That makes it a triple threat, if you ask us. 205 Allen St (646-651-7779, vivibubbletea.com)
5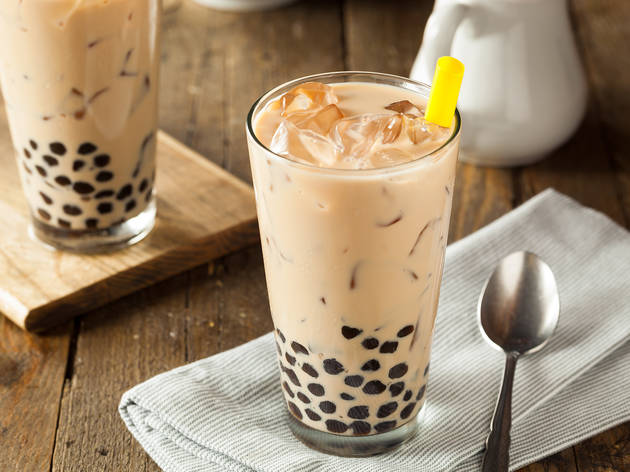 TK Kitchen
Formerly TKettle, this St. Marks joint has got some real balls—tapioca balls, that is. Prepared throughout the day to ensure utmost freshness, the chewy, semi-sweet orbs stud tea flavors that range from peach, strawberry and passion fruit to jasmine, honey, and mango. Balance the sweetness from the tea with savory snacks like steamed dumplings and hot noodle soups. And although you'll find most diners popping in-and-out, the cozy, poppy interiors and al fresco seating might just make you want to stick around. 26 St Marks Pl (212-982-9782)
6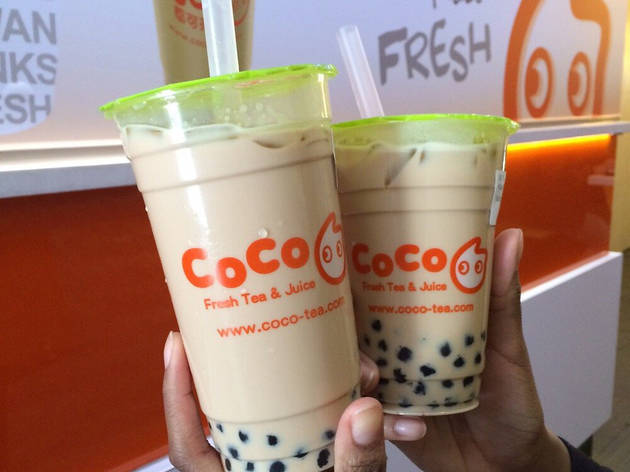 Coco Fresh Tea & Juice
Whoever came up with the saying "you can never have too much of a good thing" was clearly referencing bubble tea—namely, Coco Fresh bubble tea. Spread across the boroughs, this slew of vibrant, hole-in-the-wall cafes hawk the good stuff from a counter. Don't let the pint-sized digs fool you, though—it packs in a lot of variety for such a small space. Get in line for menu items like mango green tea, pudding milk tea and matcha lattes—all of which can be enhanced with tapioca balls. Various locations (646-490-4596, cocobubbletea.com).
7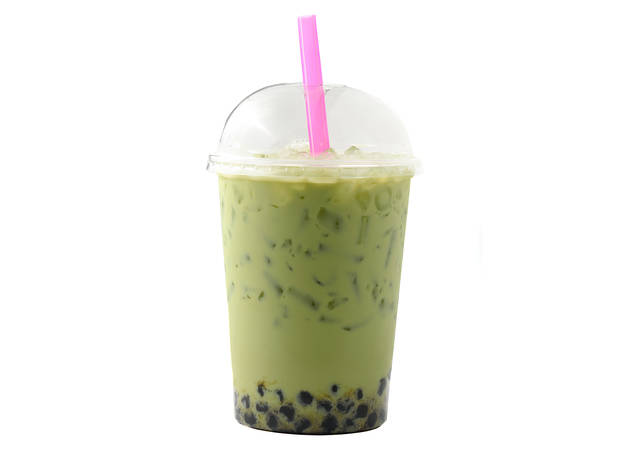 Teado Tea Shop
At this tiny LES tea shop, you can customize your brew to your taste buds. Not only does the joint use high-quality blends, but folks behind the counter offer up a small sample cup of your drink to test it for sweetness levels. With teas like coconut, papaya and chocolate, plus ice slushies (mango, lychee, kumquat), it's no surprise the line can get long. Three words: worth the wait. 145D Hester St (212-226-7687)
8
Gong Cha
As the website states, this is "tea fit for royalty." Consider the facts: Gong Cha, which was founded in Kaohsiung, Taiwan, literally translates to "tribute tea for the emperor." The tea, which is sourced from the finest Taiwan estates, is brewed every four hours to retain its freshness. Ditto the pearls, which top off everything from milk foam coffee to wintermelon oolong brewed teas. Since 2006, it has expanded to more than 1,200 locations worldwide—luckily for us, seven of which are in New York City alone. Various locations (212-398-2716, gongchausa.com).
9
Chatime
Bubble tea is to Chinatown what soul food is to Harlem. But for some of the best in the neighborhood, head to this Canal Street outpost, where toothsome spheres bob around in creations like milk teas (red bean, oolong, taro), smoothies (passion fruit, strawberry, grape), fruit teas and healthy juices. Bonus: there's an UES location, too. 240 Canal St (212-518-7891, ichatime.com)
Find the best dim sum in NYC
Gather a crew to feast on a midday Chinese meal. Here are the best spots for dim sum that NYC has to offer.
Read more
Sponsored listing
Pokéworks
Using only high-quality, sustainably sourced fish, Pokéworks puts a Hawaiian spin on this sushi trend, tossing the cubes of raw fish with chopped green onion, shredded sweet onion and a touch of Hawaiian salt before rolling it up with uniquely Japanese flavors like hijiki seaweed and shiso leaves.