The 16 best Chinese restaurants in NYC
Find the best Chinese restaurant NYC has to offer, from Cantonese pushcart dim sum to fiery Xi'an noodles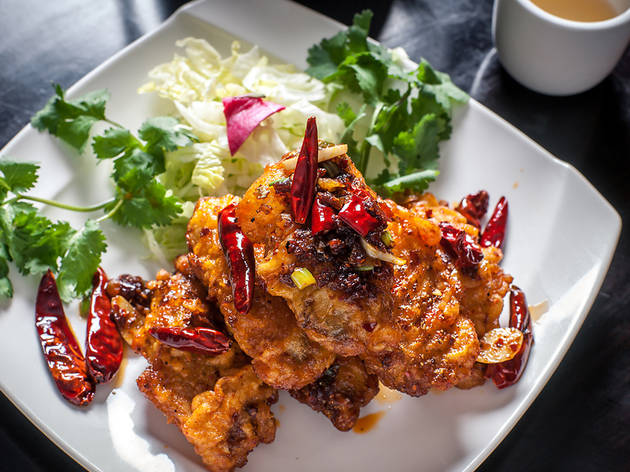 New York has a long lineage of Chinese restaurants showcasing the culinary traditions of nearly every province in China, as well as the fusion fare created by immigrants in the United States. Whether you're looking to sample fiery Szechuan fare or experience a classic weekend dim sum brunch, the city has got you covered. From white-clothed Midtown restaurants to hole-in-the-wall Chinatown restaurants, find the best Chinese restaurant NYC has to offer.
RECOMMENDED: See all of the best restaurants in NYC
Find a Chinese restaurant in NYC
1
Xiaotu "John" Zhang may not rank among New York's superstar restaurateurs, but his expanding Chinese chain has a cult following nonetheless. Zhang brought real-deal Szechuan food to Chelsea when he opened a branch there in 1998. His menu passionately describes the history and cooking process behind each dish, providing diners a comprehensive primer on the feast to come. Start with a sinus-clearing bowl of dandan noodles, loaded with dried peppercorns, or opt for the addictive gui zhou chicken, which combines dry-fried hot chilies and tongue-tingling Szechuan peppercorns, without a drop of gloopy sauce. If you're looking for something milder, order a basket of eight succulent pork soup dumplings.
Read more
2
The dining room is certainly an unconventional backdrop for a Chinese restaurant. Dressed in farm-to-table drag with potted plants in the windows, blond wood pillars and gingham booths, the place could easily pass for another seasonal New American restaurant. And the eclectic menu is just as hard to pin down. Head straight for the family-style entrées. Although there's a beautiful pricey steak—Creekstone Farms rib eye in a tenderizing marinade of fresh papaya and soy—the real draw for the neighborhood is the stuff that's most recognizably Chinese, given the dearth of good Sino restaurants nearby.
Read more
3
New York's first dim sum house opened in 1920 at a crook in Doyers Street known at the time as "the bloody angle." That Chinatown passage bore witness to the grisly havoc of the Tong gang wars—shootings and hatchet murders—but the bakery and tea shop had a sweeter reputation: Its almond cookies and moon cakes were legendary. In 2010, the 90-year-old stalwart went through a remodel. The most important tweaks, though, were behind the scenes. Now, each plate is cooked to order and what was once a health department nightmare is now a charming old-school institution, completely unlike the chaotic banquet halls that dominate Chinatown's dim sum scene.
Read more
4
Danny Bowien's relaunched Mission Chinese trades in beer kegs, paper dragons and a cramped, dive-punk Orchard Street basement for smart cocktails, banquet-hall booths and an ample, gleaming dining room in the far reaches of Chinatown. That inescapable hour-long wait for a table can be spent in the downstairs bar, but the real party is upstairs—a lively hodgepodge of bespectacled food disciples and beanie-clad millennials spinning lazy Susans loaded with pork cheeks and turnip cakes while golden-age hip-hop pumps through the room. The menu expands from oldies like the kung pao pastrami and chicken wings with new dishes, many of which show Bowien hasn't wholly lost his edge.
Read more
5
Where China borders Mongolia in the colder north, the food reflects the terrain—it's rustic and comforting, loaded with rich lamb and focused more on wheat-flour noodles and buns than the rice ubiquitous elsewhere. Flushing has seen an increase in Northern Chinese restaurants like Fu Run, whose owners are from Dongbei (what was once known as Manchuria). They call their justly celebrated dish the "Muslim lamb chop," but it's more like a half rack of ribs: A platter of bone-in, fatty meat is braised, then battered and deep-fried, the whole juicy slab blanketed with cumin seeds, chili powder and flakes, and black and white sesame seeds. Try it with a wonderfully greasy beef-stuffed pancake called a bing, and cold saladesque dishes.
Read more
6
The expansive, opulent restaurant is dramatically outfitted in black banquettes, pink-clothed tables and illuminated, golden dragons that wrap around the perimeter of the dining room. Chef-owner Michael Tong's menu offers signature wonders such as Lily in the Woods (Chinese cabbage hearts simmered in broth and served with black wood mushrooms); Beijing duck (a young duckling roasted until crispy and golden); and Neptune's Net, a potato nest bursting with scallops, shrimp, lobster and sea bass. The experience doesn't come cheap, but for top-notch regional cuisine and gracious service, it can't be beat.
Book now
Read more
7
Chinese-food fanatics rejoiced when this Flushing chainlet opened this Manhattan branch. As at its Queens counterparts, this tiny East Village shop offers the cuisine of Xi'an, an ancient city in North Central China that was once a vital part of the Silk Road trade routes. The cumin-spiked "lamb burgers," tangy liang pi cold noodles and warm tofu submerged in crimson chili oil are all must-haves.
Read more
8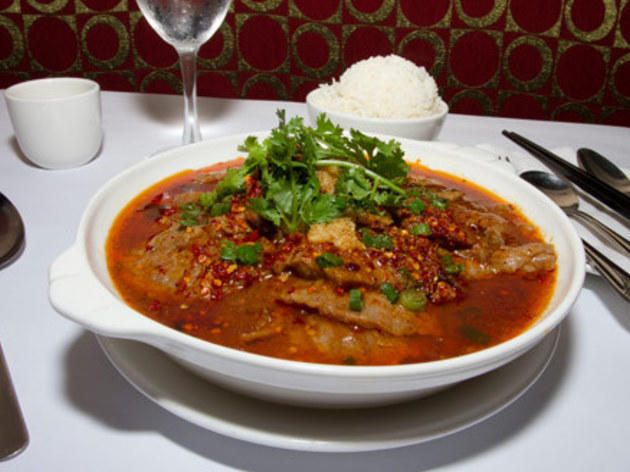 Lan Sheng
Is midtown the new Flushing? This newest addition to the 'hood's roster of superior Szechuan eats holds its own next to stalwarts Szechuan Gourmet and Wu Liang Ye. Lan Sheng delivers on spice and complex seasoning in dishes like toothsome dandan noodles topped with wilted spinach and a savory crumbling of pork and Szechuan peppercorns. The sautéed green beans with minced pork are tender inside, with blistered, crunchy exteriors, and sliced lamb with Szechuan pickles and celery is a fiery, fatty pleasure.
9
For some, Jing Fong might be intimidating: It's marked by giant escalators, a vast dining room and walkie-talkie–toting waiters marshalling diners. But it has remarkable dim sum. The shrimp shumai with glass noodles is exceptional, as is the ground pork and shrimp wrapped in a big black mushroom. The freshness and originality of its most mundane offerings keep people coming back for more.
Read more
10
This 450-seat Sunset Park palace is one of our favorite spots in the city for dim sum. Everything is made to order in the open kitchen, like jumbo pork and shrimp shumai, intoxicating crab soup dumplings and crispy suckling pig. The Hong Kong-style menu also includes exotica—like soy-sauced duck tongues—among the usual repertoire, making a group jaunt to Brooklyn's Chinatown well worth the ride on the R train.
Read more
Show more
See the best Chinese restaurants in America
The best Chinese restaurants in America, from local joints for top noodles and dumplings to a dim sum legend
Read more
Sponsored listing
Safari Restaurant NYC
Safari isn't just the only Somali restaurant in Harlem—it's the only one in all five boroughs. Start off with an appetizer of sambuza, a pocket of flaky dough filled with beef or chicken ($8 for two). Those who have never tried Somali food before might want to order the popular hilib ari, roasted goat served with basmati rice ($18), or chicken suqaar, a spicy stew served with chapatti bread ($15). The slow-cooked mango curry chicken served with a side of biryani ($16) is another customer favorite. Save room for malab iyo malawax, crepes drizzled with honey and dusted with sugar ($6). White grapefruit juice ($4) or Somali coffee infused with ginger ($3) complement the meal.
Venue says: "We are happy to introduce to the first & only Somali Restaurant in New York City. Specializing in Authentic Gourmet Somali food & teas"