The very best coffee shops in NYC
Looking for the city's best coffee shop? NYC cafes range from espresso bars to Aussie flat-white hangs.
You know you're a real New Yorker when you can't live without your morning cuppa from your favorite coffee shop. NYC boasts a dizzying array of coffee shops, as well as java-pouring donut shops and bakeries, so we've cut through the noise to bring you the best cafes and espresso bars at which to get your morning jolt. Whether you're after summery iced coffee, a frothy latte or a great pour-over, these are the best coffee shops in NYC.
RECOMMENDED: Full guide to the best restaurants in NYC
Best coffee shops in NYC
Restaurants, Coffee shops
Roasted in Long Island City and brewed fresh at several locations daily, Birch's coffee ranges from bright light roasts to chocolatey dark beans. Its smooth cold brew is especially popular among iced coffee addicts. Like to read with your joe? The cafe's Flatiron location features an extensive lending library.
Restaurants, Coffee shops
Coastal California vibes abound at this chilled-out Lower East Side café, replete with a blond-wood bar and pops of aqua neon. The stools-only, outlet-free spot doesn't have a stay-awhile vibe, but the Mexican iced mocha on draft is alone worth a pop-in. Spiced with chili flakes and cinnamon, Counter Culture black coffee is topped with sweetened condensed milk, and capped with Mexican chocolate and fresh mint.
Taking its name from a fashion term popular during the Japanese jazz age, this 11-seat coffeehouse specializes in East-meets-West fare. During the day, the East Village spot serves siphon brews made with varying blends. When the sun sets, sidle up to the wooden counter for Far East beers and sake cocktails.
Photograph: Courtesy CC/Flickr/Bex Walton
Restaurants, Coffee shops
Rock-star barista Sam Penix—whose iconic knuckle-tat riff on "I Love NY" replaces the heart with an espresso cup—is behind this industrial East Village coffeeshop. Penix places a premium on high-quality ingredients and offers a range of serious brew methods, including espresso, pour-overs and the AeroPress.
Restaurants, Coffee shops
Portland, Oregon's artisan coffee company boasts two NYC locations, serving espresso-based drinks as well as French-press and cold-brew coffees. Pastries are supplied by top-notch vendors like the Breslin, the Doughnut Plant, Ovenly, Lafayette and Milk Bar.
Restaurants, Coffee shops
Founded in Chicago in 1995, Intelligentsia is one of the country's oldest and most respected coffee chains. Serving seasonal Direct Trade coffees, the company brews beans with a variety of methods, from single-cup V60 pour-overs to siphon brews. Located inside the stylish lobby of the High Line Hotel, its to-go coffees are perfectly suited for a stroll along the nearby elevated park.
Restaurants, Coffee shops
This midtown coffee shop serves espresso-based drinks using Intelligentsia beans, along with breakfast and lunch menus that include items like house-made meusli, and a truffled egg-salad sandwich and a killer chocolate chip cookie.
Restaurants, Coffee shops
Surfing and slang aren't the only things Australians do better than New Yorkers; they know how to make a killer cup o' joe. Down Under's renowned coffee culture has proliferated in the past five years, and no shop eases you into that flat-white phenomenon quite like Bluestone Lane. The charming café chain—which cooks weekend brunch at certain locations—sources Brazilian and Colombian beans for its drip and cold brew and roasts them in its Dumbo shop.
Show more
See the best coffee shops in America
Restaurants, Coffee shops
These coffee shops take the humble cup to new heights with select beans and new brewing methods, appealing to coffee nerds and casual caffeine seekers alike
Sponsored listing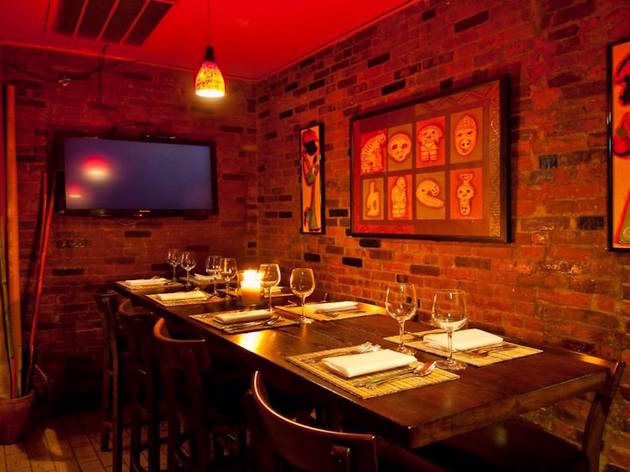 Known as a vibrant Puerto Rican neighborhood, El Barrio doesn't boast many cuisines foreign to la isla de encanto. Amor Cubano is one of a few exceptions. Located on a bright and colorful block, Amor Cubano stands out with its tropical inner decor and impressive stage. Whether you're looking for tradtional Cuban dishes or somewhere to salsa the night away, this bar and restaurant has you covered. Like any good Cuban restaurant, Amor Cubano offers plenty of mojitos. The Cojito, a blend of coconut rum, sugar, muddle limes, macerated mint leaves and a splash of coconut water, puts a slight twist on the traditional recipe ($12). Another must-try is the Amor, a classic mojito made with aged Barcelo Imperial rum ($14). Both drinks have quite a boozy kick, so don't be surprised if you end up dancing the night away. Pair your cocktails with some light ham and cheese croquetas ($9). Though these appetizers might seem small, they pack a strong punch of flavor. If you're still craving food after those two drinks (and we know you will be), try the Cuban staple ropa vieja ($21). Skirt steak is braised in garlic sauce with fresh tomatoes, sliced onions and peppers until it's melt-in-your-mouth tender. The name of this classic dish translates to old clothes, a reflection of the meat's apperance, but don't let that dissaude you: Many consider this dish life-changing. You might also want to try the lechon asado, or pork marinated with spices and a secret bitter orange mojo sauce. You now ha
Venue says Cuba in East Harlem, authentic cuban experience - Live Music Thursday-Sunday nights!