The best coffee shops in NYC
Looking for the city's best coffee shop? NYC cafes range from espresso bars to Aussie flat-white hangs.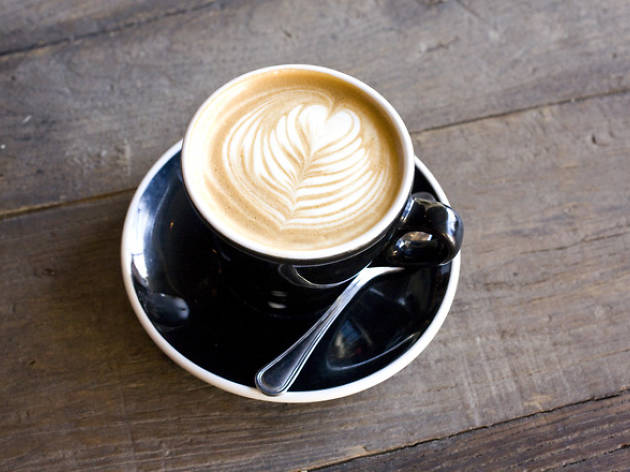 You know you're a real New Yorker when you can't live without your morning cuppa from your favorite coffee shop. NYC boasts a dizzying array of coffee shops, as well as java-pouring donut shops and bakeries, so we've cut through the noise to bring you the best cafes and espresso bars at which to get your morning jolt. Whether you're after summery iced coffee, a frothy latte or a great pour-over, these are the best coffee shops in NYC.
RECOMMENDED: Full guide to the best restaurants in NYC
Best coffee shops in NYC
1
Roasted in Long Island City and brewed fresh at six locations daily, Birch's coffee ranges from bright light roasts to chocolatey dark beans. Its smooth Filtron-brewed cold brew is especially popular among iced coffee addicts. Like to read with your joe? The cafe's Flatiron location features an extensive lending library.
Read more
2
Coastal California vibes abound at this chilled-out Lower East Side café from Nick Morgenstern (Morgenstern's Finest), replete with a blond-wood bar and pops of aqua neon. The stools-only, outlet-free spot doesn't have a stay-awhile vibe, but the Mexican iced mocha on draft is alone worth a pop-in. Spiced with chili flakes and cinnamon, Counter Culture black coffee is topped with sweetened condensed milk, and capped with Mexican chocolate and fresh mint.
Read more
3
The two locations of this cafe offer a seasonally changing menu of beans sourced from independent roasters such as Grand Rapids' Madcap and San Francisco's Ritual. Its popular "one and one" includes a shot of espresso, a milky macchiato and a tiny glass of sparkling water, served with a cute homemade graham cracker.
Read more
4
Taking its name from a fashion term popular during the Japanese jazz age, this 11-seat coffeehouse specializes in East-meets-West fare. During the day, the East Village spot serves siphon brews made with Porto Rico and Counter Culture blends, along with dishes such as omurice (a rice-stuffed omelette) and katsu pork sandwiches. When the sun sets, sidle up to the wooden counter for Far East beers (Yona Yona, Echigo Koshihikari) and sake cocktails.
Photograph: Courtesy CC/Flickr/Bex Walton
Read more
5
Rock-star barista Sam Penix—whose iconic knuckle-tat riff on "I Love NY" replaces the heart with an espresso cup—is behind this industrial East Village coffeeshop. Penix places a premium on high-quality ingredients, sourcing Counter Culture Coffee and Battenkill Valley Creamery milk, and offers a range of serious brew methods, including espresso, pour-overs and the AeroPress.
Read more
7
Portland, Oregon's artisan coffee company boasts two NYC locations, serving espresso-based drinks as well as French-press and cold-brew coffees. Pastries are supplied by the Breslin, the Doughnut Plant, Ovenly, Lafayette and Milk Bar.
Read more
8
Founded in Chicago in 1995, Intelligentsia is one of the country's oldest and most respected coffee chains. Serving seasonal Direct Trade coffees, the company brews beans with a variety of methods, from single-cup V60 pour-overs to siphon brews. Located inside the stylish lobby of the High Line Hotel, its to-go coffees are perfectly suited for a stroll along the nearby elevated park.
Read more
9
This midtown coffee shop serves espresso-based drinks using Intelligentsia beans, along with breakfast and lunch menus that include items like house-made meusli, and a truffled egg-salad sandwich.
Read more
10
A favorite of coffee purists, this mini-chain of cafes has five locations in Brooklyn and Manhattan. Baristas prepare artisanal espresso, alongside a selection of pastries from Balthazar Bakery.
Read more
Show more
See the best coffee shops in America
These coffee shops take the humble cup to new heights with select beans and new brewing methods, appealing to coffee nerds and casual caffeine seekers alike
Read more
Sponsored listing
Feast
This family-style bistro in the East Village serves rustic and seasonal American fare. The list of snacks includes several familiar appetizers, albeit with some unexpected twists: chicken skin crisps ($7) seem reminiscent of pork rinds, while the crispy deviled egg ($10) and fried rice with parmesan, shiitake mushrooms and truffle zest ($10) reference two beloved American foods. The rest of the menu is divided into garden (beets with crispy farro, caramelized goat cheese and chrysanthemums, $12), sea (octopus with celery root puree and pickled Asian pear, $17), land (duck with caramelized apple, charred scallion and beet greens, $26) and harvest (kabocha mac and cheese, $16). Groups of two or more can share several dishes with the "feast" option ($52 per person), while larger groups of eight or above can book five days in advance for the "whole hog" feast complete with suckling pig ($75 per person).
Venue says: "Join us for our incredible brunch, featuring our signature "beijing benedict" with scallion pancake, duck confit, and hoisin hollandaise!"