The best bakeries in NYC
Looking for New York's best bakery? NYC is packed with world-class French patisseries, pie shops and bread makers.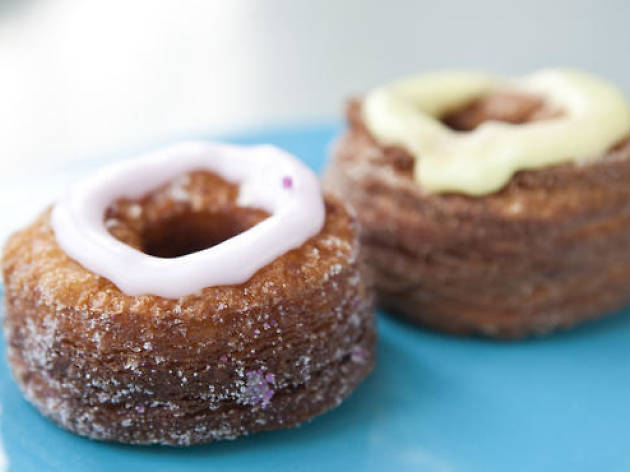 Sugar fiends never had it so good—with so many pedigreed dough-punchers setting up shop in our fair city, New Yorkers don't only have access to every best bakery NYC has to offer, but they have access to some of the best bakeries in the world. Whether you're looking for French bakery spots or all-American donut shops, the best pies for the holidays or one of the city's best chocolate chip cookies, check out every best bakery NYC sweets lovers should know about.
RECOMMENDED: Full guide to the best restaurants in NYC
Craving a cupcake?
Looking for the best cupcakes in NYC? Head to these bakeries to try one of our favorite frosting-crowned beauties.
Read more
Sponsored listing
Kings of Kobe - The Burger & Hot Dog Monarchy
This Hell's Kitchen eatery serves unusual takes on two classic American dishes: burgers and hot dogs made with all-natural Wagyu beef. Sausage lovers will want to try the Bahn Mine dog topped with marinated cucumbers and carrots, cilantro and sriracha aioli or the All Nighter with bacon, onion marmalade, lemon zest and blue cheese dressing (both $9.25). As for burgers, there's the Better Than Caesar with burrata, baby arugula and stone fruit relish ($12.75), The Queen Rules with prosciutto, pepper jack and sweet chili relish ($12.50) and the Duke of Lux with smoked gouda, bacon, caramelized onions and chipotle aioli ($14.50). Gluten-free eaters will be happy to note that Kings of Kobe also offers alternative buns. The restaurant also serves snacks like mac and cheese balls ($7.25) and a waffle dog drizzled in spicy maple aioli ($5.75), brunch entrees like a Red Velvet Jester burger with raspberry jam, bacon maple butter and a fried egg sandwiched between two red velvet pancakes ($13.75). Wash it all down with creamy Haagen-Dazs milkshakes ($5.95).
Venue says: "We'll make it easy for you! Happy Hour from 3-7pm- enjoy $3 Milkshakes and $3 Beers"