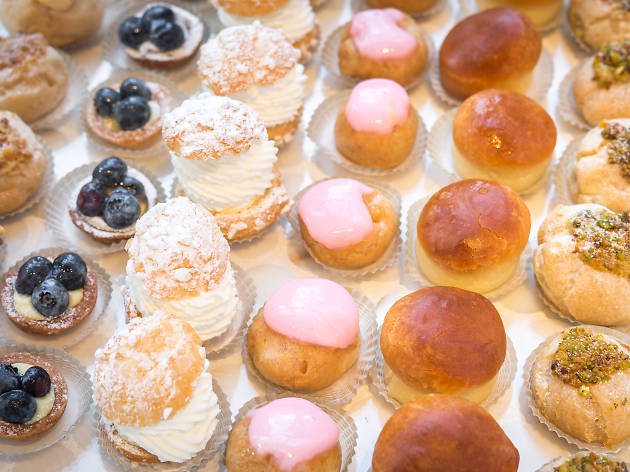 The best food tours in NYC
Looking for an awesome food tour? NYC's best culinary adventures will take you everywhere from Williamsburg to Harlem.
With more than 20,000 restaurants in Gotham, it's hard to know where to begin—unless you book a comprehensive food tour. NYC is made up of tons of unique neighborhoods, each with a distinct culture that plays a role in shaping its cuisine. And while you could, technically, try to hit all the best restaurants in NYC, it would be quite the challenge. From cheap eats in Chinatown to some of the best New York pizza in Greenwich Village, there's a food tour in NYC for whatever you're craving. Better come hungry!
RECOMMENDED: Find more NYC tours and walks
Best food tours in NYC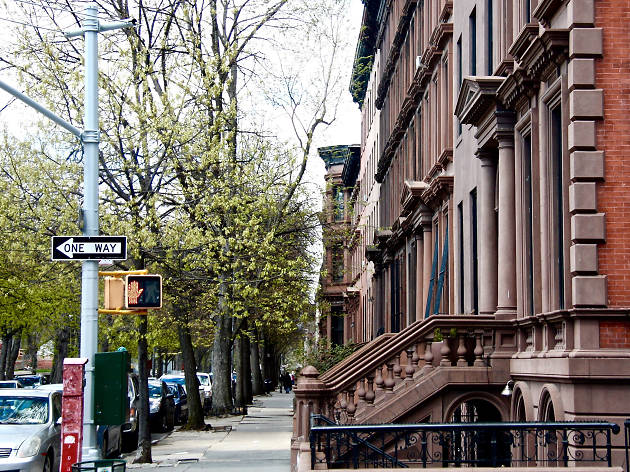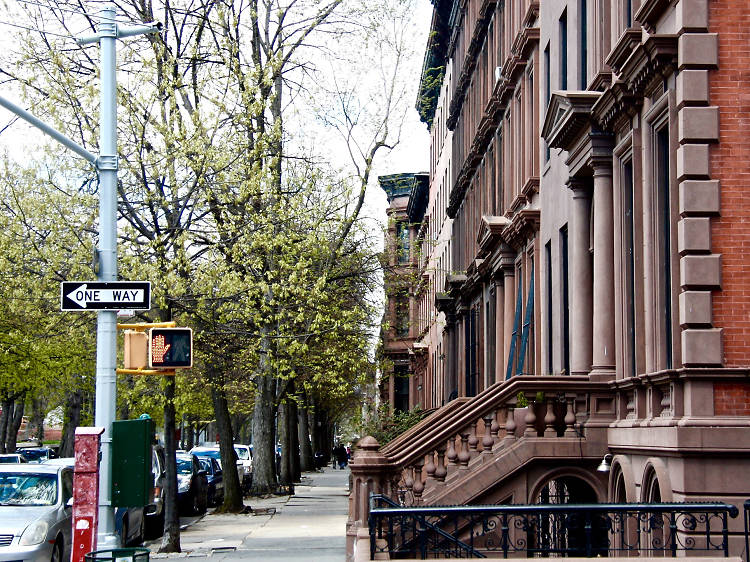 Photograph: Shutterstock
1. Best of Brooklyn Half-Day Food and Culture Tour
Despite Manhattan's abundance of white-clothed, Michelin-starred dining rooms, some are now touting Brooklyn as the epicenter of food culture in NYC. Either way, it's impossible to deny that Brooklyn's dining scene is incredible, from pierogis in Greenpoint's Polish stronghold to tacos and pupusas in Sunset Park and trendy farm-to-table newcomers in Williamsburg. To provide a thorough understanding of the borough's eats, this half-day tour will take you through all those neighborhoods, as well as Dumbo, the waterfront neighborhood where you'll enjoy sweets from the renowned Jacques Torres chocolate factory. The tour starts in the West Village and transportation is provided via an air-conditioned shuttle bus, for your dining comfort. $125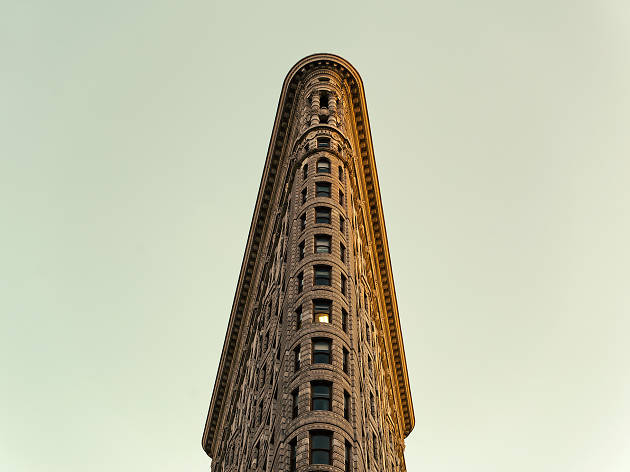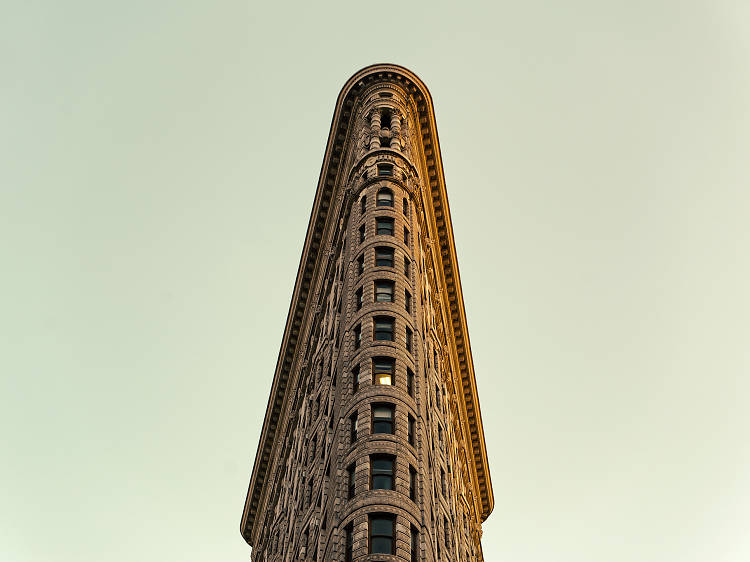 Photograph: Shutterstock
2. Flatiron Food and History Tour
Long considered a culinary wasteland, the Flatiron District has become, in recent years, a full-fledged foodie destination, thanks in part to the recent surge of boutique firms and tech start-ups setting up shop there. This bang-for-your-buck tour comes with six tastings at NYC favorites including Italian megamarket Eataly, historic Eisenberg's Sandwich Shop and Beecher's Handmade Cheese. The tour also stops at the iconic Flatiron building for a photoshoot, and passes through the Union Square Farmer's Market (Saturday only) before finishing off at Bread's Bakery, where you'll sample their beloved chocolate babka right from the oven. $50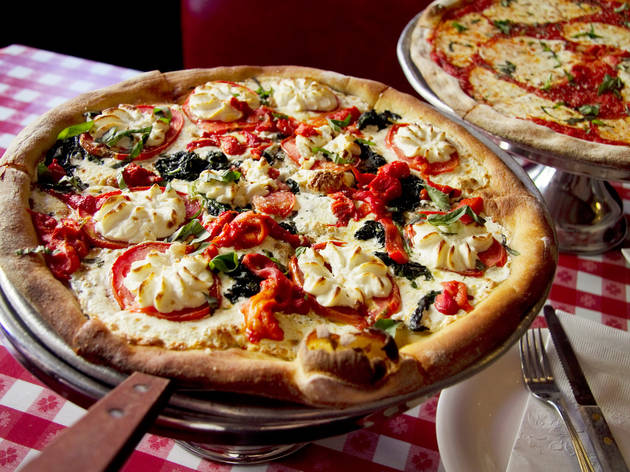 Photograph: Tova Carlin
3. Pizza Walking Tour of Manhattan
What trip to New York would be complete without sampling some of the city's best pizza? Everyone has a favorite spot and your tour guide is no exception. Choose between three nabes—Little Italy, Greenwich Village or the Lower East Side—and prepare to feast on several slices of crispy thin-crust pizza fresh out of the oven. Depending on which route you pick, you'll visit beloved local institutions like Joe's Pizza, Patsy's Pizzeria and John's of Bleecker Street. $40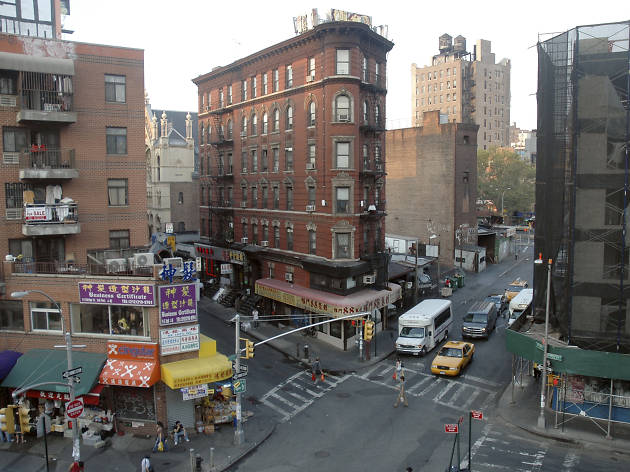 Photograph: Shutterstock
4. Chinatown Food Tour and Historic Downtown Walking Tour
Much of New York's culture (and the city itself) is built upon the legacy of its diverse immigrant groups. In this exploration of Manhattan's southernmost tip, you'll hear about two major influences: the Chinese and the Dutch. Start in New York's sprawling Chinatown, which is home to hidden-gem Chinese restaurants, as well as Vietnamese, Thai and Malaysian eateries. From there, head down towards the Financial District, where your tour guide will walk the group through New York's Dutch heritage, all the way back to the days when Wall Street was an actual wall. You'll also see the World Trade Center, the Fraunces Tavern Historic District (Manhattan's oldest neighborhood) and the beautiful Trinity Church. $114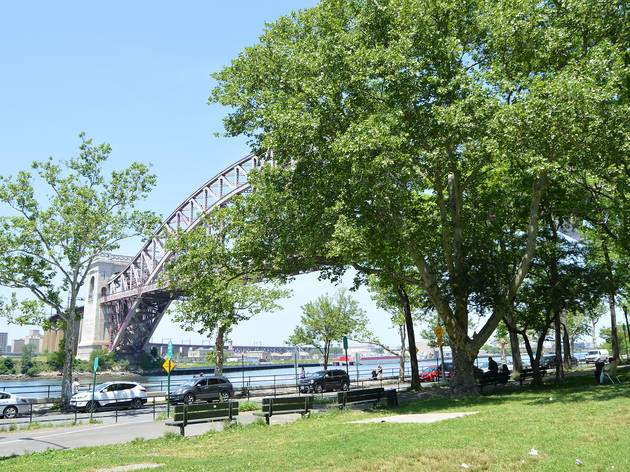 Photograph: Courtesy CC/Flickr/Costa Constantinides
5. Athens Next Door Greek Food Tour in Astoria
The caliber of food served at the authentic Greek tavernas dotting the streets in this Queens neighborhood can't be matched anywhere in the five boroughs. You'll stop at fine dining establishments, food trucks and homey bakeries on this guided tour of the neighborhood and sample gyros, souvlaki, feta and baklava along the way. Don't worry—there will be plenty of ouzo too. $99
Photograph: Courtesy CC/Flickr/Costa Constantinides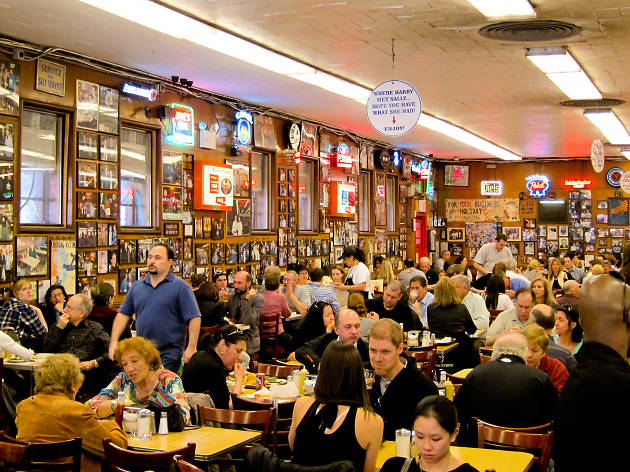 Photograph: Courtesy CC/Flickr/Ricoslounge
6. Lower East Side Bagel Tour
Come hungry: You start this walking tour of the Lower East Side with a piping hot bagel smeared with cream cheese. The eats only get better as you visit venerable New York institutions like Katz's Delicatessen, Russ and Daughters, The Pickle Guy and Economy Candy. It's not all about the food either: Your guide will explain how immigrants shaped both this neighborhood and its cuisine as you walk. $50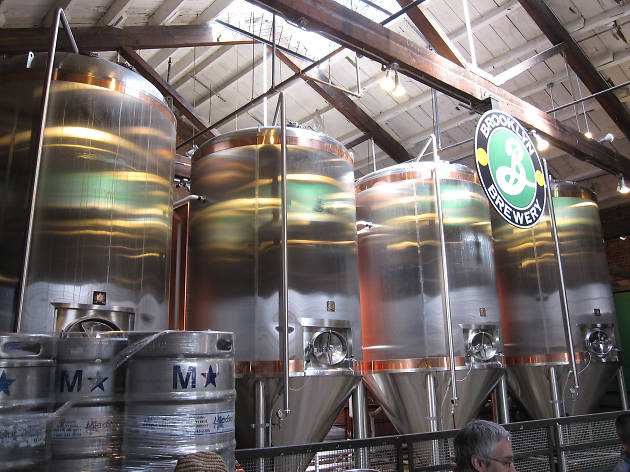 Photograph: Courtesy CC/Flickr/Bernt Rostad
7. Sunday Funday: A Boozy Brooklyn Tour
Party away the Sunday scaries with this drinks-fueled tour around local Brooklyn favorites. During a walk down Bedford Avenue—Brooklyn's longest street—you'll stop at NYC's homegrown Brooklyn Brewery, one of the top 10 craft breweries in the U.S., and others on Brewer's Row. Soak up the suds at Mable's Smokehouse BBQ, before shopping for handmade and vintage goods at Artists & Fleas and snapping photos of an incredible view of the Manhattan skyline nearby. The tour ends with a perfect pairing of stops: Oddfellows Ice Cream and the Mast Brothers Chocolate Factory. $55
Photograph: Courtesy CC/Flickr/Bernt Rostad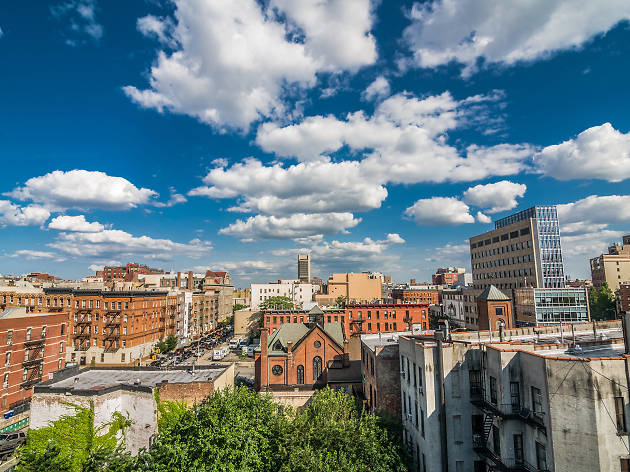 Photograph: Shutterstock
8. Harlem Historical Food Tour
Experience the rich tapestry of cultures that call Harlem home during this historically minded tour. Stops range from an authentic soul food standby to a Spanish-Caribbean spot and a French West African café to help you explore the influences from Caribbean and African cuisines. You'll also visit a neighborhood bakery and a unique tea-and-spice shop. Whether you're a newcomer or native New Yorker, you're bound to learn something new about this uptown nabe. $79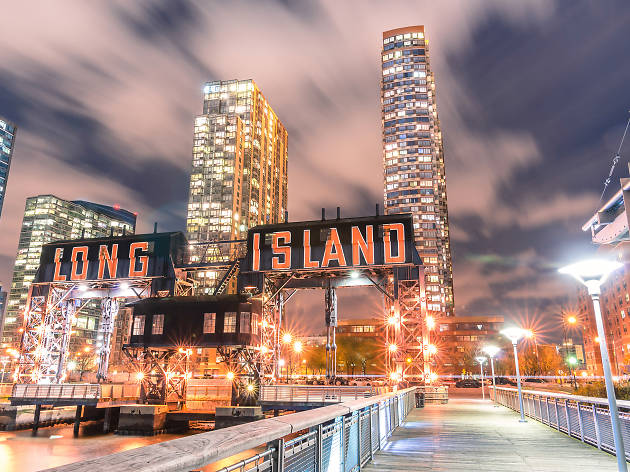 Photograph: Shutterstock
Queens is one of the most ethnically diverse urban areas in the entire world, and its colorful culinary landscape is a telling reflection of that. This three-hour excursion will take you through stops like Long Island City, the borough's booming art community, where you'll be able to soak up unique views of the Manhattan skyline across the river. Included in the tour are three food tastings and a friendly and knowledgeable guide. $64.95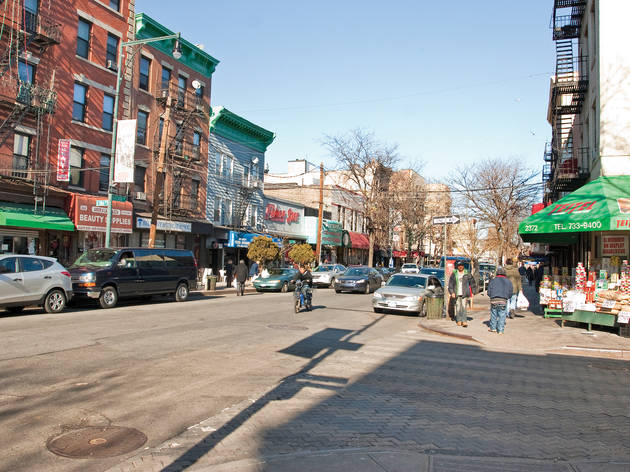 Photograph: Lauren Foy
10. Small Group Little Italy Food Tour
NYC's real Little Italy isn't in Lower Manhattan—it's in the Bronx on Arthur Avenue. This Italian enclave still boasts local artisans making the finest cheese, fresh pasta, sausages and more. Taste everything from white chocolate bread to hand-pulled mozzarella on this 2.5-hour walking tour of the area. $79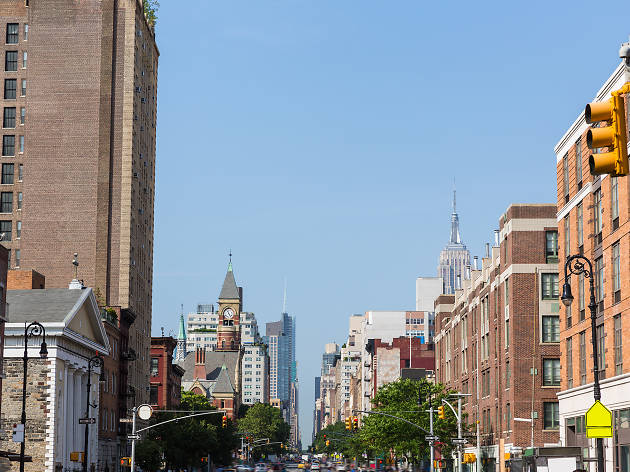 Photograph: Shutterstock
11. Greenwich Village Food Tour
With stars like Robert de Niro and Sarah Jessica Parker having called this beautiful neighborhood home, it's no surprise that the nearby dining options are top-notch. This tour, however, explores more of the low-key offerings frequented by the food-savvy NYU undergrads, from excellent Indian vegetable rolls from a Washington Square Park street cart to thin-crust pizza at Joe's and cupcakes at Magnolia Bakery—first popularized in the show Sex and the City. If you're feeling tired from the walk, the two-hour tour will also make stops at the craft coffee shops on Bleecker Street. $48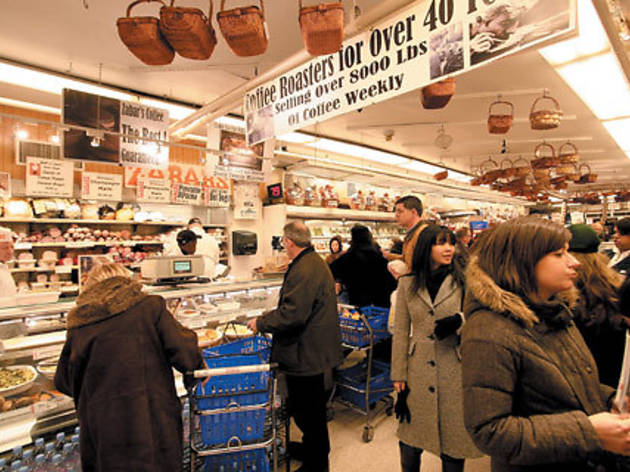 Photographs: Imogen Brown
12. Kosher Food Tour of the Upper West Side
This tour focuses as much on the Upper West Side's Jewish community life as it does the food. You'll learn about Judaism's traditions, rituals and religious practices like keeping kosher on this 2.5-hour tour. After stopping at a few local synagogues, you'll nosh on tastings from kosher eateries like the Kosher Marketplace, Murray's Sturgeon Shop and Zabar's. There's also time to do some grocery shopping, if you need to restock your supply of whitefish and lox. $99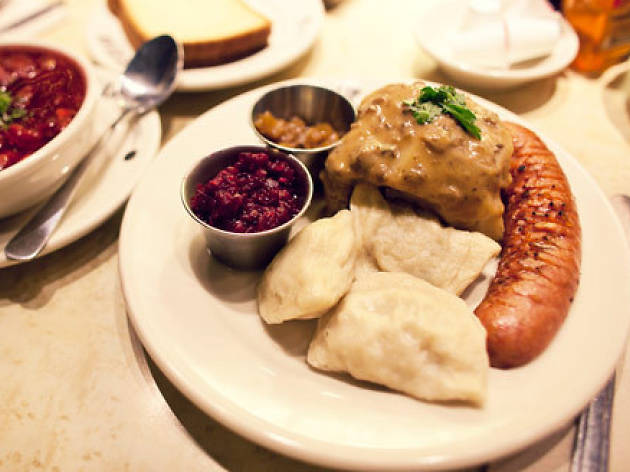 Photograph: Lizz Kuehl
13. New York City Pierogi Walk
Past the seedy vape shops and tattoo parlors on St. Mark's Place, you'll find the East Village's borscht belt. The Polish, Ukrainian and Eastern European immigrants who moved into the nabe in the '30s brought pierogies, kielbasa, blintzes and potato pancakes with them. Join a two-hour pierogi walk to savor the neighborhood's history and food in one fell swoop. $40
Looking to walk off all the food?
From food to architecture, immerse yourself in the city's best attractions with the top walking tours NYC has to offer
Best selling Time Out Offers