Heads up! We're working hard to be accurate – but these are unusual times, so please always check before heading out.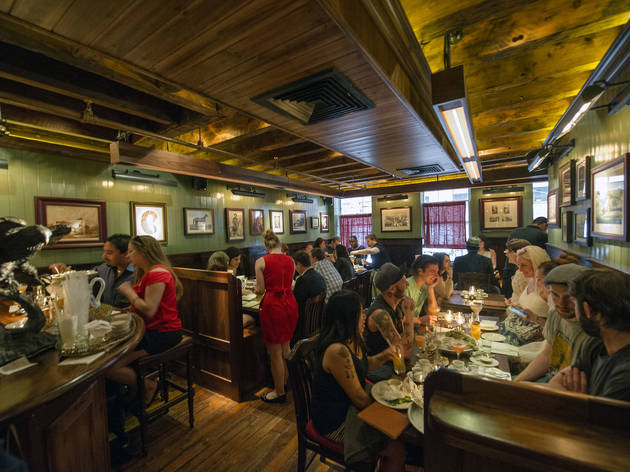 The best Irish restaurants in NYC
Irish restaurants shouldn't get overshadowed by Irish pubs—head to these spots for Guinness cheese, pub sausage and mash
Irish pubs get all the acclaim, but if you're unfamiliar with their food beyond potatoes, these Irish restaurants will convert you. There's more to the Emerald Isle's cuisine than just mash, and the substantial population of the Irish in New York has given rise to everything from haute takes on traditional fare to warm and boozy Irish coffees to some of the best beer and juicy sausages this side of the Atlantic. And we promise: no green beer on this list.
RECOMMENDED: Full guide to the best restaurants in NYC
Best Irish restaurants in NYC
We miss the St. Mark's location of this pub, but its recently-relocated move to Avenue A still has overflowing energy. It's hard to miss the cuisine theme at a candlelit pub that serves fish and chips in an Irish beer batter, fettucine with Irish smoked salmon, soup with a side of Irish brown bread and Baileys Irish Cream cheesecake. The food is worth your time, that is, if you can get a seat. On weekend nights its swamped with college students, who stop by for their cheap beers and lively vibe.
Designed to resemble a typical Irish 1960s residence, this Lower East Side spot also cures homesickness with dishes hardly seen outside Ireland. Don't miss the traditional crisp sambo, a sandwich made with the quirky combination of Tayto cheese-and-onion potato chips, addictive Ballymaloe stout relish and cheddar cheese mayo on a chive brioche bun.
The self-proclaimed most traditional Irish bar in New York ("shebeen" is Gaelic for an illegal drinking establishment), this Midtown watering hole has been serving patrons in one form or another since 1895. Many classic dishes are offered here, including a decadent chicken potpie, pub sausage and mashed potatoes, along with fish and chips made with fresh cod filets.
In business for more than five decade, this Irish restaurant on the Upper East Side continues to serve up charm amongst in its elegant all-red interiors. Dishes include Wild "Irish" salmon, broiled lamb chops with mint jelly and the Dublin Broil with mushroom gravy.
This friendly and beloved Astoria spot always has an impressive list of daily specials, but be sure to try the many Irish standards on the permanent menu: Irish-style chicken curry isn't a dish you'll find many places. Oh, and a stand-out shepherd's pie.
At this Sunnyside, Queens butcher shop you won't get the traditional restaurant experience. But the Irish breakfast sandwich is worth your time and one of the more original ways to have a St. Patrick's Day meal.
This Financial District watering hole may be better known for its numerous cocktail accolades, but it also has quite the loyal following for its Irish-American menus. The kitchen shines brightest at brunch, where the full Irish breakfast includes everything from rashers to bangers. That would be bacon and sausage, to the uninitiated, and yes, it's all delicious.
This Washington Heights spot's name has no literal translation from Gaelic, but means something close to "together." The sentiment is felt throughout the restaurant: Patrons' scribbles on the paper tablecloths actually wind up displayed on the walls. Sample the Irish stew, made with tender beef and vegetables ladled over mashed potatoes, while enjoying a spectacular view of the George Washington Bridge on the side.
Opened as an Irish saloon in 1868, this Hell's Kitchen spot is one of the oldest operating restaurants in all of New York. Traditional Irish stick-to-your-ribs dishes are in abundance, like corned beef and cabbage served with white parsley sauce or Irish bangers and mash. For a more authentic experience, dine on a Monday night, when celebrated musician Don Meade holds court in the back room.
With two bars, a fireplace and a year-round patio, this Midtown East pub and restaurant is a favorite haunt of Irishmen and women in New York. The Irish potato skins are heavenly, oozing with Guinness porter cheddar, Irish bacon, crispy fried leeks and a dollop of sour cream. Still hungry? Chase it with an Irish sausage roll, served with decadent Jameson Whiskey dip.
In direct contrast to the James Joyce book that it's named after (a novel that has surely turned some English majors into geography majors), Finnegans Wake pub is easy to figure out. The laid-back bar is as much about eating as drinking, and the menu is as authentic as the Irish waitresses (many of who will answer your questions with "Oh, aye.") The fried fish is batter-dipped and served with vinegar, the shepherd's pie is spot-on, and corned beef and cabbage is a frequent special. A portrait of Joyce lords over the bar.
This midtown tavern is a spin-off of the original Rosie's, which has been family owned and operated for over 30 years.
Aside from bangers and rashers served at breakfast, the menu at the Times Square pub also features an entire page of traditional entrees, like the shepherd's pie stuffed with herby ground beef, lamb and vegetables and finished off with a golden mashed potato crown.
Located just steps away from Grand Central terminal, Stout NYC Grand Central is not just a bar or restaurant–it's an authentic Irish experience. This East side of Manhattan pub offers guests an impressive selection of bottled beers and beers on tap. A haven for those seeking a comfortable place to escape the city bustle.
Established in 1854, McSorley's became an institution by remaining steadfastly authentic and providing only two choices to its customers: McSorley's Dark Ale and McSorley's Light Ale. Most come to the historic bar for beers, but don't skimp out on their simple, but hearty pub fare options.
The local Irish-pub minichain—first opened in Inwood in 1969—took over the old Patrick Kavanagh's space. Owned by Ireland natives John Mahon and Ken McCoy, the spot dishes out Celtic staples like shepherd's pie, bangers and mash, and fish-and-chips, along with requisite pub grub such as buffalo wings and potato skins. Craft brews on tap include Blue Point Toasted Lager, Brooklyn IPA and the chain's own Pig 'n' Whistle Ale. The wood-laden watering hole—decked out with antique mirrors, stained glass and waist-high swinging doors—hosts karaoke on Mondays and traditional Irish music on Sunday nights.
This pub and restaurant feels like relic of yore, still serving FiDi customers all these years later. Head down there for the sliced meat: reuben sandwiches as well as versions with brisket and pastrami.
In the mood for a drink?
From dives to cocktail dens and craft-brew havens to wine haunts, here are the best bars in NYC to visit right now