The best beer bar NYC has to offer
NYC's beer bar scene stretches from the Bronx to Bed-Stuy–here are the beer bars that every hops-head needs to try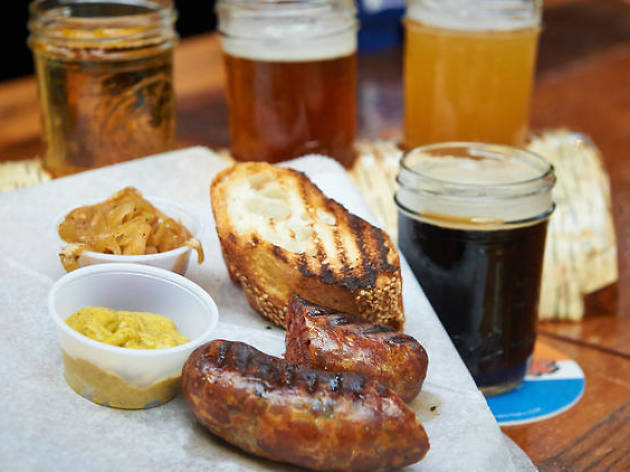 New York's hard-charging beer bar scene shows no sign of fizzing out with a diverse crop ofdives and pubs leading the pack. These craft beer bars, beer gardens and beer halls serve not only top-notch brews but also some of the best bar food and snacks in NYC and weekend brunch. If you're a beer lover, here are the bars you need to check out in NYC.
RECOMMENDED: Full guide to the best bars in NYC
Looking for a hole-in-the-wall bar?
With a bit of gritty New York disappearing each day, we sound off on the best dive bars still standing strong
Read more
Sponsored listing
Beer Shop NYC
Sorry, wine—beer is coming for your spot as the new drink to obsess over. Dedicated shops are popping up all over the five boroughs, all with plenty of suds from all over the world on tap. Beer Shop NYC, located on the Upper West Side, is one of the best, offering a varied selection and knowledgeable, helpful staff. Ten taps run through a series of curated kegs every season, and beers ($8-$12) range from light, sour gose to dark, stormy stout. On a recent stop, the taps featured breweries like Finback, Nine Pin and Kent Falls, but because the beers change so often, there's no telling what you'll find (and what will be your new favorite). If you're having trouble choosing your next pint, taste four different beers in a flight ($15). You can also take some home in a growler—prices for these large jugs vary by beer, and all growlers are $5 off on Mondays. Beer Shop NYC also stocks a varied selection of canned and bottled beers in refrigerators in the back of the shop. Organized by region, you'll find brews produced everywhere from San Francisco to Montauk. Bring home an assortment for your next Netflix binge, or, for an added fee, open up one of those cans or bottles right then and there. Hungry? Mixed nuts, beer corn (popcorn coated with a syrup of reduced beer, like a boozy Cracker Jack), rice crackers, "wicked mix" (a spicy Chex Mix-like blend) and hard pretzels are good nibbles, but they don't make a full meal, so plan accordingly. The long, thin layout of the shop is coz
Venue says: "Purveyors of The Finest Craft Beer on the Upper West Side... Over Three Hundred assortments of Beer to Stay & to Go"