The best beer bars in NYC
Here are the sudsy best beer standouts—from the Bronx to Bed-Stuy—every in-the-know hops-head needs to try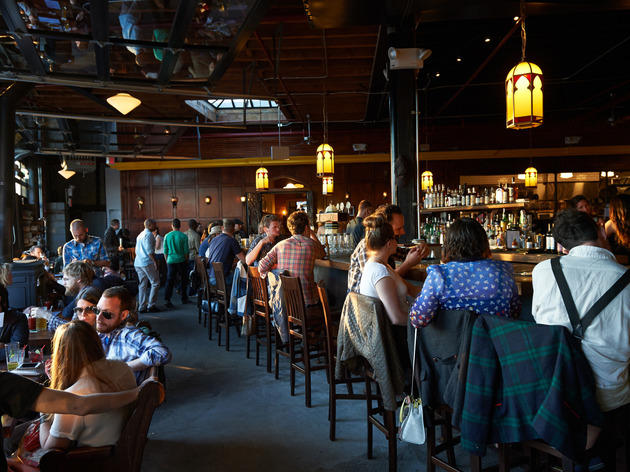 New York's hard-charging craft-beer scene shows no signs of fizzing out with a diverse crop of exciting new bars leading the pack. See our list of the best new beer bars, including those dishing up bar food, weekend brunch and live tunes.
RECOMMENDED: This year's guide to the best beer in NYC
The best beer bars
Follow the large laminated arrows beneath the BQE to this Caribbean-inflected bar and restaurant. Test one of the 20 drafts at the black wraparound bar decked out with mini palm trees. Popular sippers—Kelso pilsner and Lagunitas IPA —are accompanied by more complex numbers like the nutmeg-tinted Ommegang Rare Vos and the Belgian brewery Brasserie d'Achouffe's La Chouffe, a fruity, golden blond ale. Harris doesn't turn up its nose at taps from beer titans, either: Coors and Stella make appearances. Reggae music, a menu packed with all things jerk—like Caribbean biscuits and gravy—plus a spacious outdoor area and bar heighten the good-times island feel.

Read more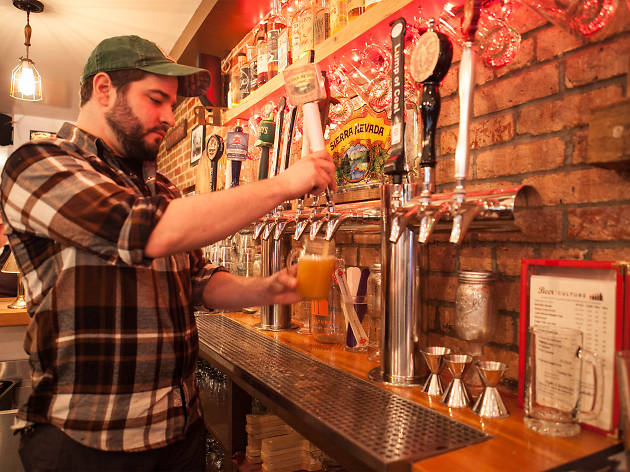 Beer Culture
This cozy bar and shop ain't your typical Hell's Kitchen after-work joint. For one, it looks like a place your grandpa would have loved—fireplace, old brewery signs, simple pine bar and owner Matt Gebhard's gramps's 1952 Kelvinator refrigerator stocked full of Genesee Cream Ale, Schaefer and Pabst cans. Big spenders can try one of the 12 drafts—recent offerings include Saranac's bready and aromatic Clouded Dream—and more than 500 bottles, including many from Ommegang, where Gebhard got his start. Look for events; recently, Beer Culture hosted a night of cheese-and-brew pairings.

Wading through the weekend flea-market masses can be treacherous—you might be plowed down by strollers, swarmed by hipsters or starved when vendors sell out—but this Crown Heights cousin to Smorgasburg is a peril-free alternative. The hybrid food-court-biergarten (a "cafebeeria," if you will) is decked out with rows of wooden tables, stalls of booze-sopping grub and enough beer to sustain your day of feasting. The 12-tap lineup ranges from hyperlocal brews to international picks. From the 36-bottle list, ask for harder-to-find labels like hops-heavy American ale Peeper from Maine Beer Company ($16 for 16.9oz) or Professor Fritz's citrus-tanged wheat ale, Briem 1809 ($17 for 16.9oz).
Read more
The latest drinkery to bolster the Bronx craft-brew scene is tucked into the 74-year-old Arthur Avenue Market. Among the cigar makers and meat-and-cheese counters, patrons can sit at BBH's stand-alone rustic wooden bar and imbibe one of five New York State choices on draft—there's a particular emphasis on the borough's own Jonas Bronck's Beer Co. Try the brewery's just-introduced New York Stand Up Tripel, or another local favorite Bronx Brewery's El Serrano Red IPA. Local shop Mike's Deli supplies the grub, like cheese boards and sausages served with bread and sides such as hot peppers.

Read more
The section of Tribeca dotted with drab government buildings is no longer a desert for quality beer. This expansive three-level restaurant and bar from the owner of Amsterdam Ale House boasts 22 taps—a mix of locals like Coney Island Brewing's Tunnel of Love watermelon wheat ale and internationals such as the hoppy Houblon Chouffe Dobbelen IPA Triple Ale from Belgium's Brasserie d'Achouffe—and about the same amount of reserve-list bottles. The name for this postwork meeting place refers to the street on the corner, but the look—wrought iron, candles and high ceilings—is cathedral-like. There are even a few church pews on the lower level.

Read more
Forget farm-to-table—we'll take tank-to-tap. You can't throw a bottle cap without hitting a beer bar in Brooklyn, but this Greenpoint suds depot from brew guru Ed Raven—behind bottle emporium Brouwerij Lane and beer importer Raven Brands—one-ups the competition by crafting its beers on-site. A gleaming row of multibarrel fermenters lines the back of this mighty Germanic hall, inspired by the Scandinavian shipbuilder who first settled the neighborhood in 1645. Its starting point may be staunchly old-school, but Raven's brewpub is just what present-day Brooklyn's been waiting for.

Read more
Don't let the dark, bare-bones interior of this new Bed-Stuy arrival fool you. With an excellent list, tattooed beer lovers and rock-&-roll-themed pinball machines, the joint (from the owners of Bar Great Harry) pops with personality. In an area dominated by fast-food joints and bodegas, locals can now order from a rotating menu of 12 esoteric brews, which recently included the Bière aux Marrons, a complex, nutty number from French brewery Brasserie Bourganel and the American Hop Slayer from Illinois' Wild Onion Brewing Co., which blends citrus notes and hoppy flavor.

Read more
The Upper East Side added to its craft-beer roster with the Jeffrey (from the team behind LIC's celebrated Alewife). Enter through the café-bar's right-hand door—the other side focuses on coffee and cocktails—and sit along the slender wood-and-copper bar for a view of 30 taps and the Queensboro Bridge. For more legroom, choose a table in the industrial-accented back, where keg pallets and plumbing-part fixtures decorate the space. Select from the New York State–centric suds list, confident that the pour will be the optimal temperature and pressure, thanks to a custom draft system.

Read more
Gherkin fiends, take note: After collaborating on the wildly successful Hop Pickle (a Brooklyn Brine pickle made with Dogfish Head 60 Minute IPA), the Delaware brewery's Sam Calagione and the Kings County brine house's Shamus Jones have joined forces for this nautically themed spot. The slender, 35-seat nook, around the corner from the pickler's factory, spotlights both partners' products, with a cukecentric menu and the largest variety of Dogfish Head beers available in the state. Try the fresh Namaste, American Beauty or a new classic, like the malty India pale ale, coupled with a small cast-iron skillet of fried, cornmeal-crusted Hop Pickles or the seasonal pickle plate, which includes artichokes and root vegetables.
Read more
A go-to for shaggy-haired, bearded dudes and country-rock-loving gals, this honky-tonk is covered with vintage beer paraphernalia, depictions of hard-living crooners and tons of peanut shells. Although the decor screams Texas pride—and you will find bottles of Shiner Bock and Lone Star—you can score pints not typical of Southern-fried watering holes, like Brooklyn, Sixpoint, Dogfish Head and 15 other drafts. Need a pick-me-up? A Dr. G (a Guinness-and–Dr Pepper concoction) should do the trick. Grab a seat on a cushioned church pew or the 1984 F-100 pickup-truck seat salvaged from a junkyard in Pennsylvania, and enjoy the almost-nightly foot-stompin' live tunes—there's never a cover.

Read more
Show more
Find more beer bars