The best Labor Day specials in NYC
All the best Labor Day specials in New York City, from decked out brunch deals to all you can drink bargains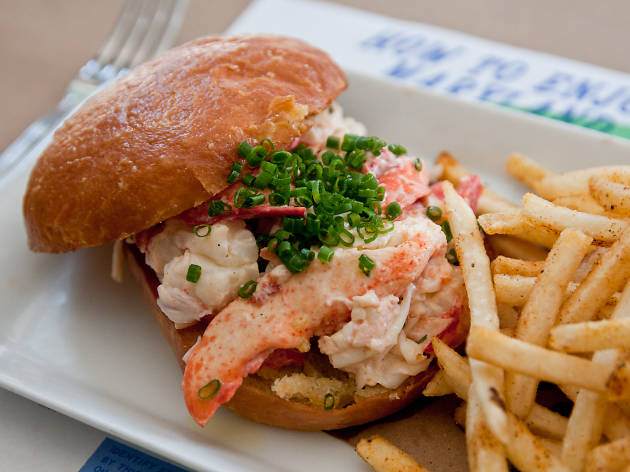 The ultimate way to enjoy a sacred day off of work is indubitably taking advantage of all the best Labor Day specials New York has to offer. It might be one of those hazy-origin holidays associated with backyard barbecues and clothing sales, but it's also one of your last chances to hit up a rooftop brunch NYC-style, scope out some of the best new restaurants in NYC or just mosey over Monday-funday drinks at the coolest Lower East Side bars. Then again, you could just lounge in pajamas all day, but then you'd be missing out on all these crazy-good Labor Day specials.
RECOMMENDED: Full guide to Labor Day NYC
Best Labor Day specials in NYC
1
The West Village taqueria helmed by chef Jordan Andino will be open for business as usual, serving the "Plan B-Rito," usually a weekend-only item. A hearty egg, cheese, ham, hashbrown, bacon, salsa and longanisa filled burrito served with three salsas, varying in spice level, it's the perfect hangover cure for all the weekend's festivities.
Read more
2
Michelin-starred chef Joe Isidori (Chalk Point Kitchen, Las Vegas's DJT) grills hefty sandwiches, like a chorizo burger with pico de gallo and a blue-cheese–topped steak au poivre, at this low-key patty joint pouring local brews (Sixpoint, Brooklyn Brewery). On Labor Day, enjoy the All-American burger and a Miller High Life for $17 at all Black Tap locations.
Read more
3
In addition to regular hours on Labor Day, April Bloomfield and Ken Friedman's taqueria and cantina in the Pod 39 hotel is celebrating the holiday by hosting a rooftop party on Sunday, September 4 from 2-6pm. An array of drink and dish specials will be on offer, including a cocktail made with basil, gin and black peppercorn and a tomato salad with cilantro and lime. Live entertainment by DJ Prestige will keep the party lively throughout the afternoon.
Read more
4
Venue says: "Serving all day in the West Village. Join our mailing list to get the latest offers from High Street on Hudson!"
A this day-to-night West Village sibling to chef Eli Kulp and Ellen Yin's lauded Philadelphia restaurant High Street on Market, breads and pastries play a starring role. For its Labor Day brunch, running from 8am to 3pm on Sunday, the kitchen will send out its fan-favorite Bodega breakfast sandwich, a buttery biscuit—popping with black pepper and subdued with sage—that hugs a cloud-soft egg, malted sausage and melty aged cheddar ($14). Vegetarians will want to opt for the equally satisfying Forager: seared king oyster mushrooms, braised kale, fluffy scrambled eggs and young swiss cheese piled onto a black trumpet mayo-slathered poppy seed roll ($13).
Book now
Read more
5
The all-day Italian fast-casual joint from the by CHLOE. team offers its weekend brunch on Monday in addition to Saturday and Sunday, from 10am to 4pm. Chow down on dishes such as breakfast spaghetti and mini Nutella sandwiches, or opt for a special of brunch board featuring whipped ricotta, cured meats and freshly baked ricotta, served with a carafe of spritz for $28. Visit during the day Friday through Monday for the same $28 special featuring the house antipasto board.
Read more
6
From cupcake-slinging vegan queen Chloe Coscarelli comes this entirely plant-based concept in the heart of Greenwich Village, offering meat- and dairy-free grab n' go treats, cold-pressed juices and a veggie burger. Available throughout the day Friday through Monday of Labor Day weekend, grab a complete packaged picnic featuring a lobster roll, the restaurant's signature baked french fries, a small vegan ice cream or push pop, and a small lemonade for $17.
Read more
7
This seasonally appropriate pop-up atop the Arlo Soho ticks off all the beachy boxes, with surf gear as decoration, an outdoor grill, tiki drinks, a full rosé-and-oyster station and even a view of the water. Get in on the sandy fun on Friday of the Labor Day weekend with two-for-one drinks from 2-6pm: your choice of beer, wine and a selection of tiki classics like the Mai Tai and Painkiller. Hanging in a crowd? Order up one of three Rum Buckets: Zombie, Rum Punch and Coco Loco.
Read more
8
The uptown location of this Tuscan spot keeps the long weekend dining extended into Monday, offering a crowd-pleasing brunch all three days from 11am to 3pn. Dig into specials like the Polpetta, a juicy Italian-style meatball burger made from veal, chicken and beef, and a Milanese panini of a fried chicken cutlet slathered with bright pistachio pesto.
Book now
Read more
Looking for a great brunch spot?
There's more to great brunch than mimosas. Get your taste buds tingling at the best bottomless brunch NYC has to offer.
Read more