The 26 best tacos in NYC
The best tacos NYC has to offer include tried-and-true al pastor fold-ups and an off the menu deep-fried creation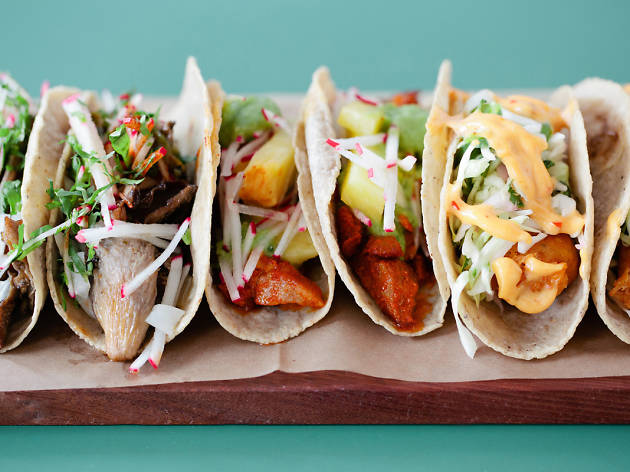 Los Angelenos may snub their noses at any Mexican-food scene that's not their own, but the best tacos in NYC are here to prove them wrong. Whether you're trying out one of the city's best Mexican restaurants or looking for some cheap eats at one of New York's most beloved food courts, these are the best tacos NYC has to offer.
RECOMMENDED: Full guide to the best restaurants in NYC
Best tacos in NYC, ranked
You won't need Spanish skills to gobble down $2.50 carnitas (pork seasoned with garlic, thyme and oregano) and garlicky, lime-marinated beef tacos at this tiny, fast-paced Mexican bodega. The two-layer tacos are easy for little ones to handle, as are the sopes (thick cornmeal tortillas) topped with cheese, beans and whatever meat you fancy. Work your way to the back of the store to find a handful of stools to eat at, or if weather permits, enjoy your feast at the Hell's Kitchen playground right across the street.
Local fluke sourced from Sea to Table is beer-battered and fried to a golden crisp. The fresh fish is loaded into a house-made Vista Hermosa corn tortilla, and finished with poblano mayo and spicy pickled cabbage.
Stupak's masa proves the hydrocolloid skills he honed at wd~50 and Alinea are still in tact. His tortillas—made from Indiana corn that's nixtamalized (the grains are cooked in limewater and hulled) and pressed in-house daily—are thin and springy, with a delicate maize sweetness. A stand-out filling is steak stewed with caramelized onion, a smart balance of acid and fat.
14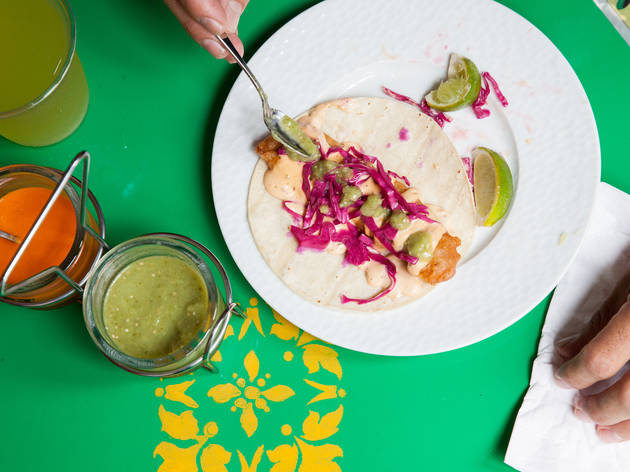 Photograph: Michael Rudin
Fish taco at El Diablito Taqueria
The battered, Baja-fresh fish taco is the star of the menu at this Crayola-bright Mexican canteen. The tempura-fried crust shatters around flaky tilapia, with lime-infused crema adding richness and red cabbage echoing the batter's crunch.
This East Harlem hole-in-the-wall may serve the city's best al pastor tacos, sliced to order off a rotating spit crowned with a hunk of grilled pineapple. The tortilla-to-meat ratio is perfectly balanced.
16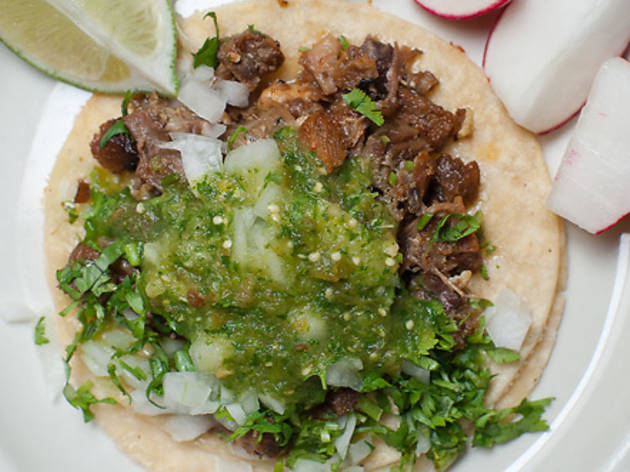 Photograph: Paul Wagtouicz
Cabeza taco at Tacos Matamoros
Soft chunks of rich, pungent cow's-head meat are spread on a pair of griddled corn tortillas with salsa verde at this Sunset Park stalwart.
These Asian-spiked tacos get a double dose of kimchi: The fiery fermented-cabbage slaw is seared with the pork-shoulder filling, and the final product is finished with a fresh scoop of the stuff.
Inspired by tacos he tasted in Veracruz, Mexico, chef Julian Medina sauts buttery hunks of poached lobster with a chile de arbol–based morita salsa. The decadent mix is finished with a dice of creamy avocado and a drizzle of chipotle mayo.
Acme vets Jon Neidich and Jean-Marc Houmard joined forces with chef Alex Lopez (Kittichai) to breach the borders of Mexican cuisine at this bi-level cantina. Their resulting revision of Latin dishes are fused with Indian, Creole and Vietnamese ingredients — most evident in the large-format pork neck with Thai-spiced chimichurri sauce and a tortilla soup bobbing with mini Chinese pork dumplings. But the carnitas tacos are another standout, padded with tender shreds of slow-roasted pork and supple slices of pickled onion and simply fresh pineapple cubes.
Inspired by travel and festive meals taken in the family homes, Marc Meyer showcases traditional dishes, from appetizing antojitos made at an in-house comal bar to Veracruz-style whole roasted fish. Tacos, folded using a single house corn tortilla, include barbacoa braised lamb, battered fish and the al pastor—succulent spit-roasted marinated pork with pineapple.
Show more
Looking for more street eats?
From Salvadoran pupusas to Korean barbecue, grab some top-rate mobile grub at the best food trucks NYC has to offer