Eat like a local in New York City
Skip the tourist traps. Here's what true New Yorkers really eat in Gotham, and where they eat it.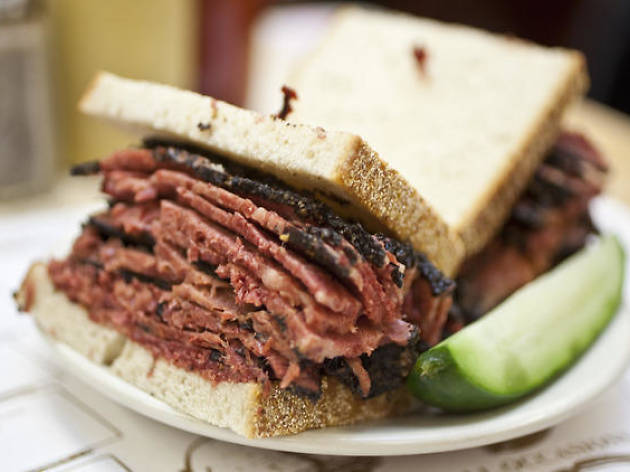 New York City is the center of the world—at least, that's what we like to tell ourselves. We're so central, that a lot of our famous cuisines, were, erm, borrowed from other cities and regions. Pizza? Naples, Italy. Bagels? Krawkow, Poland. Hot dogs? Frankfurt, Germany. But like every outsider who comes here with hopes of becoming something greater, so have these foods. And they have.
Of course there are the native New York City foods that will grumble how they're the real New Yorkers, born and bred here: Chicken and waffles, baked Alaska, eggs Benedict, lobster Newberg, cronuts. But this is New York City, and all dishes are welcome. Which is a very good thing for locals, because we eat a helluva lot of food. But as different and diverse as our taste buds are, our love for these ten foods can only be found, in, you guessed it, New York City.
RECOMMENDED: Full guide to the best dishes in NYC
Our favorite local eats
In New York City, when the pie hits your eye, that's amore. Maybe we can't claim that we invented pizza, but we certainly took it on as one of our own. And what makes a NYC pizza, a NYC pizza? Bread, red sauce and cheese. And two of those are optional. You can just about find any type of pie you want here— Neapolitan, wood-fired, Sicilian, coal-oven, deep dish, grandma, Detroit, vodka, $1, in addition to the New York-style pizza that's coal-fired, slathered with lots of sauce and shredded, melted mozzarella.
For true, New-York-style pizza, head to Patsy's in Harlem. Open for nearly 85 years (since August 1933), the casual and affordable stalwart is one of the only spots in the city where you can eat the thin, coal-oven pizza served by the slice (in what other city can you find people walking around the street with a slice?). The pie contains tangy tomato sauce and plenty grated mozzarella melted to gooey perfection.
Mention "street meat" to a drunk New Yorker at 3am and he will promptly exit the bar on a new mission. Across the city, halal food trucks are lined up on practically every street corner to serve chicken, lamb or beef platters to hangry imbibers, frugal students or those with a lunch break hankering. The styrofoam or aluminum-packed platters are usually packed with freshly-cooked meat, yellow rice, crunchy greens and the almighty red and white sauces.
The crowned kings of street meat are the Halal Guys. Originally a food cart in midtown, the brand has expanded to brick and mortars in the East Village and the Upper West Side. Even if you mistake their cart for the dozens and dozens around the city, you won't miss the mark for a savory, satisfying meal under $10.
Eating these tubular meat sandwiches is almost an American rite of passage. While the quality can range from gourmet levels of decadence, to mystery-meat quickies, the pork and beef sandwiches hold an extra special place in New Yorkers hearts because they embody two qualities we like very much: cheap and portable.
Let's face it: a lot of locals don't live in Coney Island. So while the ideal hot-dog-eating experience is scarfing down the snack on the boardwalk, realistically, we're sticking to the purveyors close to our apartments. And you'll be hard-pressed to find someone in the city who hasn't ordered the all-beef Sabretts at Gray's Papaya, or any of the look-a-likes (Papaya King, Papaya Dog) across the city. The Recession Special includes two crispy-skinned dogs and a tropical drink, with topping like saurkraut, onion or relish to give it a zing. The sign outside the bright-yellow storefront sums it up perfectly, "When you're hungry, or broke, or just in a hurry!"
Yet another healthy option in NYC. No doubt Jewish delis around the city have helped cure the all-too-common pandemic of sodium deficiencies with salty sandwiches, soups and sides. But the pastrami is a singuar beast of sliced, smoked beef, usually seasoned with savory herbs and spices. Extra points if the sandwich is stacked as tall as your face and jammed between two slices of rye bread with minimal toppings.
Of course, we've gotta say Katz's. It's one of the true blue New York City institutions (around since 1888) that is actually worth the hype. The massive corner restaurant on Houston Street will be crowded and noisy and confusing (at some point you get a ticket that you CANNOT lose), but that's all part of the charm. And yes, legit New Yorkers actually eat here, not just those looking to recreate When Harry Met Sally.
New York is not a city that's black and white. We are filled with all colors, beliefs, origins, interests and identities. But for some reason, the two-toned cookie has prevailed. You can find the soft, vanilla, wafer-like cake base layered with sweet icing either dressed down in local delis, or marked up in Michelin-starred restaurants. And while it may not be the most exciting dessert (after all, we're a city that invented the Baked Alaska, frozen hot chocolate, and the cronut), it's tradition and it's ours and it's the perfect gift for a housewarming party or to bring to someone you're visiting out-of-the-state.
We're going to give this one to a true local's spot: Zabar's. The long-standing, family-owned grocery store is an Upper West Side staple, known especially for its home-made nosh. Its black-and-white cookies are frosted in vanilla and chocolate icing atop a buttery vanilla cake cookie. As an extra bonus, they also offer ones with a devil's food cake bottom to avoid being truly vanilla.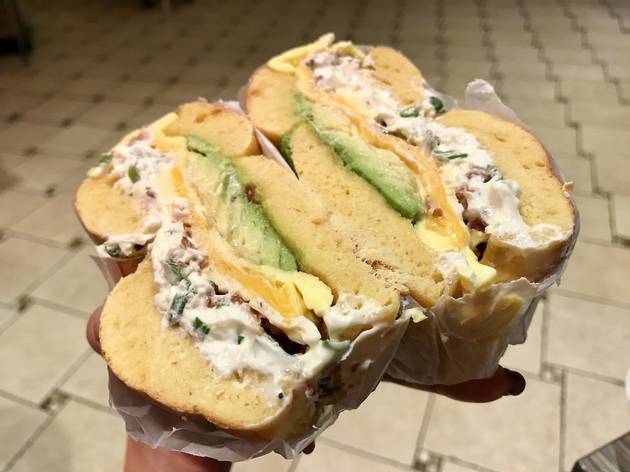 People say that bread and bagels are better in New York because of the water. We don't know how true that is, but we do know our bagels are pretty damn good. Offered in an endless variety of flavors (everything, pumpernickel, sesame, poppy, cinnamon raisin, salt, egg, rainbow, etc. etc. etc.) in specialized bagel shops, or just your local bodega, New Yorkers order the hefty breakfast treats any way they please—smear of cream cheese, bacon, egg and cheese, avocado, tuna salad, or even—gasp!—scooped out.
While it's hard to choose just one venue (there are so so so many), we're going to go with Best Bagel and Coffee (we know). The unassuming midtown spot may be less known to tourists scouting the online hit-lists, but that just adds to the pleasant surprise of eating a top-notch bagel at a low-key spot (in Herald Square, nevertheless). Beware of the morning commuters and dressed-up suits lined up around the block on weekday mornings. But if that's not a sign that this is the real deal, well then fuggedaboutit.
It may seem like in movies and TV shows, New Yorkers are always eating at the newest, buzziest spot. Sure, we like to test those out on Saturday nights or Sunday brunches, but more often than not, we're just like the rest of you, and we don't want to overthink our food all the time. So while salad-to-go may be a boring shout-out, it's a trueone. Fast-casual salad spots have become super popular for good reason—they're healthy, speedy and and filled with enough good options to satisfy our frenetic energy and slide right into our on-the-go style.
Chop't was the indisputable leafy green ruler in the city for a reallly long time, but now Sweetgreen been playing the game of thrones and essentially knocked Chop't into submission. How do we know this? Check the line of any Sweetgreen in the city at 1pm Monday through Friday. The fresh, local ingredients, creative specials and minimalist, cutesy decor are enough to draw the crowds for the New Yorkers who need a quick fix.
The oversized street cart pretzels may be what we're known for, but honestly, you'll get a better soft pretzel at Auntie Anne's. The anonymous ones aren't nearly as buttery or soft, but they do have the density and girth that lacks in the ubiquitous mall franchise. They're crunchy on the outside and bready on the inside, and flaked with large salt pieces.
We say skip the Central Park pretzels. But head to Thomas Ferlesch's German restaurant Werkstatt in Brooklyn. The Viennese-born chef uses his Euro heritage to import an actual German pretzel so large, savory and delicious, it will blow Auntie Anne's out of the water.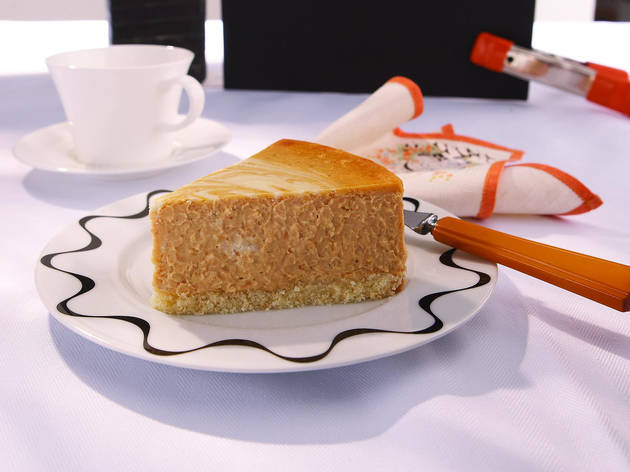 "You will admit that Mindy's cheesecake is the greatest cheesecake in the country," Nathan Detroit says to prompt Sky Masterson in Guys and Dolls. Of course, Masterson agrees. And of course, Mindy's was really based off Lindy's, a now-shuttered cheesecake joint in midtown. New York City has a rich history with cheesecake, with a denser and creamier version than other cities around the world. And although it may not be as popular as it once was, it's still considered a city staple.
There's no way we can't not say Junior's, the Brooklyn-born spot that has spun into a nation-wide chain. Sure, it's a cliché, but if the product ain't broke, no need to fix it. And the creamy, rich, sour and sweet New York original cheesecake definitely ain't broke. Head to the original in Brooklyn to avoid the glitzy Times Square spin-offs for tourists.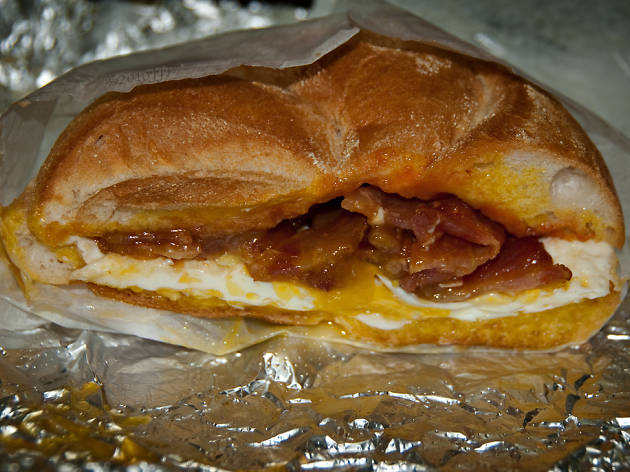 Photograph: Courtesy Flickr/CC/J J
Here's a tip on how to really blend into the city: carry around a bodega sandwich at 9am. What's a 'bodega' you ask? It's New Yorkers answer to a grocery store, deli and lunch spot all at once. Bodegas come in all shapes and sizes, in all different cleanliness levels. The classic order is a breakfast bacon-egg-and-cheese on a roll, but really anything makes this pick legit.
Pick a bodega, any bodega will do. The smaller and dirtier the better. Become friends with the guy behind the counter, pet the cat. Hey, you asked how to eat like a local.