Heads up! We're working hard to be accurate – but these are unusual times, so please always check before heading out.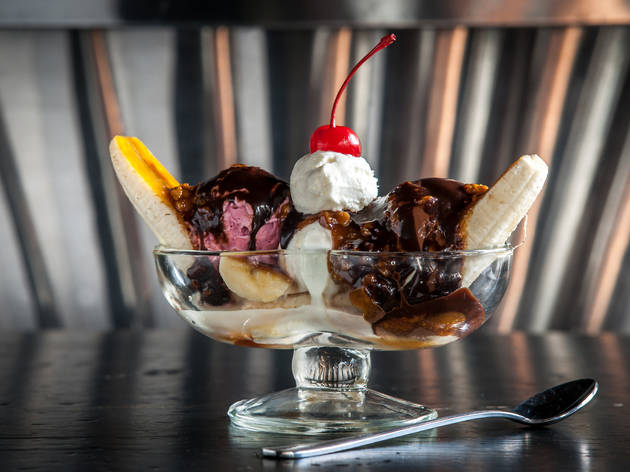 1/6
Photograph: Paul Wagtouicz
Banana split at the Empire Diner At Food Network star Amanda Freitag's revved-up greasy spoon, three petite mounds of Il Laboratorio del Gelato—vanilla, dark chocolate and seeded raspberry—are covered in upmarket toppings: wet walnuts (simmered in syrup), salted-walnut caramel sauce and sugared banana halves torched until glassy like crème brûlée. And unlike the drippy behemoths found at the ice cream parlor, Freitag's split comes crowned with one tasteful quenelle of whipped cream. But some traditions are sacrosanct: The artful update is finished with a bright neon-red maraschino cherry. 210 Tenth Ave between 22nd and 23rd Sts (212-596-7523, empire-diner.com). $8.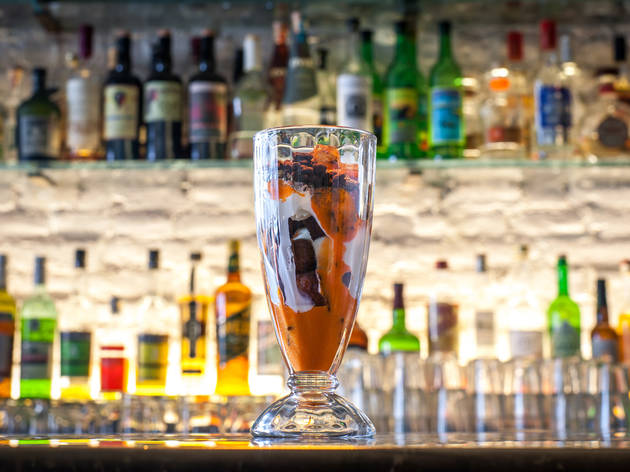 2/6
Photograph: Paul Wagtouicz
Carrot cake sundae at Alder As expected from New York's avant-garde king, Wylie Dufresne's icy mash-up confection doesn't conform to any rules. In a tall, old-fashioned glass, tangy cream-cheese ice cream from Il Laboratorio del Gelato is topped with crispy cubes of tender carrot cake, candied sweet walnuts and a marigold-hued river of white chocolate sweetened with carrot juice. Its vegetal sweetness is countered by the pleasantly earthy bitterness of deep-fried cocoa nibs dusted in cocoa powder. 157 Second Ave between 9th and 10th Sts (212-539-1900, aldernyc.com). $8.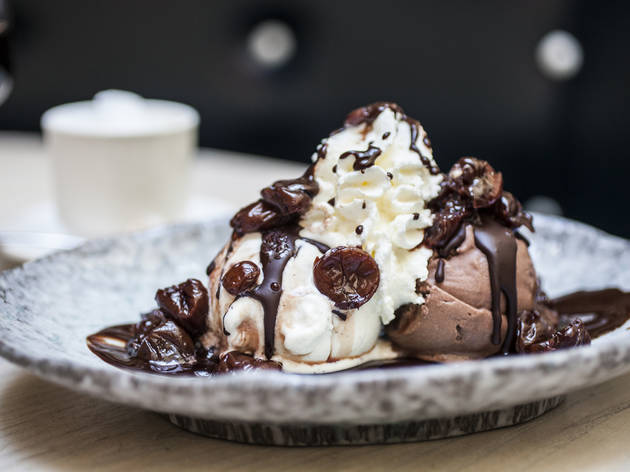 3/6
Photograph: Virginia Rollison
Adult ice-cream sundae at the East Pole The childhood favorite gets cocktail-hour treatment—with three types of booze, to be exact—from chef Nicholas Wilber, at his fashionable uptown canteen. Steve's bourbon-vanilla and Scotch-chocolate ice creams form the base; ratcheting up the booze factor are cherries soaked in Pimm's. House-made salted-caramel chocolate sauce and Hudson Valley Fresh whipped cream mellow the alky punch. 133 E 65th St between Park and Lexington Aves (212-249-2222, theeastpolenyc.com). $13.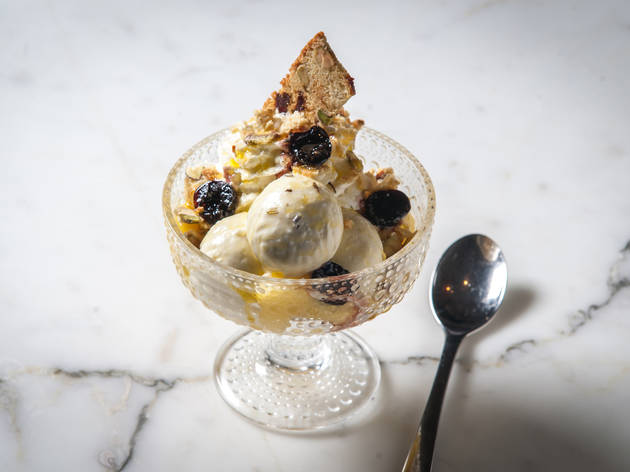 4/6
Photograph: Paul Wagtouicz
Winter sundae at Narcissa The homey American classic is refracted through an elegant Mediterranean lens, thanks to pastry chef Deborah Racicot. She surrounds an outré ice-cream flavor—fruity olive oil—with a sultry moat of Meyer lemon curd and lemon-thyme whipped cream. Luxardo cherries add a hint of dark fruit, while delicate pistachio-cherry biscotti wafer and a sprinkle of lavender sea salt lend crunch. The sophisticated sweet will be reimagined seasonally—look out for a rhubarb version in the spring. 21 Cooper Sq between 4th and 5th Sts (212-228-3344, narcissarestaurant.com). $9.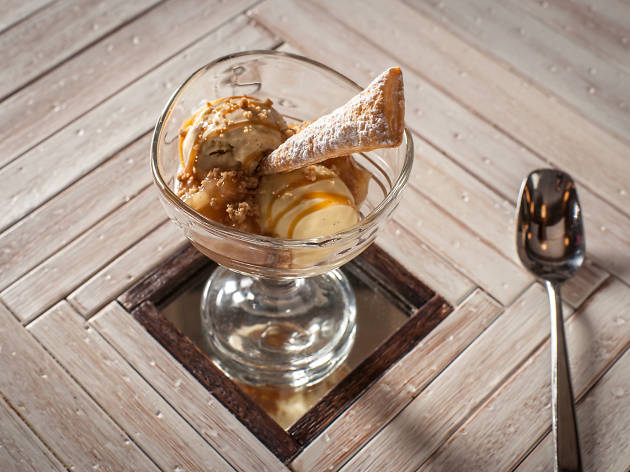 5/6
Photograph: Paul Wagtouicz
Apple pie sundae at Telepan Local Pastry chef Larissa Raphael pledges allegiance to the apple pie with this dreamy dessert remix. She spoons tart apple filling over homemade vanilla and cinnamon ice creams and laces it with sweet chunks of almond-flour pie crust. Buttery, spiced streusel finishes the all-American showstopper. 329 Greenwich St between Duane and Jay Sts (212-966-9255, telepanlocal.com). $10.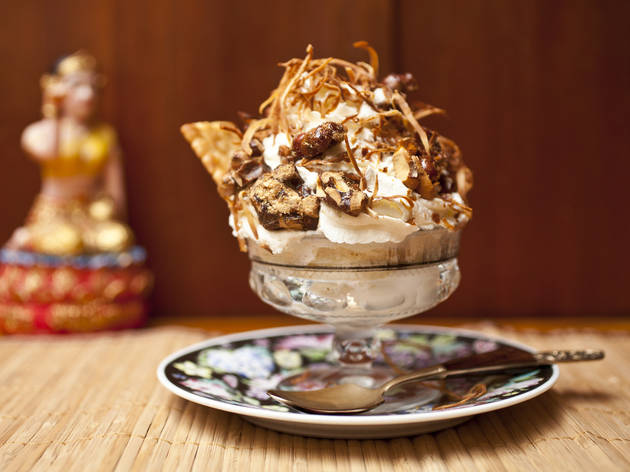 6/6
Photograph: Virginia Rollison
Coconut sundae at Uncle Boons Riffing on the ubiquitous Thai street snack of coconut ice cream and peanuts, co-owner Ann Redding crowns cloudy scoops of Il Laboratorio del Gelato with a lofty pile of palm-sugar whipped cream, towering out of the low-slung glass goblet like an edible Pisa. The stately beauty is festooned with chefly accoutrements—golden toasted coconut shavings and red-skinned peanut brittle—plus another classic Thai sweet: a crunchy coconut butter wafer. 7 Spring St between Elizabeth St and Bowery (646-370-6650, uncleboons.com). $8.
Ice-cream sundaes come back into cool
Old-timey ice-cream sundaes are getting chefly updates, thanks to NYC toques like Wylie Dufresne, Bill Telepan and Amanda Freitag