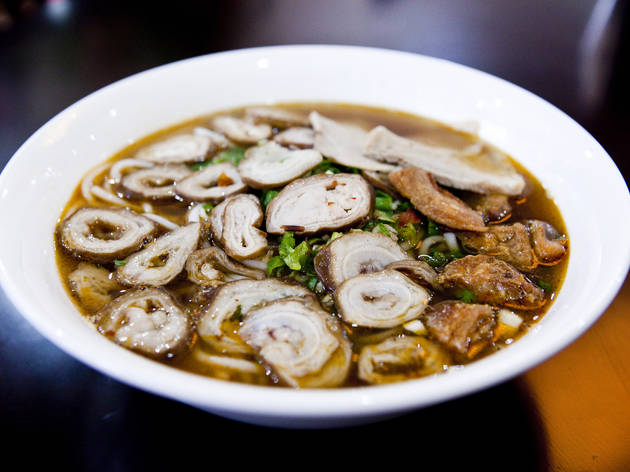 Where to eat the most far-flung food from around the world without ever leaving NYC
Every Country Food NYC is my quixotic attempt to eat food from every country in New York City. Here are my favorites.
Andrew Doro's blog, Every Country NYC, chronicles his mission to eat food from every nation on the planet without ever leaving the city. From 22 nations on six continents, he hits all five boroughs as he details his favorites here. Sri Lanka in Staten Island, Portugal in Queens, and Haiti in Hell's Kitchen. Discover all the globetrotting the NYC subway allows.
RECOMMENDED: Full guide to the city's best restaurants
Africa
Senegalese food is by far the most well-represented national cuisine of West Africa in New York, but Accra Restaurant in Harlem is a great place to try food from Ghana. You form a ball of fufu (mashed cassava) with your right hand and dip it in the stews. We were advised to get the palm nut and okra stews, which come in huge portions. They make an excellent ginger beer too.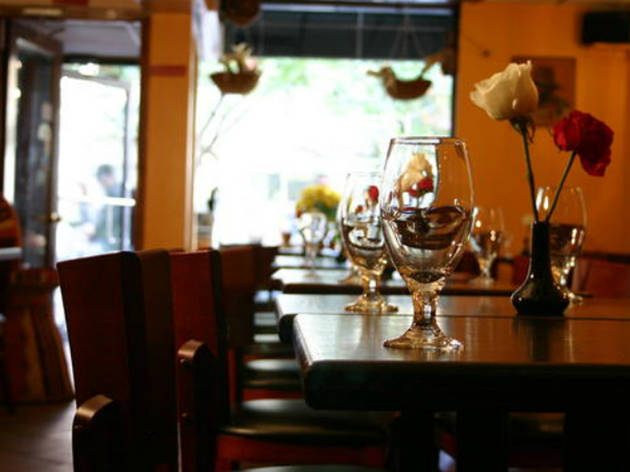 Despite the increase in the city's Ethiopian restaurants, their menus tend not to differ greatly, so the prospect of Eritrean as well as Ethiopian dishes seems cause for an extra glass of tej honey wine. Though the waitstaff plays down the contributions of Ethiopia's former coastal province, Massawa features several Eritrean seafood dishes—notably salmon silsi (cubes of wine-glazed fish served with injera) and several spicy tomato-based shrimp dishes—not usually found on Ethiopian menus. Massawa's injera tends to thin to crispness at the edges, yet the Ethiopian staples are consistently good, ensuring a following among local grad students.
Going to this small restaurant feels like being fed by your Moroccan grandmother. Rhita is extremely friendly and will make you feel at home. I felt bad because I visited this restaurant during Ramadan but Rhita sat me down and just kept bringing me food. I had cous cous with lamb, harira, mint tea, and harcha, a flatbread drizzled with honey, a specialty of Rhita's hometown of Taza.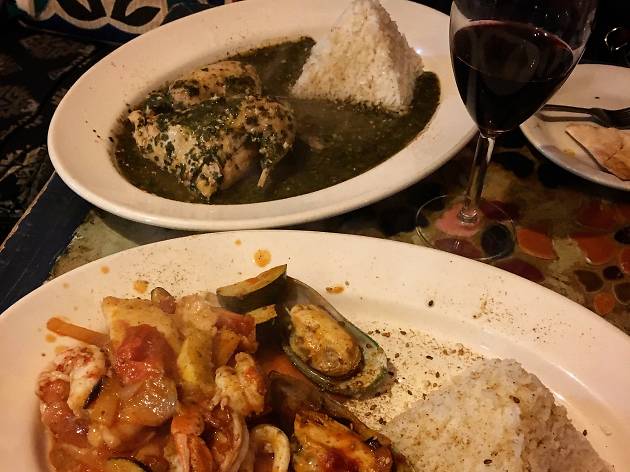 Photograph: Andrew Doro
Cafe Mombar and Kabab Cafe are two great Egyptian places just down the street from each other on Steinway run by two brothers from Alexandria. Moustafa runs Cafe Mombar, the larger and more elegant of the two, which he has elaborately decorated inside and out with his artwork. Ali is more talkative and opinionated, and we spoke about politics and religion. Both specialize in organ meats and will let you know what they have on offer that day. I've had lamb brains at Kabab Cafe and rabbit moulekhia at Cafe Mombar, which was served with cous cous sculpted in the shape of the pyramids.
On Friday afternoons outside the Timbuktu Islamic Center you can find a few vendors selling food on the street outside the mosque serving observers of the jumu'ah. Although I was clearly just a curious onlooker the vendors were very friendly. I tried a large doughy ball with a dried fish filling which they called farinyo. A large plastic tub of thiakry was a nice dessert, a sweet mixture of yogurt and millet similar to a rice pudding. The homemade ginger beer was very good and the entire meal cost less than $5.
Europe
Jamaica, Queens, used to be a Portuguese neighborhood and there are still a few older restaurants around. O Lavrador is a fancier restaurant which almost feels as though it's from a bygone era but the waitstaff are very funny and welcoming. If you order at least one thing it must be the homemade sausage called chourico caseira, fried in aguardiente in front of you in a huge pyrotechnic display. The feijoada de mariscos, an enormous pork and seafood stew, is also amazing. For dessert, get the pêras bebadas, pears poached in port wine.
Boon by Moldova is a fairly large restaurant in Sunnyside. On the Sunday I visited at some point later in the evening there was live Moldovan singing on the dancefloor. The humble mămăligă might be the most representative dish of Moldova. They're balls of polenta which sounds unexciting-- in fact, all of the food sounds quite simple but the presentation and execution of all of the food is very refined and sets Boon apart from typical Eastern European restaurants. Also excellent; beef meatballs called pârjoale "Moldova" and the sour soup called ciorbă.
Gurra Café is located on Arthur Avenue in the Bronx. Arthur Avenue is famous as the Bronx's Little Italy but Albanian food is actually pretty well-represented. Most people know that many of the Italian places are run by Albanians and many of the pizzerias serve Albanian bureks. Gurra Café might take this a step further, as it describes itself as an Albanian restaurant although online research indicates that I could file this restaurant under "Kosovo". Across the street you'll find the Kosova Deli and another clue are the qebapa "Kosova style," according to the menu. The gullash is excellent and the kobinim alla Gurra is the best way to sample the meat-heavy menu, including suxhuk (spicy sausage like the Turkish sujuk), qofte, qebapa and pleskavicë, the famous "Balkan burger." As you satisfy your great hunger for meat you'll find yourself entranced by the Albanian pop music videos playing on the television.
Oceania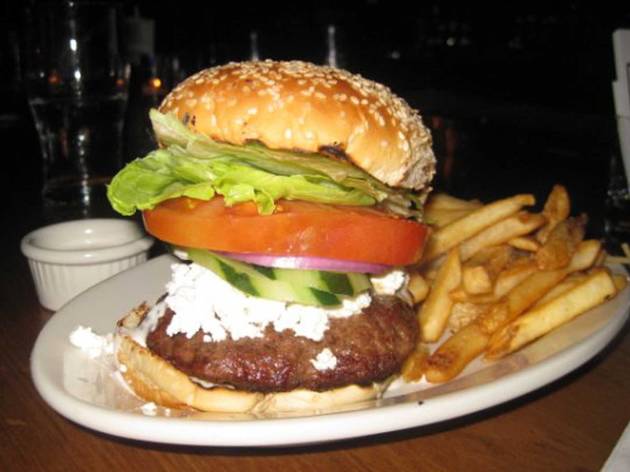 If the idea of dining in the tourist-laden South Street Seaport with a kid in tow makes you weak in the knees (and not in a good way), check out this gem of a restaurant. Just slightly off the beaten cobblestoned path, Nelson Blue serves fantastic New Zealand–style grub in a beautiful space: You'll feel like a Kiwi yourself, surrounded by all the native tribal decor. Kids gravitate toward the traditional lamb and pork skewers and finger-friendly sides like zucchini-and-corn fritters and french fries with herb salt.
Check out NYC cocktail culture
For famous cocktails like the Bloody Mary and Manhattan, head to these iconic NYC bars to sip on a piece of U.S. history
Best selling Time Out Offers