The best New Year's Eve dinner in NYC
Looking for New Year's Eve dinner? NYC restaurants are serving prix fixe and holiday specials to ring in 2017.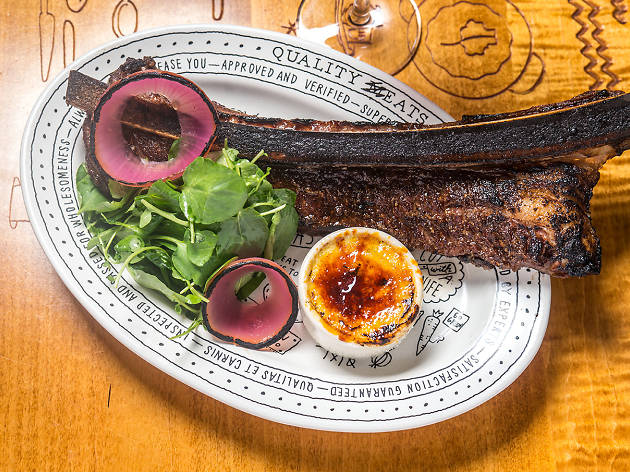 You need serious fuel for New Year's Eve 2017 in NYC—whether you're opting to ooh and aah over New Year's Eve fireworks or dance until dawn at one of the city's over-the-top New Year's Eve parties, you're going to want to fill up pre-party with a festive New Year's Eve dinner. NYC has plenty of delicious options, from South Asian spreads to New Nordic feasts to holidays meals at some of the best NYC restaurants of 2016. Here's when you should be eating come December 31st.
RECOMMENDED: Full guide to New Year's Eve in NYC
New Year's Eve dinner in NYC
11
The retrofied Mexican spot in the Lower East Side is offering two seatings for New Year's Eve: a three-course 6pm seating for $50 a person and a four-course 8:30pm seating for $80 per person. Menu options for both include guacamole with charred corn, tostada de mariscos and a slow-braised lamb shank with guajillo chili adobo.
12
The four-course prix fixe, available after 9pm for $75 a person on New Year's Eve, includes dishes like hot-pepper shrimp, jerk pork shoulder and sweet-potato pudding with rum raisin ice cream. Beyond dinner, expect party favors, a midnight champagne toast and a live DJ performance.
13
Celebrate with seafood towers at this Andrew Tarlow favorite. Along with a la carte spreads of lobster, uni, little neck clams and more, the menu will also feature luxe items like dry-aged rib eye and lobster tails.The restaurant will offer two rounds of seatings: an early dinner at 6pm and a later option at 9pm.
14
Served from 5:30pm to 2am, the New Year's Eve spread at this West Village restaurant includes a Long Island fluke tartare with caviar and yuzu ($19), veal breast with whipped celery root and shaved black truffles ($29) and a duck for two with charred turnips, dirty rice and liver crostini ($39).
15
Jonathan Waxman's restaurant at the 1 Hotel Central Park is offering dishes like Maine lobster fritters, winter squash gnocchi and a Wagyu strip steak with fried fingerling potatoes as part of its New Year's menu. The first seating will be at 6:30pm ($125 a person), with the second at 9:30 ($225 a person, with dinner, live DJ entertainment and a champagne toast).
17
Marcus Samuelsson's flagship will serve not only its regular dinner menu but also a $55 holiday tasting menu, with plates like a classic ham, pickled beets with pecans, and meatballs with cabbage and mashed potatoes.
Looking for New Year's Day brunch?
Start the year right with New Year's Day brunch to soak up champagne at one of these 11 restaurants in NYC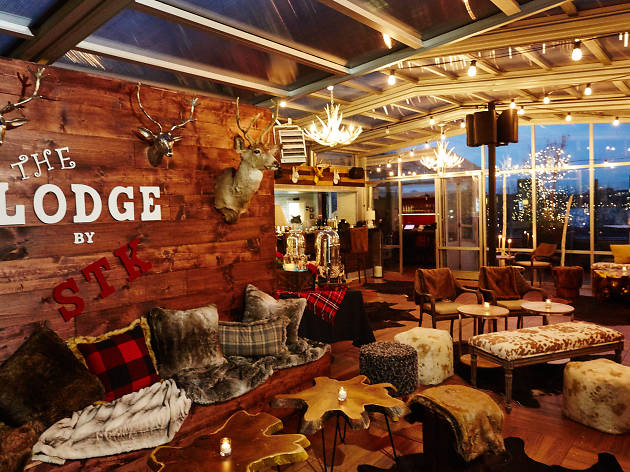 Eight rooftop bars you can go to for New Year's Eve in NYC
Ring in the new year at the best rooftop bars in New York City on New Year's Eve
Sponsored listing
Katsuno
If Zen decor—trickling waterfalls, smooth bamboo surfaces—is essential to your enjoyment of a Japanese restaurant, Katsuno isn't for you. This Forest Hills newcomer has all the atmosphere of your therapist's waiting room, with industrial floor tiles, harsh lighting and a soundtrack that's more synth-pop than lutes and drums. Chef-owner Katsuyuki Seo (who also operates Seo in midtown) has clearly funneled his energy into where it ought to be: the kitchen. There, he conjures some of borough's most impressive, finely wrought Japanese cuisine—authentic, modern preparations he honed working in the kitchens of Tokyo. Simple, clean flavors mark Seo's best efforts: The single custardy egg that was the showpiece of a $4 onsen tamago starter (onsen refers to the hot springs in which the egg is traditionally slow-poached) arrived in a cool bath of delicate bonito broth. Another pristine appetizer offered a refreshing tangle of yuzu-drizzled greens topped with thick folds of raw salmon, capers and sprigs of dill; on the side were generous mounds of golden uni balanced on sturdy, pleasingly bitter petals of endive. At the suggestion of our waitress—an effusive, smiling woman, and the small dining room's only attendant—we went off-menu for an entre of inaniwa udon, a rare imported wheat noodle from the Akita prefecture. She presented the ethereal strands in another chilled dashi—a warm soup would detract from the noodles' smooth, springy texture, she said. But despite all of this dogged at
Venue says: "Time Out love Awards Runner-Up 2018! Time Out Best New Japanese 2010, Michelin Guide recommended, Best Chefs of America 2013."