Restaurant and bar openings: April 11-17, 2013
Marietta, Chez Jose and more open in New York.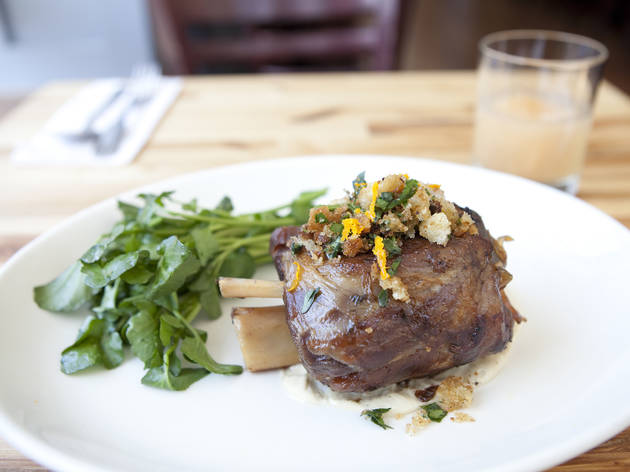 The following venues are expected to open by April 17th. Always call ahead, as openings can be delayed.
Blossom Du Jour Health-food guru Pamela Elizabeth adds an eighth location, a 15-seat restaurant in Chelsea, to her vegan empire. This sleek canteen, with white walls and stainless steel chairs, offers health-minded breakfast bites, such as tofu-and-greens wraps, and more-indulgent fare, like BDJ Hotcakes, a short stack topped with creamy peanut-butter syrup and tempeh bacon. A smoothie station suggests combos such as Blue Velvet (açai, banana, raspberries and soy milk) and Thrive (kale, almond butter, agave and banana). Keep an eye out for soy-based soft-serve—butterscotch, cookie dough and chocolate are some of the rotating flavors. 259 W 23rd St between Sixth and Seventh Aves (212-229-2595)
Chez Jose Two white-hot culinary trends—high-minded vegetable plates and tasting-menu restaurants—collide at this semiweekly pop-up in Williamsburg's Whirlybird café, returning after a two-month hiatus. The culinary talent is courtesy of the once-avant-garde Isa kitchen, the weirdly wonderful spot that shocked the fooderati last June when it underwent a casual Mediterranean makeover and ditched its cutting-edge plates. Toques Jose Ramirez Ruiz and Pam Yung, who buffed their skills at top kitchens like Brooklyn Fare and Roberta's, respectively, bring a studied approach to this experimental series. Ramirez Ruiz runs the savory side of the bill, enlisting help from professional forager Kyle Fiasconaro (Eleven Madison Park) to root around for hard-to-find verdure like knotweed, chicken-of-the-woods mushrooms and beach roses. Produce is at the center of the plate throughout the ten-course prix fixe: confit carrots sprinkled with red-veined sorrel and cardamom; whole-roasted cabbage with soybeans, miso and pickled beef tongue; and dehydrated beets coupled with creamed spinach and chickpeas. Yung plates the sweet stuff, sourcing dairy from Cowbella farm for her raw-milk panna cotta with maple sap and peach blossoms. Bring-your-own is the mode of the beverage program, although the dynamos sometimes tinker with house-infused spirits as minicourses throughout the meal. 254 South 2nd St between Havemeyer and Roebling Sts, Williamsburg, Brooklyn (no phone yet)
Cull & Pistol The Lobster Place crew launches an adjacent oyster bar and restaurant in their expanded Chelsea Market digs. Along with ten varieties of oysters, clams and seasonal shellfish at the raw bar, chef Dave Seigal (Jean-Georges, Mercat) reels in a seafood-focused menu. On offer: grilled hamachi collar, fideos negros (squid-ink-stained pasta) and, of course, a classic lobster roll—the restaurant's namesake being lobsters that have lost one claw (culls) and ones that have lost both (pistols). Reclaimed-teak tables and industrial-brushed-steel chairs are available for sit-down dining, or sidle up to the zinc-topped bar for briny bivalves and a glass of wine. Julia Travis (Kin Shop, Perilla) manages the beverage program, focusing on high-acid vinos like old-vintage chablis and white burgundy, as well as beers (North Coast Pilsner, Flying Dog Oyster Stout) and chelada (beer and lime juice) cocktails: The Hoppy Mary splashes pale ale with tomato, pickle brine and Tabasco for a sudsy take on a Bloody Mary. 75 Ninth Ave at 15th St (212-255-5672)
The Jekyll & Hyde Club The theatrical restaurant chain opens a second ghoul-filled eatery in Times Square. Paul Miranda (Bouley, Danube) dishes out international pub grub like steak, pizza and fried chicken, served by spookily costumed waitstaff, each with a rehearsed tale. Haunted-house trappings (talking skulls, portraits with moving eyes) and animatronic creatures like vampires and werewolves interact with diners (undoubtedly tourists) while they eat—Bella Swan would be delighted. 216 W 44th St between Seventh and Eighth Aves (212-869-4933)
Kajitsu Fans of Kajitsu's lauded vegetarian meals can relax—the East Village gem has relocated, bringing its artful vegetarian cooking uptown. Chef Ryota Ueshima (a vet from Kyoto, Japan's Waku Den and Hyotei) has taken the reins from Masato Nishihara, but the focus is still on kaiseki, a multicourse meal of intricate, hyperseasonal small plates. Ingredients for the two tasting dinners change by the month, but recent preparations include harusame noodles soup with shiitake, pine nuts and spring vegetables. Kajitsu's move to a bi-level Murray Hill space brings more lunch options, including ichiju sansai, a five-item sampler box of soup and rice with Sakura tofu, white miso hot pot and seaweed noodles. 125 E 39th St between Park and Lexington Aves (212-228-4873)
Los Americanos Bar vet Billy Gilroy (Employees Only, Macao Trading Co.) turns his attention to Pan-Latin eats with this 50-seat Tribeca café. Chef Alan Rodriguez dispatches spiced plates like chiles rellenos, Peruvian roasted chicken and arepas crafted from house-made masa. Sidle up to the bar for tropical sips such as the spicy rum-based Tito Puente and the Cusco Humming Bird, a coca-leaf-infused pisco. 305 Church St at Walker St (212-680-0101)
Luna Sur Latin Bistro The team behind Cuban nightclub Guantanamera delivers Pan-Latin fare at this Hell's Kitchen bistro. The chef draws culinary inspiration from South of the Border countries for dishes like El Gaucho Churasco, grilled skirt steak smothered in chimichurri, and Lechoncito, roasted suckling pig served with a garlicky mojo and cassava. A flamboyant tangerine-and-lime-hued dining room matches the equally colorful drinks, bebidas made with infused liquors and fresh fruit purees. 802 Ninth Ave between 53rd and 54th Sts (212-262-1299)
The Manderley Bar Once a rest stop for wayward audience members wandering Punchdrunk's game-changing Sleep No More production, the McKittrick Hotel opens this theatrical cocktail parlor to the public for postshow tippling. The velvet-curtained bar—littered with comedy-tragedy masks and playing cards—is menuless, pouring out made-to-order cocktails while a rotating cast of live entertainers perform for the crowd. Some nights, Pete Maness may be plucking a jazzy riff on his stand-up bass, while others may find soul sister Sophia Urista crooning onstage while you enjoy an absinthe-spiked sip. 532 W 27th St between Tenth and Eleventh Aves (no phone yet)
Marietta Craig Samuel and Ben Grossman (Peaches, the Smoke Joint) preach the comfort-food gospel at this down-home Clinton Hill hideaway. In the farmhouse-inspired dining room—outfitted with rural touches like vintage radios, cast-iron chicken figurines and blue wainscoting—wooden tables are set with dishes that span the South. Gold skillet rice with thyme-roasted tomatoes tip a hat to Charleston, SC; country ham with benne butter reps Finchville, KY; and their "extra-fancy" fried chicken—the house specialty—follows Memphis tradition, seasoned with lemon, a honey brine and secret-recipe hot sauce. In the brick-laden barroom, grab a stool at the copper-trimmed bar for cocktails that skew below the Mason-Dixon Line: A classic mint julep swaps out bourbon for sloe gin, while Kentucky's Bulleit whiskey meets Belle de Brillet and Gran Classico in the Marietta. 285 Grand Ave between Clifton Pl and Lafayette Ave, Clinton Hill, Brooklyn (718-638-9500)
180 New York brims with cocktail speakeasies, but clandestine pizza joints are harder to come by in our fair city. On the second floor of a Little Italy building, pizzaiola Salvatore Olivella (L'Asso, No. 28) fires up the ovens for his old-school pies. The Naples native follows the strict D.O.C. code of pizza-making: Dough is formed with San Felice flour, the sauce with San Marzano tomatoes, and cheese is fior di latte (cow's-milk mozzarella). Modern riffs include a pie topped with Gorgonzola, Parmigiano, pear, walnuts and honey, and a round with prosciutto di cotto, mushrooms, basil and white truffle oil. Snag an Italian beer (a dry, hoppy Birra del Borgo Re Ale; a peppercorn-spiced Almond '22 Pink IPA) and post up near the open kitchen to see Olivella sling his charred creations from the colorfully tiled 1,000-degree oven. 180 Hester St at Mulberry St (212-334-3811)
Sugar Factory American Brasserie The Meatpacking District gets an infusion of Vegas-style dining with this 3,000-square-foot restaurant, serving Kardashian-approved steak frites, tuna niçoise salad and French dip. Staying true to its gluttonous Sin City roots, the cavernous canteen dishes out over-the-top desserts like the King Kong Sundae, 24 scoops of ice cream finished off with 15 toppings, as well as boozy drinks served in whopping 36-ounce goblets. An adjoining retail area peddles candies by the pound, as well as the spot's signature Couture Pops, rhinestone-handled lollies for the bling-loving crowd. 46 Gansevoort St at Greenwich St (212-414-8700)
Sponsored listing
Zaitzeff
This Financial District outpost offers burgers for the conscious carnivore: The restaurant serves only meat that is hormone- and antibiotic-free and comes from family-owned farms. First, choose your meat: sirloin ($11 for a quarter-pound patty, $17.50 for a half-pound patty), Kobe beef ($12.95 for a quarter-pound patty, $19.95 for a half-pound patty), turkey ($9.75), grilled chicken breast ($14.50) or a veggie patty ($9.25). Then, doctor it up with toppings like bacon ($2.75), mushrooms ($3), avocado ($1.50), Vermont cheddar ($1.50) and sausage ($3). All that's left to do when your cooked-to-order burger arrives on a fluffy Portuguese roll is dig in. Still hungry for more? Order up some regular or sweet potato fries ($5.25 each). After all, you can't have a burger without 'em! To drink, Zaitzeff offers a selection of craft beers, plus Pellegrino ($1.75) and Little Rabbit sodas ($2.50).
Venue says: "Order Online Today - Get 10% off every order by using the code: ORGANIC10"