Restaurant and bar openings: June 20-26, 2013
Glasserie, the Butterfly and more debut in New York.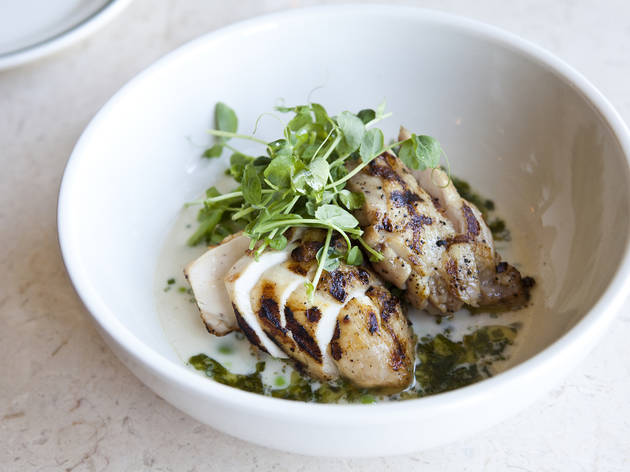 The following venues are expected to open by June 26th. Always call ahead, as openings can be delayed.
Broken Land Named after the borough's original Dutch moniker ("Breukelen"), this neighborhood dive specializes in contemporary cocktails and no-frills beer-and-shot combos. Under an aged tin ceiling and plastic chandeliers—sourced from a demolished movie theater—settle into a worn-in love seat for a draft brew; when the weather's warm, head outside to the backyard deck. At the red-oak bar, bartenders make contemporary drinks like a gin-and-Aperol Vassar Basher and the ginger-tequila Ollie Diablo. Along with tapped beer—including Captain Lawrence Kölsch, Ithaca's Flower Power IPA and Sly Fox Pikeland Pilsner—the 40-seat bar features rotating beer-and-shot specials; shiner with well whiskey is a regular combo. 105 Franklin St between Greenpoint Ave and Milton St, Greenpoint, Brooklyn (718-349-2901)
The Butterfly Empire builder Michael White seems to be in a nostalgic mode as of late. His last opening, gilded steakhouseCostata, marked his return to the space of his first NYC restaurant, Fiamma. And hot on its heels, he debuts his sixth Gotham venue, the Butterfly, named after a Midwestern restaurant where the Wisconsin-native, chef worked as a Beloit youth. The cocktailcentric supper club will showcase the heady creations of master mixologist Eben Freeman (also the restaurant group's beverage director) at a 13-seat bar, backed by a wooden wall cut to resemble open butterfly wings and a shadow-box mirror. Choose from original and midcentury concoctions, like the crème de menthe–based Grasshopper and the brandy old-fashioned. Booze-friendly bar bites also riff on classics, with comforting dishes like bratwurst sliders, a patty melt and ricotta ravioli with pork ragù. 225 West Broadway at White St (646-692-4943)
Glasserie In an old industrial glass factory, Sara Kramer (Reynards, Blue Hill) and Sara Conklin (Cipriani) bring a touch of the breezy Mediterranean coast to the gritty Greenpoint waterfront. Kramer—an Andrew Tarlow vet who also put in time at Roman's and Diner—oversees a small-plates spread with a heavy emphasis on produce sourced from Pennsylvania's Lancaster Farm and upstate's Blooming Hill Farm. The menu spans Spain, Greece and the Middle East, in dishes such as lamb tartare alongside bulgur crackers; roasted chicken over black chickpeas and cilantro; and a whole rabbit for two, served with flaky flatbread. At the horseshoe-shaped bar, the wine list focuses on exotic locales, including Croatia, Portugal and Morocco, and cocktails follow suit, spiced with ingredients like Aleppo peppers, muddled mint and harissa. Sea-foam-green walls conjure the ocean, and potted plants enliven the rustic 72-seat interior, outfitted in whitewashed brick and framed catalog prints from the erstwhile factory. A cobblestone courtyard serves as a setting for private parties, but a terrace, transformed from the loading dock, provides coastal breezes any time of day. 95 Commercial St between Box St and Manhattan Ave, Greenpoint, Brooklyn (718-389-0640)
Mezini Agnese Mezina (Giorgione) and Dino Castri (Corton) are behind this 60-seat Italiancrudo bar. Along with Kumamoto bluepoint, Fanny Bay Island Creek and Skookum Fisher Island oysters, Puglia-born Castri serves a whole-baked branzino; grilled octopus with grape tomatoes and olives; and spaghetti with sea urchin in orange mascarpone cream. Off-the-turf options include orecchiette over braised chickpeas and seared filet mignon alongside baby mushrooms. The dark-wood bar features an all-Italian wine list of 35 bottles—with 20 by the glass—as well as beers from the Boot, including Moretti and Peroni. Burgundy walls and gold drapery color the space, with rustic brick walls and amber-lit chandeliers. 492 Fifth Ave between 11th and 12th Sts, Park Slope, Brooklyn (718-832-2900)
Milk & Pull Post up at a wooden bar for Stumptowncoffee and Dough pastries (doughnuts, croissants and apple turnovers) at this Bushwick café, showcasing works by local talent. Inspired by the shop's art-gallery past, owners Joe and Angela Austin have left some of the decor intact, including the original steel lights and tin ceiling. 181 Irving Ave between Stanhope and Stockholm Sts, Bushwick, Brooklyn (718-536-0440)
Milk River With Korean BBQ and Tex-Mex on every other block, fusion fare is nothing new to New York, but La-Niece Lyew takes it to unmarked terrain with her Caribbean-Cantonese café in Prospect Heights. The Brooklyn native (and alum of Mercer Kitchen and Umi Nom) reps her Jamaican-Chinese heritage in cross-cultural dishes like crispy fried snapper with tamarind glaze; jumbo golf shrimp with sweet-mango salsa and hanger state with royal trumpet mushrooms and caramel-miso sauce. A live band plays as you tuck into salt-cod fritters in the 150-seat dining room, fitted with cream tufted booths and globe lambs. The upstairs lounge is a more casual affair, with flatscreens broadcasting games and a wall-to-wall digital mural of the Brooklyn Bridge. Cheer the home team at the white-lit, 20-seat bar—carved with wavy designs to echo the restaurant's namesake, Jamaica's Milk River—over local draft beers: Bronx Pale Ale, Ommegang White Ale and Kelso Pilsner. 960 Atlantic Ave between Grand and Washington Aves, Prospect Heights, Brooklyn (718-636-8600)
Motorino After a two-year hiatus, decorated pie slinger Mathieu Palombino returns to the borough with this 50-seat Williamsburgpizza shop. Rustic trappings include pressed-tin ceilings, pinewood flooring and metal light fixtures. Out of a Naples-imported wood-burning oven come favorites like the Margherita and the Sopressata Piccante (spicy pepperoni, fior di latte). Palombino expands the menu with new items, including his first calzone—a sausage-and-cheese variety dubbed the Rocky—plus the Melanzane pie (roasted eggplant, mint). Sidle up to the eight-seat marble-topped bar for cocktails, beers and regional Italian wines. 139 Broadway between Bedford and Driggs Aves, Williamsburg, Brooklyn (718-599-8899)
9A Kitchen & Lounge The menu at this West Harlem sports-lounge curiously combines soul food and sushi. Jamell Williams (67 Orange Street) takes care of the down-home eats, doling out candied whipped sweet potatoes, crab cakes with Cajun rémoulade and fried chicken over red-velvet waffles. Employing Asian touches like soy-ginger glaze, Williams also bridges the gap between his all-American fare and chef Chan Liang's menu at the LED-lit sushi bar. The Masa alum composes lobster rolls with ranch-mango sauce and a sea urchin shooter with Japanese mint and ponzu sauce. Settle into a plush black banquette to watch a game on one of 32 flatscreens while sipping a Southern-inspired cocktail—the P.Y.T. features peach schnapps, citrus liqueur, cranberry juice and cola—or a self-service tap beer, including Blue Moon and Brooklyn Lager. 2331 Twelfth Ave at 133rd St (917-507-0000)
The Sandwich Bar Courtesy Greek-born Astoria local Theo Stamatiou, this 20-seat spot slow-cooks meat overnight for sammies like roasted turkey with bacon and horseradish sauce; honey-glazed ham with cheddar and onion; and barbecued brisket with chili mayo and roasted peppers. Twelve craft beers are on tap—including Shiner Bock, Wolaver's Organic and Angry Orchard Hard Cider—available at the wood bar or to take home in a growler. 33-01 Ditmars Blvd at 33rd St, Astoria, Queens (718-777-1078)
Schapiro's Eatery & Cocktail Bar At this 74-seat comfort-food joint, Eyal Tov and chef David Shemesh (both of Antibes Bistro) pay tribute to Lower East Side history. Artifacts from shuttered local businesses—wrought-iron light fixtures, antique printing-press blocks—fill the restaurant, named after Manhattan's last kosher winery. Shemesh reimagines Jewish staples, updating gefilte fish with a beet-horseradish sauce and veal schnitzel with a sesame crust. The menu also features reworked American classics: bourbon-glazed meat loaf, porcini-crusted scallops and bone marrow with an escargot-and-bacon ragù. A literary theme crops up in cocktails crafted by bartender Natasha David (Maison Premiere, Prime Meats): Constant Reader is made with gin, rose, lemon juice and honey, while the Invisible Man is a mix of bourbon and apple brandy with cardamom syrup. The beer and wine lists skew American, highlighting local brews like He'Brew Genesis Dry Hopped Session Ale (part of Shmaltz Brewing Company's kosher line) and producers such as Long Island's Pindar Vineyards. 120 Rivington St between Essex and Norfolk Sts (no phone yet)
Sel Rrose The team behind subterranean drinkery Home Sweet Home looked to Paris as inspiration for this Lower East Side spot. Café decor—gray leather banquettes and blue wood tables—outfits the 60-seat bar, named after Rrose Sélavy (alter ego of French artist Marcel Duchamp). At a 20-seat marble counter, slurp East and West Coast oysters while sipping cocktails like the Fresh Widow (spiced rye whiskey, coconut syrup, Creole bitters) and the Belle Haleine (gin, Byrrh and vanilla bean). Also on offer: a rotating selection of Gallic wines (Château Ducasse, Wilfrid Rousse) and craft beers (Saison Dupont, Flying Dog). 1 Delancey St at Bowery (no phone yet)
Trading Post Housed in a historic chandlery—a supply warehouse for ships—this three-story restaurant delivers New American fare to the FiDi. Slide into a green-and-burgundy banquette for dishes turned out by chef Stephen Woods: Berkshire pork chops and marinated peppers; asparagus risotto with a poached egg and aged Parm; and cornmeal-crusted skate in caramelized pineapple. Seafood towers come piled with offerings from both coasts, including littleneck clams, diver scallops and Prince Edward Island mussels. Bartenders pour classic cocktails, wines and craft beers from a 30-seat walnut bar on the first floor, but whiskey enthusiasts should head to the brick-lined cellar, where they showcase 50 small-batch sips from Irish and American producers. 170 John St between Front and South Sts (646-370-3337)
ZZ's Clam Bar A powerhouse trio—Rich Torrisi, Mario Carbone and Jeff "ZZ" Zalaznick—continues its neo-Italian-American hot streak (including Carbone and Parm) with a raw bar. Scrapping an initial lobster-club concept, the 12-seat spot highlights first-rate cocktails and crudo. At the marble bar, acclaimed barman Thomas Waugh (Death & Company) concocts a beverage program decidedly more eclectic than the classic one a few doors down at Carbone: rum, housemade coconut cream, acacia honey and lime juice served in a frozen coconut; a gin tipple of fresh and freeze-dried strawberry, calamansi puree, rosemary-infused vermouth and Pernod pastis. In bar-friendly small plates, the chefs explore raw fish in all forms, with East Coast oysters on the half-shell and Santa Barbara spot prawns. Composed crudos include cured Japanese sardines alongside Cara Cara oranges; tuna carpaccio with bone marrow and foie gras; and shimaaji (striped horse mackerel) tartare topped with whipped ricotta and Petrossian caviar. 169 Thompson St at Bleecker St (212-254-3000)
Sponsored listing
SAN CARLO Osteria Piemonte
San Carlo Osteria Piemonte in Soho isn't your typical pasta joint. This restaurant focuses on cuisine from the Piedmont region of northern Italy, which leans more towards rustic home cooking. The menu reveals an emphasis on game you don't often see in Italian restaurants. You can order an appetizer of tonno di coniglio, rabbit marinated in olive oil served with pickled vegetables ($17), or pan-seared guineafowl with leeks, potatoes and kale sauce ($27) for your entree. Other menu options include chestnut gnocchi with porcini mushrooms and parmesan fondue ($22), bone-in veal milanese with arugula and cherry tomatoes ($42) and bollito misto piedmontese, a stew of brisket, ribs, beef tongue and pork sausage with vegetable relish ($29). The dessert menu offers more than just the usual suspects as well. You'll find pears cooked in red wine, honey and star anise ($15) and a mint semifreddo with chocolate sauce ($13) alongside tiramisu and hazelnut mousse (both $12).
Venue says: "Producing exceptional fine wines, artisanal meats and cheeses, and some of Italy's best known specialtiesincluding white truffles."