Restaurant and bar openings: November 28–December 5
Tribeca Canvas, Juliana's and more open in New York.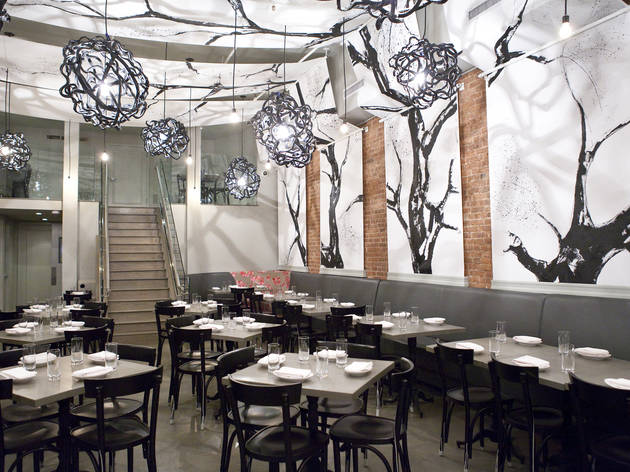 The following venues are expected to open by December 5. Always call ahead, as openings can be delayed.
Chubby Mary's Hero Shop The owners of the wildly popular Artichoke pizzeria take on Italian heros with this East Village sandwich spot, located next to their original slice joint. The menu is stocked with old-school subs, like a meatball hoagie with peppers, onions and provolone, and fried eggplant on a roll with gravy and ricotta. An oversize portrait of Rocky Balboa gazes upon diners munching at the room's standing-room-only counters. 328 E 14th St between First and Second Aves (212-228-2807)
Juliana's Patsy Grimaldi—the flour-dusted legend behind Grimaldi's, which has since changed hands—busts out of retirement to reclaim his pie shop's first location, along with its original coal oven. The octogenarian pizzaiolo–who learned to spin dough at age 13 in his Uncle Patsy Lancieri's Harlem institution—named the spot after his mother. The menu spotlights iconic red-sauce fare, including classic pies (Margherita, sausage and broccoli rabe), appetizers (eggplant rollatine, baked clams with parsley) and desserts (cannoli). But the New York icon also mixed in a few nods to modern times: creative pizzas (such as a bagellike riff made with lox and mascarpone) and a proprietary chocolate-and-raspberry flavor from nearby Brooklyn Ice Cream Factory. Another throwback touch: An antique jukebox plays Patsy's favorite Sinatra tunes. 19 Old Fulton St between Front and Water Sts, Dumbo, Brooklyn (718-596-6700)
The Strand Smokehouse Get hickory-smoked brisket at this Astoria 'cue joint from chef Eric Milley (Jeffrey's Grocery, Joseph Leonard). In addition to BBQ standards, the meatcentric kitchen dishes out charcuterie (such as duck pastrami, chicken liver mousse) and upscale plates (like a duck-leg confit). White tiled walls and a cement floor lend the room a spare, industrial feel. Bartenders dispatch bourbon and Scotch nips straight from aged-wooden barrels. 25-31 Broadway between 29th and 30th Sts, Astoria, Queens (no phone yet)
Tommy Bahama Restaurant & Bar Chef Michael Krantz (Blue Smoke) oversees a menu of coastal cuisine at this restaurant-retail hybrid, which also showcases tropical threads. Grain-sack pillows, palm trees and reclaimed-wood shutters lend the 150-seat dining room the air of a faux island shack. Seafood offerings include a macadamia-nut-encrusted snapper; meat lovers can opt for a LaFrieda burger. To drink, suburbanite-friendly party fuel includes barrel-aged rums and custom-made mojitos. 551 Fifth Ave at 45th St (212-537-0960)
Tribeca Canvas Iron Chef master Masaharu Morimoto—a star of both the Japanese television original and its American spin-off—has opened locations of his Far East–inspired restaurant, Morimoto, in locations near (New York, Philadelphia) and far (Waikiki, Napa). For the first time, the celebutoque turns his attentions from Japanese (both traditional and creative) to East-meets-West mash-up cuisine, with this hotly anticipated 72-seat canteen. Early-evening diners and late-night revelers alike—the spot is open until 4am—can pop in for Asian-inflected plates, like soy-braised spareribs served with fried-rice risotto, and steamed lamb buns stuffed with pickled daikon and raita. Lounge in the monochromatic room—decorated with black, white and gray canvases hanging from the ceiling–and keep the party going with sake, local beers and American wines. 313 Church St between Lispenard and Walker Sts (917-720-2845)
Willow RoadCru alum Todd Macdonald turns out American plates at this Meatpacking bistro. The bill of fare displays a globe-trotting bent, with items such as a spiced lamb burger topped with sumac aioli and cilantro, and braised artichokes with fregula sarda and fava beans. Boozehounds can throw back a craft cocktail from a drinks list designed by veteran barman Greg Seider (the Summit Bar). The cavernous 60-seat space, located in an old Nabisco factory, showcases colorful hand-drawn murals. 85 Tenth Ave between 15th and 16th Sts (646-484-6566)
Sponsored listing
Hinata Ramen
Tucked into an unassuming storefront in Midtown East, this Japanese spot allows diners to build their own bowls of steaming ramen. Choose a type of ramen—classic ($12.50), spicy ($13.50), vegan ($14.50), rich miso ($14.50) or dipping-style ($14.50)—then pick one of the four varieties of noodles, roasted pork or chicken and any extra toppings. Hinata uses organic chicken broth, never adds MSG and makes all their own noodles, including vegan and gluten-free options. If you're not in the mood for hot soup, try one of the restaurant's other offerings, like pork gyoza (five for $7, 10 for $13), octopus carpaccio ($9), fried chicken ($7) or salmon sashimi and roe over rice ($8). To drink, choose from a wide variety of sakes ranging in flavor from fruity to dry ($57–$70 per bottle), or sip a Sapporo or glass of plum wine (both $6).
Venue says: "SPRING SPECIAL YUZU SHIO RAMEN IS HERE! MENTION TIMEOUT TO OUR SERVER AND GET ONE TOPPING OR EXTRA NODDLE FOR FREE!"