Heads up! We're working hard to be accurate – but these are unusual times, so please always check before heading out.
Restaurants near the Statue of Liberty
Find a great place to eat near the Statue of Liberty with this guide to New York restaurants.
As if we didn't put Danny Meyer on a pedestal enough, the successful restaurateur's latest venture is perched up on the 60th floor of a building in Fidi, overlooking all of southern Manhattan and its waterways. On a recent evening, he could be seen walking around the dining room, welcoming guests and clearly kvelling. Of course he's bursting with pride—he thought of every detail. Want to appreciate the views? They've got binoculars. Have your back toward the window? A mirror over the kitchen allows you to stare at the Hudson and ignore your dining companion. Want to have a party here? Manhatta has a private dining room, but there's also an event space (the Bay Room) on the same floor for your next wedding or bar mitzvah. The menu in the dining room is made up of a three-course prix fixe, a format that can sometimes leave guests hungry at the end. Out of curiosity, I asked if we could tack on more courses; I was met with a stunningly soigné response from our server: "You can extend the experience however you want." Though extending the experience isn't remotely necessary, given ideal portions and the bottomless bread basket. Tender, house-made cavatelli is dressed in a bright tomato sauce, laced with specks of spicy sausage and clams bursting with brine. A fillet of turbot that flaked at the touch of a fork is served under a veil of creamy hollandaise and balanced with a verdant pop from fresh peas (the garnishes have since changed). The expertly seasoned Wagyu bavette (a fanc
Nestled inside 70 Pine Street is a maître d' desk auspiciously stationed in the lobby of a highly sought-after Art Deco building. You might not know that hidden behind the stand is one of New York's hottest new restaurants: Crown Shy. I was happily surprised that at 6pm on a recent Friday, the space, located steps from Wall Street, was packed with a non-douchey crowd—not one conversation about ROIs was overheard. Crown Shy gives the illusion that it's more chill than the address would infer: Servers wear white T-shirts and light-wash jeans with black high-top Converse, while Snoop Dogg's "Drop It Like It's Hot" hums through the speakers. For a moment, you might forget it's all orchestrated by New York fine-dining elite: Crown Shy is the first collaboration between James Kent, longtime Chef de Cuisine at Michelin-starred Eleven Madison Park and Executive Chef at NoMad, alongside Jeff Katz, Managing Partner of Del Posto. First off, I love nothing more than a complimentary bread basket. Few restaurants offer it today, but Crown Shy's pull-apart loaf with lemon zest and olive tapenade makes a strong case for a carb comeback. We also feasted on gruyère fritters ($13) with chili and lime, essentially savory churros with a coating similar to the powdered cheese on junk food popcorn; an early signal that we were allowed to have fun in a fine-dining environment. Still, it seemed odd that the fritters were more expensive than the much more elevated roasted sunchokes with cheddar and
If you're looking for a crazy night out, you'll find some of the best dance parties in town at this unassuming dim sum restaurant. And best of all, the vibe is far from exclusive. You are dancing on carpet after all. RECOMMENDED: 101 best things do in NYC
South Street Seaport booms with outdoor movie screenings, open-air farmers' markets and a beer garden during warmer months, but its year-round appeal gets bolstered with this waterfront 6,000-square-foot restaurant from Financial District empire builder Abraham Merchant (Watermark Bar, Clinton Hall). Boasting floor-to-ceiling windows overlooking the East River, the vast dining room is decorated with wood tables made from European truck flatbeds, a 12-seat chef's counter across from the open kitchen and curtain-style doors that open onto the esplanade, complemented by a 1,500-square-foot patio lined with white-oak beer-hall tables and plush couches. Chef Marco Allen's menu plays up the seafront locale (shrimp over grits, cedar-planked salmon in ginger vinaigrette), while also turning out wood-fired plates like a sopressata-pecorino pizza, a sirloin topped with smoked pepper salsa and squash gratin layered with zucchini, eggplant and tomato-basil pistou. From the pewter-topped horseshoe bar, expect both craft (Delirium Tremens, Harpoon IPA) and big-brand drafts (Stella Artois, Coors), and 10 seaside-inspired cocktails such as the Shoes Optional (cachaça, mescal, lime) and the Bourbon Berry (elderflower, blackberry compote).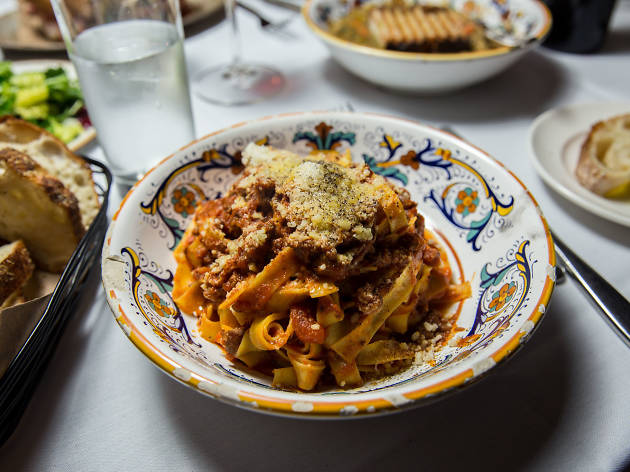 FELICE's restaurants, and specifically, pasta always impress us so we extended an invite to join Time Out Market New York. Learn how our market curation works here, but basically we tasted the food, reviewed the restaurants and, ultimately, recommended FELICE for a coveted spot. Here's why: This 60-seat trattoria in the Financial District's Gild Hall Hotel is the third location from the team behind Felice Wine Bar and Felice Ristorante & Wine Bar. Diners tuck into signature Tuscan dishes, while the wine-bottle-lined walls, wine-jug chandeliers and tufted leather banquettes echo its uptown siblings' aesthetic. The Tuscan offering are plenty enough that you can choose your own adventure: light and vegetable forward or comforting and carb-heavy. Toast topped with kale and anchovies or burrata over roasted cauliflower make for vibrant starters that sing with acidic olive oil. Even the bread basket reads very Italian with tender slices of olive loaf, perfect for scraping your plates clean. Moving on to the filling pastas, there really isn't a wrong option. Tender fettuccini in a rich and hearty veal bolognese is just as good of a choice as their creamy cacio e pepe or fluffy potato gnocchi. Each bowl was perfectly al dente while showcasing stunning sauces that read as both rustic and refined, giving the elevated sense of comfort we crave out of a spot like this. Whether you're looking for a fun date night spot or a casual comforting meal, Felice brings all the cozy vibes and carbs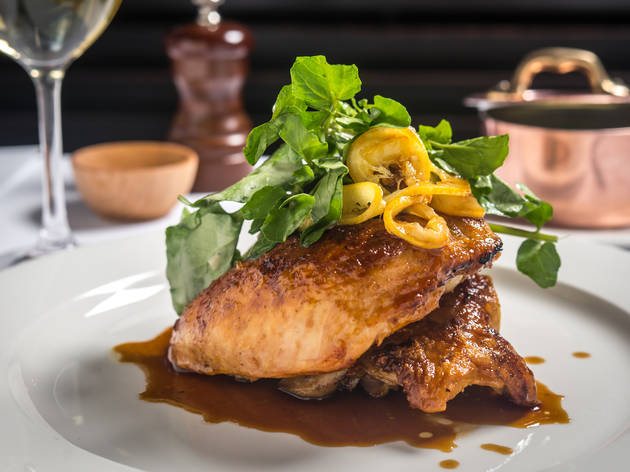 They make quite the glamorous pair: Augustine and Fowler & Wells, glowing and genteel on opposite ends of the grand atrium at the Financial District's new Beekman Hotel, a ritzy restoration of the late-19th-century landmark building known as Temple Court. Augustine, a swoon of a French restaurant from Balthazar bistro baron Keith McNally, is the more femme of the two, dazzling and dreamy with flower-bud sconces, wrought-iron chandeliers and enough warm light bouncing off the room's hand-painted tile walls and romantically distressed mirrors to melt the frostiest of hearts. Augustine is unconcerned with newfangled food trends, but why shouldn't it be? McNally has forged his own downtown food bubble (Cherche Midi, Minetta Tavern), one where old-world French charms bump against off-duty magazine editors talking shop over power burgers and Pernod butter. With inevitable buzz and the crowds that follow, it almost doesn't matter what's on the plate at a McNally restaurant. Coexecutive chefs Shane McBride and Daniel Parilla, both of Cherche Midi, don't ruffle any feathers with their paint-by-numbers brasserie menu of steak tartare ($18), soufflé au fromage ($19) or salt-baked oysters ($19), although all three are well executed. The same can't be said for the halibut en cocotte ($38), which is overcooked and spongy beneath lobster jus and black truffles, or the burger ($27), a McNally standard that is choked with smoke to the point where the crowning Comté cheese and caramelized on
Located on the 101st floor of One World Trade Center. Set over looking the vibrant main Observation Floor & City Pulse at One World Observatory. Features a seasonally inspired ala carte menu complemented by small production wines, local draft beers and hand crafted cocktails. Reservations required along with an Observatory ticket. **** PLEASE NOTE: One World Trade Center Observatory tickets are required to access One Dine. You may purchase your tickets by visiting: www.oneworldobservatory.com. It is recommended that diners purchase observatory tickets at least 30-90 minutes prior to their reservation time. ****
FiDi-focused restaurant mogul Peter Poulakakos has launched a whopping 10 projects south of Chambers Street (Dead Rabbit, Pier A Harbor House), but this industrial-styled French-food complex is his largest undertaking yet. The 30,000-square-foot market is divided into a bakery-café, meat and cheese stalls, an open-air grocery shop and the sit-down brasserie, Beaubourg. "This is not a food court, it's a cultural experience," says Poulakakos. "In each pocket there are different influences—from Tunisia, Vietnam, even New Orleans." At the zinc-topped coffee counter, pour-overs of house-blended Stone Street Coffee accompany sweet and savory crêpes, French pastries (éclairs, gallettes) and chocolates imported by France's La Cure Gourmande. Wander deeper into the market quadrant, which includes a boulangerie serving fresh breads and baguette sandwiches, cheesemongers hawking Swiss, Canadian and French curds to complement local charcuterie, and a florist helmed by Flowers by Yasmine. In the garden section you'll find grab-and-go dishes like boeuf bourguignonne and grocery items including imported Moroccan coffee and fresh local produce. Just ahead is the restaurant-bar area, where servers navigate between booths in Beaubourg's white-tiled dining room, delivering modern Gallic classics, such as garlic-sautéed frog legs over spaetzle. Le Bar, the bistro's cocktail den, offers a soapstone bar and white-marble high tops for unwinding with a glass of vin, while the forthcoming L'appart ta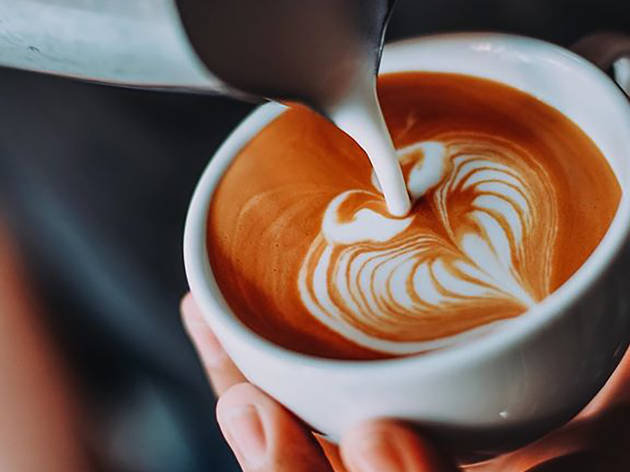 Specialising in farm to cup coffee, this branch of 787 is situated on the edge of the Financial District, near Battery Park. Naturally, coffee is the main event here, and there's a large range to choose from, including the regulars (espresso, latte, cappuccino etc), plus drip coffee, matcha, marzipan lattes and a variety of cold brews. Tea drinkers will be satisfied with 787's tea range too, and if you're peckish, empanadas and sandwiches are on offer. 787's own coffee farm was established in 2014, in the mountains of Maracao Puerto Rico. It's there that the beans are grown, processed and roasted, before being brought to 787's locations across New York. With an aim to support local business, local people are employed to help run the farm – and you can book onto tours if you're visiting the area. Big fan? You can buy a range of branded goodies online, including mugs, illustrated t-shirts and different varieties of 787 coffee, including Supremo Roasts and Espresso Roast (12oz for $19.90).
Venue says We are OPEN ! Takeout and online ! 🌱 ɢʀᴏᴡɴ ɪɴ ᴏᴜʀ ғᴀʀᴍ ɪɴ ᴘᴜᴇʀᴛᴏ ʀɪᴄᴏ ☕️ ғʀᴏᴍ OUR ғᴀʀᴍ ᴛᴏ YOUR ᴄᴜᴘ
See more restaurants near the Statue of Liberty