The city's spiciest dishes!
As hot chilies hit the Greenmarket, we sweat it out over the city's most volcanic foodstuffs.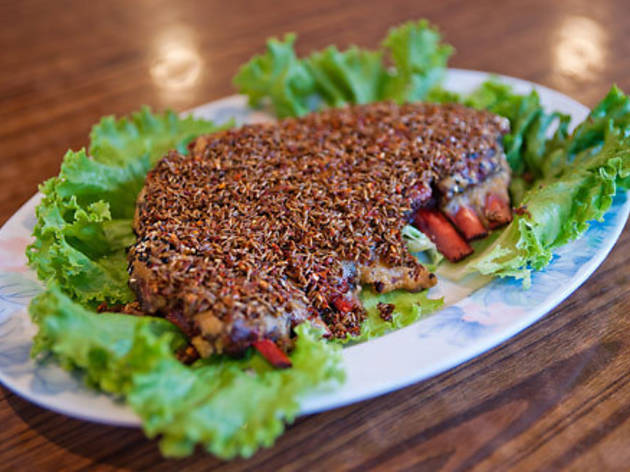 1/22
Photograph: Paul Wagtouicz
Fu Run
Muslim lamb chops at Fu Run
At $21.95, these showstopping chops are easily the most expensive thing on the menu at no-frills northeast-Chinese favorite Fu Run. But they pack a lot of value. The enormous portion of meat---technically an entire lamb breast, despite the name---is braised with a chef's-secret combo of Chinese peppers, staining it a deep ruby hue; then the whole thing is breaded, slathered with a half-inch-thick crust of more dried peppers, cumin and sesame seeds, and fried to a crisp. The result is some intensely tender lamb, steeped inside and out with spice, that leaves mouths smoldering with a warm, lingering heat. 40-09 Prince St between Roosevelt Ave and 40th St, Flushing, Queens (718-321-1363). $21.95.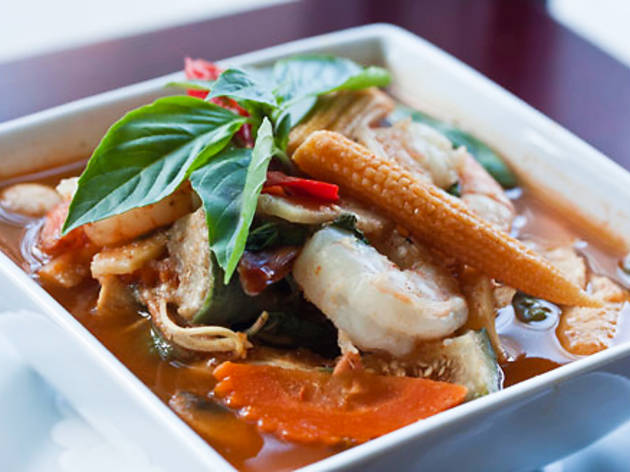 2/22
Photograph: Jakob N. Layman
Ayada
Jungle curry at Ayada
There's no creamy coconut milk to temper the flames of this tear-jerking Thai dish, the spiciest in the country's anthology of curries. Ask for it phet mak ("really spicy" in Thai) if you can stand the heat. The cooks roast a freshly pounded paste of dry red chilies, lemongrass, kafir lime leaf and other aromatics in the wok and thin it out with water. True to its jungle roots, the original dish calls for wild boar, but you can get it here with shrimp, beef or chicken bobbing alongside the bamboo and sweet Thai basil and a mix of vegetables. 77-08 Woodside Ave between 77th and 78th Sts, Elmhurst, Queens (718-424-0844). $9.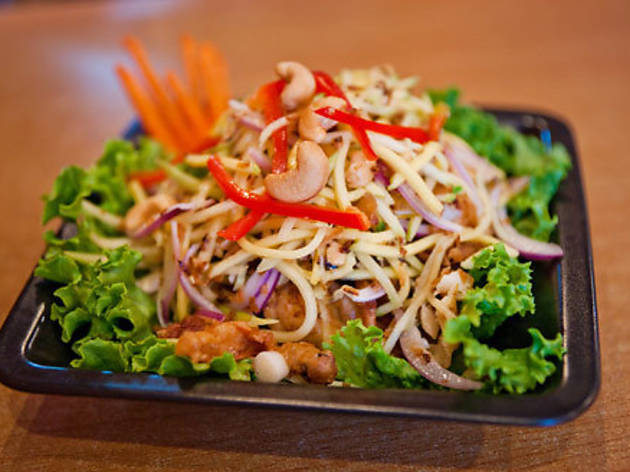 3/22
Photograph: Paul Wagtouicz
Chao Thai
Soft-shell crab with mango salad at Chao Thai
At first glance, the crab salad at this tiny Elmhurst spot doesn't look too intimidating---shredded mango, red onions and cashews are piled innocuously atop a deep-fried soft-shell crab. But one bite in and your mouth explodes from the hefty dose of fresh bird's-eye chilies dotting the slaw. The burn ambles down your throat and into your gut---tears and sweat aren't far behind. But for all the dish's heat, it's still incredibly well-balanced: The salty-crispy crab melts beneath a cloud of sweet-and-sour lime and mango juice, and the burn is soothed by the cooling fruit. 85-03 Whitney Ave between Macnish and 83rd Sts, Elmhurst, Queens (718-424-4999). $12.95.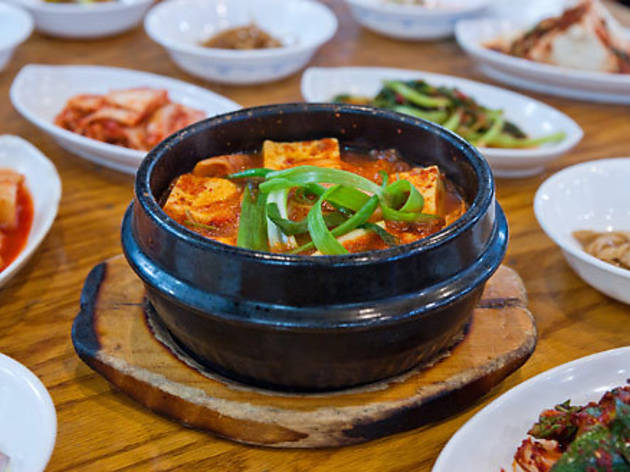 4/22
Photograph: Paul Wagtouicz
Hahm Ji Bach
Kimchi jigae at Hahm Ji Bach
Next time you're craving a sinus assault at 4am, head to Queens for the kimchi jigae at 24-hour Korean restaurant Hahm Ji Bach. This traditional stew arrives in a bubbling clay cauldron, and its fire-red color is an indication of what's to come. The tomato-and-dried-pepper--based broth is bobbing with big cubes of fatty pork, hunks of tofu, kimchi and onion, and its aroma alone is enough to get your nose running. The jigae has a heat that attacks the entire mouth, infiltrating every taste bud with the sweat-and-tears-inducing power of the pepper. Stick with it: As it cools, the broth mellows, and the sweetness of the tomatoes and kimchi peeks through. 41-08 149th Pl between Barclay and 41st Aves, Flushing, Queens (718-460-9289). $8.99.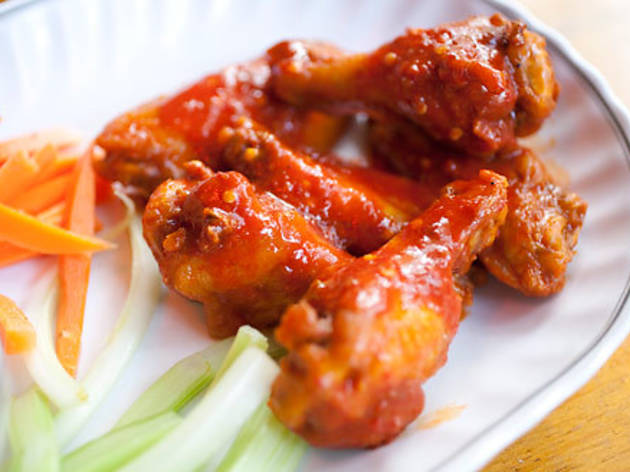 5/22
Photograph: Jolie Ruben
Buffalo Cantina
Seppuku wings at Buffalo Cantina
We could manage only three of these diabolical off-the-menu chicken wings, by far the spiciest we've encountered in NYC. The lava-red, chili-seed-speckled sauce features a hit list of the world's most infamous heat bombs, including bhut jolokia, chile de rbol, serrano and pure capsaicin. The effect is ruthless: We teared up, felt light-headed and briefly considered vomiting, then walked out with our tail between our legs. If you can eat 12 in three minutes, the hefty bill is waived and you get your photo on a wall of fame. Our advice: Don't be a hero, bro. 149 Havemeyer St between South 1st and 2nd Sts, Williamsburg, Brooklyn (718-218-7788). Half-dozen $18, dozen $40.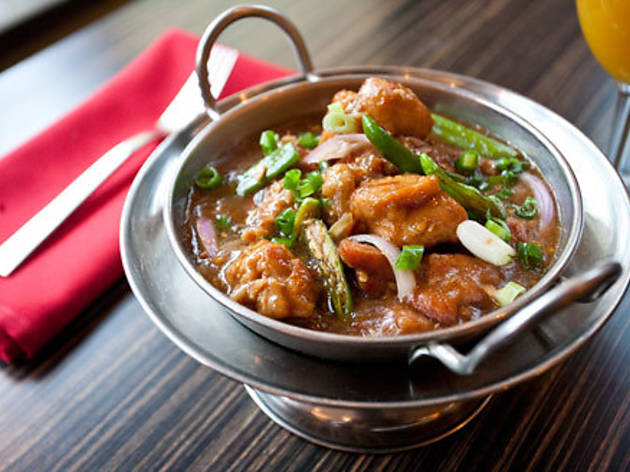 6/22
Photograph: Virginia Rollison
Chili Chicken with gravy at Chinese Mirch
Chili chicken in gravy at Chinese Mirch
The chili chicken at this Indian-Chinese minichain looks tame enough, but ask your server to bring on the spice and the dish can do some damage. Normally, the cooks stir-fry a thick dark-red paste of dried chilies, ginger and garlic with chopped onions, soy sauce, vinegar and tender nuggets of chicken. But if you request yours extra-spicy, they'll toss in an additional fistful of sliced green bird's-eye chilies---their substitution for Indian peppers that aren't available stateside---to deliver a slowly intensifying blister. 120 Lexington Ave at 28th St (212-532-3663). $12.99.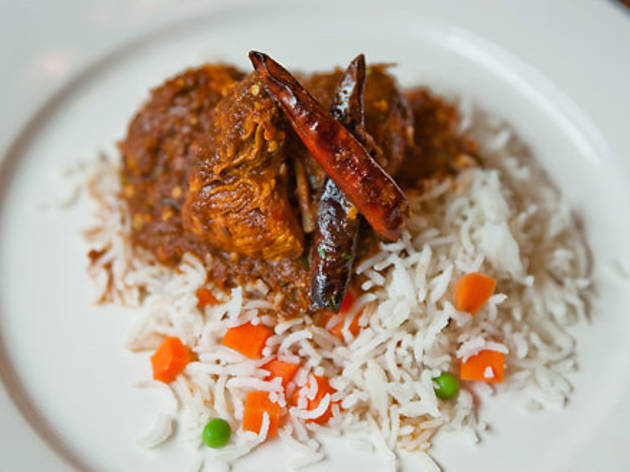 7/22
Photograph: Paul Wagtouicz
Brick Lane Curry House
Phaal curry at Brick Lane Curry House
Finishing the signature dish here has been a badge of honor for masochistic heat freaks since 2002: Polish off the phaal in 30 minutes and you'll earn a free beer, a certificate of completion and pride of place on the restaurant website's "P'hall" of fame. Seven chilies---including the Scoville-topping bhut jolokia (a.k.a. ghost pepper) and habanero---make up the ungodly sauce that tastes of raw heat and little else. One in five diners make it through the 16-ounce bowl. We couldn't. 306--308 E 6th St between First and Second Aves (212-979-2900). $15--$21.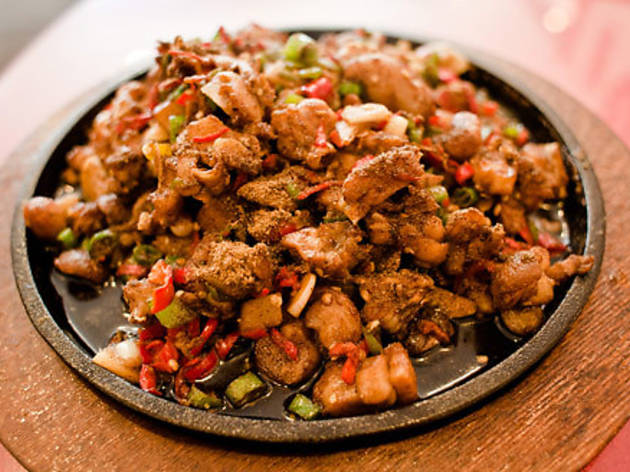 8/22
Photograph: Noah Devereaux
Hunan House
Spicy frog at Hunan House
Arriving at the table on a sizzling-hot plate, this chowhound-courting dish announces its potency with a thick dusting of cumin and a glut of bright red peppers. The delicate, slightly chewy hunks of frog are sauted with Chinese okra, ginger and huge slivers of garlic, but it's the chilies that really sing: three fresh varieties, including an incendiary Chinese cultivar similar to serrano, that set off a pervasive, steady burn. 37-40 Northern Blvd between Linden Pl and Union St, Flushing, Queens (718-353-1808). $18.95.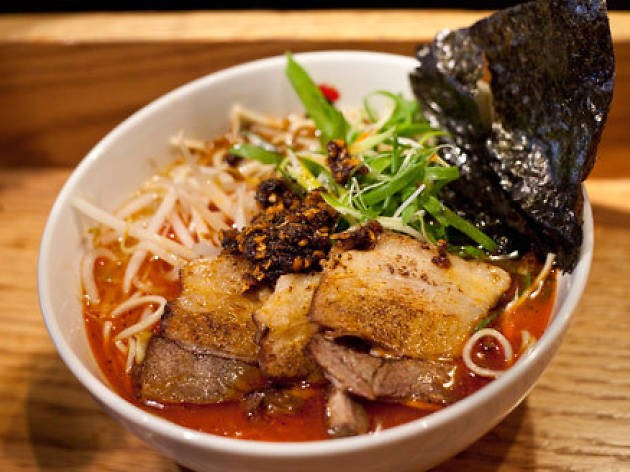 9/22
Photograph: Krista Schlueter
Totto Ramen
Extreme spicy ramen at Totto Ramen
Japanese food isn't known for climbing the Scoville scale, but noodle fanatics can flirt with some serious heat at Bobby Munekata's midtown ramen shop. The burn here is self-administered via a side dish of "extreme rayu"---a charred-sesame oil infused with a top-secret blend of chilies. For the full effect, dump the whole dose into the savory, chicken-based paiten ramen, turning the opaque broth a sinister shade of red. Taking on the bowl is a marathon, not a sprint: The soup coats the mouth and esophagus in chili oil, and just when you think you've conquered it, another slurp catches the back of your throat with a smoky blast of heat. 366 W 52nd St between Eighth and Ninth Aves (212-582-0052). $10.50.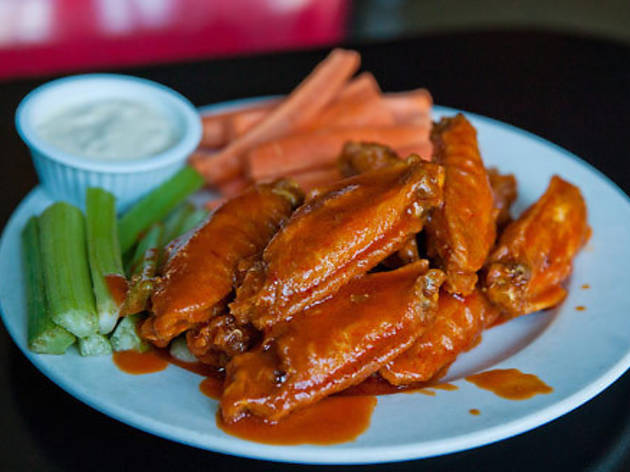 10/22
Photograph: Paul Wagtouicz
Bonnie's Grill
Buffalo chicken wings at Bonnie's Grill
Order the wings to their max spice level at this Park Slope diner and you'll get the third degree. "Have you had them here before?" quiz wary servers, who've seen plates returned for scalding the mouths of inexperienced diners. Owner Michael Naber, a Buffalo native, spikes his dressing with two of the hottest bottled sauces on the market---Endorphin Rush for the "hot" and 357 Mad Dog for the "hotter" and "hottest" versions. Be warned: The fried fowl is tasty, but it isn't safe for casual snacking. 278 Fifth Ave between Garfield Pl and 1st St, Park Slope, Brooklyn (718-369-9527). 10 for $7.95, 20 for $12.95.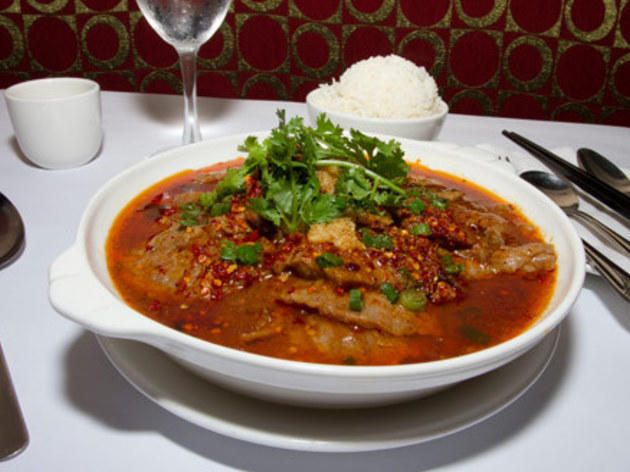 11/22
Photograph: Lindsay Taylor
Lan Cheng
Braised beef at Lan Sheng
Chili-heads can skip the mapo tofu and go straight for the unassumingly named braised beef: It's the spiciest item on the menu at this midtown Szechuan spot. Even the restaurant's owner, Yang Lan, finds himself sneezing when the dish's capsaicin-laced fumes reach his nostrils at the kitchen door. The red-tinged hot pepper oil---melding with a soy-cumin gravy and a mix of soft beef slices and tender Chinese cabbage leaves---slowly builds with each mouthful to a tingling, burning heat. 60 W 39th St between Fifth and Sixth Aves (212-575-8899). $14.95.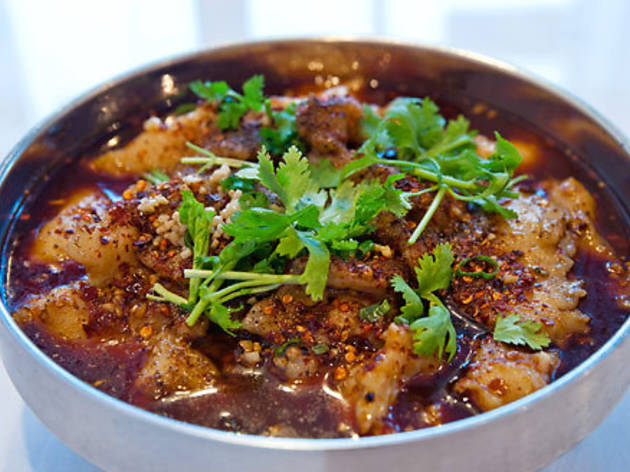 12/22
Photograph: Paul Wagtouicz
Little Pepper
Braised sliced fish in spicy soup base at Little Pepper
Timid tongues should know from the instant this bowl reaches the table to steer clear---the broth itself is dyed a brilliant red with chili oil, and thick enough to conceal hunks of firm freshwater fish, steeped thoroughly in the burning liquid. Dive in to uncover bits of dried chilies, tongue-numbing Szechuan peppercorns, minced garlic and sprigs of cilantro. But the soup isn't all about fire: Beneath the heat, the dish is fantastically cohesive---for every painful chili, there's a bit of sweet cabbage or cooling bean sprout to balance things out. 18-24 College Pt Blvd between 18th and 20th Aves, College Point, Queens (718-939-7788). $14.95.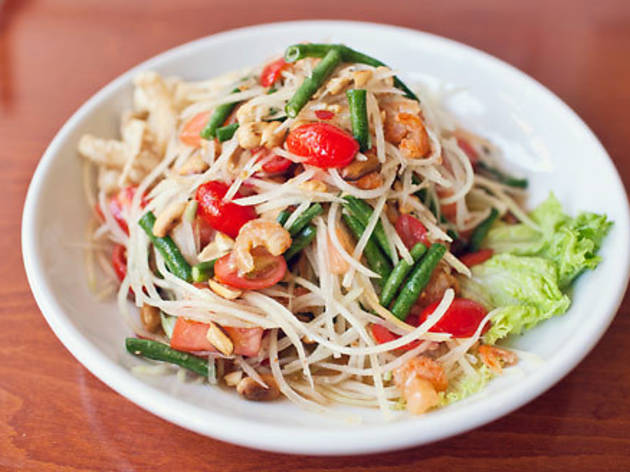 13/22
Photograph: Lizz Kuehl
Zabb Elee
Som tum thai at Zabb Elee
"Level five" are the code words here for thrill-seekers in search of authentic Thai-style spiciness. Test your mettle against this bright, citrusy green-papaya salad, which gets its searing heat from fresh bird's-eye chili mashed up and sprinkled liberally into a vibrant heap of green beans, tomatoes and grated papaya, all slicked in pungent fermented fish sauce. The peppers attack the front of the palate before slowly spreading to a full-mouth burn that left our party happily slack-jawed, mumbling plaudits through painfully parted lips. Even through tears (there were a few), the dish is fresh and balanced, with tiny dried shrimp providing bursts of briny crunch. 75 Second Ave between 4th and 5th Sts (212-505-9533). $8.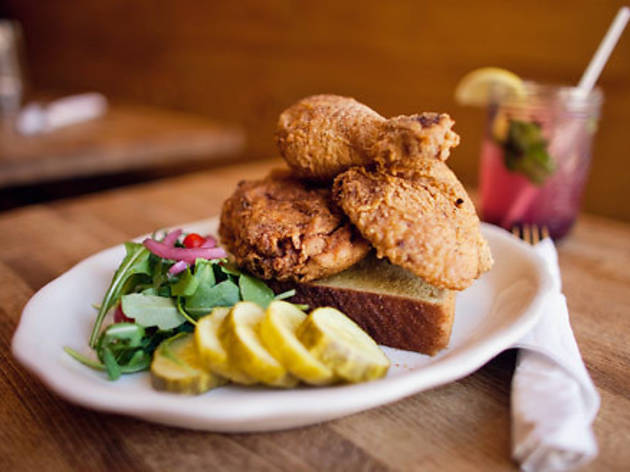 14/22
Photograph: Lizz Kuehl
Peaches Hothouse
Hot chicken at Peaches HotHouse
This cayenne-laced, sweat-inducing take on the Southern-fried classic comes to Brooklyn by way of Nashville. The all-natural, cage-free poultry is spiced with a well-guarded secret pepper combo (owner Craig Samuel calls the hotter of the two "uncut China white") before and after frying, then served bone-in on a thick slice of white bread and a side of your choosing. The "extra-hot" version is as menacing as it sounds, but there's real flavor---succulent protein and a distinct tanginess---beneath the fiery crunch. 415 Tompkins Ave at Hancock St, Bedford-Stuyvesant, Brooklyn (718-483-9111). $12.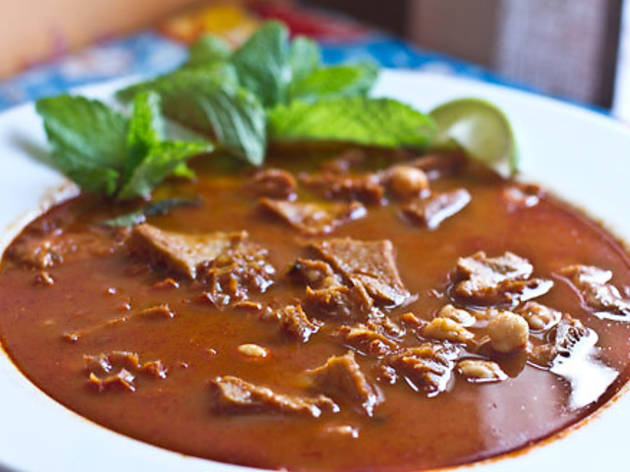 15/22
Photograph: Caroline Voagen Nelson
Del Maguey y La Tuna
Pancita at El Maguey y La Tuna
This Lower East Side stalwart calls its spicy tripe soup the ultimate hangover cure, and we wouldn't disagree---a few sips of the peppery, brick-red broth would shock anyone back to the land of living. The heat comes from a blend of dried guajillo and costeo chilies that cuts through the funk of chewy, honeycomb-like bits of offal. The soup doesn't bring the pain straight away, but a few consecutive slurps call for a slug of cerveza to douse the growing flames, and you're left with a warming, invigorating burn that seeps into the pit of your belly. 321 E Houston St between Attorney and Ridge Sts (212-473-3919). $6.95; weekend brunch special $9.95 (includes rice and a drink).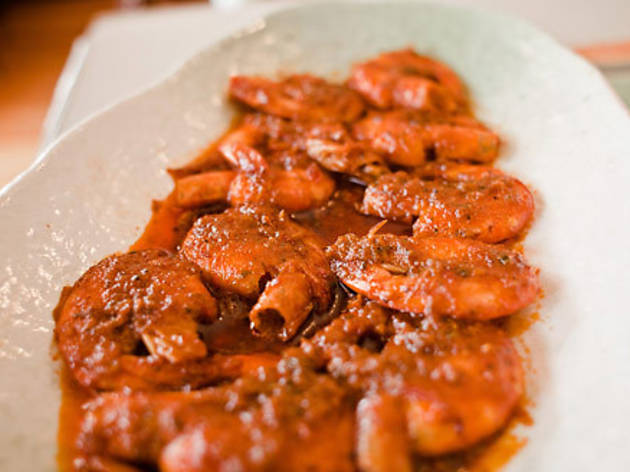 16/22
Photograph: Noah Devereaux
Maima's Liberian Bistro
Pepper shrimp at Maima's Liberian Bistro
Intrepid heat-seekers can ride the E to the end of the line for this lip-singeing plate. This bistro is the city's only spot specializing in the food of Liberia, a country in an area of West Africa once known as the Pepper Coast. The proprietress, Maima Kamara, may look mild-mannered, but she brings the pain with a house-made Scotch-bonnet blend. She sautes shell-on shrimp with butter and a bright-orange slick of the punishing sauce, then finishes the simple dish with a speckling of black pepper. 106-47 Guy R. Brewer Blvd between South Road and 107th Ave, Jamaica, Queens (718-206-3538). $12.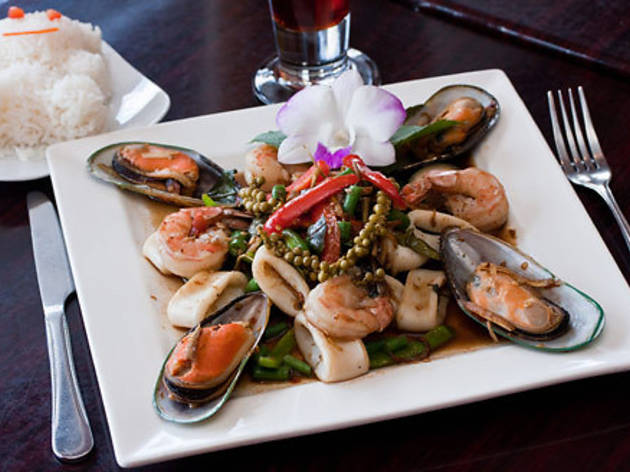 17/22
Photograph: Jakob N. Layman
Nusara Thai Kitchen
Pad cha at Nusara Thai Kitchen
The palate-spanking seafood stir-fry at this family-run Thai joint lives up to its nickname: "hell sauce." A pile of fresh bird's-eye chilies---the tiny, but seriously smokin' Southeast Asian peppers---are sauted with garlic and a mixture of soy and oyster sauces. Mussels, scallops, shrimp and squid get a quick toss in the wok with apple eggplant, strands of green peppercorns and the piquant root "lesser ginger," until everything is coated with the thick fiery sauce. 82-80 Broadway at Whitney Ave, Elmhurst, Queens (718-898-7996). $14.95.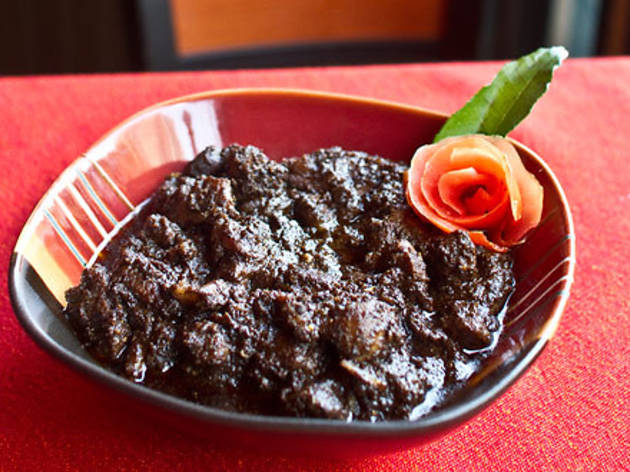 18/22
Photograph: Caroline Voagen Nelson
Sigri
Pork black curry at Sigiri
This narrow Sri Lankan eatery has no shortage of incendiary dishes, including a section of the menu devoted to "deviled" specialties---your choice of meat or seafood mixed with a dark-red chili sauce. But the dish that made our eyes water is this Southeast Asian classic. The potent, earthy-brown broth---there's no coconut milk in this curry---is made with roasted chili powder, curry leaves, and the house-mixed black curry powder of cardamom, cinnamon, fennel and other ingredients. After a few spoonfuls of the stuff, which bathes hunks of fatty pork, you'll be raising your hand for a palate-soothing side of yellow dal. 91 First Ave between 5th and 6th Sts (212-614-9333). $11.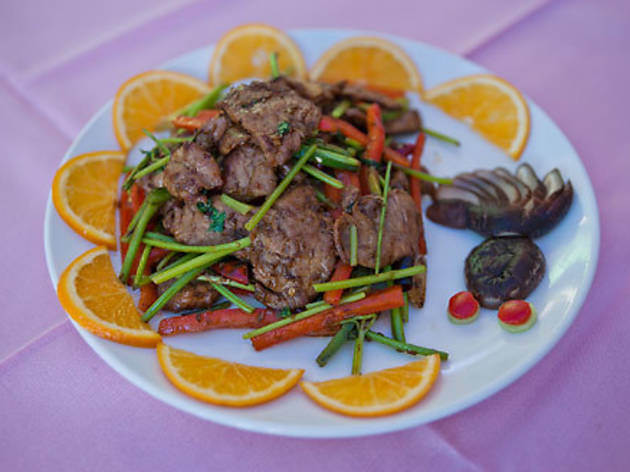 19/22
Photograph: Paul Wagtouicz
Northeast Taste
Xijiang beef at Northeast Taste
The spice in the Xijiang beef from Flushing's Northeast Taste---specializing in, as the name implies, northeast Chinese cuisine---doesn't beat you over the head with the first bite. But after three or four nibbles, there it is: The heat of the thin-sliced meat, stir-fried with dried chilies, fresh red peppers, garlic and cumin, builds slowly, then seizes your mouth with a searing fire. Bits of cilantro do their best to combat the growing incineration, but the burn stays with you all night. 43-18 Main St between Cherry and Dahlia Aves, Flushing, Queens (718-321-3688). $12.95.
20/22
Photograph: Caroline Voagen Nelson
Buka
Buka sauce at Buka
A spicy feast at this West African spot should start with the traditional goat pepper soup ($10), which gets its eye-popping kick from habaneros, and its purported healing qualities from a bounty of dried Nigerian herbs. But for chiliheads looking to feel the pain, the restaurant's secret weapon is a habanero-laced condiment called Buka hot sauce. Use it to amp up the heat of the stew-like Buka Sauce, a hearty dish featuring chewy hunks of fried beef coated in an earthy, smoldering sauce of locust beans and Scotch-bonnet peppers. 946 Fulton St between Grand Ave and St. James Pl, Clinton Hill, Brooklyn (347-763-0619). $12.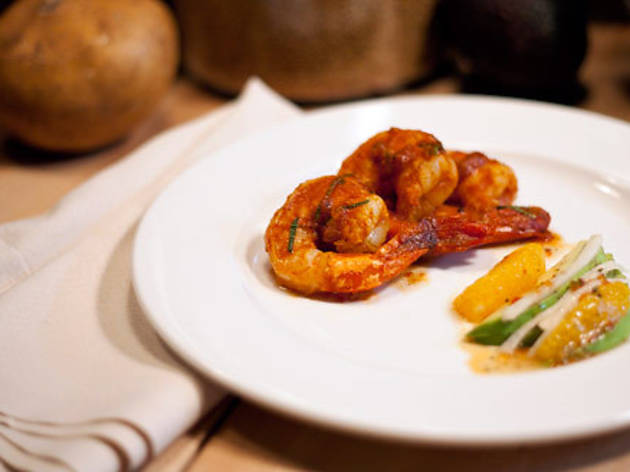 21/22
Photograph: Virginia Rollison
Piri Piri Shrimp at Junoon
Piri-piri shrimp at Junoon
Chef Vikas Khanna channels the Portuguese-influenced cuisine of Goa, India, in this taste-bud--singeing starter. A conflagrant paste of dried piri-piri chilies, ginger and cumin coats the plump crustaceans, providing a flavorful heat that's balanced by a cooling side salad of jicama, avocado and orange. Ask the talented sommeliers for a wine pairing that can stand up to the burn. 27 W 24th St between Fifth and Sixth Aves (212-490-2100). $14.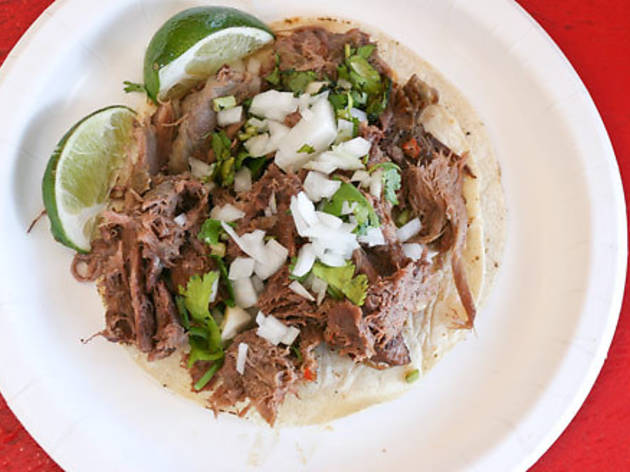 22/22
Photograph: Alex Strada
El Aguila
Barbacoa tacos at El Aguila
On Saturdays and Sundays, this outpost of a New Jersey tortilleria slow-cooks its goat special with dried chile de rbol peppers, then heaps the tender, gamey meat onto two fresh tortillas with cilantro and onion. The cooked chilies deliver enough heat to get the blood flowing, but to whip the brushfire into a five-alarm blaze, splash the whole package with a slug of El Aguila's bright, unrelenting tomatillo-jalapeo salsa. 137 E 116th St at Lexington Ave (212-410-2450). $3 each.