The absolute best ramen NYC has to offer
From purist tonkotsu temples to modern mazemen outfits, find the absolute best bowls of ramen in NYC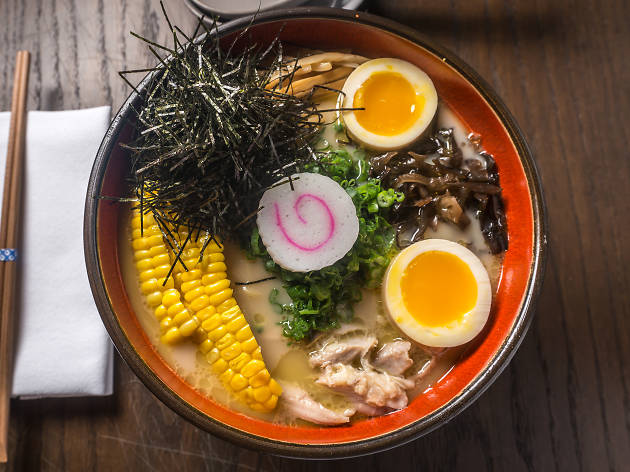 Some of the best Japanese food in this country can be found right here in New York. Whether you're seeking out exclusive sushi counters or Japanese comfort-food dishes, slurpable bowls of noodles are always a favorite. Across the city, you can find noodle houses offering rich pork-based soups to modern, fusion versions doled from a Jewish Long Islander, here are the restaurants offering the best ramen in NYC.
RECOMMENDED: Full guide to the best restaurants in NYC
Missing Time Out magazine?
You can still read our latest issue from the comfort of your couch
Read online
A ramen joint we love so much that we welcomed it into Time Out Market
Countless bowls of soothing ramen can be found across New York, but Mr. Taka Ramen stands out for its overall quality (the chef has Michelin cred, after all). We can't get enough of the hearty tonkatsu and basically any dish from this kitchen, so, naturally, we invited it to hold court at Time Out Market New York. We tasted its food, reviewed the restaurant and had no hesitation in recommending Mr. Taka Ramen for a spot at the market. Here's why: Chef Takatoshi Nagara and Takayuki Watanabe opened Mr. Taka Ramen in New York's Lower East Side in 2015 with no shortage of rave reviews. The restaurant is the result of a long-standing childhood friendship, many years of research and travel across Japan, and an unparalleled pedigree when it comes to ramen-cuisine, earning a coveted spot on Michelin's Bib Gourmand list. While lines continue to form outside of the much-lauded Lower East Side outpost, we keep joining the queue, even in the dead of winter. Guests can expect favorites such as the Miso Ramen with chicken and bonito fish broth, wavy flat flour noodles, sliced pork belly, ground pork, scallions, bean sprouts, chives, cilantro and the Taka's Vegan in a vegetable broth with soy milk, wavy flat flour noodles, avocado, zucchini, tomato, mushrooms, tofu, leeks and scallions.