Heads up! We're working hard to be accurate – but these are unusual times, so please always check before heading out.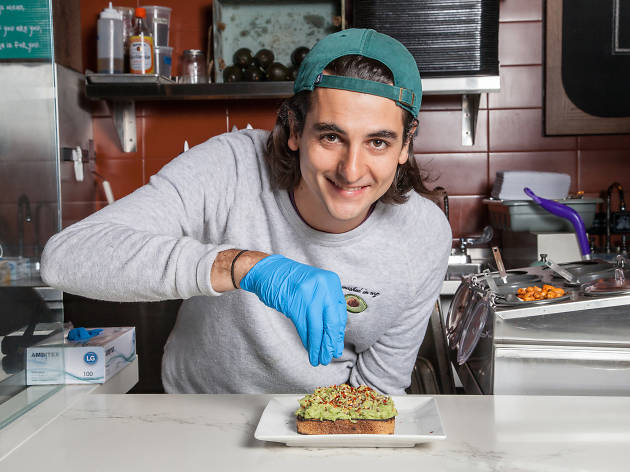 The grilling: Francesco Brachetti
Avocaderia's Francesco Brachetti, a Time Out Market New York star, on Brooklyn summers, subway singers and more
"People don't say, 'No, I don't want an avocado,' " insists Francesco Brachetti—and we're hard-pressed to disagree. That realization led Brachetti, Alessandro Biggi and Alberto Gramigni—all Italians in their early thirties—to devise Avocaderia, a shrine to the creamy fruit. The guys were new to the restaurant game yet confident about the concept, so they turned to the best audience researcher they knew: the 'Gram. People ate it up, so to speak, and soon they were getting press in New York, Amsterdam, South Africa and Milan even before they had secured a brick-and-mortar spot. Six months after moving to town, the trio unveiled Avocaderia in Industry City in 2017. The following year, a second location opened in Chelsea, and this past May, a third debuted inside Time Out Market New York. We shot the breeze with Brachetti about acclimating to East Coast winters, showing subway singers love and the beauty of summer in Brooklyn.

Have any famous people come into Avocaderia?
Yeah, we had the actor from Friends. He came to the original location.

Matthew Perry?
I don't remember his name. But then we also had Olivia Wilde. She probably lives nearby 'cause she's been here a few times.

Where have you lived?
I grew up in Florence. I lived there until 18, then I studied undergrad in Milan, then one year in Spain, one in Amsterdam and then five years in Mexico before moving to New York.

Did you visit NYC before moving here?
The first time was around 2010­ for, like, five days. Everything was so big and so fast-moving that you definitely felt a different energy from pretty much any place in the world. As a tourist, it's really mesmerizing. But once you live here, you really get the highs and the lows.
What sort of lows?
Well, moving from Mexico City, the rent here was so unbelievably expensive. I went from a 2,000-square-foot apartment with a garden to a tiny place in Sunset Park that I shared [with Biggi and Gramigni]. And the weather was definitely a challenge, much more extreme than where I'd been living before. And the commute was not as smooth as I was used to—public transportation is much better in Europe. Once you live here, you actually feel the pain of having to take the subway everyday.

What's your line?
The D train. It takes me everywhere. That's the one.

What's the weirdest thing you've seen on it?
There are a lot of weird and uncomfortable moments on the train, but there's also good—like, sometimes you'll see these old guys doing a cappella. That's the good part of New York. You see all this freedom and artistic power everywhere. It's definitely one of the most artistic subways in the world.

That's sweet that you're not annoyed by subway artists. How has your transition been to Sunset Park?
A smooth transition. It's cool. It's like I'm still in Mexico City 'cause there's this very big Latin community, so everywhere you go you can speak Spanish and find products like jicama and all types of chiles. I think it's still an authentic neighborhood. You can really feel the diversity.

What NYC food trends are you loving right now?
Well, I think healthy food is becoming more of a trend, and that's the best thing that can happen to this city. You see more fast-casual restaurants focusing on that. If you think about it, 30 years ago, no one wanted that. It's becoming cool, it's becoming hip. We're becoming more conscious about food, and I'm definitely excited about that.

What excites you about the city?
I personally love summer nights in Brooklyn—all the areas like Cobble Hill, Boerum Hill, all these beautiful bars and restaurants and gardens.

So you're more of a Brooklyn guy than a Manhattan guy?
I definitely spend June to September in Brooklyn—Prospect Park, Fort Greene, Gowanus. It's more green, open and relaxed, and that's the vibe I like.

Do you think they're ever going to clean up the Gowanus Canal?
I hope so. [Laughs] That would be amazing.


About Avocaderia at Time Out Market New York:
The "world's first avocado bar" boasts the best avocado toast we've ever had—and we've tasted quite a few. Expect heaping, sumptuous toasts, as well as creative updates, such as a bun made from—you guessed it—avocado, and eat healthy while having fun at the same time. For complete menus, more info and editors' picks, head here.