Heads up! We're working hard to be accurate – but these are unusual times, so please always check before heading out.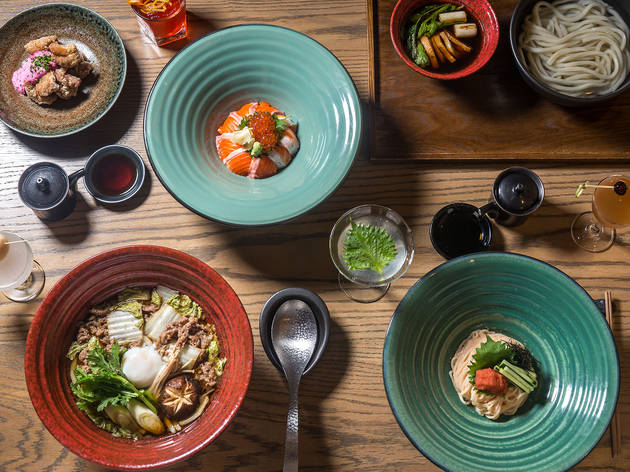 Two Japanese noodle titans take on New York
Noodle lovers turn out in droves for solo-dining ramen great Ichiran and udon emporium Tsurutontan in NYC
The distance between Japan and New York has never felt shorter, given the number of Japanese food chains and restaurants that have arrived in NYC the past two years. Each one is more concentrated than the last: tempura-focused fine dining restaurant Tempura Matsui; swank omakase counter Sushi Ginza Onodera, which specializes in wild-caught fish; and a soon-to-come Gotham outlet of Tokyo steakhouses Ikinari Steak, with "standing station" and beef doled out by the ounce.
Two of the year's biggest Japanese imports are noodle-focused, but even that seemingly common focal point falls into niche territory: Ichiran serves one sole bowl of ramen—pork-bone tonkotsu—and issues it in solo-dining "flavor concentration booths," and Tsurutontan, a "noodle brasserie," spotlights ramen's lesser-known cousin, udon.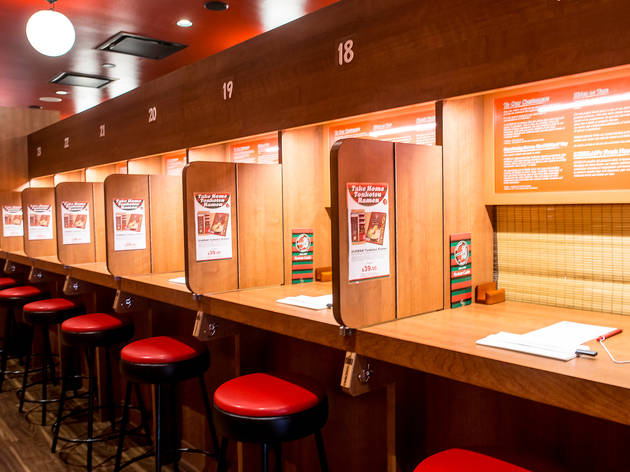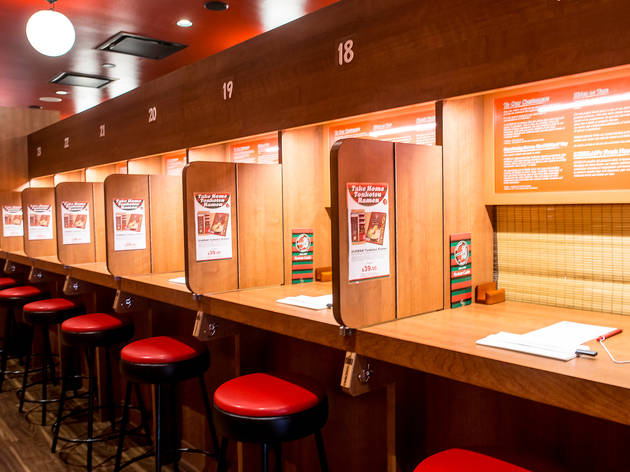 Photograph: Courtesy Ichiran
Ichiran
Photograph: Courtesy Ichiran

Ichiran, which has 58 locations in Japan from Kumamoto to Kanagawa, tried to open in New York for a decade before settling on graffiti-tagged Bushwick. It's a surprising move made clearer when you realize that the team also bought out the nearly 8,000-square-foot space next door to run as a noodle-production kitchen for the 68-seat restaurant, churning out 1,000 servings per hour of the flour-based strands.
Thin and straight, the fresh noodles have both spring and bite. You can even choose the noodle texture you prefer (from extra firm to extra soft)—as well as broth richness, dashi strength and heft of garlic—via a checklist order form. (Pro tip: Go medium across the board if you're unsure.)
It's an efficient system employed across the outpost's dining room and its signature solo cubicles partitioned by wood dividers. You seat yourself using an electronic chart that lights up green when a spot is available. Complete the form, push a button, and a faceless server grabs the order from behind a bamboo shade and soon sets a hot bowl of pork ramen ($18.90) in front of you. There's no chitchat from the waiter, no cell-phone distractions (Ichiran advises against it). You're meant to focus on what's in front of you, and you should.
Even at medium richness, the stock is surprisingly light and smooth, with a swine saltiness that holds its own against the puddle of hiden no tare (spicy red sauce) spooned on top. A fistful of scallions and a few tender slices of pork chashu are the only other accompaniments (you can customize your bowl with extra servings, for $2.90 and $3.90, respectively), but the elemental setup is simply another reminder to focus—on the savory slick of the broth, on the easy slurp of the noodles.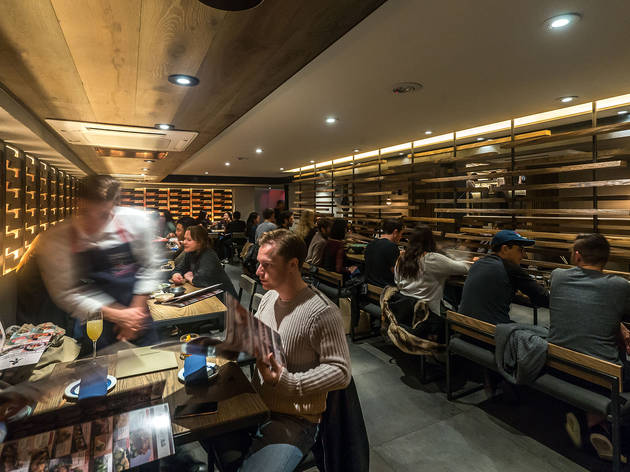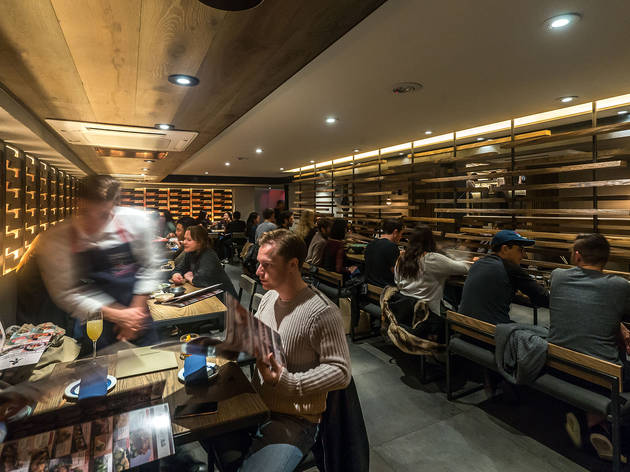 Photograph: Paul Wagtouicz
Tsurutontan
Photograph: Paul Wagtouicz

Although a few drinks and desserts are also available, the textbook tonkotsu is the lifeblood of Ichiran and treated as such. The same can't confidently be said for Tsurutontan and its udon, although you can find heaps of the starring noodle at the first U.S. branch of the three-decades-old Japanese chain. (Tsurutontan takes over the famed former Union Square Cafe space and trades white tablecloths and still-life paintings for stretches of cobalt banquettes and wall treatments that echo the curves of coiling udon.) The plump, slippery udon noodles—kneaded and stretched in-house with Japanese white wheat flour, salt and water—make up about half of the picture menu and are available thick or thin in cold noodle dishes, curries, brothless bowls and more common soups.
A chilled twirl of mentaiko caviar udon ($17) is dressed in a milky, slightly spicy cod-roe sauce, with salty little beads of brine clinging to each noodle. It's a clean, refreshing countercheck to heartier, heavier bowls like the shaggy, sweet-sauced sukiyaki udon ($19), which bobs with crags of beef, a mess of vegetables and a runny onsen egg; or a curry deluxe ($24), which glazes frizzled wands of shrimp tempura and crunchy pork katsu cutlet with a thick, savory curry sauce.
Like its Japanese siblings, the Manhattan outpost isn't shy about crowning its noodles with all sorts of luxurious add-ins (kobe rib eye, truffle, lobes of uni). But the New York Tsurutontan deviates from the rest of the udon-only chain by offering page upon page of non-noodle dishes: crispy little cones filled with spicy tuna tartare ($12); gonzo uramaki stuffed with tofu skin and sliced beef ($12); and donburi bowls with fanned sashimi slips of Faroe Island salmon ($24).
It's here that Tsurutontan's focus goes as wobbly as the noodles it serves. An odd bulb of tofu burrata set in dashi has none of the lushness of the Italian cheese it parodies ($7), and nuggets of fried chicken prove too pallid to stand up to the electric-pink shock of pickly, shibazuke-stained tartar sauce ($12).
Ichiran's adherence to attentive eating may border on the comical—the low-interaction booths give the feeling that you're eating in a library—but it's a concentration that would benefit Tsurutontan. After all, when you have noodles this good, who cares about the rest?
Read the full review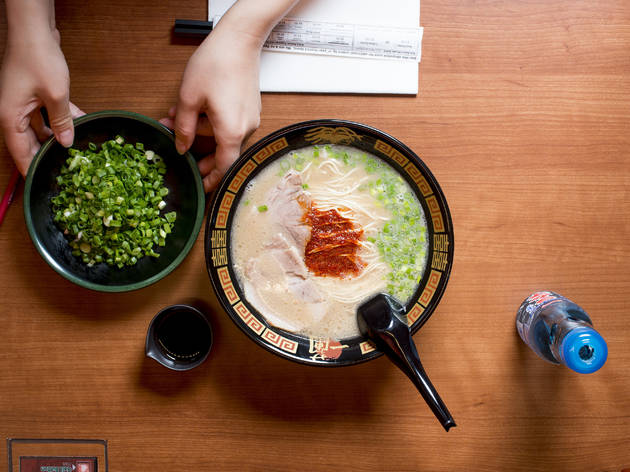 Why go?
To face your fears of solo dining with a simply great bowl of ramen. Average ramen: $18.90.
Why go?
For luxe crocks of fresh-made udon—and to see how the chain spruced up the old Union Square Cafe space. Average udon bowl: $17.