Heads up! We're working hard to be accurate – but these are unusual times, so please always check before heading out.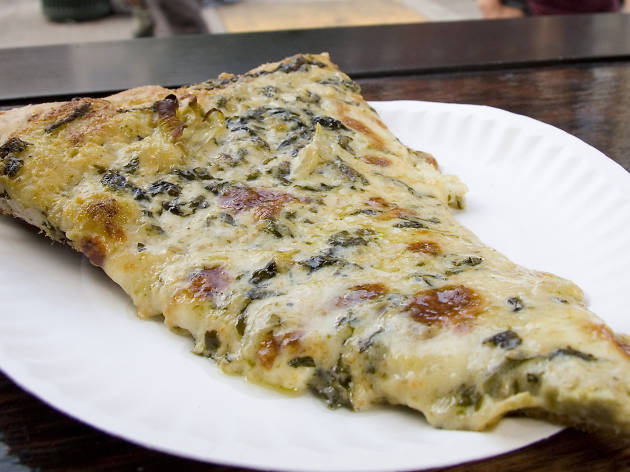 12 New Yorkers tell us where they go for the best drunk food in NYC
Got the drunken munchies? Forget that pizza slice—these late-night and 24-hour spots will satisfy any New Yorker
It's a scientific fact that everything tastes better when you're drunk, right? If you're a real New Yorker, you probably already have your go-to spot for drunken eats to ward off tomorrow's hangover, but on your next boozy foray during the wee hours, be sure to check out these late-night restaurants, food trucks and 24-hour restaurants that are beloved by our Tastemakers and staff, alike.
"Any place on Macdougal Street between Bleecker and W 3rd Street is a win-win. You can have you choice of: Kati Roll, Mamoun's (you cannot go wrong with the shawarma) Artichoke pizza, just to name a few. There is also Joe's Pizza (aka one of the best pizza in NYC) around the corner on Carmine St, off of 6th Ave as well!" –Nazra Khalid
"It might not be a big secret, but when you're craving Chinese food, Wo Hop in Chinatown will hit the spot. This underground dive spot has plates filled with your favorites and enough of it to feed your monster appetite. Best part is you don't have to wait FOREVER for the food and you know when you're drunk it could feel like hours after ordering." –Gorge Gallardo, video editor
"Hit up 375 Degrees in LES or Pommes Frites in Greenwich Village for fries that will soak up all that alcohol!!" –Elaine Chan
"Diners!! ALL OF THEM. Real Diners are 24 hours and are the perfect place to get anything your little drunk heart wants. Waffles? Spaghetti? Grilled Salmon? Doesn't matter, you can get it at these Diners."–Delia Barth, video editor
"Insomnia Cookies! They are all over the city and deliver hot, delicious cookies 'til the wee hours of the morning. 🤤🍪" –Julie Strollo Coleman
"Artichoke Basille's pizza is awesome. The slices are huge, tasty and unique. Good for soaking up all the alcohols. Also Veselka—Beceлкa is delicious and will feel like you're being fed by a Russian babushka." –Jonathan Hartig
"Sidewalk Tacos food truck. Their tacos satisfy anybody's drunchies after a night of dancing and drinking!" –Sarah Hon
"Ganni's Pizza in Clinton Hill is open until 4am and serves up crazy slices (think mac and cheese pizza) that are literally only good when you're drunk, but also, like, SO good when you're drunk."–Delia Barth, video editor
"Some nights I'm good with just a large fry from McDonald's or a 99-cent slice, but when I have a little money I love El Luchador in the Lower East Side or San Loco in Williamsburg. Nothing like a greasy quesadilla to soak up the liquor." –Lindsey Washington
"Sticky's. There is never a time when I am drunk and not craving chicken fingers. Throw in crispy french fries and an seemingly-never-ending list of condiments, and I'm set for the evening." –Jake Cohen, food & drink editor
"After a night out in the city, I like to go to Masala Times in West Village. Not only is it open until 5am Friday to Saturday, but no matter what the time, their Indian street food is authentic and delicious." –Aashna Shah, designer
"Rico Chimi in Bushwick serves empanadas until 4am with a red sauce that is so good! It's also right at the end of the street near Pizza Party, Boobie Trap and a bunch of other bars on Irving so its a prime drunk food location."–Delia Barth, video editor
"Pommes Frites. Not only are the fries cooked perfectly, with just the right amount of oil and crispiness, the wide variety of sauces will really wow your drunk brain." –Will Gleason, staff writer
"The box of Cheez-It in my apartment, because I know I will fall asleep before the food actually gets delivered to my place." –Hannah Streck, audience development specialist
Looking for more cheap eats?
There's never been a better time to eat on the cheap, New York! Discover how to feast like a high roller for 15 bucks or less.