Heads up! We're working hard to be accurate – but these are unusual times, so please always check before heading out.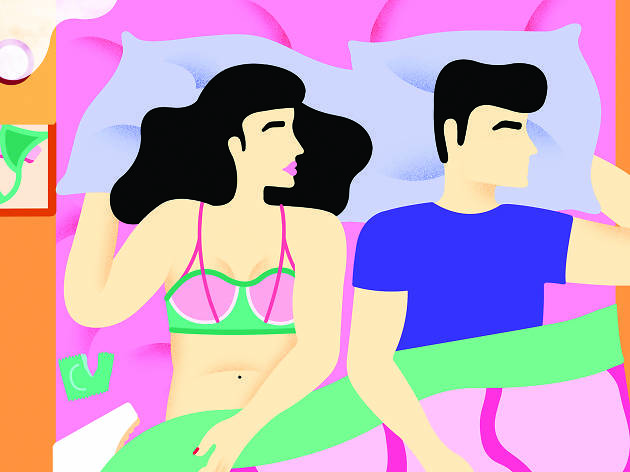 Let Us Sex-plain: I want to take my boyfriend to sex parties
Your personal wingwoman, Jillian Anthony, answers all your questions about dating and doing it in New York
I get it—being single in the city can be tough, and the ways New Yorkers are having sex these days can be surprising. But whatever your dating conundrum might be, I'm here to help. Consider me (Jillian Anthony, Time Out New York's Editor) your personal wingwoman, guiding you through dating and doing it in New York in our weekly "Let Us Sex-plain" column. Check out my answers to all your questions online and in the magazine every Wednesday, and submit your own coitus queries below!
My friend finally broke up with his long-term girlfriend, and I have always found him extremely attractive. I don't want a relationship—I honestly just want to sleep with him. When I try to talk to him about it, he almost always changes the subject. I think we would remain friends if we did have sex. I haven't had a lot of experience with men, but aren't they usually down for just sex?
—Jennifer, Williamsburg
It's a potentially damaging stereotype to assume that all men are up for no-strings-attached sex, just as it is to assume that women don't want or need sex as much as men do. Whether your friend is upset about his breakup, would rather preserve your friendship or just isn't interested, by avoiding the topic multiple times he's been pretty clear that having sex with you is not something he wants. As his friend, you need to respect that, rather than continue to bring it up in an attempt to change his mind.
I love my boyfriend...but sex parties sound fun! How do I get into the scene without any jealousy (mainly from me!) getting in the way?
—Hannah, East Village
First, make sure this is something you and your boyfriend both want to explore and genuinely feel comfortable with. If he's not into it, pushing him will certainly cause problems. Next, set clear rules and expectations for the party itself, so there's no miscommunication or guesswork involved. For your first time, consider committing to fooling around only with each other, so that you can take in the environment and see how you feel without any added pressure. If that goes well, you can gradually move on to kissing other people—taking a moment to check in with each other and assess how you feel—and progress to the fun stuff from there. Be brutally honest with yourself and each other about boundaries, and don't rush into anything you're unsure about. And remember, just because you try something once doesn't mean you have to keep doing it.
Read previous weeks' sex columns
Your personal wingwoman, Jillian Anthony, answers all your questions about dating and doing it in New York. Read them all here.