Heads up! We're working hard to be accurate – but these are unusual times, so please always check before heading out.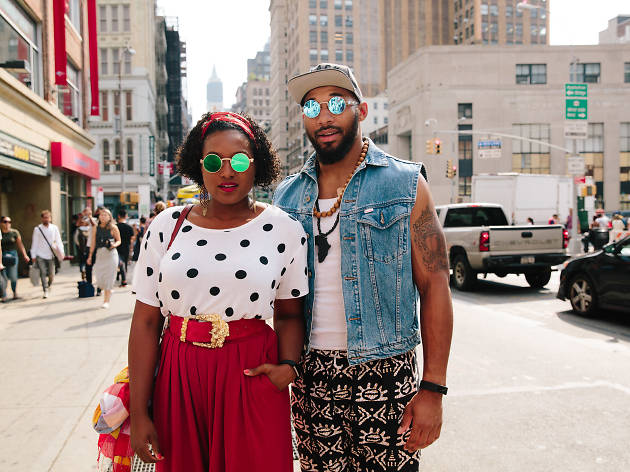 Fall fashion: Get inspired by these NYC street-style photos
Ahead of New York Fashion Week, we hit the pavement to snap New Yorkers who make the streets their runway every day
You don't need a seat at Fashion Week to realize we live in a style mecca. As New Yorkers, we know the real show is on the street, not on the runway. That's exactly what lifestyle photographer Joel Barhamand proves with his shots for our fall fashion issue. The wide array of enviably outfitted folks—who hail from Castle Hill in the Bronx, Harlem, Flatbush in Brooklyn and beyond—nail looks ranging from subdued to loud as hell. But they also share one common trait: They really don't give a damn what you think about how they're dressed.
Photograph: Joel Barhamand
Nelson Martinez
23, events manager living in Washington Heights
"I got this jacket at a thrift store in the Little Five Points neighborhood in Atlanta. It spoke to me. I love bold prints and patterns surrounded by simple staple pieces and chunky accessories. I think that in New York now, there's more freedom to express yourself than before. There was a little bit more stereotypical cookie-cutter style before Instagram and other platforms. Now it's more of a free-for-all. People can do whatever they want."
Photograph: Joel Barhamand
Rome Miller
47, retailer living in Harlem
"My hat was just designed by my friend François. The jewelry is also designed by friends—from Brooklyn and the Lower East Side. I have one dear friend who's considered a dandy. He has money; he always had an amazing apartment, a closet full of some of the most amazing pieces. But he's always like, 'Rome, I wish I had your style, I wish I could dress like you.' I just think people are afraid to be themselves."
Photograph: Joel Barhamand
Lauren Chan
27, fashion features editor living in Crown Heights
"Before I worked for Glamour, I was a plus-size model. I was a size 10 or 12 for a long time. And this past year, I became a size 16. And even though plus-size fashion is my beat, the difference between those two sizes is incredibly challenging, and it's really woken me up to a lot. Style is really kind of like a luxury that sometimes we don't have. I actually made these gingham pants. They were designed by me for Glamour x Lane Bryant (lanebryant.com)." Instagram: @lcchan
Photograph: Joel Barhamand
Rocky Abdul and Derek Lipscomb
29, physician, and 28, educator living in Flatbush
"My style is a mix of budget and vintage. Like, this is my mom's belt. I found it hiding at the bottom of her closet a few years ago. And I got these sunglasses for 10 bucks on the street in Harlem. Anything you put on can actually be a fashion statement, but that confidence piece is a big part of it, too. New York really bolsters that, really wants you to venture out there."—Abdul
"My pants are from the African Market in Harlem (2278 Frederick Douglass Blvd [Eighth Ave]). The African Market is perfect because they have a number of different styles that are also wallet-friendly. I think New York is the perfect place to experiment without feeling out of place. My students always see me wearing crazy things— from floral blazers to bow ties."—Lipscomb
Photograph: Joel Barhamand
Alex Gaines
43, fashion designer living on the Upper East Side
"I'm wearing a Lisa Marie Fernandez dress (lisamariefernandez.com) and Céline flats (celine.com). I like to wear things that feel effortless and comfortable but are timeless. I don't like to feel trendy. I'm too old for that. I think in the last decade with the advent of social media, [fashion's] gotten a little insane. I think that's also what makes me want to wear timeless clothes. It's a little busy, visually, in Manhattan."
Photograph: Joel Barhamand
Alani Figueroa
21, dancer living in Castle Hill
"My style's very urban, very colorful. I love colors. And I feel like I incorporate a lot of different cultures, like African and Indian styles, stuff like that. With the makeup, it's whatever goes with my style that day. Sometimes I do little eye dots. That's usually my signature thing. My pants—I actually got them in [Pasadena] California. It's called the Rose Bowl, this huge thrift market that they do. And I got that and then a little jacket for, like, 40 bucks. Not bad."
Photograph: Joel Barhamand
Sable Yong
31, beauty editor living in Williamsburg
"This is a Reformation dress that I thrifted from Beacon's Closet. I get the smugness of being eco-conscious by buying an ethical fashion brand from a secondhand shop, so it's like double smug. I have this green bag from Creatures of Comfort that I like because it's weird and it holds my stuff. What's my fashion sense. I actually wrote a story about this: How I wish to look like a carefree rich girl at all times."
Photograph: Joel Barhamand
Wayne Booth
21, model living in Harlem
"It's hot now, so sometimes I wear my little shorts, wear my little tank top. But mostly I dress like this for the summer. I'm from Jamaica; it's always warm there. My hair has always been natural. I don't really wear a lot of makeup and stuff like that. It just suits me."
Photograph: Joel Barhamand
Bruce Stark
77, living in Murray Hill
"I bought the shoes at a booth at the American Crafts Festival at Lincoln Center (craftsatlincoln.org). They're Peruvian and they're cool. The hat is a 10-dollar off-the-street Chinese paper hat. And this bracelet was my father's identification bracelet, and it's probably at this point a hundred years old."
Photograph: Joel Barhamand
CJ Guarascio
30, living in Marble Hill, Bronx
"I find that a lot of people are offended by my style, but I think that these are just people with small minds and maybe they shouldn't be in New York in the first place. My style is, just be yourself. Do what feels right, and who gives a crap what anybody thinks."
Looking to up your own fall fashion game?
Get your fashion fix at the best clothing stores in New York City, from posh boutiques to sprawling department stores