Heads up! We're working hard to be accurate – but these are unusual times, so please always check before heading out.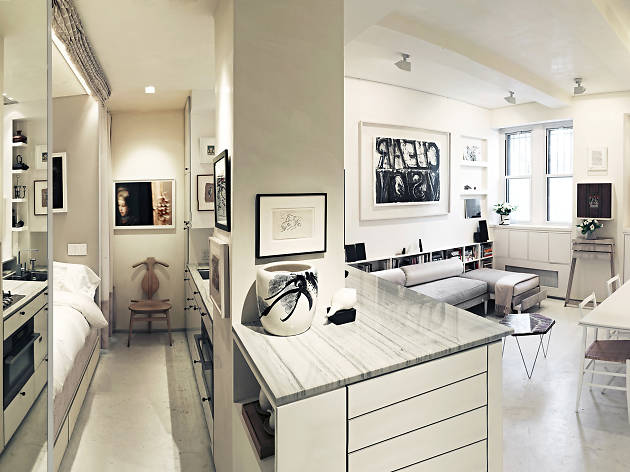 Awesomely stylish micro apartments in NYC
Find out how New Yorkers turned their extremely tiny Manhattan apartments into envy-inducing, chic pads
There are, of course, tons upon tons of reasons to love New York. Apartment space, however, isn't one of them. Discover how a handful of locals morphed their ridiculously small pads into amazing spaces. Plus, if you're looking for a new spot yourself, check out these apartment and real estate apps and our guide to all things apartments. Happy hunting.
RECOMMENDED: Full guide to apartments in NYC
Stylish micro apartments
350-square-foot studio in Midtown East
When actor Adam Kantor nabbed a role in Broadway's Fiddler on the Roof, the globe-trotter decided to put down roots. So he bought a lilliputian studio, favoring handy amenities and the convenience of being a short Citi Bike ride from the theater over size. To maximize the space's functionality, he opted for double-duty furniture, choosing a Murphy bed that transforms into a sofa without having to take items off the shelves—a daily task that's become "sort of a ritual"—and a slim desk that stretches into a dining table, both from Resource Furniture. Taking a cue from his friend Mike Harrison, who designs backstage dressing rooms for top Broadway stars, Kantor chose to go bold with color and introduce details like a printed vinyl wallpaper from ConcreteWall. "There are no blanket statements for living small," Kantor says of his approach. "It's like what we do in theater: You make a big choice, and if it doesn't work, you change it."
350-square-foot studio in Soho
Graham Hill believes everyone could use a good edit. That's why the founder of green-design site TreeHugger created a hyperefficient dwelling to showcase his philosophy of doing more with less. Beyond paring down his possessions for the space (couch, bed, television, microwave, table), Hill uses creative convertible solutions, like Hufcor accordion walls that transform the office into a spare bedroom. Custom modular seating—with storage built in, of course—reconfigures into an L-shaped couch or even a queen-size bed, and a Resource Furniture table rises to host dinner parties for 10. The richly appointed home does more than some apartments twice its size. "We've supersized ourselves over the last 50, 60 years...and it's not working," Hill says of the current consumer's need for more and more. He is currently developing an off-the-grid house in Maui, Hawaii. "If you're smart about how you apply design technology and perhaps a little bit of behavior change, you can create smaller ways of living that save you money and really lower your footprint. A smaller life is a happier life."
400-square-foot one-bedroom in Nolita
When creative director Ami Kealoha found a shabby apartment in Nolita, she knew a little work could make the "eccentric" rental a home. "There was wallpaper on the bathtub," she recalls. "It hadn't been updated in decades and needed a new coat of everything." So she hired Keren and Thomas Richter, who took on the overhaul (and its tiny budget) as the first project for their design firm, White Arrow. The landlord repainted walls with Benjamin Moore's crisp White Dove, and the designers stripped outdated embellishments and poorly hung cabinets. Then they outfitted the space with slim-lined furnishings in chrome and Lucite to create a bright, hotel-like vibe, curating every detail down to the dishes to create a cohesive color palette. "In a small space, you're going to see everything at once," explains Keren. "You want to think about how the eye travels." And you don't have to own your home to make a change. "Paint can do wonders," notes Kealoha—even on a rental. You may want to think twice about coating the bathtub, though.
425-square-foot one-bedroom on the Upper West Side
Six stories up in an Upper West Side brownstone, an apartment with soaring 25-foot ceilings once sat underused—with little more than a basketball hoop hanging from the wall. Then the owner called architect Scott Specht (then of the firm Specht Harpman) with the willingness to do the unexpected. "It unfolds and expands into something that feels extremely large, light-filled and expansive," Specht says of the result. He found the solution by looking up, devising a four-layered plan he calls the MiniLoft, which stacks living spaces on a series of platforms, including a cantilevered bed. Storage, meanwhile, is tucked under a pair of stairways in a move inspired by the Japanese tradition of kaidan dansu. But it wasn't easy to complete a project in such a compact building. "Sheetrock had to be cut in half to be sent up," explains Specht. "It was like building a ship in a bottle."
375-square-foot studio in Greenwich Village
Friends were surprised when Suchi Reddy purchased her shoebox Manhattan studio. After all, the architect's firm, Reddymade Architecture and Design, creates grand homes with budgets to match. But the Fifth Avenue location couldn't be beat, and Reddy was inspired by the challenge the former dentist's office provided. "The theme was to figure out how to live as large as possible in as small a space as possible," says Reddy. So she studied her daily movements through the space and created models complete with a to-scale figure of herself. To keep things bright, she created sight lines from the living area—with a dining table that rises on custom motorized pulleys—into the kitchen, through to the bedroom, the shower and the window to the street beyond. Venetian plaster walls, a white fiberglass concrete floor and a mirror positioned to reflect a Bruce Nauman painting also brighten up the space. "I'm always trying to bounce light in the right way," explains Reddy.
Looking to get out of your apartment?
From historical landmarks to newer destinations, here are the best New York attractions for locals and tourists alike