Heads up! We're working hard to be accurate – but these are unusual times, so please always check before heading out.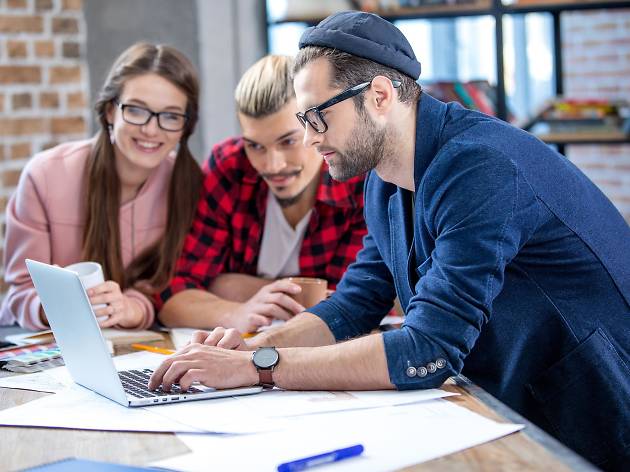 Nine classes in NYC that could help you get a promotion
Ready to snag that corner office? Sign up for these classes in NYC that could help you get a promotion.
Looking for a way to give your career a boost other than getting an MBA? Start with skills-based classes in NYC that might just help you get a promotion. Whether you sign up for coding workshops or language classes in NYC, you'll learn valuable new skills that could translate into a title bump or pay raise. It's not totally business-focused, either: Desk jockeys might be surprised to learn that acting classes in NYC can improve your public speaking skills more than any other course. Pretty soon, you'll be celebrating your new promotion with dinner at one of the best restaurants in NYC.
RECOMMENDED: Full guide to classes in NYC
Classes in NYC that could help you get a promotion
Forget the MBA and CPA: The in-demand acronyms these days are HTML and CSS. Even if you don't work in the tech industry, digital literacy is becoming increasingly important to employers. Learn the basic principles of web development in this four-hour course at General Assembly. You'll be able to talk Javascript and jQuery with your office's tech team in no time. $140
Improv for Professionals at Input Lofts
Everyone from administrative assistants to C-suite executives relies on public speaking skills in their careers. The best way to get comfortable speaking in front of others? Signing up for a beginners' improv class. After all, the basic principle of improv—responding to every question with "yes, and"—applies in almost any professional setting, too. Once you feel comfortable doing a scene with classmates you just met the hour before, presenting during a board meeting will seem like no big deal. $40
Introduction to Adobe Photoshop at Spectrum Creative Consulting
Even if you don't work in a creative industry, learning your way around Adobe Photoshop will certainly come in handy. This class covers all the basics, including cropping, masking, layering and understanding file formats and resolution. Never send out a grainy photo or pixelated logo again! $475
Whether you oversee a team of 15 or just yourself, solid time management, planning, analysis and scheduling skills are a must. Brush up on all the organizational techniques you need to succeed in an introductory project management class at Baruch College. After five sessions, you'll know how to whip up a project plan or deliver a concise update at the drop of a hat. $614
With both group classes and private lessons in 20 different languages, ABC Languages has something for everyone. Sign up for lessons in Arabic, Mandarin, French, Spanish or any other language to gain a new skill to add to your resume. This school's roster of clients includes the College Board and the FBI, so you know they have to be pretty good. $45–$275
"The only words I write are emails." "Who cares if I use correct punctuation?" "But I'm an engineer!" Even so, proper grammar, spelling, punctuation and sentence structure still matter. Find out how to craft beautifully simple emails and polish complex documents in a business writing class at Gotham Writers' Workshop. Trust us: It makes a world of difference. $350
Known as one of the best art and design schools in the country, the Pratt Institute is an ideal venue for fledgling designers to practice their craft. Whether you're ready to change careers or just looking to kick your side hustle into high gear, the 12-session graphic design class will teach you all the fundamentals you need to know. Assignments like logo design, posters and magazine layouts stem from real-life experience, so you're prepared for anything your clients throw at you. $975
Dreaming of watching your designs walk the runway at New York Fashion Week? Start with the basics in a beginner's sketching class at FIT. You'll focus on drawing fashion figures from live models to help your designs really pop off the page. Project Runway, here you come! $90
Microsoft Excel Essentials at the Technical Institute of America
Much as you might scoff at someone who lists Microsoft Word as a skill on their resume, mastery of Excel really is something to brag about. The complex formulas, PivotTables, charts and reports in the program can seem impossible to learn on your own. Thankfully, the instructors at the Technical Institute of America will break all the specifics down for you over the course of this 8-hour class. $149
Looking for more classes in NYC?
Channel your nostalgia in one of these back-to-school classes for adults in NYC