Heads up! We're working hard to be accurate – but these are unusual times, so please always check before heading out.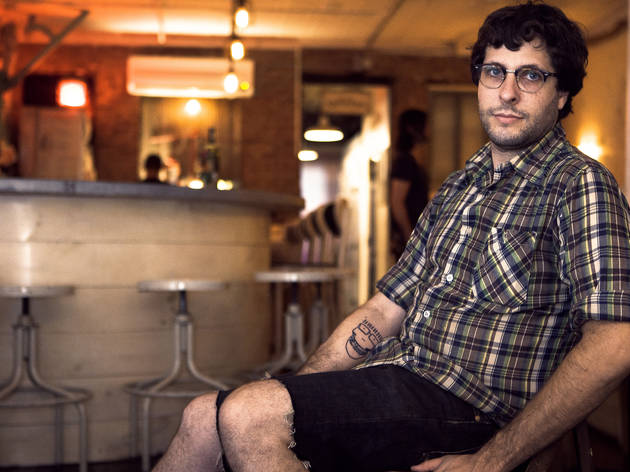 1/14
Photograph: Zenith Richards
Co-owner Aaron Lefkove on the origins of Littleneck: "We were just standing in Andy's backyard, having a barbecue. We talked about how I wasn't really happy with what I was doing. And [Andy was] like, 'Yeah, I'm not really happy either.' We started coming up with this small little flash of inspiration and we were literally, like, making plans over a grill."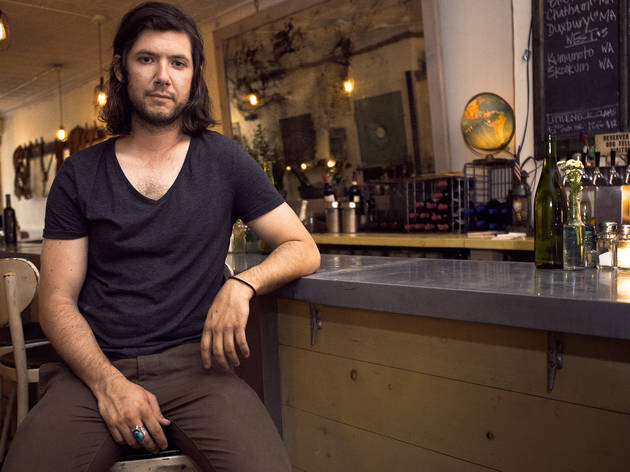 2/14
Photograph: Zenith Richards
"It's so hard to afford things in New York," says co-owner Andy Curtin of decorating and building the space. Instead of looking for high-priced items in the city, he salvaged materials from Massachusetts, Maryland and other nearby states—these stools, for instance, came from a closed biker bar in Asbury Park, New Jersey. "Trust me, they're clean and refinished," he laughs. "The owner tried to sell me a Jacuzzi while I was in there, too."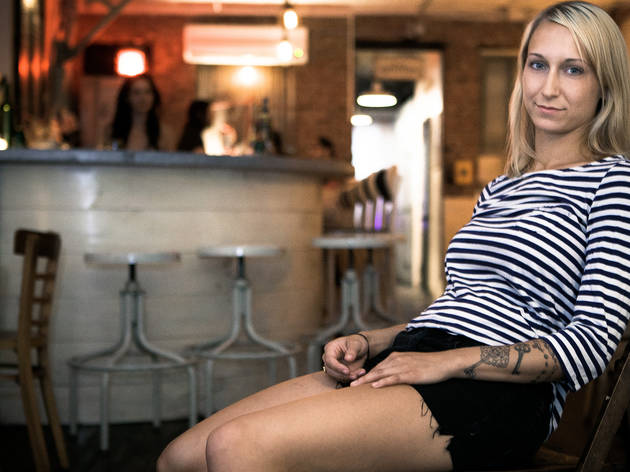 3/14
Photograph: Zenith Richards
Server and Gowanus resident Bailey Saliwanchik has been working at Littleneck since the day it opened. "They're fun to work for because they haven't really dealt with a restaurant, so they're not uptight," she says. And there's, refreshingly, "zero micromanagement," she adds. "I've worked for people that have been in the business for, you know, 25 years. This is a much more relaxed, fun environment."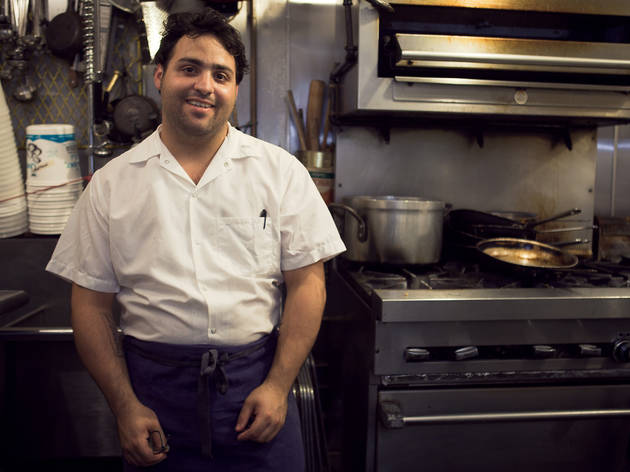 4/14
Photograph: Zenith Richards
Littleneck's chef, Joe Aponte, shares this story about his lightning-fast hiring: "I was working at the Gowanus Yacht Club. And Alan Harding [Littleneck's original chef and current partner in the Pines] comes in one day and goes, 'Hey, you're a cook, right?' And I go, 'Yeah, I've cooked in a few nice places.' And he goes, 'I've got this place I'm going to be the chef at; do you want to come be my sous chef?' And I go, 'Yeah, sure. When does that start?" And he goes, 'Right after this is over.' And so I came in here and met the owners, and that was it. Love at first sight."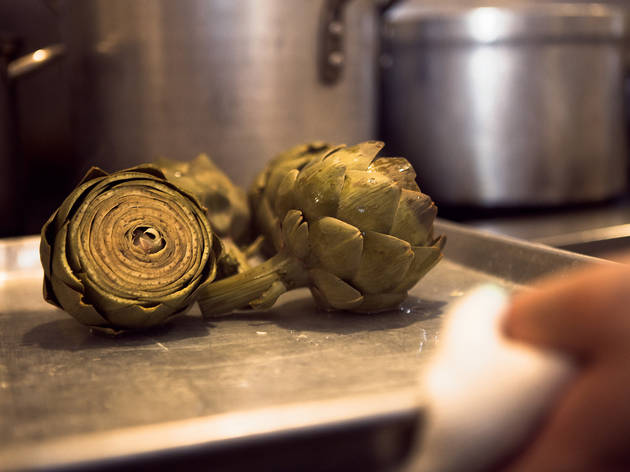 5/14
Photograph: Zenith Richards
When Littleneck's original chef, Alan Harding, left to supervise construction on the Pines, Aponte was promoted to head chef. He likes that his role here is more hands-on than he's experienced at other restaurants. "Everything happens back here: prep, service," he says of Littleneck's tiny kitchen.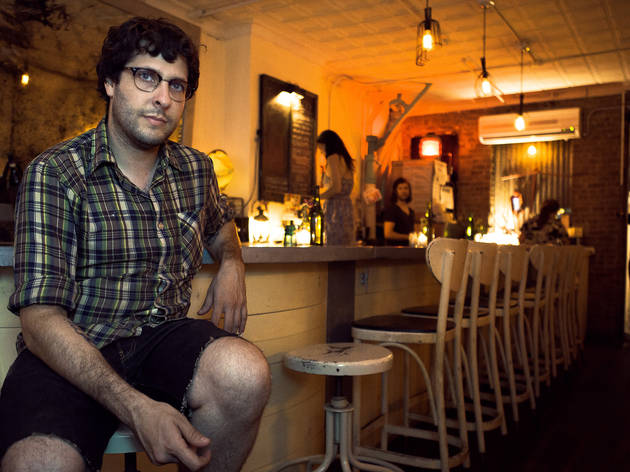 6/14
Photograph: Zenith Richards
"Where Littleneck is of the sea, the Pines is of the land," says Lefkove of the duo's new venture, the menu for which will rotate almost daily. "It's sort of an adventurous, progressive take on meats, cheeses and market vegetables. We're rolling our own pasta, curing our own salami." Curtin and Lefkove anticipate an opening date of September.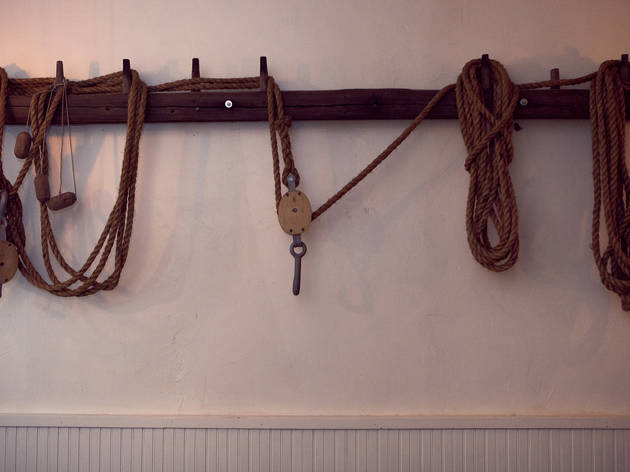 7/14
Photograph: Zenith Richards
Many of the nautical knickknacks that make up Littleneck's decor are from the turn of the century. "Andy would go to a lot of salvage places and shipyards, and he would find pieces like this rope," says Lefkove.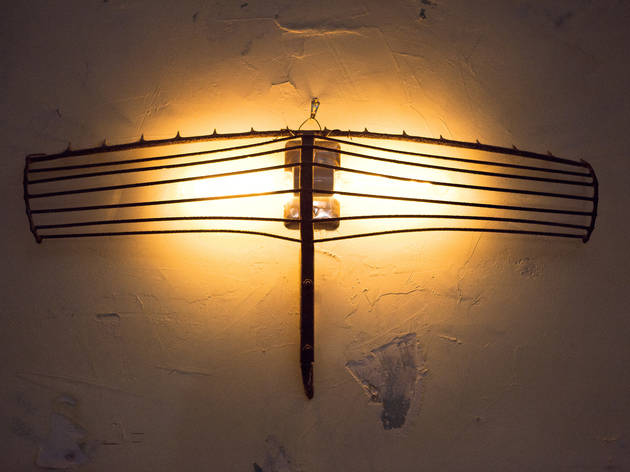 8/14
Photograph: Zenith Richards
An old oyster rig was fashioned into a stylish lamp.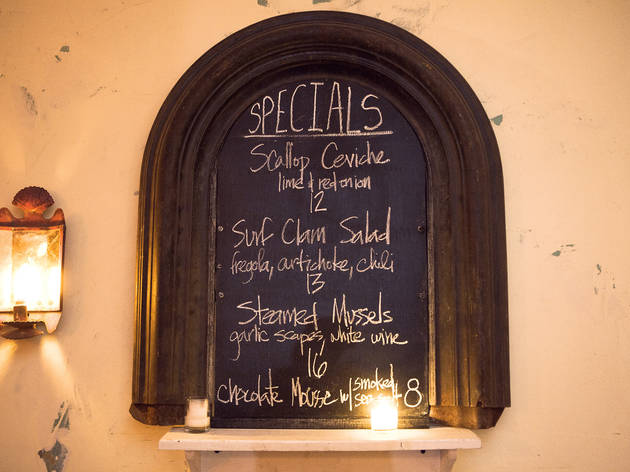 9/14
Photograph: Zenith Richards
"[The daily specials] have really become a focal point of our business," says Lefkove. These dishes depend upon the ingredients that arrive during each day's deliveries. "We don't have a basement, so we really only have enough storage space to bring in product for the day," explains Curtin.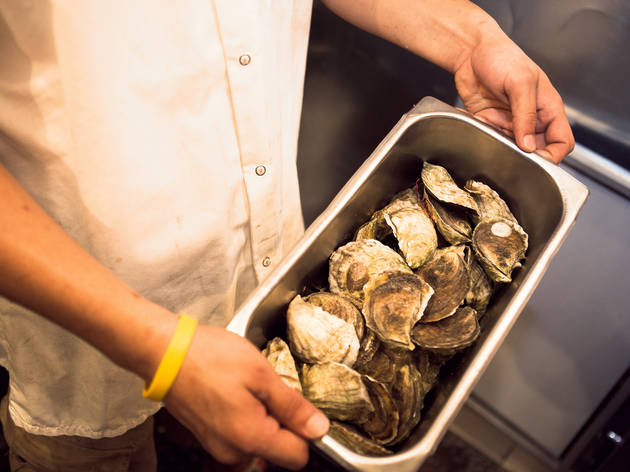 10/14
Photograph: Zenith Richards
A batch of that evening's oysters. "Nothing has come out of the canal," says Lefkove with a laugh, noting the restaurant's close proximity to the Superfund-designated Gowanus Canal.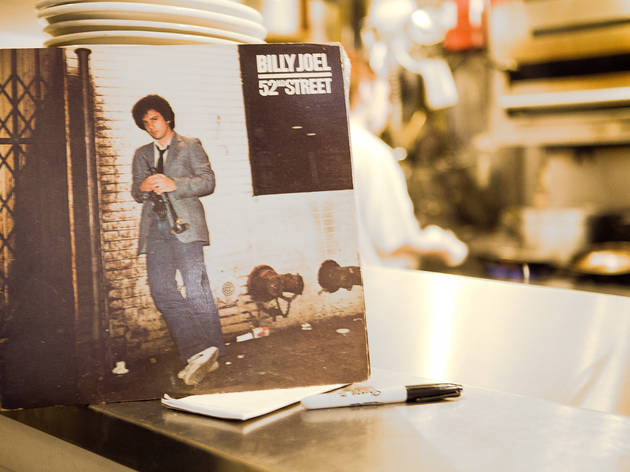 11/14
Photograph: Zenith Richards
"This Billy Joel record was reclaimed from a dollar bin at a record store," says Lefkove of the LP that often lies on a shelf above the serving station. "So [cooks] only work under Billy Joel," says Curtin with a laugh.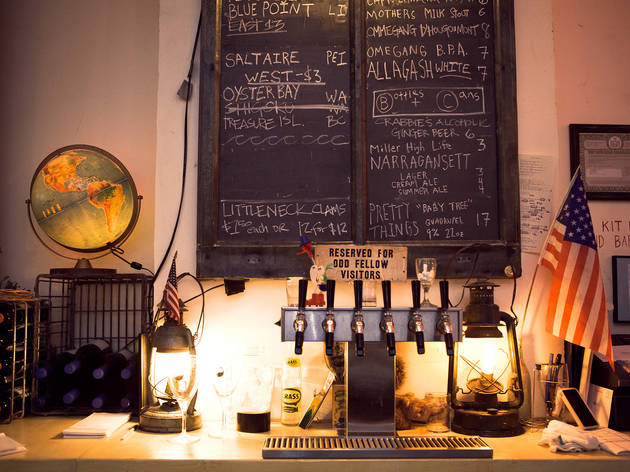 12/14
Photograph: Zenith Richards
A sign above the bar details the craft brews on draft and where that day's oysters were caught.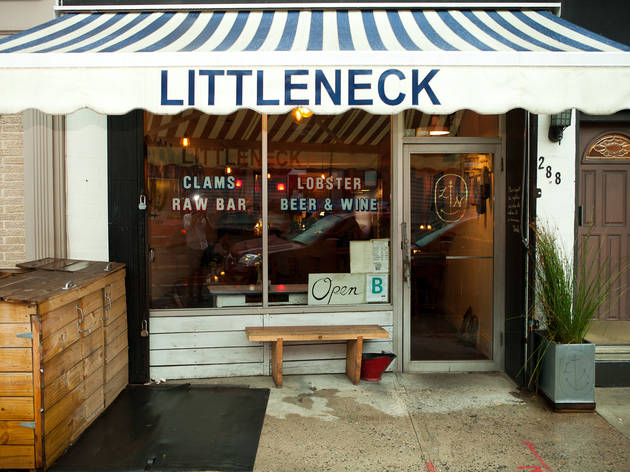 13/14
Photograph: Zenith Richards
Littleneck's exterior.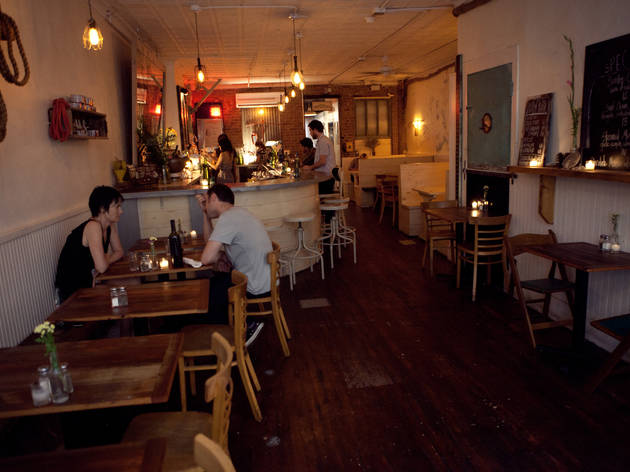 14/14
Photograph: Zenith Richards
Littleneck's interior.
Cool NYC companies: Behind-the-scenes at Brooklyn restaurant Littleneck
Take a peek at Gowanus restaurant Littleneck, which was partially funded by Kickstarter, and find out what it's like to work at this Brooklyn eatery.
Longtime pals Andy Curtin and Aaron Lefkove, co-owners of the popular Gowanus clam shack Littleneck (288 Third Ave between Carroll and President Sts, Gowanus, Brooklyn; 718-522-1921, littleneckbrooklyn.com), toiled in unsatisfying jobs before deciding to enter NYC's cutthroat restaurant game. It was a daunting task, especially considering both had barely any experience in the industry. But since it opened last October, Littleneck has become a destination, attracting customers from the five boroughs and beyond. (A wait for a table on weekends can hover around two hours.) The tiny, dimly lit space, with 13 tables plus 11 seats at the bar, has a lived-in, by-the-sea vibe.
Part of the restaurant's popularity can be traced to its fund-raising campaign through Kickstarter. Curtin and Lefkove raised about 5 percent of their start-up capital via the crowd-funding site, offering incentives like oysters for life (with a pledge of $5,000). "It ended up getting picked up by the press, and all of a sudden, it was on every food blog," says Lefkove. "I remember [seeing] John Hodgman tweeting about it, and I was like, Wow!" In the next couple months, the duo plans to open another restaurant, the Pines, two doors down, with chef Angelo Romano (Roberta's). We spent an afternoon at the eatery to see how it operates.
Wanna work here?
"People leave or find other jobs or their bands have to go on tour, so we're always on the lookout for really great people," says Lefkove. For jobs in front of the house, he looks for servers who are enthusiastic and want to really understand the restaurant's cuisine and drinks. Curtin adds that for kitchen jobs, there is a trial period: "Someone will trail [a staffer], and if they work out, they're offered a job."
Career advice from the Littleneck crew
"Jump, don't look. Just jump. [Starting a new career is] really hard, but it's never going to be as hard as you think; it's never going to be insurmountable. And a good idea that speaks to people trumps everything else."—Aaron Lefkove, co-owner
"If you don't know what you're getting into, surround yourself with people who do."—Andy Curtin, co-owner
You might also like
Kickstarter's expanding influence
The Gowanus walk
Nightlife guide: Gowanus and Park Slope
See more in Things to Do