The guide to Go Topless Day 2016
Take your top off! Thousands of New Yorkers band together to support gender equality during Go Topless Day 2016.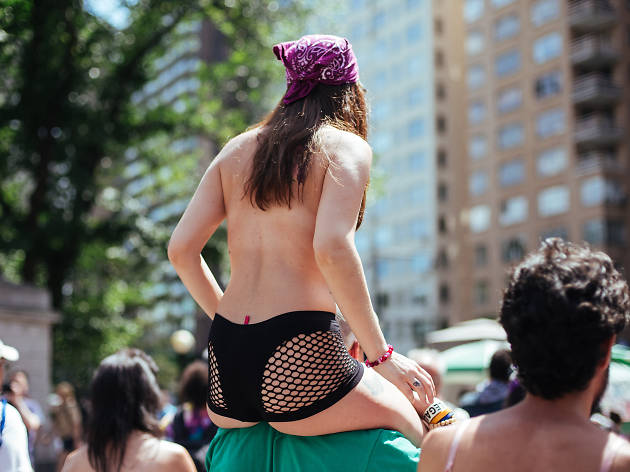 The Times Square ladies won't be the only ones baring their chests during Go Topless Day 2016. In fact, all those who support gender equality are welcome to free the nipple and proudly march through Manhattan during the Pride Parade. If you didn't already know, it's 100% legal to roam around New York topless (yes, even out in the open at the best NYC parks), so unhinge your bra, take your top off and screw the patriarchy during one of the best and most scantily-clad NYC events in August.
What is Go Topless Day 2016?
Go Topless Day encourages women (and the fellas!) to proudly bare their chests and march through Manhattan, while showing their support for gender equality. NYC legally allows women to be topless, but for full safety, police will block off the parade route. And it's only fitting that the body-positive event takes place 48-hours after Women's Equality Day on Friday, August 26, 2016 (the day women were first given the right to vote in 1920). For more information, check out the official Go Topless Day website.
When is Go Topless Day 2016?
Go Topless Day falls on Sunday, August 28, 2016. The parade gathers at 11am and the march begins at 1pm.
Where is Go Topless Day 2016?
Those participating in the Go Topless Day Parade should meet at W 58th St and Eighth Avenue. The march continues down Broadway to W 48th St and down Second Avenue. The rally kicks off at E 47th St, Dag Hammersjold Plaza (1:30–4pm).
Archive Go Topless Day content