Heads up! We're working hard to be accurate – but these are unusual times, so please always check before heading out.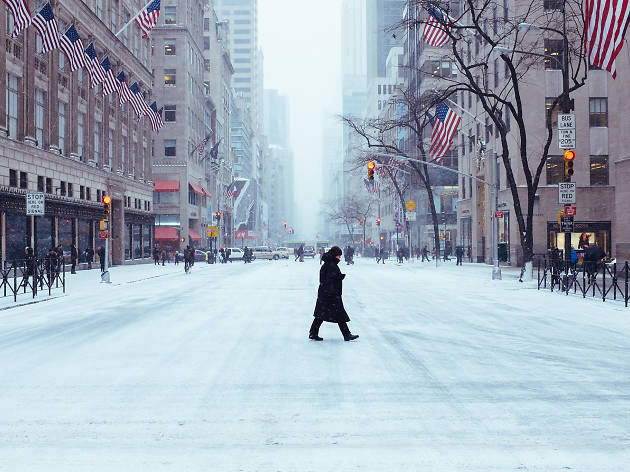 How not to be a dick during a blizzard
Here is your friendly reminder of how NOT to behave in the midst of the blizzard in NYC
Winter in NYC means slush puddles, below-zero temps and snow, of course. This is not new news, but somehow, New Yorkers have a tendency to throw all etiquette out the window as soon as the white stuff starts coming down. (We're talking about you, umbrella holders in the snow.) The next time you bundle up in your winter survival gear and venture outside for a winter getaway or snack run, just remember to be courteous and follow our guide. Your fellow icicles, er, New Yorkers will thank you.
RECOMMENDED: Full guide to things to do in the winter in NYC
Go shopping tonight rather than ordering delivery tomorrow.
If you do order anything for delivery, tip 25 percent. PERIOD. And maybe hand them a beer for the road.
Speaking of grocery shopping: You don't need EVERY loaf of bread and ALL the milk. But please do take all the kale.
Don't eat/drink all the rations before noon and then be like, "I don't know where all the Hot Pockets went. Maybe you ate them?"
Don't drink all your rommmate's booze while they're at work (they still had to go in, poor bastard) then feign innocence when they finally get home, half frozen to death, aching for whiskey.
Don't speak to your roommates. Just because you're all home together, doesn't mean you should have to interact during work hours. This is my nap time!
Don't get so wasted that you pass out by 4pm and don't even get to appreciate the sweet innocence of a snow day.
Don't throw snowballs. They'll probably just hit a poor passerby (who also happens to be a delivery person schlepping Thai food to your door).
Don't play super-loud music all day while everyone else in your building is trapped there with no choice but to listen to that Miley Cyrus album you're still into.
Don't tamp out your snow-covered boots on a freshly-shoveled sidewalk, with the person who just shoveled it still standing there, looking at you with murderous eyes.
Don't leave chairs/cones/whatever out to save a parking space. DON'T.
Don't share pics of your current trip from Florida or other warm location. Have some damn respect.
If you see two legs sticking out of a snowbank—and they're wiggling—pull!
Need somewhere to get warm?
When the winter chill really sets in, you're bound to see bargoers flocking to the coziest bars in town