The 13 best bars with fireplaces in NYC
When it's so cold outside that drinking isn't enough to warm you, seek out the best bars with fireplaces in NYC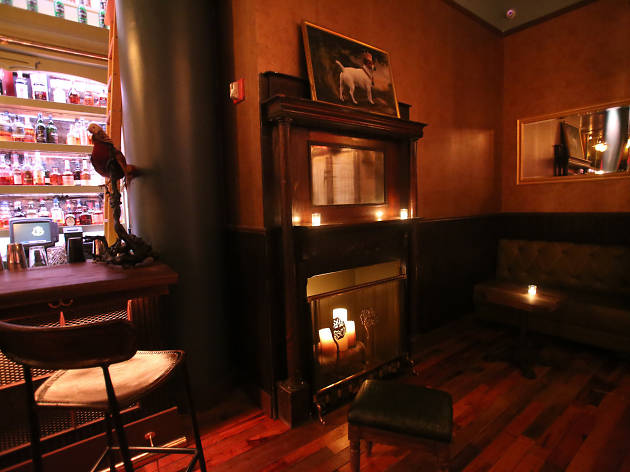 New Yorkers are a tough breed, but when the winter chill really sets in, you're bound to see bargoers flocking to the coziest bars in town. Amidst frosty winds and wet snowfall, even the most hardened urbanite will appreciate rustic warmth of a roaring fire. From romantic spots to hoppy beer bars, these are the best bars with fireplaces NYC has to offer.
RECOMMENDED: Find more of the best bars in NYC
Best bars with fireplaces in NYC
Sponsored listing
Beer Shop NYC
Sorry, wine—beer is coming for your spot as the new drink to obsess over. Dedicated shops are popping up all over the five boroughs, all with plenty of suds from all over the world on tap. Beer Shop NYC, located on the Upper West Side, is one of the best, offering a varied selection and knowledgeable, helpful staff. Ten taps run through a series of curated kegs every season, and beers ($8-$12) range from light, sour gose to dark, stormy stout. On a recent stop, the taps featured breweries like Finback, Nine Pin and Kent Falls, but because the beers change so often, there's no telling what you'll find (and what will be your new favorite). If you're having trouble choosing your next pint, taste four different beers in a flight ($15). You can also take some home in a growler—prices for these large jugs vary by beer, and all growlers are $5 off on Mondays. Beer Shop NYC also stocks a varied selection of canned and bottled beers in refrigerators in the back of the shop. Organized by region, you'll find brews produced everywhere from San Francisco to Montauk. Bring home an assortment for your next Netflix binge, or, for an added fee, open up one of those cans or bottles right then and there. Hungry? Mixed nuts, beer corn (popcorn coated with a syrup of reduced beer, like a boozy Cracker Jack), rice crackers, "wicked mix" (a spicy Chex Mix-like blend) and hard pretzels are good nibbles, but they don't make a full meal, so plan accordingly. The long, thin layout of the shop is coz
"Over Three Hundred assortments of Beer to Stay & to Go. Create Six Packs as you wish... 5% off mixed six's & 15% off solid six's..."
Upper West Side
Online booking