The Fab Five of Queer Eye have taken over Time Out this week and they're sharing everything from their favorite things to do in NYC to their go-to products and self-care tips. The show's stylish fashion expert Tan France tells us his go-to product of the moment (It's a bit of a surprise!), his advice on how to wear a statement shoe and the Ariana Grande song he can't get enough of at the moment. Looking to reboot your own wardrobe? Try hitting up on the best stores in NYC or best vintage stores in NYC.
Major turning point: "My friends in Salt Lake City set me up on a dating site called Connections. My future husband, [Rob France], saw this picture of me and was like, 'You don't look like you're from around here.' My response was, 'No shit, Sherlock,' and we started a conversation. Ten years later, the rest is history."
Perfect self-care day in NYC: "Antoni and I like to take a workout class together whenever we're in the city. Then, we'd go for brunch, and then I would probably take a nap. I would grab coffee, then go shopping in Soho. I would hit up Sandro, the Kooples, Diptyque and CB2. For dinner, I would go to ABC Kitchen, or the Nomad for their chicken. And I would finish up the night with dessert in bed, watching TV."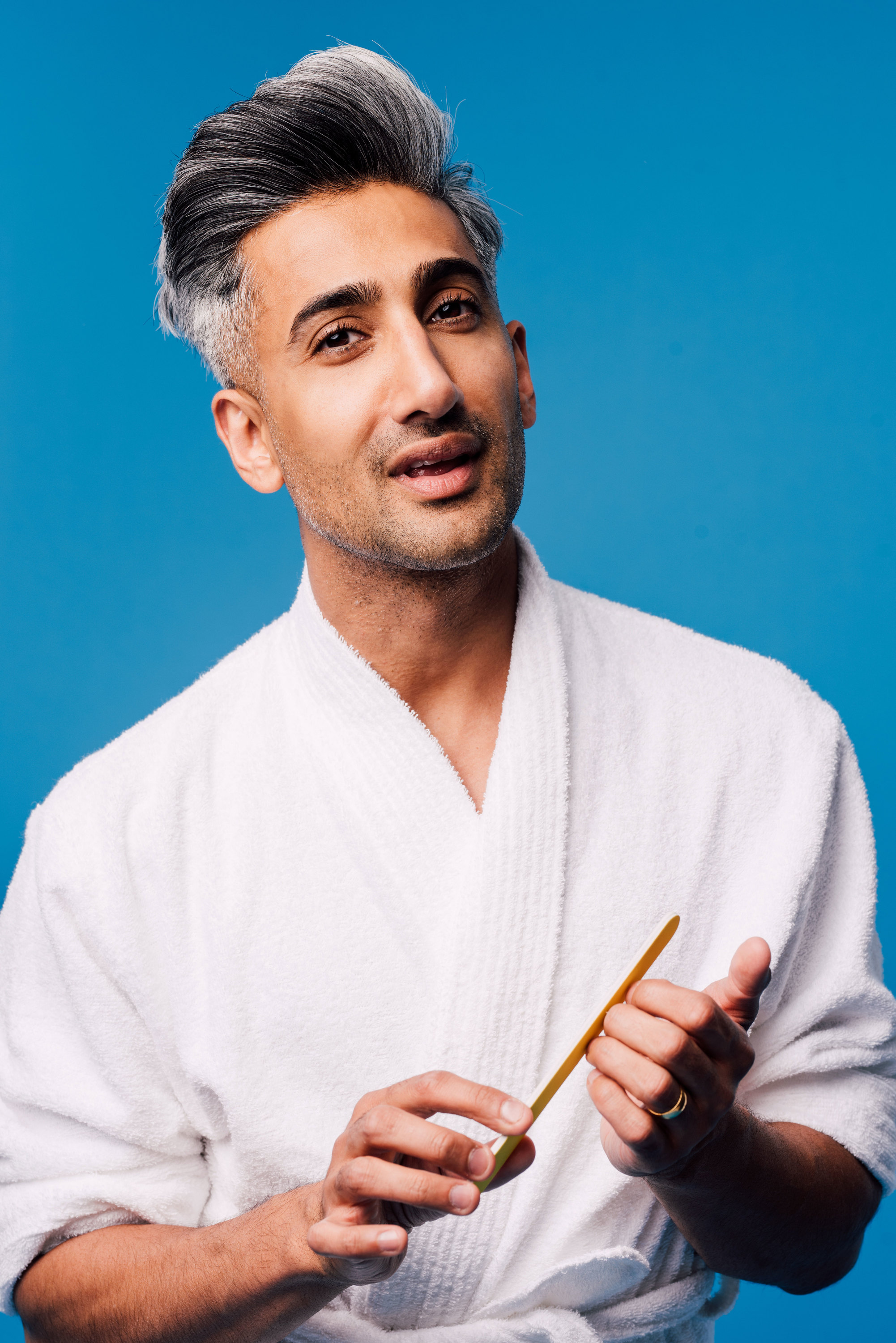 Photograph: Taylor Miller
Go-to product: "Lanolin nipple cream. You have to try it! Put it on [your lips] before bed and then first thing in the morning."

On wearing a statement shoe: "I prefer a Chelsea boot or a desert boot. I think it's very metropolitan. It's easy to dress it up or dress it down. I think an actual shoe shoe, like a brogue or an oxford, can look a bit dated, and a sneaker is too casual. A boot is a great transitional shoe for anywhere in the world to look cool and look like a city boy."

New rule for the modern man: "It's just as important for a man to make as much of an effort as his partner, whether it be male or female. Gone are the days when the wife makes the effort and the guy just slums out as if what he's wearing is just fine. That's not okay. Know your proportions. You've heard women talk about balancing out their bodies for 60 years. I think, now, general retail is giving men the freedom to really make an effort and show that they're creative with what they're wearing."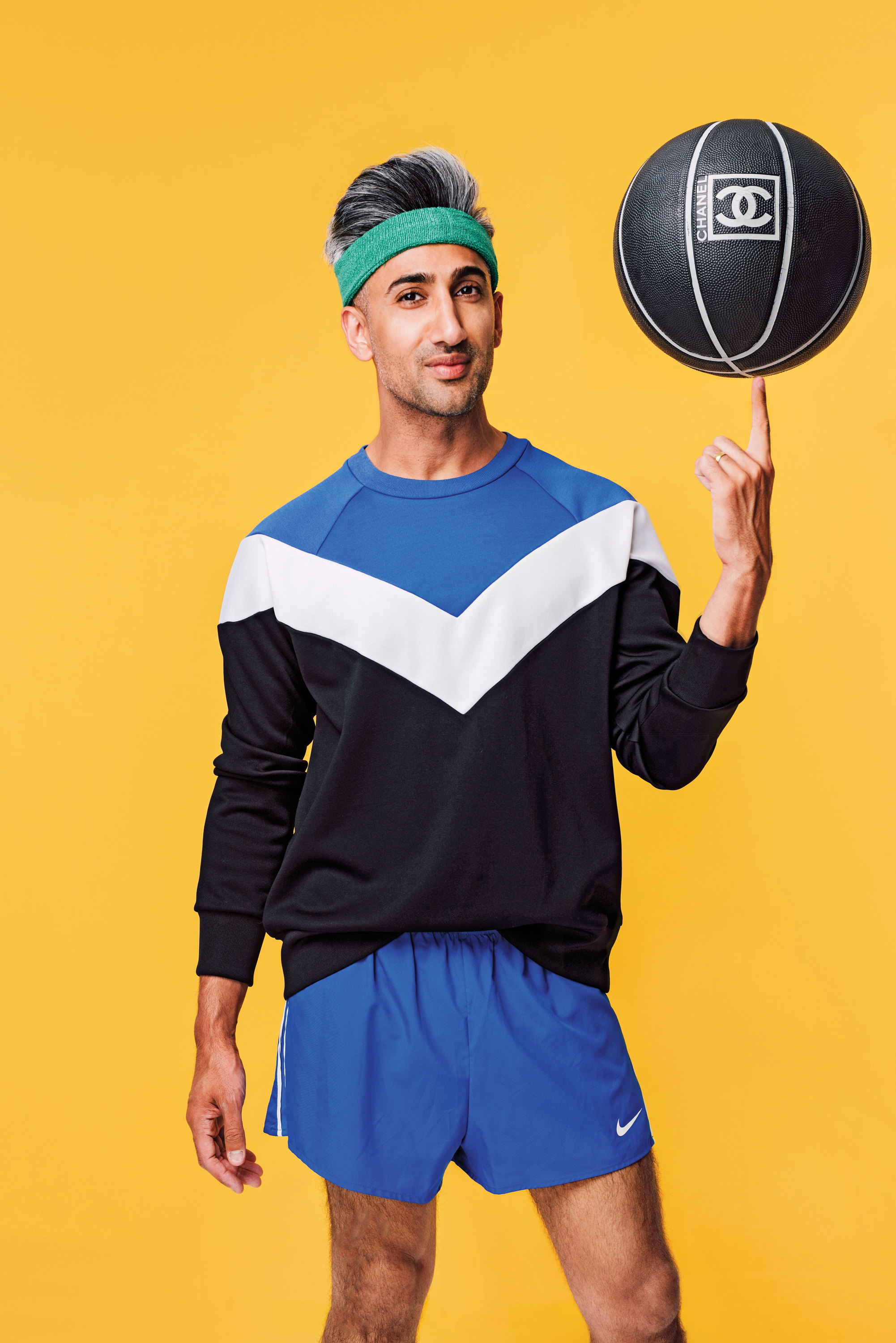 Photograph: Taylor Miller
The song that uplifts him: " 'No Tears Left to Cry' by Ariana Grande. It's on repeat, and it's driving my husband insane."

How Queer Eye has changed his life: "I can't go out in the streets in New York without being stopped numerous times, which is wonderful that people want to tell me how I have impacted their life. I get to go to work every day with people I fucking love. And my husband is still my husband, and my friends from Salt Lake are still my closest friends. So, yeah, some things have changed, but I think the most important parts of my life have stayed very much the same."
What's in Tan's bag?
1. In his Beara Beara leather backpack:
3. Bally gray leather credit-card wallet
4. Altoids
5. Barton Perreira Ascot sunglasses
Styling: Andrew Gelwicks
Grooming: Matthew Tuozzoli
Photo Assistant: Victoria Chen
Fashion Assistant: Emily Pettengill
Location: DSG Studios
Special Thanks: Rag & Bone, Allsaints, Nike, Lacoste, ​Hanes, ASOS, Reebok, Fila, Enginered For Motion, Happy Socks, Guess, PRPS, Hilfiger Collection