"Your hair looks fucking sick with that headband," says Antoni Porowski to his Queer Eye castmate Tan France. At their photo shoot, the Fab Five are donning workout gear—rainbow-colored sweatbands, two-pound weights, a Chanel basketball—and setting a tone that's familiar to fans of the Netflix reboot: Jonathan Van Ness points in awe at Karamo Brown's exposed abs; Antoni sends a smoldering glance toward Tan and leans in to kiss him before turning away with a laugh; Bobby Berk packs his bike shorts with a little something extra, then asks each guy how he looks. I'm relieved to realize: They really do love each other.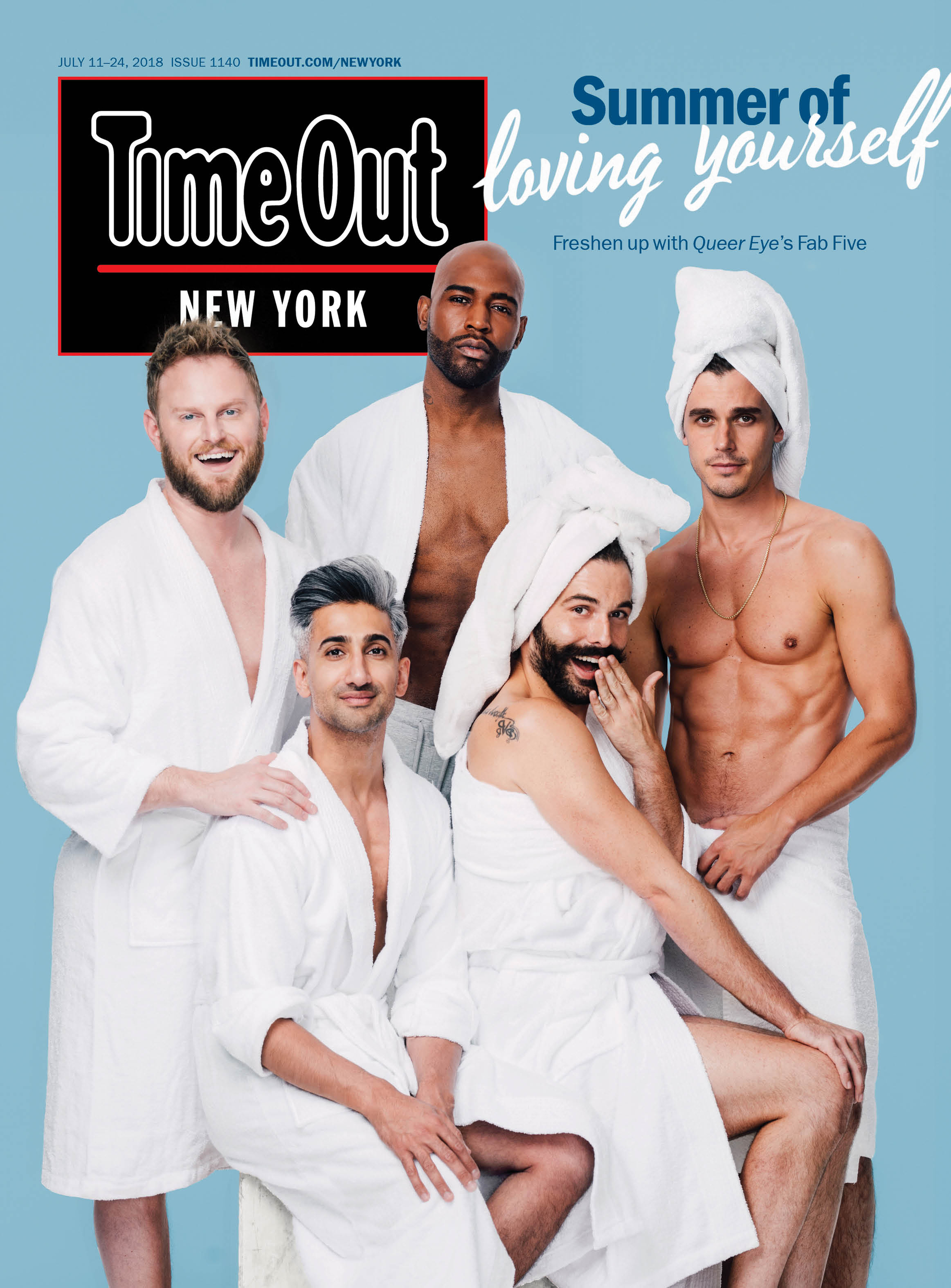 Photograph: Taylor Miller
Queer Eye, which this year released two eight-episode seasons in just over four months, is the show you, your gay roommate, your tween niece and your 65-year-old Republican father are all watching, then rewatching. In this tumultuous time, it might be the show you can count on to bring pure joy back to the weary soul, if only for an episode or, more likely, an hours-long binge. Our experts—Antoni (food and wine), Bobby (design), Jonathan (grooming), Karamo (culture) and Tan (fashion)—march into the homes of diverse Georgians (a devoutly religious black woman in her sixties, a young trans man who recently had top surgery [a double mastectomy], an immigrant bartender worried about fitting in) with the promise to make each one their best self in just one week. Imagine if seven days could sweep away all your flaws to reveal who you were meant to be all along: You'd start out in Kansas on Monday, get hit by the Fab Five tornado on Tuesday and step out of the chaos on Sunday as a goddamn rainbow. They do it every time. And a glimmer of hope flickers deep within the viewer, the optimistic realization that maybe you, too, could get rid of your emotional baggage and become a better you.
Okay, so you may not be seven days away from perfection. But, right this second, we New Yorkers—a rushing, intensely ambitious bunch—could use some help loving ourselves and those around us more. And who better to teach you how than the real-life BFFs and pro confidence-creators of Queer Eye? The Fab Five, who are all either bona fide New Yorkers or have spent a lot of time in NYC, spill their best self-care secrets, (far beyond the top spas in NYC, gyms in NYC and spinning classes), from the nipple cream you can use as lip balm to capitalizing on the Cloisters as a much-needed city escape. They also each share an influential personal turning point for added inspiration. Whatever you may be going through, let's tackle it together, one skin-care tip and daily workout reminder at a time. It's officially the Summer of Loving Yourself! Can you believe?
Get all the self-care tips (and the guys' favorite NYC spots) from the full interviews with Antoni, Bobby, Jonathan, Karamo and Tan.
Photograph: Taylor Miller
Styling: Andrew Gelwicks
Grooming: Matthew Tuozzoli
Photo Assistant: Victoria Chen
Fashion Assistant: Emily Pettengill
Location: DSG Studios
Special Thanks:
Rag & Bone, Allsaints, Nike, Lacoste, ​Hanes, ASOS, Reebok, Fila, Enginered For Motion, Happy Socks, Guess, PRPS, Hilfiger Collection