SantaCon NYC 2019 guide
The Santas are coming! Here's everything you need to know about SantaCon NYC 2019—Gotham's wildest Christmas event!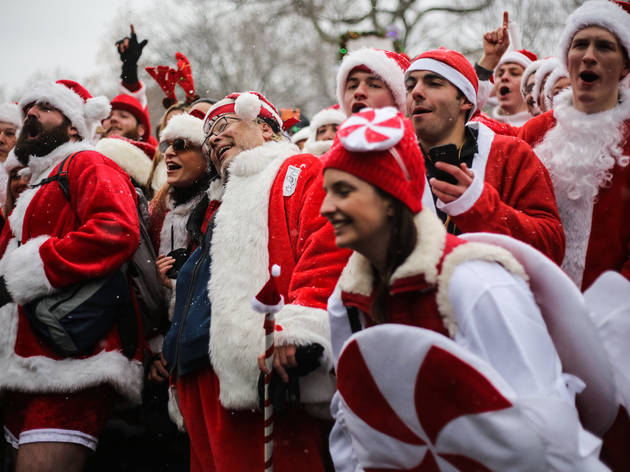 The most festive drinking event in Gotham has to be SantaCon NYC. 2019's iteration is once again a charity event that sure knows how to put the FUN in fundraiser. Dressing up as Christmas characters from gingerbread cookies and reindeer to, of course, Kris Kringle is a must (especially if you want to get access to special SantaCon locations). Some of the best bars in NYC participate, although, you can't just wander into any watering hole. In the past, some bars have banned dressed-up folks, so your best bet is to stick to the organizer's map to have a holly, jolly time. This is certainly one of the most popular (and despised) NYC events in December, so try to avoid acting like a bad Santa. The creators just want the affair to be safe and fun for everyone involved. (That means no drunk ice-skating, got it?) Obviously, only elves who are 21-and-older can participate. For more information, read our guide to SantaCon NYC 2019 below.
RECOMMENDED: Full guide to Christmas in NYC
When is SantaCon NYC 2019?
SantaCon NYC 2019 is on Saturday, December 14 and begins at 10am. What? You can't day drink unless you start early.
Where is SantaCon NYC 2019?
SantaCon NYC 2019 invades bars all over New York City. The official locations are usually released days leading up to the event. You can follow @SantaCon on Twitter to find out where you're welcome, or sign up for text message alerts. Text "follow @santacon" to 40404 to stay in the loop, but make sure your phone number is associated with your Twitter account for this to work. Here's where red suit-revelers can go and work on their beer belly to fill out that costume. Check back soon as we update the special bars part of the fun!
How do I join SantaCon NYC 2019?
For more information, visit SANTACON.NYC and RSVP on Facebook. You can also donate to the organizer's charitable causes here. Most of the venues are free to enter with no cover charge. Only the special venues require a $12 (tax-deductible) donation, as they are larger and offer additional perks such as a DJ, holiday decorations, etc. For those spots, participants are given a snazzy SantaCon pendant to get through the doors. Consider SANTACONMAP.COM your Rudolph for guiding your "sleigh" during the event.
SantaCon NYC guide
Archive coverage of SantaCon New York