SantaCon NYC 2018 guide
Time to dust off your Kris Kringle suit! Here's everything you need to know about SantaCon—NYC's wildest bar crawl.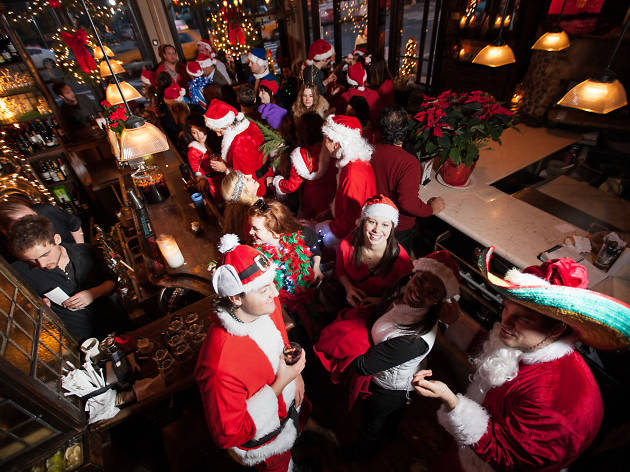 Gotham is no stranger to debauched bar crawls, but we can't think of a single one that is more ubiquitous than SantaCon NYC. This event and charity fundraiser (yes, really) will once again entice rowdy out-of-towners and locals to dress up as Christmas characters (gingerbread men, reindeer, Mrs. Claus) and fulfill their quest to drink copious amounts of booze and winter cocktails at some of the best bars in NYC. This is certainly one of the most popular (and despised) NYC events in December, so try to avoid acting like a "bad Santa," okay? The creators just want the affair to be safe and fun for everyone involved.
RECOMMENDED: Full guide to Christmas in NYC
When is SantaCon NYC?
Santacon 2018 is on December 8, 2018.
Where is SantaCon NYC?
In recent years, SantaCon has gotten a pretty bad rap. (Some bars even refuse to serve anyone dressed in holiday costumes). Those not dissuaded and determined to party should follow @SantaCon on Twitter and check out the event's website (santacon.nyc) for the official bar crawl route. (It's a hefty list.) This year, most of the bars participating are located in the East Village and Midtown, and a $10 donation gets you access.
You can get your tickets now!
Where is the starting point for SantaCon NYC?
SantaCon begins at the Farley Post Office building at 31st Street and Eighth Avenue.
SantaCon NYC guide
Archive coverage of SantaCon New York