SantaCon NYC 2019 guide
The Santas are coming! Here's everything you need to know about SantaCon NYC 2019—Gotham's wildest Christmas event!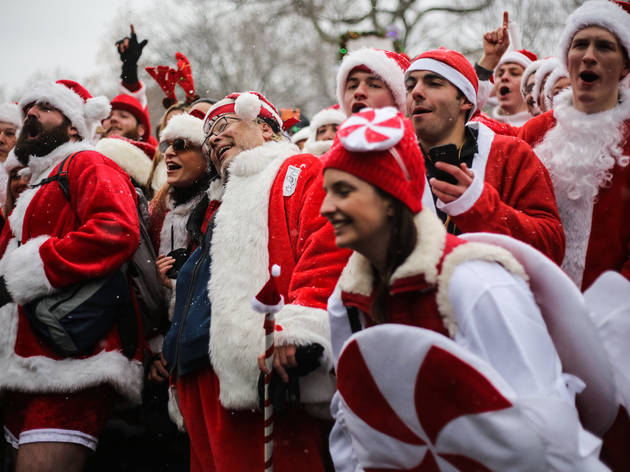 The most festive drinking event in Gotham has to be SantaCon NYC. 2019's iteration is once again a charity event that sure knows how to put the FUN in fundraiser. Dressing up as Christmas characters from gingerbread cookies and reindeer to, of course, Kris Kringle is a must (especially if you want to get access to special SantaCon locations). Some of the best bars in NYC participate, although, you can't just wander into any watering hole. In the past, some bars have banned dressed-up folks, so your best bet is to stick to the organizer's map to have a holly, jolly time. This is certainly one of the most popular (and despised) NYC events in December, so try to avoid acting like a bad Santa. The creators just want the affair to be safe and fun for everyone involved. (That means no drunk ice-skating, got it?) Obviously, only elves who are 21-and-older can participate. For more information, read our guide to SantaCon NYC 2019 below.
RECOMMENDED: Full guide to Christmas in NYC
When is SantaCon NYC 2019?
SantaCon NYC 2018 is on Saturday, December 14 and begins at 10am. What? You can't day drink unless you start early.
Where is SantaCon NYC 2019?
SantaCon NYC 2019 invades bars all over New York City. The official locations are usually released days leading up to the event. You can follow @SantaCon on Twitter to find out where you're welcome, or sign up for text message alerts. Text "follow @santacon" to 40404 to stay in the loop, but make sure your phone number is associated with your Twitter account for this to work. Here's where red suit-revelers can go and work on their beer belly to fill out that costume.
Special Santa Venues
Sony Hall Santa Spectacular (235 W 46th St)
The Ainsworth East (45 E 33rd St)
SOLAS (232 E 9th St)
230 Fifth Ave (230 5th Ave)
Clinton Hall 36 (16 W 36th St)
TAJ II (48 W 21st St)
SideBAR (118 E 15th St)
Slate NY (54 W 21st St)
Local NYC (W 33St & 8th Ave)
The Ainsworth Chelsea (122 W 26th St)
Lucy's Cantina Royal (34th St and 8th)
The Tailor (505 8th Ave)
Doux (59 W 21st St)
The VNYL (100 3rd Ave)
The Liberty (29 W 35th St)
The Pennsy (2 Penn Plaza)
5th and Mad (7 E 36th St)
East Village Venues
Phoenix Bar (447 E 13th St)
Nowhere Bar (322 E 14th St)
Doc Holliday's (141 Ave A)
Pink's (242 E 10th St)
Professor Thom's (219 2nd Ave)
Plug Uglies (256 3rd Ave)
Crocodile Lounge (325 E 14th St)
Coyote Ugly (153 1st Ave)
Vazac Horseshoe Bar (108 Ave B)
Juke Bar (196 2nd Ave)
Central Bar (109 E 9th St)
The Continental (25 3rd Ave)
Finnerty's (221 2nd Ave)
Machos NYC (118A E 15th St)
Midtown Venues
Blarney Stone (410 8th Ave)
Rattle 'n Hum West (309 W 39th St)
Feile (131 W 33rd St)
Stout Grand Central (60 E 41st St)
Stout NYC-Flagship (133 W 33rd St)
Bounce Sporting Club (55 W 21st St)
Brother Jimmy's BBQ (416 8th Ave)
Pennsylvania 6 (132 W 31st St)
Brother Jimmy's (181 Lexington Ave)
Blarney Rock (137 W 33rd St)
The Australian Bar (20 W 38th St)
American Whiskey (247 W 30th St)
Tempest (407 8th Ave)
Foleys NY (18 W 33rd St)
The Storehouse (69 W 23rd St)
Jack Doyle's (240 W 35th St)
John Sullivan's (210 W 35th St)
Rick's Cabaret (48 W 33rd St)
Hoops Cabaret (50 W 33rd St)
Slattery's Midtown (8 E 36th St)
American Hall (29 W 36th St)
The Hog Pit (37 W 26th St)
Public House NYC (140 E 41st St from 3–9pm)
Peter Dillon's Pub (2 E 36th St)
Beer Authority (300 W 30th St)
Dewey's Pub (135 W 30th St)
Reichenbach Beer Hall (5 W 37th St)
The Keg Room NYC (53 W 36th St)
Playwright Irish Pub (27 W 35th St)
Karaoke City (22 W 32nd St)
Mustang Harry's (352 7th Ave)
Stone Creek Lounge (140 E 27th St)
Legends (6 W 33rd St)
How do I join SantaCon NYC 2019?
For more information, visit SANTACON.NYC and RSVP on Facebook. You can also donate to the organizer's charitable causes here. Most of the venues are free to enter with no cover charge. Only the special venues require a $12 (tax-deductible) donation, as they are larger and offer additional perks such as a DJ, holiday decorations, etc. For those spots, participants are given a snazzy SantaCon pendant to get through the doors. Consider SANTACONMAP.COM your Rudolph for guiding your "sleigh" during the event. It's a full venue guide.
Map for SantaCon NYC 2018
SantaCon NYC guide
Archive coverage of SantaCon New York