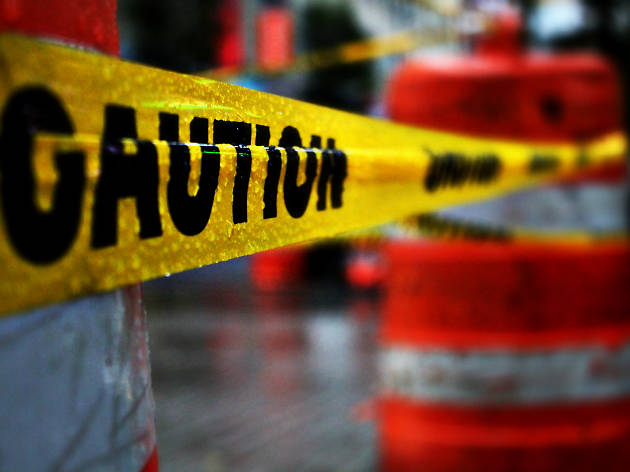 The stories behind the most infamous unsolved murders in NYC
These unsolved murders are the scariest, weirdest and spookiest in NYC's history. Read on if you dare.
New Yorkers like to think they've seen everything, but every once in awhile there's a terrible, shocking death that surprises even them. Unlike the most haunted places in NYC, which include a fair amount of folklore, there's no denying the unsettling nature of these horror movie–worthy murders and the fact that whoever killed them got away with it. Whether the departed was a hip-hop superstar, a mobster worthy of the under-the-radar Museum of the American Gangster or a beloved member of the community, these deaths shook the city and had people talking for decades after.
Most infamous unsolved murders in NYC
1. 1841: Mary Cecilia Rogers
Perhaps one of the most sensationalized murders of the mid 19th century, the lurid details (and theories) surrounding Rogers's mysterious death caught national attention as the Murder of the Beautiful Cigar Girl. Rogers was a particularly attractive young woman working as a clerk at a Manhattan tobacco shop where the clientele included influential writers like Washington Irving and James Fenimore Cooper. A few days after she went missing, her corpse was found floating on the Hudson River near Hoboken's Sybil Cave. Wild theories spread about how she died, including gang violence and a botched abortion performed by Madame Restell. When her fiancé committed suicide near where her body was found months later, he became a prime suspect in some minds. Edgar Allen Poe was fascinated by the case and fictionalized the murder in the sequel to "The Murders in the Rue Morgue," "The Mystery of Marie Rogêt."
2. 1928: Arnold Rothstein
Rothstein, a kingpin of New York's Jewish mob, was a heavy hitter in the seedy underbelly of the early 20th century—he is even said to have helped conspire to fix the 1919 World Series. One day the gangster entered a hotel room at the Park Central hotel for a poker game and wound up getting shot in the stomach. While he saw who did it and lived for a couple days after, he refused to snitch to police officers from his deathbed. The secret of who did the deed died with him, but it was widely believed at the time that the hit was carried out as the result of major debts owed to multiple nefarious actors from a high-stakes poker game the month before.
The details of this perfect murder reads like a classic Sherlock Holmes mystery—except no master detective has ever solved it. Fink, a laundry owner living in NYC, came home one day after making deliveries late at night. Fifteen minutes later, his neighbors heard screams coming from his apartment. They got the attention of the police immediately, but when the officer arrived, all the doors were locked and the windows were nailed shut. Law enforcers eventually got in by breaking a window, and inside they found Fink shot in three places. While they assumed it was a suicide, there was no weapon found on the premises and no secret doors for the murderer to escape from. Though theories have been posited (including someone devising a system using a string to lock the door from the outside), the question remains why anyone would go to such lengths to kill a launderer or how they would have escaped without notice of the neighbors.
Snell was only 19 years old when she was found strangled in the back of a station wagon, and her death gained widespread attention due to the strange details surrounding her case. The Brooklyn teenager was planning her engagement party at the Midwood Terrace restaurant, where a barmaid recalled seeing James Burrus hanging out in a dark corner of the room. Burrus was the estranged husband of Barbara Burrus, one of Snell's cousins whom she was close to. Burrus was later seen holding an umbrella for Snell, making him the last person to see her alive, and the station wagon she was found in was parked behind a grocery store where Burrus worked. Though Burrus was never arrested for the murder, he was sent to jail for robbing a cab that very night. Another suspicious person was district attorney investigator Wayne Tennent, who told the family he was assigned to the case and stayed in contact years after everyone else had given up, only for the family to later learn that he was not in charge of the case and a folder had gone mysteriously missing from Snell's cold case file.
When 2nd Ave Deli owner Abe Lebewohl was brutally murdered, thousands in the Lower East Side mourned his loss. Born in Poland in 1931, his family emigrated to America shortly after World War II, and in the decades that followed Lebewohl became a community leader in his neighborhood, helping those in need by serving food to the homeless and earning respect for his efforts to commemorate the area's Jewish history. One morning when he was on his way to make his daily cash deposit in the bank, he was stopped coming out of his van and shot. The killer, who made off with the money meant for the bank, drove the van several blocks before Lebewohl exited the vehicle and died shortly after. Despite the crime being committed in broad daylight with a weapon that was later found in Central Park—and a large reward offered by his family—his murderer remains a mystery.
Of all the unsolved murders in New York, Henryk's largely stands out because of the date that it happened: September 11, 2001. He died deep in Brooklyn about 20 minutes before the end of that tragic, historic day. Siwak was a Polish immigrant fairly new to the city heading to work when he took a wrong turn on a dangerous stretch of Albany Avenue. Because so many police officers were dedicated to helping the efforts downtown, his murder likely did not get the sort of attention it deserved immediately, thus evidence that could have been collected immediately was perhaps lost in the mayhem of the day.
Jason Mizell, best known by his stage name Jam Master Jay, rocketed to fame in the '80s as one-third of the legendary hip-hop group Run–D.M.C. His life ended, however, when he was murdered in his recording studio in Jamaica, Queens. According to eyewitnesses, the killer came in, embraced Mizell, then shot him in the head, execution style. While police never brought charges against a murder suspect, they believed that Mizell was killed over money—the music icon reportedly owed several parties large debts.
While too many young lives are cut short each year, Sargeant's story resonated deeply with many New Yorkers. Born and raised in Brooklyn, she was a bright star in her community. After earning a coveted spot in the Prep for Prep program, which provides children of financially struggling families a chance to attend elite prep schools on a scholarship, Sergeant went on to attend Wesleyan and got a great job with Condé Nast. According to her boyfriend, Keve Huggins, on the night she was murdered three masked intruders came into their shared apartment via the fire escape, stole $5,000 and shot Sergeant in the head. Some members of her family and her friends, however, suspected Huggins, who sold marijuana out of the apartment, was somehow responsible or knew more than he let on, but Huggins was never charged—and neither was any other suspect.
More about NYC's history
For famous cocktails like the Bloody Mary and Manhattan, head to these iconic NYC bars to sip on a piece of U.S. history
Best selling Time Out Offers