Heads up! We're working hard to be accurate – but these are unusual times, so please always check before heading out.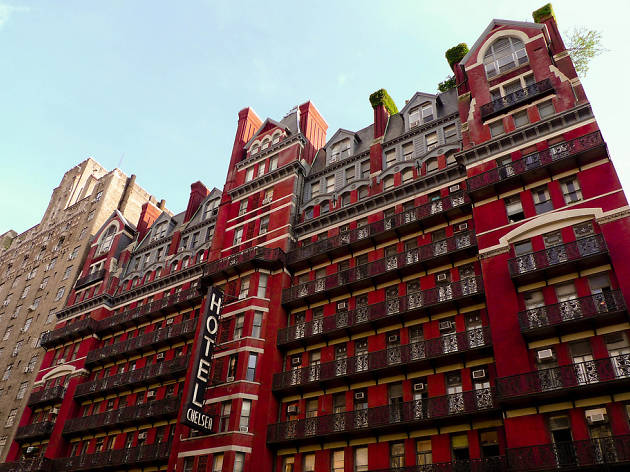 The most haunted places in NYC
Learn what's lurking around town at the most haunted places in NYC—and then decide whether or not you want to go out
In the city that never sleeps, there are haunted places in NYC whose inhabitants might keep you up at night or heading home early. From historic haunted houses to long-time taverns, the tenants at these venues might give off an eerie feeling or prompt a sudden urge to change your plans. Fact or fiction, these personas of paranormal activity will put you on high alert if you're brave enough to pay a visit or take ghost tours. So keep your eyes wide open while reading about some of the spookiest places in NYC.
RECOMMENDED: Full guide to Halloween in NYC
Haunted places in NYC
Once owned by the Tredwell family, this historic Noho townhouse apparently seems to have one member still living here. It's suspected that Gertrude Tredwell, the last Tredwell to occupy the house until her death in 1933, is keeping an eye on the home she grew up in. Since becoming one of the more under-the-radar museums three years later, strange sights, sounds and smells have been reported. Yet the staff doesn't seem fazed, as ghost tours are offered here frequently.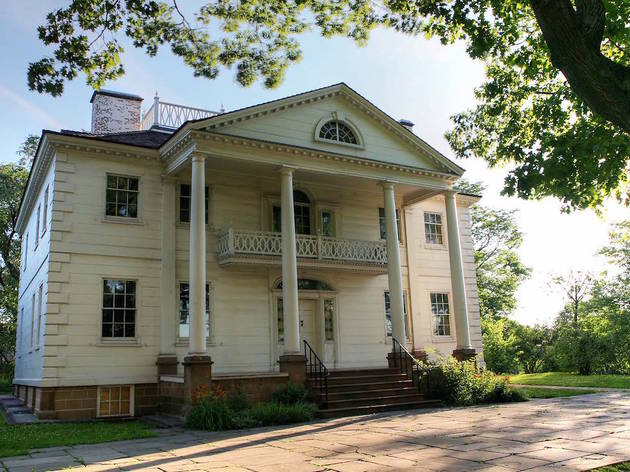 Manhattan's oldest remaining house has seen a lot of activity—from being George Washington's temporary Revolutionary War HQ to the locations where Lin-Manuel Miranda's busted out Hamilton rhymes. Then there's one-time scandalous owner Eliza Bowen Jumel (who quickly married second hubby Aaron Burr), who might still be lurking around; similar stories involve sightings of a solider and a young girl. Find out more by going on one of the mansion's paranormal investigation sessions.
Apparently, this public pool in Greenpoint is tied to folklore involving a small girl who may have drowned on-site. According to Paranormal NYC, this child has been seen roaming the area at night and screaming out for help. There are no public records of this alleged death, but EMF readings taken by this paranormal investigative group have found some sort of activity in water, such as a drop in temperature, and there have been photographs pointing out orbs being present. Whether or not it's safe to be in the water is up for personal debate.
One of the city's oldest drinking establishments, this Soho landmark pub is said to have a long-term patron who likes to make his presence known, so to speak. Back in the day, sailors and longshoremen flocked here to get a drink; one of them hasn't gone home just yet. A cheeky ghost named Mickey is said to have had a tragic ending: He was a sailor who got hit by a car in front of the bar and died, but he mainly makes himself known by flirting with the ladies at the bar.
Aaron Burr is back again: This uber-romantic restaurant in the West Village was once the former VP's carriage house. He and his daughter, Theodosia, are presumed to be among the spirits causing the waitstaff some havoc. Apparently, champagne glasses have been broken and hung paintings have fallen off walls. Theodosia also has said to been seen on the staircase, and apparently has been swiping the earrings off unsuspecting diners. There's also a lady in black who may have died from a broken neck resulting from falling down the stairs.
Hollywood legends may still be thriving at this former commissary within Kaufman Astoria Studios. Nowadays at this Astoria café, 1920s matinee idol Rudolph Valentino might still be congregating where he dined while filming movies at the former Paramount Studios, not far from this place. And apparently, Valentino has also been spotted around old haunts in Los Angeles, making him quite the quintessential East Coast–West Coast hopper.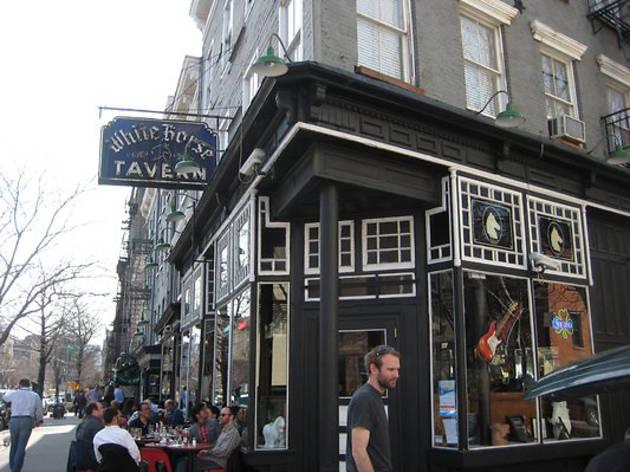 A wordsmith's watering hole, this circa 1880 bar was quite the writer's hangout in the early 1950s. Yet one regular took his status here too far. The story goes that poet Dylan Thomas literally drank himself to death by having one too many shots of whiskey and stumbled his way out onto the sidewalk (he later died at a hospital). It's rumored that his ghost remains a patron at this establishment to this day, perhaps keeping tabs on his favorite table.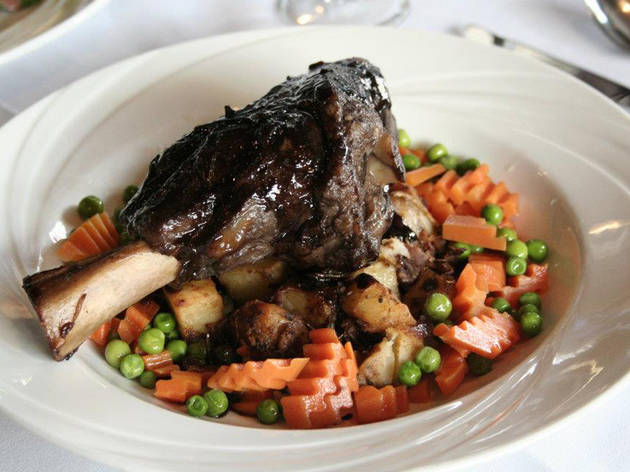 This waterfront Irish saloon dating back to 1868 has seen dockworkers and seamen come and go over time; it also had one of its floors operating as a Prohibition speakeasy. However, it's apparent that there are some stragglers still lurking around. One of them is said to be the ghost of a Confederate Civil War veteran who was severely stabbed in a fight and crept up to the tavern's second floor. (Supposedly he died in a bathtub.) Another wanderer is a young Irish girl who was said to have died from cholera or typhoid fever.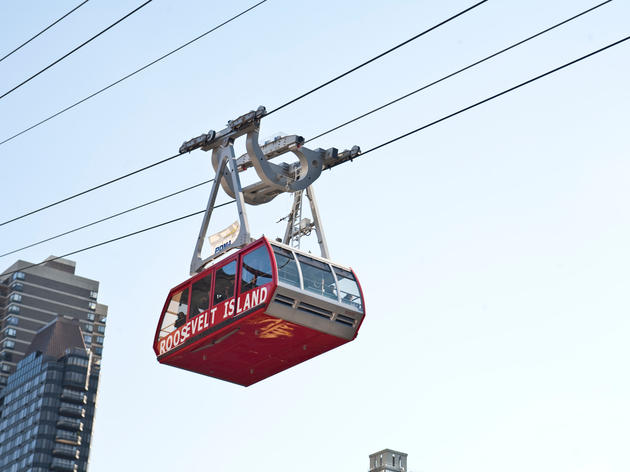 Before being rebuilt as upscale high-rise, this rotunda has a spooky past as part of the New York City Lunatic Asylum from 1841 through 1894. The asylum was the subject of journalist Nellie Bly's expose, Ten Days in a Mad-House, uncovered the mistreatment of its patients. While the presence of ghosts is up for debate, a New York Daily News article had a comment from a resident noting that his dog would stare at a corner and start barking as though something were there.
This Greenwich Village brownstone along West 10th Street has witnessed much sorrow, with reportedly many mysterious tenant deaths occurring here. According to Ephemeral New York, psychic Jan Bryant Bartell wrote about seeing former resident Mark Twain in her living room one night in her book, Spindrift: Spray from a Psychic Sea. Twain told her that his name was Clemens and that he had "a problem here I gotta settle," and then he disappeared.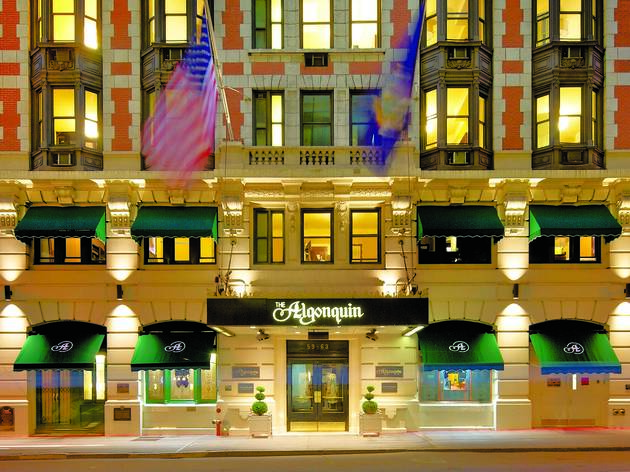 While the management officially says no, it's quite possible that the members of the Vicious Circle—who once met regularly for lunch at this hotel—have made their presence literally known. A Travel & Leisure article noted that during a major renovation, unexplained noises happened and a photograph of writer Dorothy Parker, a member of this inner cultural circle, fell off the wall. Maybe Dorothy misses hanging out with her hotel homies?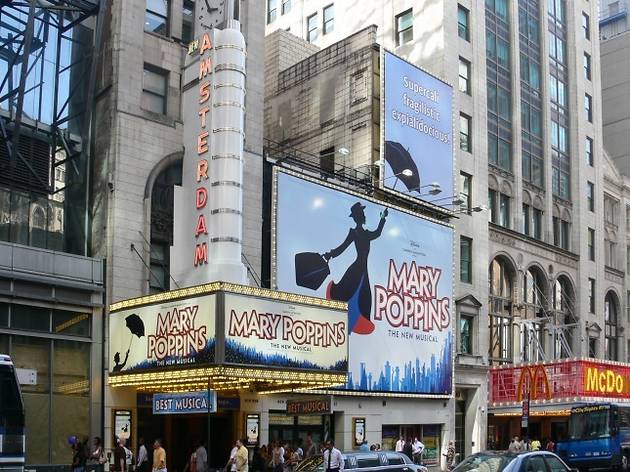 While Aladdin has been gracing the main stage, this playhouse has another active performer within its wings: a onetime Ziegfeld Follies chorus girl named Olive Thomas. According to Playbill, Olive committed suicide in 1920 but has been making her theatrical presence known so much that her pictures were hung up at every entrance so that the cast and crew would greet her on their way in and out. Hopefully, she remains pleased by this kind gesture.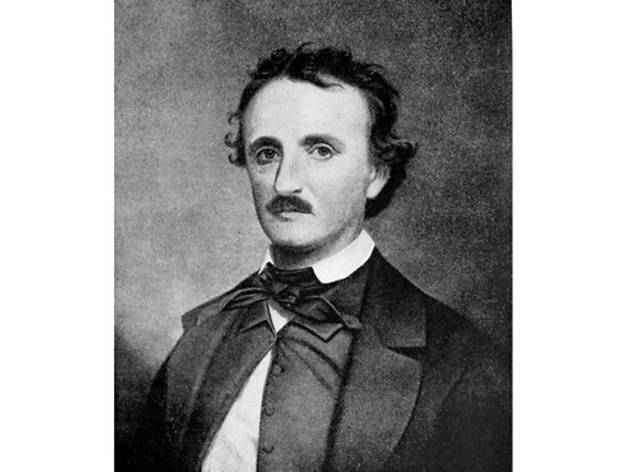 Photograph: American Bookmen
In 1845 and '46, this location (now an NYU building) was the home of Edgar Allan Poe, who penned parts of his opus "The Raven" there. Only a single banister apparently remains from the original layout, and some have reported spotting Poe near it.
In the late 1700s, British loyalist Christopher Billop, then the owner of this 1680 stone homestead, allegedly killed a female servant suspected of spying for the Patriots. Both victim and murderer are said to haunt the premises, along with the apparitions of patrolling redcoats.
Show more
Looking for more Halloween fun?
Searching for a spooktacular Halloween festival in the city or New York state? Here are the best fêtes of the season.