Ten statues in New York City with brilliant backstories
Lady Liberty ain't the only game in town—here's the scoop on ten more unique statues in New York City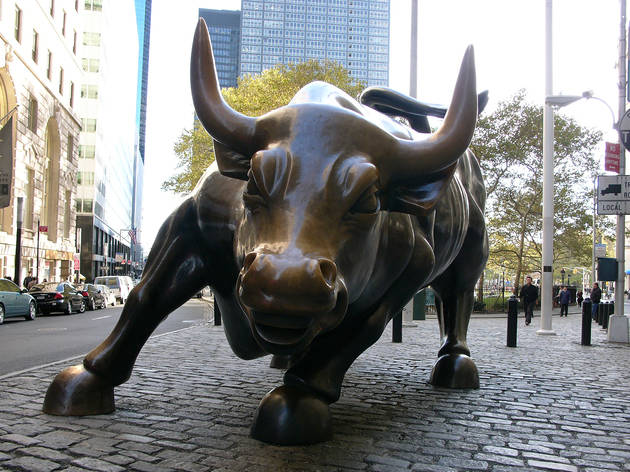 1/10
Photograph: Arturo Di Modica
This enduring symbol of in-your-face capitalism has become synonymous with Wall Street, but it started as guerrilla art. Sculptor Arturo Di Modica built it with his own money and illegally installed the 7,000-pound beast in front of the New York Stock Exchange in 1989. The cops impounded it, but by popular demand it was resurrected down the street.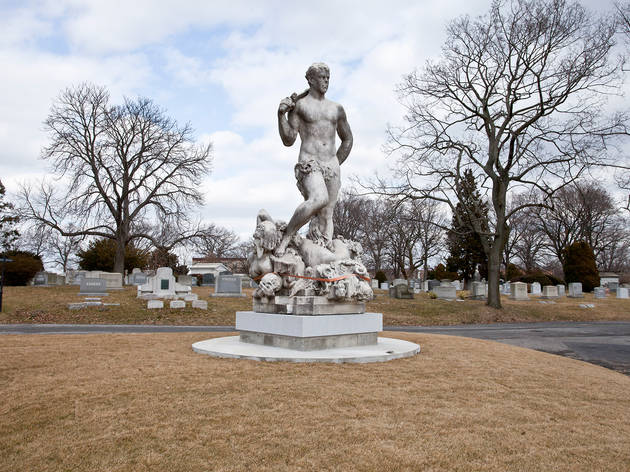 2/10
Photograph: Mike Carsten/Archigrafika
This 22-ton monstrosity has been the subject of near-universal hatred since its debut in 1922. It's meant to depict Virtue triumphing over Vice and Corruption; what it actually looks like is a big, naked jerk tromping all over two perfectly nice ladies. Shuffled from borough to borough by politicians who found it loathsome, the piece finally came to roost in Brooklyn's Green-Wood Cemetery in 2012.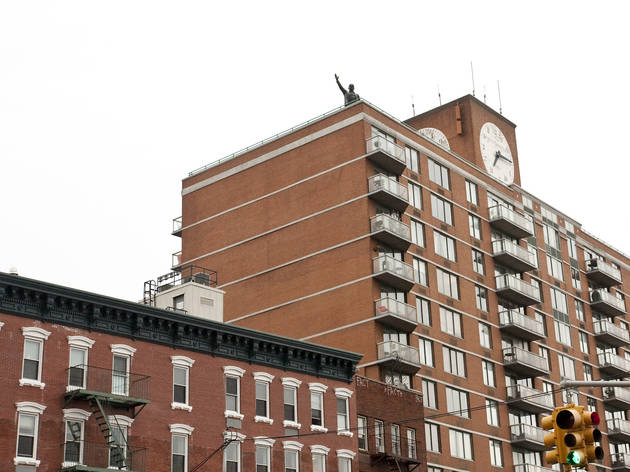 3/10
Photograph: Camille Fernandez
3

V.I. Lenin, Lower East Side

No, that isn't a giant hailing a cab in the sky—it's revolutionary leader Vladimir Ilyich Lenin. The Soviet government commissioned the piece in the late '80s, but the state collapsed before it could be unveiled; it eventually found its way to the roof of a downtown apartment block called—what else?—Red Square. And it gets weirder: Behind the statue ticks a clock with the numbers displayed out of order.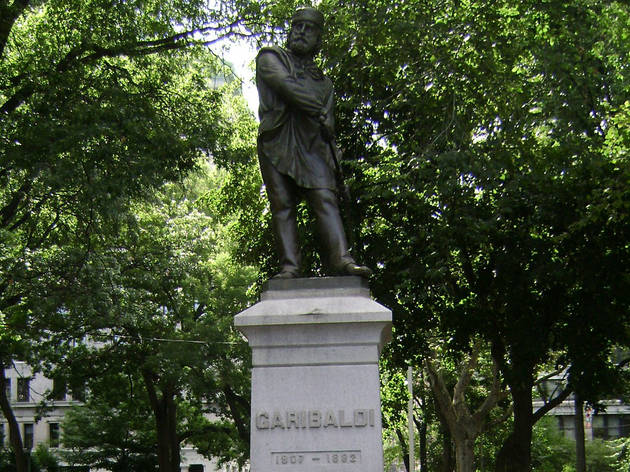 4/10
Photograph: NYC Parks and Recreation
Sculptor Giovanni Turini's plans for this effigy of the Italian general, which was to perch atop a boulder flanked by soldiers, were cut short when the project's coffers suddenly ran dry. In order to make it stand on a pedestal, foundry workers yanked the figure's legs into an inhuman position. Turini came back from a trip abroad to find his masterpiece mutilated.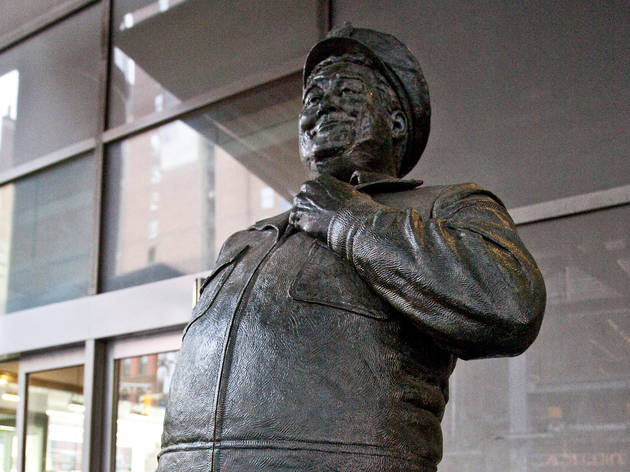 5/10
Photograph: Camille Fernandez
This homage to The Honeymooners' bus driver, commissioned by TV Land, shows a smiling Jackie Gleason (it's probably the only grin you'll see in this depot). The clincher is the description on the plaque, which reads: BUS DRIVER—RACCOON LODGE TREASURER—DREAMER.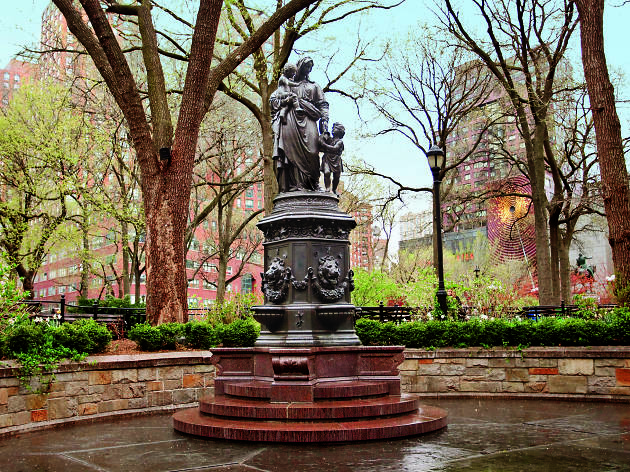 6/10
Photograph: Camille Fernandez
Clean drinking water wasn't easy to find in 19th-century Gotham, which was one reason folks turned to the sauce. Philanthropist Daniel Willis James funded this public fountain in the 1880s in an effort to encourage temperance. The water-spewing lions' heads remain today, but the tin cups that were chained alongside them are gone. Score one for hygiene!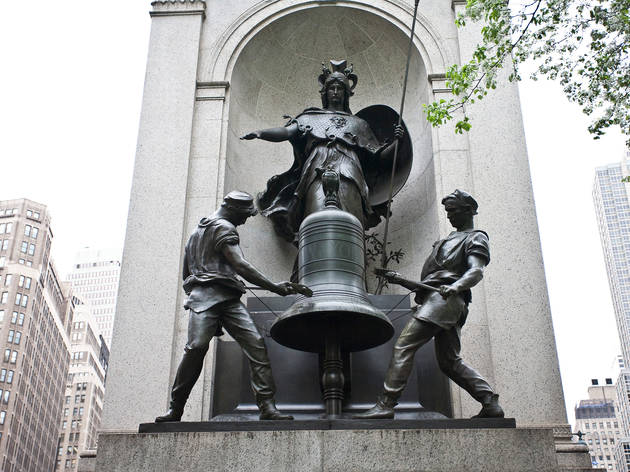 7/10
Photograph: Camille Fernandez
7
James Gordon Bennett Memorial,
Herald Square
Is something in Herald Square watching you? That would be the pair of owls on this monument, whose eyes glow green every few seconds come nightfall. The birds once perched atop the now-demolished New York Herald Building—they were an obsession for eccentric publisher Bennett, who claimed that an owl once guided him to land when he was lost at sea during the Civil War.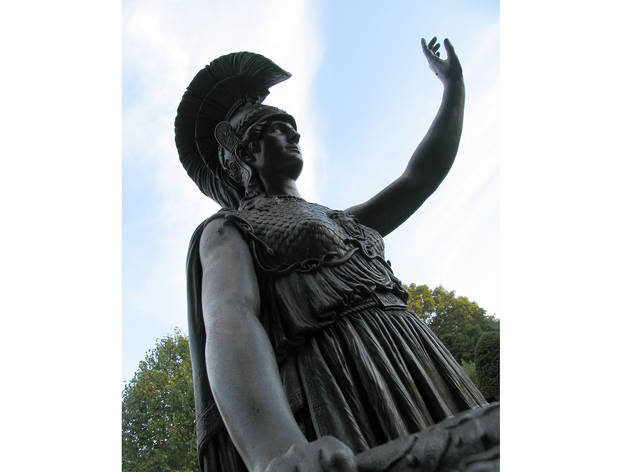 8/10
Photograph: Aaron Brashear
In terms of badass female mythical figures, Minerva is right up there with Lady Liberty. So it's only fitting that this 1920 statue of the Roman goddess of wisdom, erected atop Brooklyn's highest point, is positioned to wave to (or high-five?) her torch-bearing lady-bro to the northwest.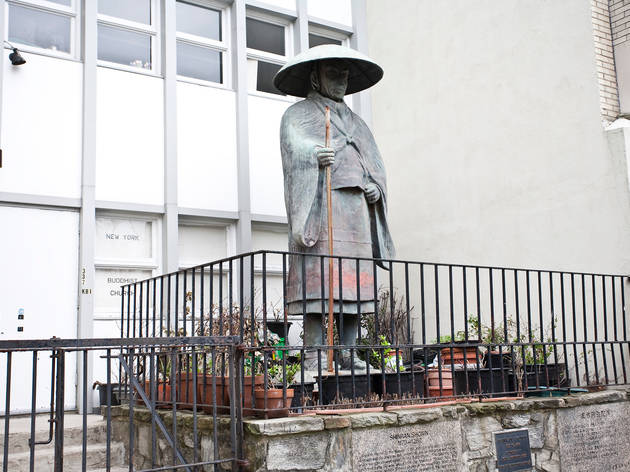 9/10
Photograph: Camille Fernandez
9

Shinran Shonin, New York Buddhist Church

Many of the buildings in Hiroshima were destroyed when American forces dropped an atomic bomb in 1945. But this bronze statue of the Buddhist monk survived, even though it stood less than two miles from the center of the blast. After the war, a Japanese man had it shipped to New York, where it guards this Upper West Side temple.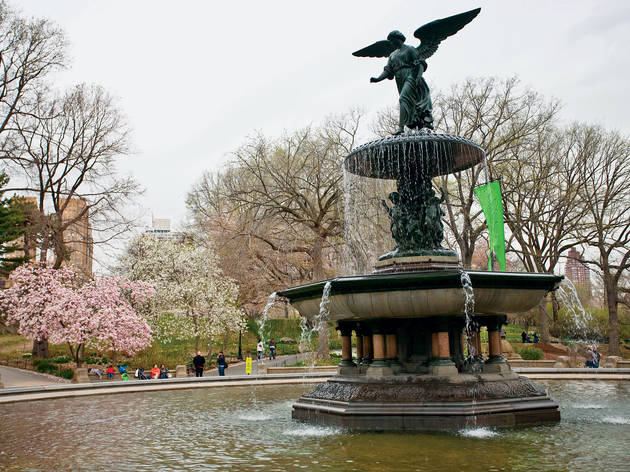 10/10
Photograph: Camille Fernandez
Emma Stebbins was the first woman to create a public-art piece in NYC, after the city commissioned her to design Bethesda Fountain's centerpiece in 1861. Rumor holds that the artist modeled the angel on her lover, stage actress Charlotte Saunders Cushman, who was renowned for her cross-dressing turn as Romeo.
More New York City Top Tens
From integration and elation to extraterrestrials and rock tragedy, NYC's radio waves have caught—and created—some of the most major moments in our city's history
Read more
We shine a light on the city's most enduring rock music icons, from Lou Reed and Debbie Harry to James Murphy and Karen O
Read more
Lashes, hairspray and a whole lot of sass—these fierce queens bring the sparkle to NYC
Read more
Step away from the run-of-the-mill I ♥ NY tees and pick up these offbeat New York souvenirs
Read more
Coyotes, boa constrictors and finback whales—turns out King Kong was just one of many weird animals to make a scene in NYC
Read more
Think your New Year's party will be epic? It surely can't top these ten lavish shindigs, which featured real elephants, plenty of celebs and more extravagant touches
Read more
Get into the spirit of the season by watching these naughty (American Psycho) and nice (Miracle on 34th Street) Christmas movie scenes
Read more
Show more
See more in Things to Do